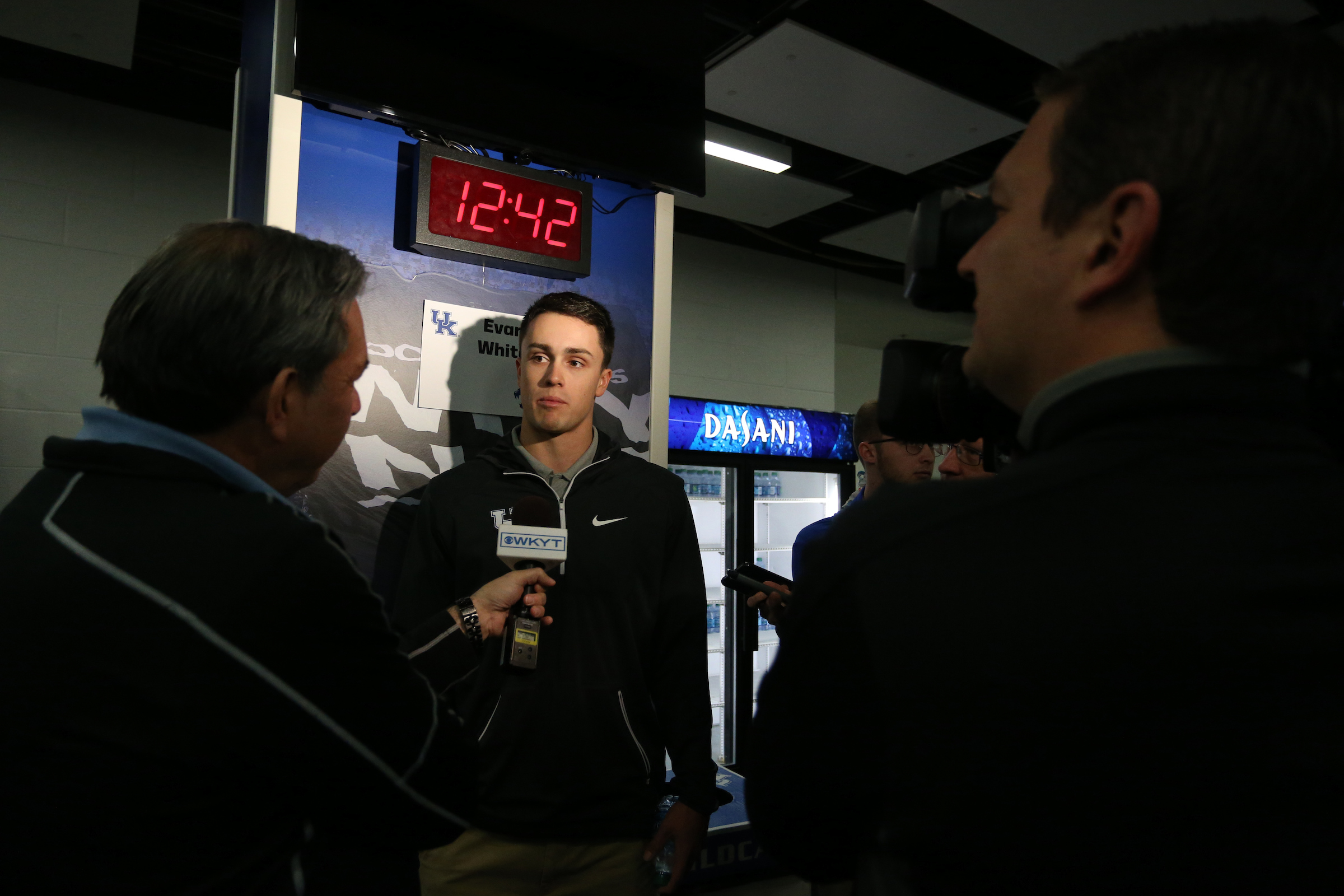 Sometimes, the biggest challenge for a new coach is to get the existing players to buy into a new vision for the program. The players in the program had been recruited and coached by someone with a different vision, and, at times, that creates an issue for the new coach.
For the 2017 Kentucky baseball team, buying into the vision of the new coach does not seem to be a problem. New head coach Nick Mingione has been clear about his vision for the team and the program, and his players appear to be fully invested in what Mingione is pitching.
Mingione's vision includes three key components: family, winning and development. And Mingione knows those three elements can be the things that help this program compete for an SEC championship.
"We've created a family atmosphere, and how did we do that? We changed our locker room," Mingione said. "We used to have an equipment room right in the middle of our locker room. We cleared it out and have created an environment where our players can spend a ton of time together."
The competitor in Mingione wants to win games as well.
"Winning is important, we want to win in life," Mingione said. "One thing we've done with our field, we immediately got a turf home plate and we did our baselines. In order to win this league, you've got to strike people out. Strikeouts come from two different areas – elevated fastballs and buried breaking balls, and we've basically given our catchers the best surface to block off of. And, team speed (is important), so we've turfed our baselines."
But the family atmosphere and winning won't complete the cycle without development, the third key element in Mingione's vision.
"I sat here eight months ago, and I said that everything rises and falls on leadership," Mingione said. "We've spent the last two semesters investing time in our players and how we have them become better leaders. Jason Cummins has taken our guys and (told them) what it means to be a leader." 
And how has the group reacted to the vision of the new staff?
"This group has embraced everything that we've done to this point," Mingione said. "They've been a pleasure to be around."
And while that may sound like "coach-speak", at least to a certain degree, the returning Wildcats have clearly been motivated by the Mingione vision.
"We've bought in from the very beginning and I think that's something that's going to be huge to our success this year," said junior first baseman Evan White. "It's been fun to be a part of so far. I'm excited to see how it's going to play during the season."
The new Kentucky baseball vision has also led to the number one word associated with Mingione, and now with the team – energy. It's not something that neither the coach nor players deny.
"The word that I keep hearing is energy," Mingione said. "We had some fans at our scrimmage (Sunday). We spent some time with them and a few of their kids in between one of the innings and they're just like, 'Coach, your guys have great energy.'"
The Kentucky players are feeding off of the new energy, which is a considerable change for the team.
"The energy is 180 degrees different," White said. "In year's past, it's kind of been low-key, just go about our business. This year, the coaches are into it and got us into it and stuff like that. The energy has been awesome and huge from a practice standpoint because everyone has been invested every day. It's been huge for us."
Senior left-hander Logan Salow agrees.
"The coaches came in and brought energy. From day one, it was, 'We're going to have high energy, we're going to move around," said Salow. "We're going to get a lot of things done in a short amount of time.' As a new staff, you have everyone working for the same spot. Everything is new. Everything is fresh. The competitive environment that they brought to the locker room and field has been awesome."
That energy, in addition to Mingione's vision, has instilled confidence in the returning Wildcats.
"We had our ups and downs last year," said senior infielder Connor Heady. "Sometimes it was hard to go through, but this year Coach is just bringing a positive attitude every single day. It's been great to be around. It's really helped the team. We've all bought into the mindset that they want us to have. I think that's going to prove to be one of our greatest strengths for this upcoming season."
If the energy continues and the vision falls into place, the sky is the limit for the Kentucky baseball program.