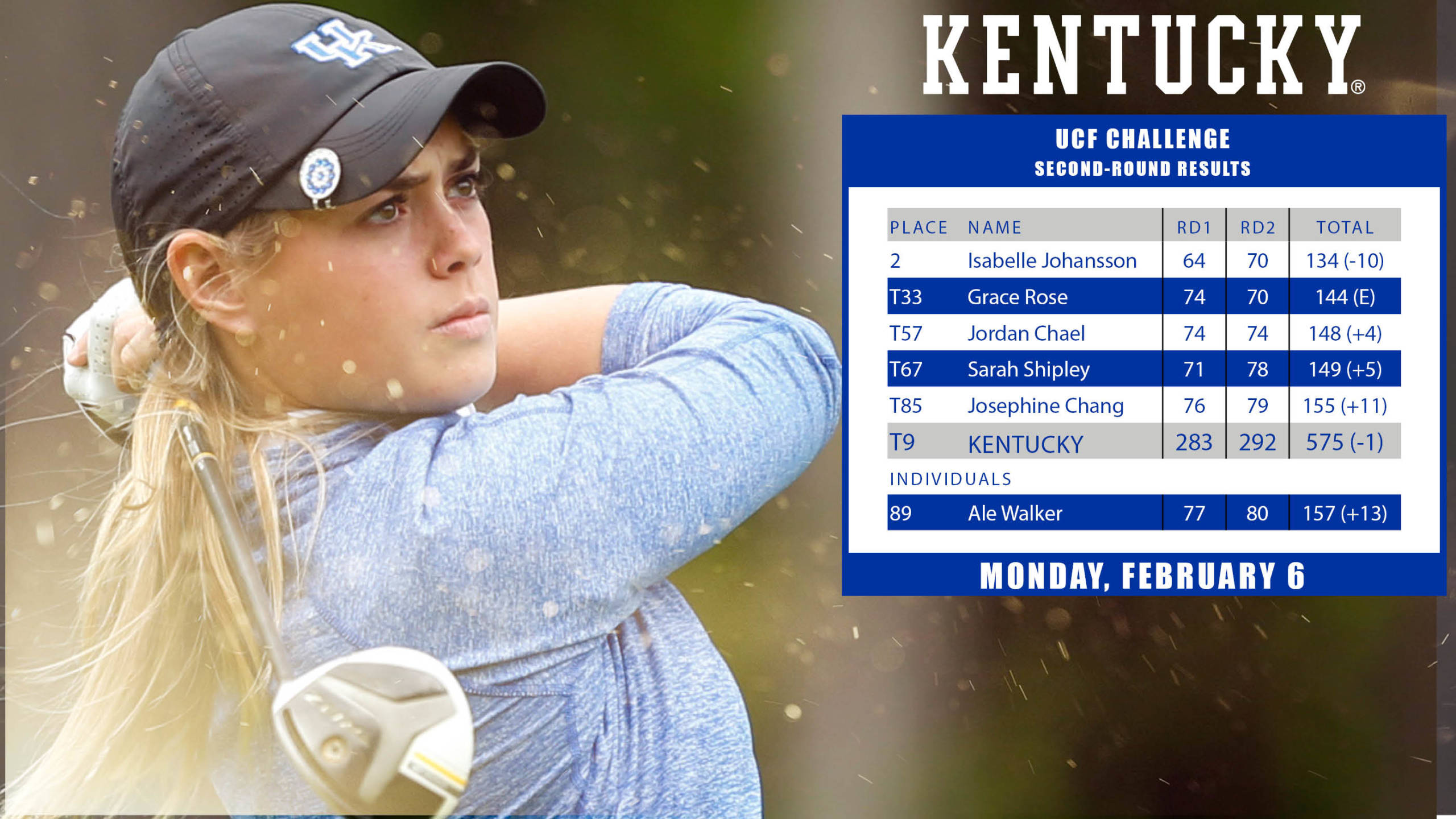 February 6, 2017 - 07:47 PM
Johansson, Rose Keep #KWG Close at UCF Challenge
Second-Round Results | Final-Round Pairings
ORLANDO, Fla. – The Kentucky women's golf team fell back to the field Monday at the UCF Challenge but remains within striking distance of another top-three finish heading into the final round on Tuesday. 
Kentucky settled for a solid 4-over 292 in round two, nine strokes more than Sunday's 5-under 283 but still in contention at 1-under par through 36 holes. UK is in a tie for ninth place but just seven strokes behind tournament host Central Florida for third. The Wildcats are chasing their third straight top-three finish in a tournament. 
Junior Isabelle Johansson, in second after Monday, is also firmly in the mix for the individual title at 10-under par overall, three shots out of the lead.
The Wildcats are 15 shots behind the new tournament leader, Mississippi State, which shot a remarkable 13-under 275 in the second round, 10 shots better than their round one. The Bulldogs are at 16-under par overall.
"Today was a tougher day for us, but even though we didn't move in the direction we wanted to, we learned a lot about ourselves," head coach Golda Johansson Borst said. "We need to attack the golf course and be aggressive regardless of what day one brings us. Each day is different and this is a day that we can learn a great deal from moving forward."
Leading the Wildcats on Monday at the Eagle Creek Golf Club in Orlando, Florida, were juniors Johansson and Grace Rose, who each recorded a pair of 2-under 70s.
Johansson, a junior, has led the team from the start of the UCF Challenge after tying the 18-hole school record on Sunday with an 8-under 64. Although she couldn't match that in the second round, she's staring at a possible career-best 54-hole score if she can keep up her current performance on Tuesday.
At 10-under par through the two rounds, Johansson is only three strokes behind Mississippi State's Chieh Jessica Peng, who is at 13-under par. One shot behind Johansson on the individual leaderboard is Daytona State's Jiwon Jeon. 
Johansson began round two with a birdie on her first hole, setting the tone for the rest of the day as she rolled in four birdies total for the round. On the back nine Johansson was 2-under par with two birdies and no bogeys.
It was Johansson's team-leading ninth even- or under-par round of the season.
Rose matched Johansson on Monday with an impressive 2-under 70, putting her in a tie for 33rd place at even par through 36 holes. It was Rose's best 18-hole round of the season and her third even- or under-par score in the last four rounds.
Rose sacked a team-best five birdies on the day. She opened her day on holes two and three with a birdie on each. She closed the round just as strong with birdies on two of the final four holes. 
Senior Jordan Chael was not far from shooting even for the day, concluding round two with a 2-over 74. Chael bogeyed her opening hole but countered with two birdies total. She's in a tie for 57th at 4-over par.
Freshman Sarah Shipley, one of two Wildcats in red numbers Sunday, was 6-over Monday and is tied for 67th. Fellow freshman Josephine Chang is tied for 85th at 11-over par. Redshirt junior Ale Walker, playing as individual, is at 13-over par and in 89th place.
Play will conclude Tuesday with another 9 a.m. shotgun start. Live stats will continue to be available at GolfStat.com.
This is the sixth time in the last seven seasons UK has played in the UCF Challenge.  The Wildcats have finished in the top five in three of those previous five appearances, including a tie for fifth place a year ago.
UK is fresh off its first victory at the Battle of the Bluegrass at Timacuan Golf Club in Lake Mary, Florida. The Wildcats edged Louisville 602-606 in the two-round, 36-hole head-to-head match, continuing what's been a strong season so far for UK. 
The Wildcats finished no worse than sixth place in their four fall tournaments with top-three finishes in the final two. 
Eagle Creek Golf Club is playing at 6,349 yards this week with a par of 72. Designed by world-renowned golf course architects Ron Garl and Howard Swan, Eagle Creek is Florida's first golf course to use the technologically advanced Mini-Verde grass, resulting in exceptionally fast and vibrant greens.