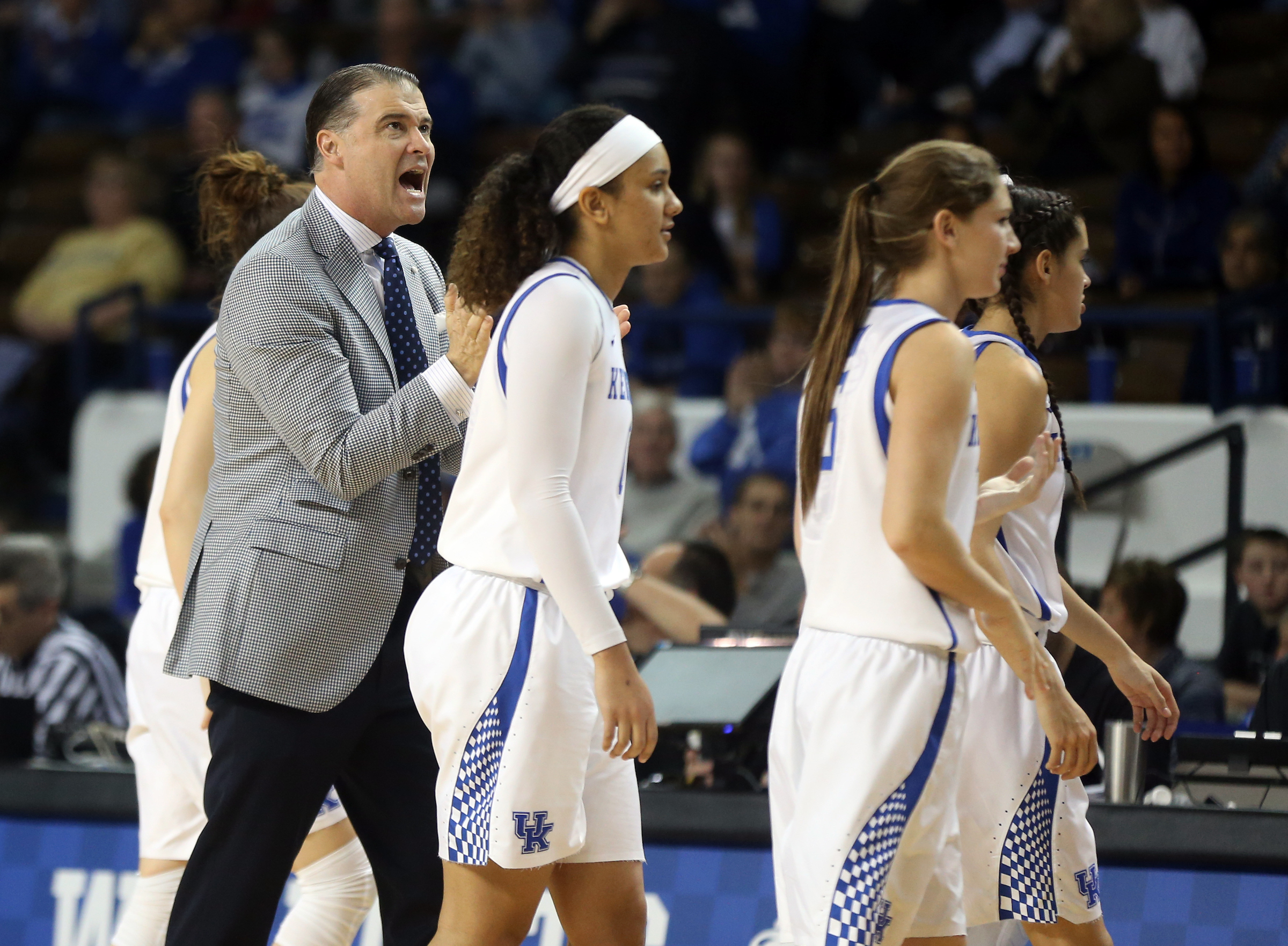 February 5, 2017 - 03:22 PM
Disruption the Key to UK's Bounce-Back Victory
Matthew Mitchell knows who he's cheering for in the Super Bowl – Jacob Tamme's Atlanta Falcons, of course – but there was only one game on Sunday he really cared about.
"Today at noon was the Super Bowl for me," Mitchell said. "When the ball went up in the air, that was the only Super Bowl I was worried about and I told the players that this morning."
Mitchell left no doubt about the importance of Kentucky's game against Vanderbilt pregame and he followed through on that in the early moments after tipoff. The Wildcats' top two players – Makayla Epps and Evelyn Akhator – saw that firsthand.
"He subbed me and Evelyn out early because we weren't playing hard and not hustling," Epps said.
As Epps and Akhator came to the bench at the 6:47 mark of the first quarter, Mitchell didn't even have to say anything to get his message across.
"I've been around him for four years, so I know," Epps said. "He subbed me out real early. I was like, 'Yeah.' I walked past him like, 'Yeah, I got you.' "
Epps remembered Mitchell's pregame message about the Cats' game plan. In order for UK to top a Vandy team that thrives in the half-court and ranks third nationally in 3-point shooting percentage, the Cats would have to be disruptive.
"Vandy's a very set-oriented team," Epps said. "They run their sets almost perfectly. They're very good at executing and we knowing coming to this game we had to disrupt and that first five minutes of the game we weren't disrupting and getting any deflections or steals and Coach was upset with us because that was part of our game plan."
Once Epps and Akhator checked back in a little more than a minute later, it was game on en route to an important 71-63 victory for No. 25/RV Kentucky (16-8, 7-4 Southeastern Conference over the visiting Commodores (11-12, 1-9 SEC).
"After that, he was really proud how we flipped that and came into the halftime with the lead and got some steals and got some deflections and heated them and caused some turnovers," Epps said. "That led throughout the game to 21 turnovers."
The Cats had a turnover margin of plus-11 on Sunday, which served to negate the 41-29 edge Vandy held on the glass and help end a two-game losing streak. Epps and Akhator combined for 43 points and 16 rebounds, while Taylor Murray had 18 points, seven assists, five rebounds and five steals.
"Proud of our team," Mitchell said. "Needed a victory today and they worked hard to earn it and we're just really, really happy to bounce back from a tough loss on Thursday and come back in today and play a tough Vanderbilt team."
The win came in spite of Vandy's rebounding dominance and the fact that the Cats – normally a dangerous 3-point shooting team – were cold from beyond the arc. To Mitchell, that's only cause for optimism as UK enters the regular-season's stretch run.
"Winning this game today 2 of 14 from the 3-point line just gives you some view of what we can become if it ever gets firing on all cylinders," Mitchell said. "I just think we can be really potent team, but we need everyone to do their job and to contribute."