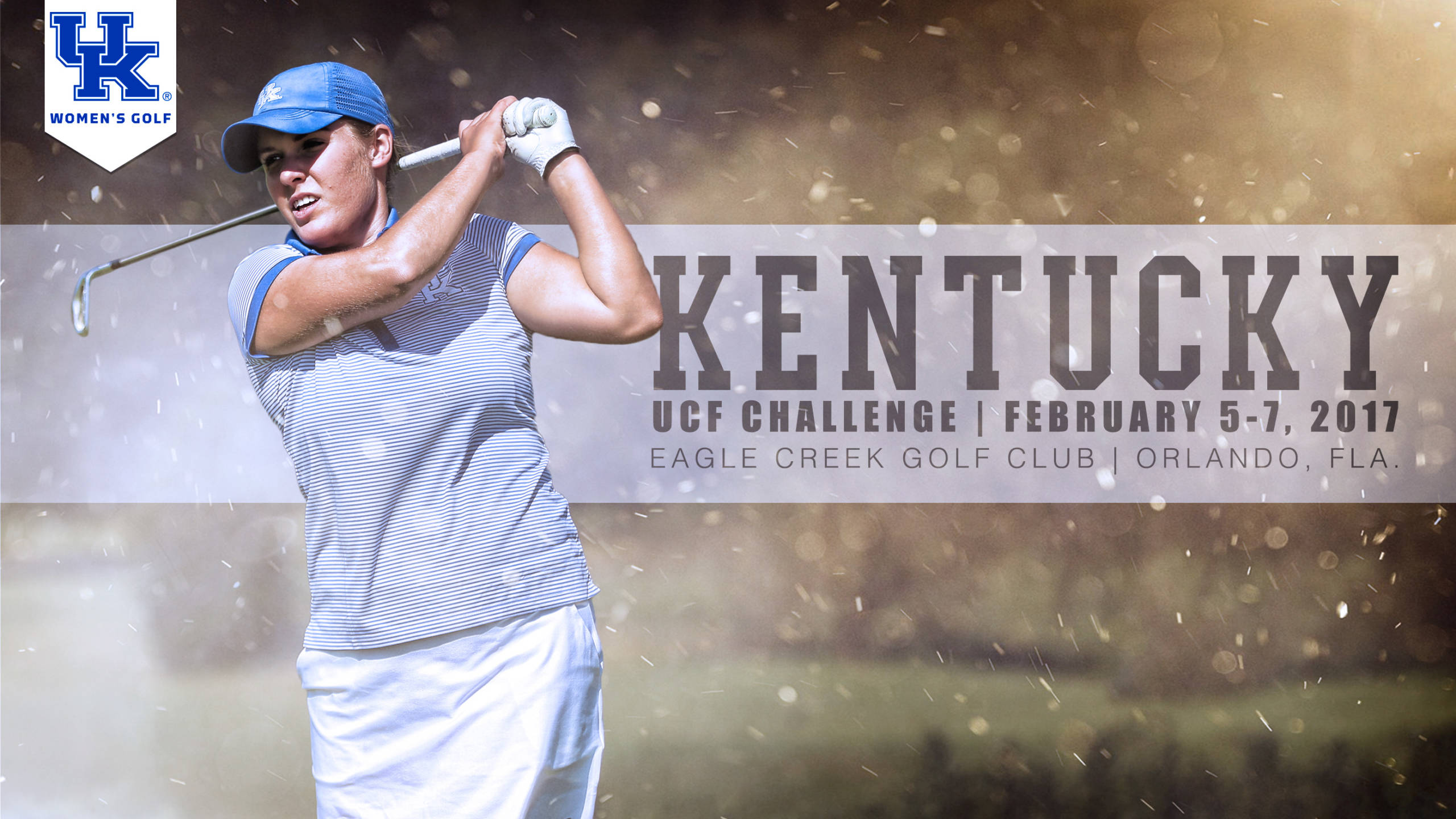 February 4, 2017 - 03:05 PM
UK Women's Golf Heads to UCF Challenge for First Spring Tourney
ORLANDO, Fla. – After opening the spring season Monday with a victory over Louisville in the Battle of the Bluegrass, the Kentucky women's golf team will play in its first tournament of the spring at the UCF Challenge.
The Wildcats are one of 17 teams looking to get off on the right foot in tournament play to begin the all-important spring season.
Play will begin Sunday at Eagle Creek Golf Club in Orlando, Florida, with the first of three 18-hole rounds. All three rounds will take place at 9 a.m. with shotgun starts. The tournament will conclude on Tuesday.
Live scoring will be available throughout the tournament at GolfStat.com. 
"It's nice to get back on the road so quickly after last week," head coach Golda Johansson Borst said. "We had the chance to have a couple really solid practices to get ready for Eagle Creek this week so I know the team feels ready to get back out there." 
UK enters this week ranked No. 40 by GolfStat with a chance to move up based on a tough field. Nine of the 17 teams are ranked in the top 50, including four in the top 20. 
This will mark the sixth time in the last seven seasons UK has played in the UCF Challenge.  The Wildcats have finished in the top five in three of those previous five appearances, including a tie for fifth place a year ago.
"This is a course that most of our players are very familiar and comfortable with and I think that will work to our advantage as we face a competitive field this week," Borst said. 
Kentucky will use a familiar lineup of junior Isabelle Johansson, senior Jordan Chael, freshman Josephine Chang, junior Grace Rose and freshman Sarah Shipley. Redshirt junior Ale Walker will compete as an individual only.
UK is fresh off its first victory at the Battle of the Bluegrass at Timacuan Golf Club in Lake Mary, Florida. The Wildcats edged the Cardinals 602-606 in the two-round, 36-hole head-to-head match, continuing what's been a strong season so far for UK. 
The Wildcats finished no worse than sixth place in their four fall tournaments with top-three finishes in the final two. UK has had a number of individual standout performances, the most recent of which was by Rose. She shot a pair of even-par 72s last week, competing as an individual, to win the individual Battle of the Bluegrass title.
Johnasson was the first Wildcat to win an individual championship this season when she opened the fall with a victory at the Minnesota Invitational. She continues to lead Kentucky in scoring with a 73.2 average.
Chael owns a team-high three-top finishes in tournaments this season, which doesn't include her sixth-place showing at last week's match vs. Louisville. The senior from Overland Park, Kansas, provided arguably the highlight of the season when she recorded a 65 – the second-lowest score in school history (with records dating back to 1987) – in the final round of the Ron Moore Women's Intercollegiate. 
Chang will try to regain her early fall form when she opened her career with four straight rounds of even par or better. The aforementioned Rose is making just her second appearance in tournament play this season, while Shipley, who won the individual bracket at the East & West Match Play Challenge, will make her fifth straight appearance in tournament play and sixth overall.
Walker's last tournament appearance, at the Ron Moore Women's Intercollegiate, resulted in a 34th-place finish.
Eagle Creek Golf Club will play at 6,349 yards this week with a par of 72. Designed by world-renowned golf course architects Ron Garl and Howard Swan, Eagle Creek is Florida's first golf course to use the technologically advanced Mini-Verde grass, resulting in exceptionally fast and vibrant greens.