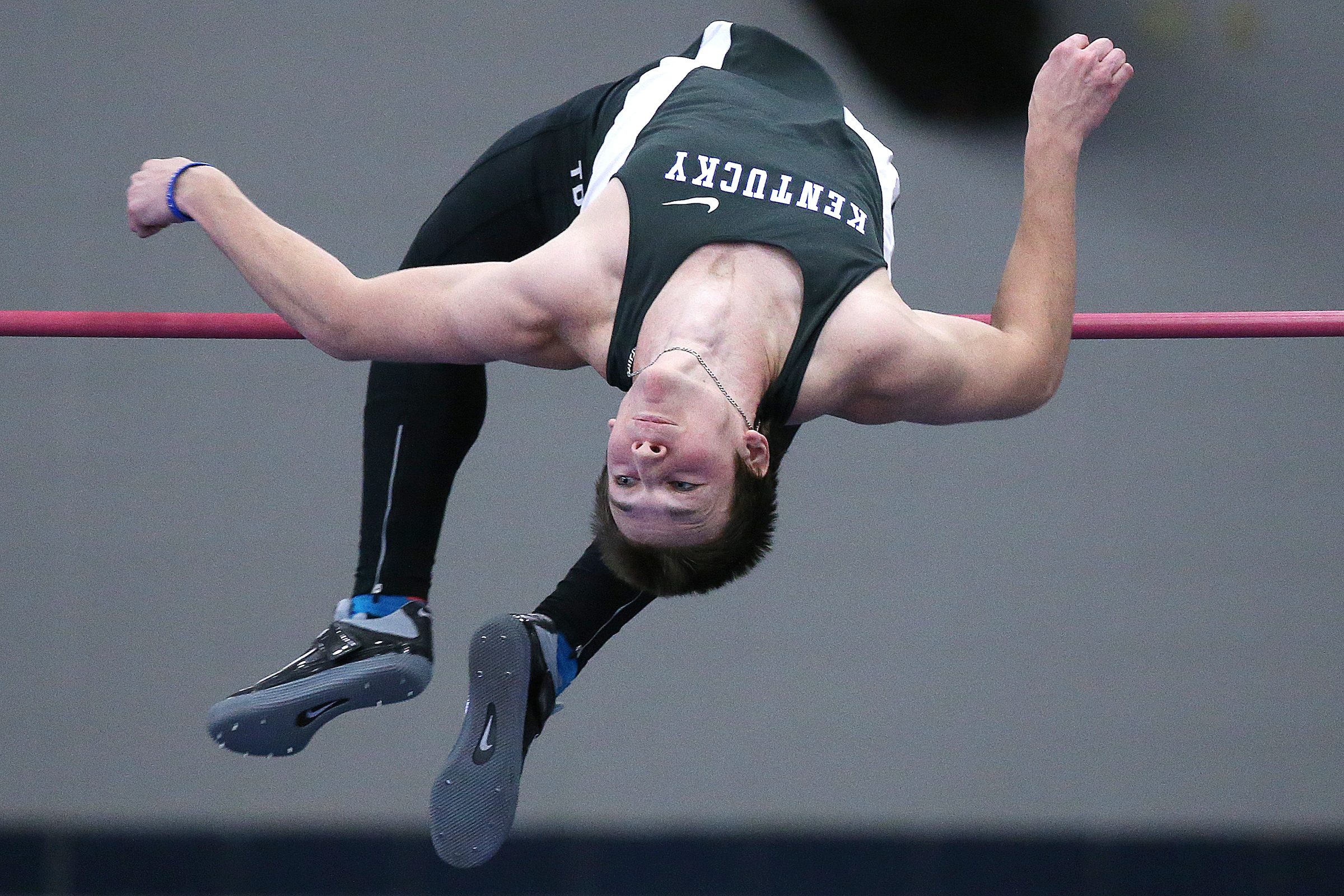 February 3, 2017 - 11:28 PM
Duckworth Has Career Hept Day One at Nebraska
LINCOLN, Neb. – Junior Tim Duckworth started his first heptathlon of 2017 about as well as anyone could ask recording personal bests in three of four Friday events to lead the Kentucky track and field teams on day one of in the 42nd annual Frank Sevigne Husker Invitational. 
Duckworth will enter Saturday, with three events remaining, leading his nearest competitor by 210 points having amassed 3539 points largely due to personal bests in the 60 meters, shot put and high jump.
And while he didn't PR in the long jump he was just 1.25 inches short of it. He sealed a strong Friday by clearing a new PR 7'1"/2.16m in the high jump – one of his best events.
Cameron Short inched up the scoring table throughout Friday and enters Saturday in third with 3204 points. He sits 83 points ahead of his day-one total from the McCravy Memorial two weeks ago, which he went on to win.
Friday's evening track session saw seven Wildcats advance to Saturday sprint finals, while two distance runners posted PRs. 
UK's men's 5k distance duo of Mick Iacofano (fourth in 14:42.97) and Daniel Southard (seventh in 14:52.59) posted the lifetime bests.
UK's hurdles corps had another strong showing as they'll look to move up the NCAA leaderboard, and of course go for hardware, in the Saturday finals.
Jasmine Camacho-Quinn made her 2017 debut by cruising into the 60m hurdles final with a time of 8.16, fastest of the prelims. Jacklyn Howell won her prelim heat in 8.33, and freshman Faith Ross also moved on to Saturday by running 8.42.
Nick Anderson advanced comfortably into the men's 60m hurdles final, running 7.86 to win his heat with the third fastest time of the prelims. Caleb Wilt was the first hurdler out of the final.
The Cats advanced multiple sprinters into the 60m dash men's and women's finals.
Kianna Gray and Javianne Oliver both won their prelims in 7.26. Only professional Morolake Akinosun, who trains at Texas, presumably alongside defending NCAA 60m Champion Teahna Daniels, was faster in the prelims. Daniels was sixth fastest from the heats in 7.39.
While Oliver's time seemed a comfortable prelim cruise, Gray ran a PR all the more impressive as she did it to win her heat over Daniels.
Oliver edged Daniels in the 60m final at the McCravy a fortnight ago, and Saturday's final is setting up to be another barn burner.
Previous Hitchcock also made the 60m final by running 7.51.
Craig Green and Kenshard Hamilton both advanced to the men's 60m final. 
Marie-Josée Ebwea-Bile and Destiny Carter placed four-five in the women's long jump with respective jumps of 20'1″/6.12m, and 19'11.75″/6.09m.
Weekend primer
UK is one of 35 teams competing Friday and Saturday at Nebraska's Bob Devaney Sports Center.
The meet is scheduled to continue Saturday as combined events restart at 10:30 a.m. ET, while field and track events start at 12:30 p.m.
Ranked teams in the USTFCCCA poll at the Husker Invitational on the men's side are No. 11 Kansas, No. 13 Stanford and No. 16 Texas. On the women's side, No. 6 Texas, No. 8 Kentucky and No. 18 Kansas State lead the strong list of participants.
This weekend's Husker Invitational will serve as UK's annual full-team road meet. 
The entire Wildcats' team, save for a lone distance runner who will compete at another meet in search of a fast field, will travel to Nebraska as a means of team building. Often during the indoor season – as will be the case next week – different athletes go to different meets depending on where the most competitive fields in each event are.
World Cancer Day unites the world's population in the fight against cancer.
It aims to save millions of preventable deaths each year by raising awareness and education about the disease, pressing governments and individuals across the world to take action. UK plans to sport the pink uniforms as a means of heightening awareness for such a worthy cause. 
UK Results
G

Event

Round

M

60 Meters

Heptathlon

1. Tim Duckworth: 6.81 (951 points) – PR –

 

10. Cameron Short: 7.10 (847 points)

M

Long Jump

Heptathlon

1. Tim Duckworth: 25'0.5"/7.63m (967 points)

7. Cameron Short: 22'5.75"/6.85m (778 points)

M

Shot Put

Heptathlon

2. Cameron Short: 45'0.25"/13.72m (711 points)

5. Duckworth: 42'8.75"/13.02m (668 points) – PR –

M

High Jump

Heptathlon

1. Tim Duckworth: 7'1"/2.16m (953 points)

3. Cameron Short: 6'9.5"/2.07m (868 points)

M

Day 1 Total

Heptathlon

1. Tim Duckworth: 3539 points

3. Cameron Short: 3204 points

M

WT

Finals

5. David Cline: 64'1.25"/19.54m

6. Logan Bryer: 63'3.5"/19.29m

20. Charles Lenford: 54'5.25"/16.59m

M

Long Jump

Finals

7. Fred Dorsey: 23'4″/7.11m

W

60H

Prelims

1. Jasmine Camacho-Quinn: 8.16Q

4. Jacklyn Howell: 8.33q

6. Faith Ross: 8.42q

W

Long Jump

Finals

4. Marie-Josée Ebwea-Bile: 20'1"/6.12m

5. Destiny Carter: 19'11.75"/6.09m

M

60H

Prelims

3. Nick Anderson: 7.86Q

9. Caleb Wilt: 8.12

W

60 Meters

Prelims

2. Kianna Gray: 7.26Q

3. Javianne Oliver: 7.26Q

8. Precious Hichcock: 7.51q

13. Sha'Keela Saunders: 7.60

23. Kayelle Clarke: 7.72

M

60 Meters

Prelims

5. Craig Green: 6.87Q

8. Kenshard Hamilton: 6.81q

W

WT

Finals

18. Nicole Fautsch: 50'8.25"/15.45m

M

400 Meters

Finals

27. William Walker: 49.58

M

5k

Finals

3. Mick Iacofano: 14:42.97

7. Daniel Southard: 14:52.59
—