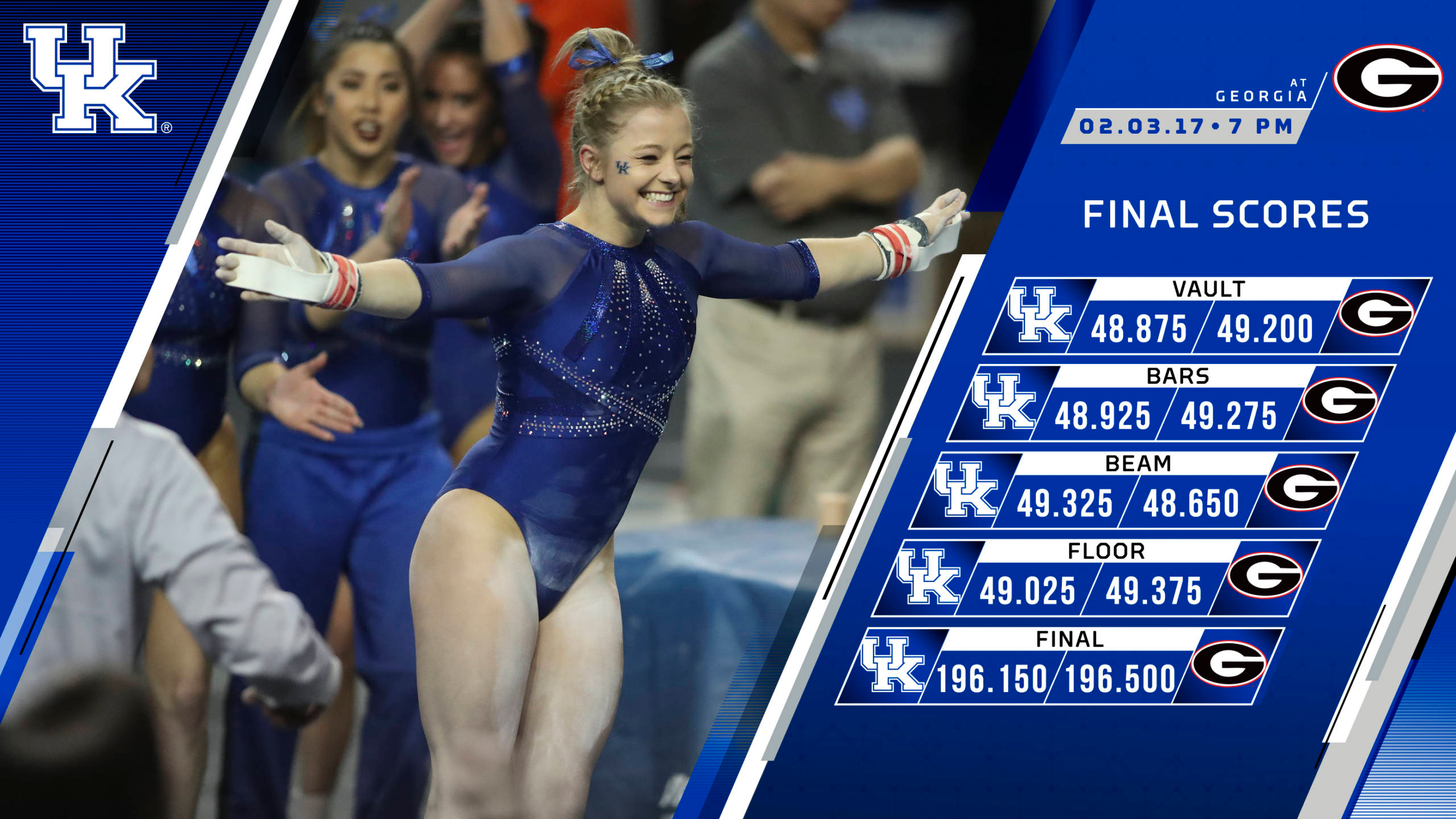 February 3, 2017 - 10:01 PM
No. 10 Kentucky Takes Beam Title, Falls to No. 9 Georgia
ATHENS, Ga. – Even though the No. 10 Kentucky Wildcats won the beam title
with a score of 49.325, UK couldn't top No. 9 Georgia, falling 196.500 -196.150
inside Stegeman Coliseum on Friday.
"We need to be
sharper throughout competitions to achieve the level of success we're capable
of," head coach Tim Garrison said. "Some of that will come through improving focus
in training, but most will come from believing just how good we are and
performing to that level in competitions."
UK claimed its fourth beam title this season with an impressive 49.325.
Sophomores Sidney Dukes and Alex Hyland both scored 9.925, with Hyland's being
a career best. Hyland sat at No. 6 in the nation for average beam score at
9.885, and that score will improve to 9.892 after tonight.
"It's more of a team thing," Hyland said on her consistency. "I have a
great lineup in front of me and it's always great to end with a good routine. I
depend on the team."
Hyland took second in the all-around with a score of 39.300. Hyland's
lowest score was a 9.700 on floor, and she posted a 9.850 on the floor and
9.825 on the bars. Dukes followed closely behind with a score of 9.800.
"It's just repetitions and I think we just have to rely on our training,"
Hyland added. "It helps when my teammates are cheering me on and I know they
are behind me."
With the loss, UK moves to 3-3 on the season and 1-3 in Southeastern
Conference play. Kentucky continues SEC action next weekend when UK welcomes
Alabama to Memorial Coliseum at 7 p.m.
VAULT
Sophomore Aubree Rosa and Hyland led the way for the Cats on vault who
posted a 48.875. They both scored a 9.825, with Rosa's being a season high.
Freshman Mollie Korth posted a 9.8 as the anchor, and sophomore Katie Stuart a
9.725. Hyland contributed with a 9.7.
BARS
Kentucky's first rotation was on bars, and the squad posted a 48.925.
Korth led the way as the anchor with a score of 9.850, while Hyland followed
with a 9.825 out of the fifth spot. Stuart put up a 9.775, and sophomore
Katrina Coca followed with a 9.750. Dukes also contributed with a 9.725.
BEAM
Kentucky posted its best rotation score of the night with a 49.325.
Hyland and Dukes scored 9.925s each, while Stuart followed with a 9.875. Junior
Cori Rechenmacher posted a 9.850 and Korth anchored with a 9.750.
FLOOR
UK had a solid go on the floor, with no one scoring below a 9.700.
Kentucky finished with a score of 49.025. Hyland paced the Cats with a 9.850,
and Stuart followed with a 9.825. Two Wildcats – Rechenmacher and Dukes –
posted a 9.800, and Carlisle, after a scoring change improved her score,
contributed with a 9.750.
For complete news and updates on the
Kentucky Gymnastics program, go to UKathletics.com. Season tickets
can be found on UKathletics.com/Tickets. News and updates on the team can also be found on
Twitter at @UKGymnastics and at @UKCoachGarrison and Facebook at Facebook.com/UKGymnastics.