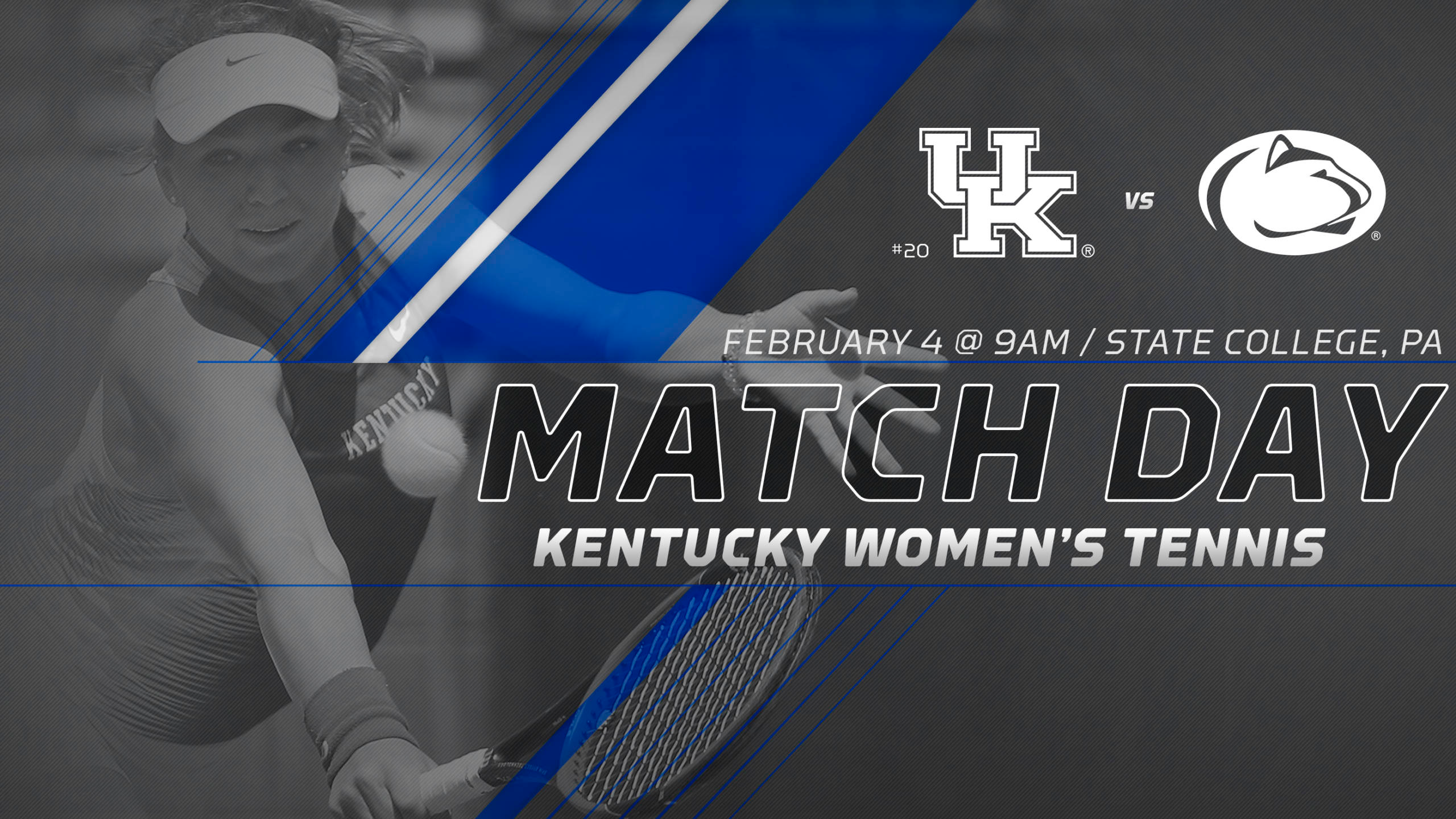 February 3, 2017 - 06:25 PM
No. 25 Kentucky Set to Take on Penn State Saturday
UNIVERSITY PARK, Pa. – The No. 25 Kentucky women's tennis team will travel east on Saturday to take on Penn State at 9 a.m. inside the Sarni Indoor Tennis Center. Heading into the match, the Wildcats own a 4-1 overall record, including a 2-1 mark on the road. 
Kentucky's lone loss came in last Saturday's match against then-No. 24 UCLA as part of the ITA Kick-Off Weekend in Atlanta. The Wildcats went 1-1 overall on the weekend, downing Penn 4-0 in the consolation match the following day.
As it stands, the Wildcats own a 2-1 all-time series record over PSU. The two programs last met in 2015, when UK earned a 6-1 victory in Lexington.
KENTUCKY ATHLETES IN THE NATIONAL RANKINGS
Kentucky boasts the No. 1 doubles pair in the nation in senior Aldila Sutjiadi and junior Mami Adachi. They began 2017 as the nation's top-ranked pair after winning their first national title at the UTSA/ITA National Intercollegiate Indoor Championships on Nov. 22. The veteran tandem are 3-1 in the spring season after dropping a 6-3 decision to ninth-ranked Jada Hart/Ena Shibahara, the same UCLA pair they defeated in November to earn the Indoors crown.
Individually, Sutjiadi holds the No. 12 singles spot after putting together an 8-2 record in the fall season and winning the singles title at the 2016 Ohio Valley Regional Championships. 
Sophomore Akvile Paražinskaite opens the spring campaign at No. 74 in the national standings. Paražinskaite earned her first victory over a ranked opponent in the season opener, taking down No. 94 Maddie Silver in a 6-2, 6-4 decision.
SCOUTING THE NITTANY LIONS
PSU holds a 2-2 overall record with wins over Navy and West Virginia. In its most recent match, the Nittany Lions suffered a 4-3 loss to James Madison. After Penn State dropped the doubles point, the match went down to the wire and was decided by the No. 6 singles match in which Bennett Dunn was defeated by JMU's Kimmy Herrock, 7-5, 6-3.
Senior Devan McCluskey is the only ranked player on the host school's roster, coming in at No. 107 in the national rankings. McCluskey has a 2-2 singles record, having played mostly in the No. 2 position.
For the latest on the Kentucky women's tennis program,
follow @UKWomensTennis
on Twitter and Instagram, on Facebook at Facebook.com/UKWomensTennis
and on the web at UKathletics.com.