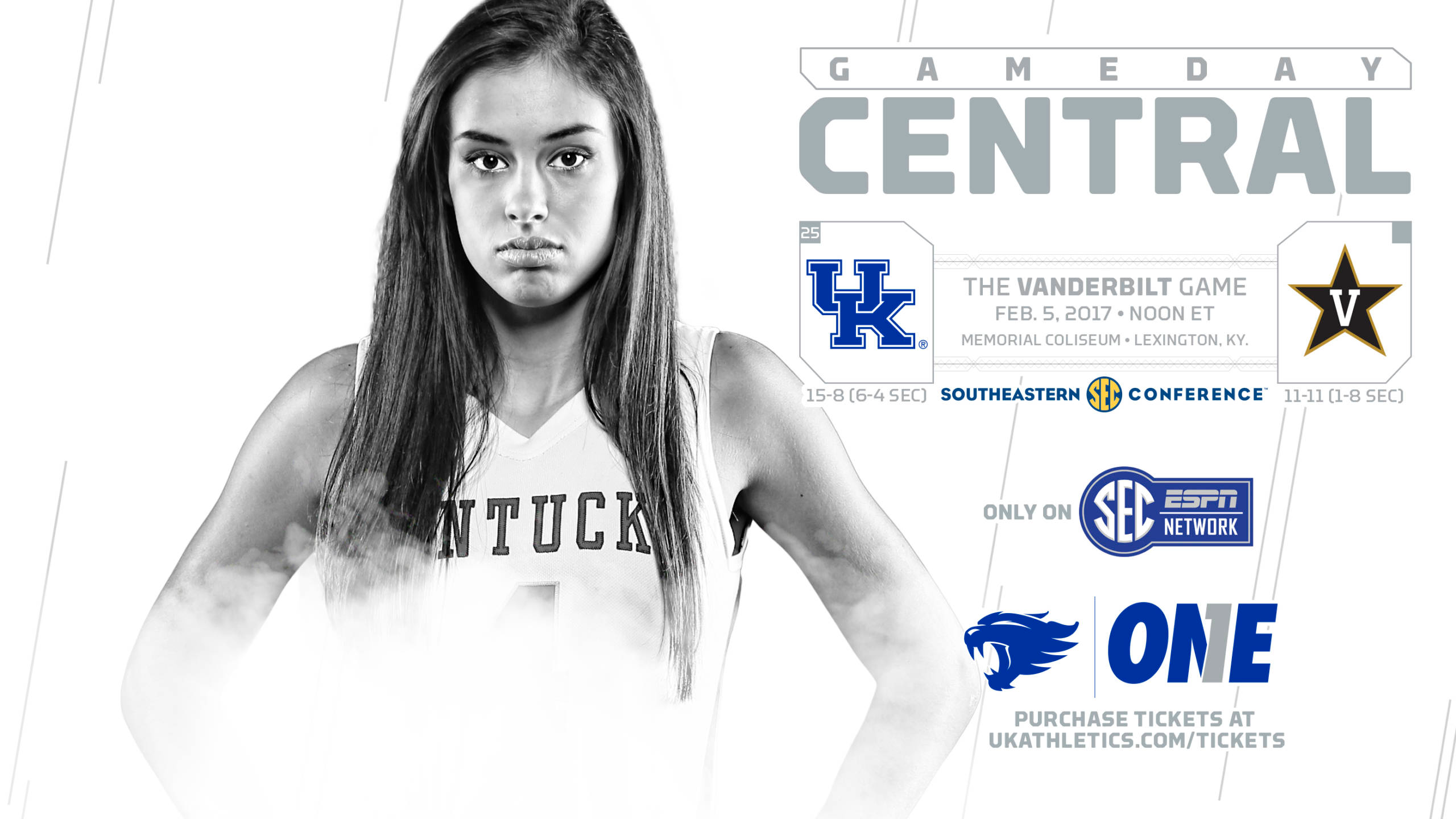 February 3, 2017 - 05:27 PM
Kentucky to Honor Legends, Host Vanderbilt Sunday at Memorial
LEXINGTON, Ky. – The No. 25 University of Kentucky women's basketball team will pay tribute to the past on Sunday as it honors 2017 Southeastern Conference Legend Bernadette Madigan-Dugan and three recipients of the 2017 Sue Feamster Trailblazer Award while hosting Vanderbilt at Noon ET inside Memorial Coliseum. 
Single-game tickets for all Kentucky home games are available through the UK Ticket Office and through ticketmaster.com. Single-game tickets are $9 for reserved seating (all ages), $8 for adult general admission and $5 for youth (6-18/seniors 65+) general admission seating. General admission seating is free for ages five and under. Parking is available in most surface lots and parking garages around Memorial Coliseum. Shuttles are available from most lots. More information on parking and shuttles is listed below. 
The game will be broadcast on the SEC Network with Bob Picozzi on play-by-play and Tamika Catchings as the analyst. The game can also be seen through WatchESPN on computers, smartphones and tablets. Now in his 12th season, Neil Price will have the call on the UK Sports Network. Fans in Lexington can hear Price's call of the game on WLAP 630 AM. Live stats and free audio will be available online at ukathletics.com.
In the first quarter, Kentucky will honor Madigan-Dugan, who is its 2017 SEC Legend and will represent the university at the 2017 SEC Women's Basketball Tournament. One of the greatest distance runners in Kentucky history, Madigan-Dugan was the first UK female to win a national track championship when she won the NCAA two-mile run in 1982. An All-America honoree in five separate events – cross country, indoor two-mile, outdoor 3,000 meters, indoor 3,200-meter relay and the outdoor 10,000 meters – she also won two SEC titles, the 1982 3,000-meter run and the 1983 three-mile run. Away from UK, Madigan-Dugan competed for Great Britain in the 1985 World Student Games and has coached collegiately at Marshall, Furman, UK and Transylvania. Currently, Madigan-Dugan is coaching at Lexington Catholic High School. In the fall of 2016, she was inducted into the UK Athletics Hall of Fame.
At halftime, UK will present the Sue Feamster Trailblazer Award to Becky Hudson, Wendy Martin and Susan Bradley-Cox. The award is given to those who have provided exceptional leadership and paved the way for others to succeed. This year's award will be presented by Feamster, a pioneering women's basketball coach as well as a national leader on the NCAA steering committee, which helped pave the way for women to play in the NCAA. Feamster, who coached the Cats from 1971-76, received the inaugural award in 2008. Past winners of the Trailblazer Award also include T. Lynn Williamson, Gloria Singletary, Majorie Ann Porter, Ceal Barry, Valerie Still, Pat Dawson and Brigid DeVries. 
A Lexington native, Hudson graduated from Lafayette High School in 1958 before attending UK, where she earned her bachelor's and master's degrees in education. As a UK student, Hudson was a member of the basketball and field hockey teams when all of the women's sports teams were at the club level under the department of campus recreation. After graduating from UK, Hudson went on to become the director of intramurals as well as the women's basketball coach at the University of Louisville before being named an assistant athletic director for women's sports with the advent of Title XI in 1974. Hudson helped transition UofL women's athletics into the NCAA, ushering in scholarships for women nationwide. In 1981, Hudson made her return home to Lexington to begin her career as the director of student services for the UK College of Nursing, a position which she would hold for 24 years until her retirement in 2005. 
A member of UK's first varsity women's basketball program from 1974-76, Martin earned her bachelor's degree from Kentucky before receiving her master's in education from Louisville in 1978. Martin went on to become a teacher in her hometown of Louisville at the Collegiate School, where she worked for 35 years until her retirement in June of 2016. During her tenure at Collegiate, Martin served as the girls basketball and field hockey coach and helped lead her teams to a combined 12 state titles. Martin was named the Kentucky High School field hockey coach of the year 12 times, producing eight All-America athletes and winning 607 games.
Bradley-Cox is a two-time graduate of UK, earning her bachelor's degree in 1959 along with a master's in counseling in 1962. A member of the cheerleading team as a student, Bradley-Cox was asked to coach the cheerleaders after her graduation, a role which she filled for a decade. In 1978, she began training for triathlons and has since won 11 world championships and 12 United States championships by age group, competing in competitions across the globe. In 2012, Bradley-Cox was inducted into the Kentucky Athletic Hall of Fame. Bradley-Cox is native of Paducah, Ky. 
Kentucky (15-8, 6-4 SEC) is coming off back-to-back losses for the first time in conference play, most recently falling 75-63 against top-five ranked South Carolina. Senior guard Makayla Epps leads Kentucky by averaging 17.0 points per game, while fellow senior Evelyn Akhator is averaging a double-double with 14.8 points and 10.3 rebounds. Sophomores Taylor Murray and Maci Morris are each averaging over 12 points per game with Murray at 12.2 and Morris right at 12. Murray is second on the team in assists with 68, while Morris has hit a team-best 41 3-pointers this season. 
The Wildcats are averaging 70.3 points per game this season, limiting opponents to 60.9 points per game. Kentucky is hitting 43.5 percent from the field, 31.8 percent from 3 and are out-rebounding teams by 2.8 rebounds per game. UK is currently ranked No. 15 in the latest NCAA RPI report with the fifth-toughest strength of schedule in the country. UK has played 11 games against teams in the top 35 of the NCAA RPI with wins over No. 21 Auburn, No. 22 Oklahoma, No. 24 Miami (Fla.), No. 25 LSU and No. 31 Missouri. 
Vanderbilt enters Sunday's game with an 11-11 overall record, including 1-8 in conference play. The Commodores' roster features just two athletes to average double-digit scoring, but boasts seven players posting more than seven points per contest. Vanderbilt is led in scoring by junior guard Rachel Bell who is averaging 12.2 points. Freshman forward Kayla Overbeck is second on the team with 10.0 points per game. Senior forward Marqu'es Webb leads the Commodores on the boards, grabbing 9.2 per contest.
The Commodores are coming off a 93-73 loss to Florida last Sunday. In the outing, Rebekah Dahlman led the team with 18 points and Overbeck recorded her fifth double-double of the season with 14 points and 13 rebounds. Vanderbilt's lone conference win came against Alabama last Thursday, Jan. 26, when they earned an 87-80 victory in Nashville. In the game, senior forward Erin Whalen led the charge with a game-high 22 points. Vanderbilt is averaging 71.4 points per game this season and 7.5 3-pointers per game. The Commodores are also out-rebounding opponents by a 3.0 margin (39.9-36.9).
Sunday's meeting with Vanderbilt is the 50th all-time in program history with the Commodores leading the all-time series 27-22. The series is tied 11-11 in games played in Lexington. 
Kentucky has won 10 of the last 11 meetings in the series. Vandy won the last meeting in Memorial Coliseum, 71-69 on Jan. 28, 2016. Matthew Mitchell is 11-4 all-time as a head coach against Vanderbilt.
Kentucky and Vanderbilt met twice last season with each team earning a win on the other team's home court. The season series started with Vanderbilt breaking Kentucky's nine-game winning streak against VU, earning a 71-69 win in Memorial Coliseum on Jan. 28. UK returned the favor by taking down the Commodores 71-55 at Memorial Gym on Feb. 14.
For more information on the Kentucky women's basketball team, visit UKathletics.com or follow @KentuckyWBB on Twitter, Instagram and Snapchat, or Kentucky Women's Basketball on Facebook.
Parking
New spectator parking options include the High Street Lot, located at the corner of East High Street and South Martin Luther King Boulevard, and the Alumni Center Lot on Linden Walk, resulting in nearly 200 additional parking spaces.
Spectator parking is located in all of the E-lots surrounding Memorial Coliseum, all lots are off control 3 hours prior to tip. Additionally, the South Limestone Garage (PS#5) and the Rose Street Garage (PS#2) are available two hours prior to tip.  
Parking is prohibited in any R (Residential) lots. Vehicles parking in R lots without a proper permit, along yellow curbs, grass spaces, or other non-specified and unapproved areas may be subject to ticket and/or tow.
Disabled spectator parking is available with a valid, state issued disabled hangtag in the E-Lot (Employee Lot) north of the Joe Craft Center. These spaces are available on a first-come, first-served basis until full.
Transit Center Parking Garage
UK women's basketball fans can avoid traffic and congestion around Memorial Coliseum and park FREE at the Transit Center – available after 5 p.m. ET on weekdays and all day for weekend games.
The Transit Center Parking Garage is accessible from Vine Street of High Street.
Push the green flashing button upon entry, take the yellow token and store it in a safe place. Park in the garage and find the UK Athletics event staff member at the entrance of the garage near Lexington Avenue for a free parking token to use after the game when you exit the garage. Staff will remain on site until 20 minutes after tip.
Please do not lose your token. If you lose your token, you will be charged an $8 fee for a lost token fee. If you lose your token, visit the pay on foot station located in the seventh floor elevator lobby of the garage and choose "lost token." You will be charged $8.00 and given a new token that can be used to exit the garage. 
Shuttles
Shuttles are available beginning two hours prior to tip and pick up and drop off near the South Limestone Garage (Parking Structure # 5) (blue route) and inside the High Street Lot (green route).
Shuttles will start back up after halftime to return guests to their parking areas. The shuttle will discontinue service 1-hour postgame.
Game Day Information
Doors to Memorial Coliseum open one hour prior to tip.
UK Athletics encourages women's basketball fans to arrive early to ease traffic and parking congestion around the Coliseum.
Complete game day information can be found at our game day site by clicking here. 
Kentucky Head Coach Matthew Mitchell
Opening Statement…
"Well, we are looking forward to getting on the practice floor today and preparing for a really tough Vanderbilt team. Their record does not reflect how tough they are. They are a difficult matchup for us, really shoot the 3 well, have a lot of power inside. So, it'll be a big challenge but I thought our team really responded well to some adversity last night. After the game, we just talked about how important it will be to come back today, and I know they'll come back today with a great effort. Looking forward to preparing for what'll be a difficult game for us on Sunday. We'll need a big crowd out there, help us a lot. We had a great crowd last night. So hopefully we can get a big crowd in there on Sunday."
On rallying back from being down 27 points at one point against South Carolina…
"Yeah, I was proud of them being able to reset their mindset. We really got discouraged and we were not playing with the type of focus that we needed to play with. You know, we called timeout and tried to say, if the score were tied right now, where would your mind be? Let's not drift off and wander off because things aren't going our way. South Carolina really did some great things last night, played extremely hard, made shots and it was a difficult night for us to say the least. But, you know, this team's battled all year and they've worked hard all year and when they're focused in they do well. That was a difficult time to refocus. It was so discouraging to be down by 24 points at the time we called the timeout, then they hit the three to go up 27 and then from there on out, I thought we regained our focus and gave a better mental effort. You know, last night no matter what was going on, South Carolina gave a supreme effort and it would have been a difficult game for us to win last night, but what we want to do is we want to try to make sure we're giving everything that we have. I was proud of the team after not doing that, were able to get that back going in the confines of the game because it's difficult to do. That's something that you build on. The next time we play them, you work hard and learn where you can try not to go seven minutes without scoring. You know, that happens over the course of the season. So we just need to hit the floor today with a lot of energy and enthusiasm and I think the team will do that."
On how Makayla is doing after exiting the game last night…
"I think she's going to be ok. We'll check her before practice, but we don't anticipate it being any type of difficulty that would keep her from Sunday's game. She tweaked an ankle there at the end, stepped on somebody's shoe down under the basket. So it was very late in the game, so we got her out and she's getting treatment today. We feel like she'll be good to go Sunday."
On what Maci Morris is doing well and where she can continue to improve…
"Well, Maci was in an unfortunate situation when our spirit dropped last night and the heat really got turned up. She ended up with the ball at the end of the clock a bunch, having to try to create and so a lot of her shots were rushed and harassed. We just didn't do a great job, the other four of us, helping her out. So I appreciate just her aggressive nature and her resilience. She went 2-for-11 in the first half and she just came right back out in the second half and battled and went 2-for-5 there and had a better half there. You know, I just think that she's playing hard and growing every game. It's her sophomore season. A lot of people go through what they call a sophomore slump and she shows no signs of that. She's a major part of our defensive plan, always assigned to the top perimeter player and you know, just making things happen. She is just hanging in there, having to play heavy minutes. I think she's doing a great job. We were not poised on offense last night. We were really poor on our execution. Against that team, you've got to execute well. You've got to be crisp, sharp. We got a little panicky with their pressure and it led to some negative plays for us caused by South Carolina. You give them credit for playing tough defense. I think it's going to help her today. We're going to go back and try to slow it down, review it a little bit more and get her into some good situations, but I think she's having a terrific season. We wouldn't be in very good shape without her, I can tell you that. She's doing great."
On whether he's happy with the team's shot selection…
"Yeah, I think they're doing pretty well with that. We started rushing when the shots weren't falling. We were doing a pretty decent job of getting some shots and then when the lid went on, we were missing layups and all sorts of things. Then we started getting panicky and not doing a great job with moving the job and helping each other out. So we took a few tough shots, but this team has, for the most part, really grown offensively. I think we've got capabilities, from a schematic stand point, that we can attack you in different ways, inside and outside with different screening actions. So I think that we just need to stay it every day, but I think that on a given night have plenty of weapons and can cause some problems."
On any possible fatigue issues at this point in the season…
"Well, I think we've gotten through a big bulk of the schedule. We've got basically three two-game sets coming up here and we'll handle it well. One of those we'll have a bye squeezed in there, so some time to refresh. So I'm not concerned about the team's fatigue right now. That was a fatiguing game because South Carolina is a really big, strong, athletic team and I thought our team just battled and from a physical standpoint gave a lot. But I think that we are in a spot right now where they're practicing with great enthusiasm and energy. Their practice on Wednesday getting ready for South Carolina was terrific, didn't show any signs of fatigue. I think we're in a good spot there. It's tough on everybody this time of year, but I don't feel for one second that we're in any type of diminished state or any type of disadvantage because of our roster. I think everybody is practicing hard and really contributing and doing well. So I feel good about our team from that standpoint."