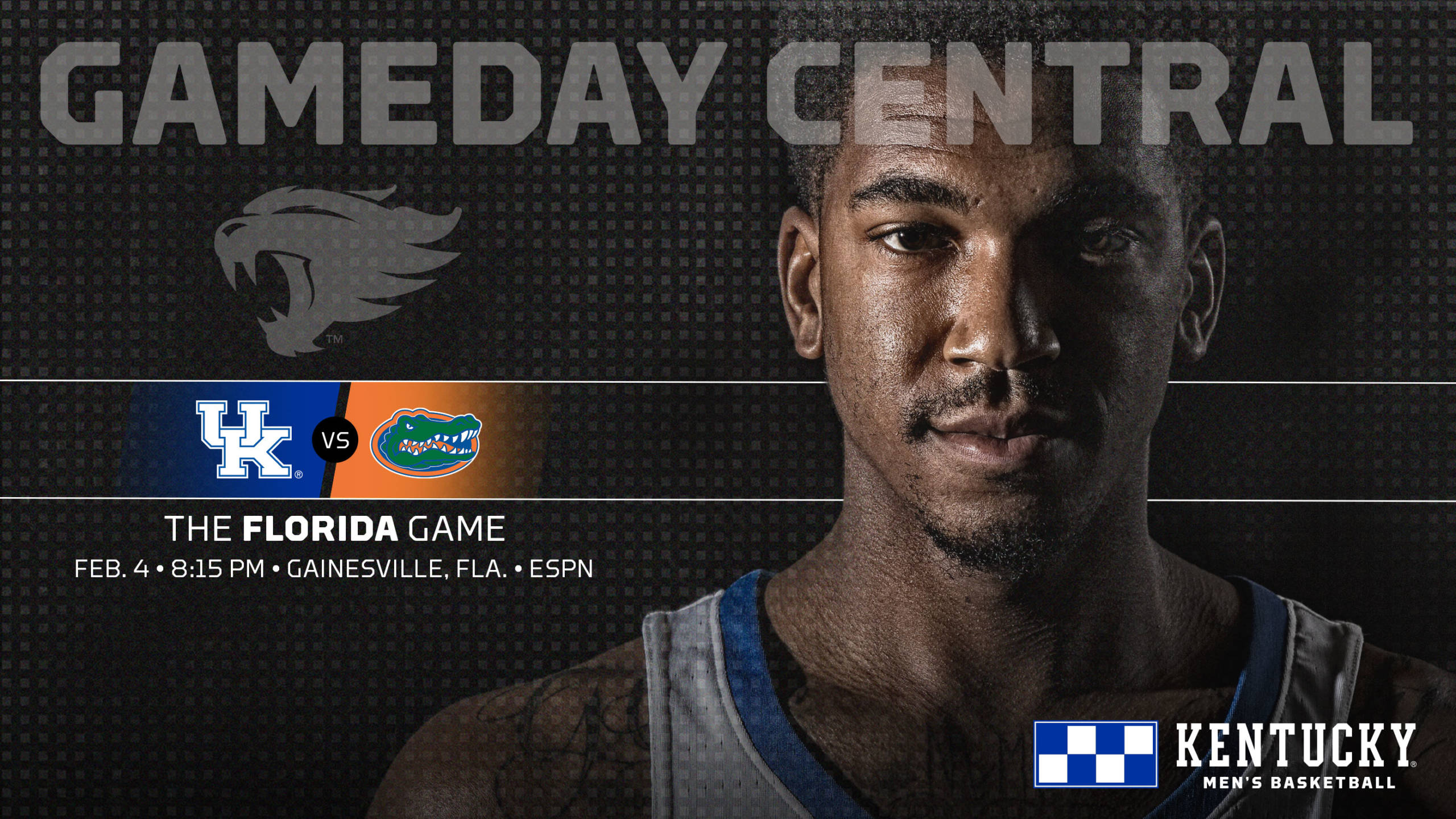 February 3, 2017 - 04:22 PM
Trip to Florida Another Chance for Cats to Learn, Improve
Given the choice, of course Kentucky would have preferred to have De'Aaron Fox, Mychal Mulder and Sacha Killeya-Jones available on Tuesday night rather than have them sidelined due to illness.
Kentucky at Florida

Sat., Feb. 4 – 8:15 p.m. ET
Stephen F. O'Connell Center
Gainesville, Fla.
Game Notes: UK | UF
Gameday App

Coverage

TV: ESPN
Radio: UK Sports Network
Watch ESPN
Live Audio
Live Stats
Digital Gameday Guide
Text Updates

UK
2016-17 Team Stats
UF
18-4
Record
17-5
8-1
Conference Record
7-2
91.3
PPG
79.3
73.2
Opp PPG
65.6
.491
FG%
.455
.424
Opp FG%
.414
40.8
RPG
37.0
.358
3PT FG%
.360
.313
Opp 3PT FG%
.316
.691
FT%
.720
17.5
APG
12.9
6.3
SPG
8.0
6.0
BPG
5.1
No doubt, Bam Adebayo departing with two early fouls was not ideal.
Neither was the 12-point hole in which the Wildcats found themselves.
"Those are all learning experiences that, as we're growing as a basketball team, you have to look back on that," assistant coach Joel Justus said. "I think as we met yesterday, and as we were on the floor yesterday, you had to feel good about that, of what we did the other night. I don't think anyone around here is looking at that as a bad thing – what we had to experience the other night."
UK managed to weather that storm and come out on the other side with a heart-pounding victory, but the Cats' mandate afterward would have been the same even if Malik Monk's game-tying jumper had not forced overtime.
"It was something that taught us lessons, and at this point in the season, wins or losses, you're going for lessons learned," Justus said. "Our guys are embracing every day those lessons and then growing from them."
Another set of learning experiences awaits No. 8/6 UK (18-4, 8-1 Southeastern Conference). The status of Fox, Mulder and Killeya-Jones remains uncertain, but what the Cats do know is they'll be facing one of the SEC's best teams come Saturday at 8:15 p.m. in No. 24/23 Florida (17-5, 7-2 SEC). 
"They have experience," Justus said. "They have athleticism. They have size and they present problems for their opponents because of those things I just mentioned. I mean, when you have experienced guards in college basketball that always helps you. When you have guys that have been through the wars of the SEC, that helps you. And you can tell (they're) well coached. They're disciplined. (They) play very hard."
The Gators enter the game playing some of their best basketball in a season full of it. Florida has bounced back from back-to-back losses with consecutive wins over LSU, Oklahoma and Missouri. Those wins have come by an average of more than 35 points. 
"Just gotta be prepared, take the fight to them right from the jump," Derek Willis said. "They're going to be ready for us. I think they're a top-25 team. They're good. They can beat you. Just gotta show up."
The Cats needs to show up, because there's little doubt Florida's home crowd in the newly renovated Exactech Arena at the Stephen C. O'Connell Center will be. The Gators are 5-1 since the building reopened and will be hosting ESPN College GameDay a week after UK did the same in Rupp Arena.
"I would say it's probably the hardest place to play in," Willis said. "I mean, the environment is so humid. You get in the gym and the fans are right on top of you. … With College GameDay too being there, I mean, it's going to make it that much more tough. We'll see."
GameDay has been in Gainesville, Florida, each of the three times Justus has traveled there with UK, but its Mike White's team that has his attention more than anything else.
"I think it's a tough place to play because of the guys that are in the uniforms," Justus said. "That has a little bit more to do with it than the fans or arena. They have very good basketball players and are very well-coached. That's something that presents a bigger problem at times rather than however many thousand folks that are there for that game."
There's little margin for error as UK seeks to win its second straight rather than lose for the third time in four games, but the Cats are confident.
"I think right now we're just kind of in a little tough spot," Willis said. "But we know what to do. All of our fixes I feel like they're simple. We just gotta get out there and do it. I stand by my statement that we're the most talented team in the nation and we can go as far as we want to carry ourselves. But like I said, we just gotta crack down on some things and we'll be alright."
Monk, Briscoe Lead Cats Past Georgia in Overtime to Snap Two-Game Skid
Tuesday night emulated every component of a modern-day fairy tale: A national audience was tuning in as longtime Hall of Fame broadcaster Brent Musburger was bidding his farewell to the nation. The cast of characters changed minutes before curtain call as UK found out prior to tipoff it would be without three players due to illness, including starting point guard De'Aaron Fox. And then the ultimate challenge faced the Cats when they fell behind 12-0 and did not score for the first three minutes of the game.
But, as we have learned from a lifetime of stories, there's always a dramatic climax.
The Wildcats appeared headed to their third straight loss until freshman Malik Monk sank a jumper with eight seconds remaining in regulation to tie the game at 76 and bring the audience to its feet. Senior Dominique Hawkins' desperation heave from midcourt bounced off the rim as the horn sounded, nearly giving the Cats a storybook ending. After an up-and-down dramatic game, overtime was anything but.
Hawkins' drive got the Wildcats started in overtime before Monk made his first 3 for a five-point lead. His second made it 85-81 and Bam Adebayo followed with a slam off Monk's lob for a six-point cushion. Isaiah Briscoe (23 points, 11 rebounds, eight assists) made a free throw and Monk added two more with 43.3 seconds left to seal the 90-81 win and end a two-game losing streak.
Tuesday's game cemented the notion that there's no stopping Monk when he's hitting from long range, and the freshman once again showed his hot hand in tense moments for No. 8 Kentucky. He made seven 3-pointers and scored 31 of his 37 points in the second half or overtime. Adebayo had 12 points as Kentucky (18-4, 8-1 Southeastern Conference), playing without Fox, Mychal Mulder and Sacha Killeya-Jones because of various illnesses, avoided its longest losing streak since dropping its final four regular- season games in 2008-09.
The Wildcats survived by keeping their poise despite trailing by as many as 14 in the first half. A zone defense UK had to play out of necessity was also effective in helping the Wildcats win the rebounding battle 45-32, including 17 offensive boards that resulted in a 24-3 edge in second-chance points. They also forced 17 turnovers for a slight edge in points (20-18), which ultimately made a big difference.
Additional notes:
• Kentucky has never lost three games in a row under John Calipari
• The last time UK trailed by at least 14 and came back and won was when it beat Miami (Ohio) 72-70 on Nov. 16, 2009. Kentucky trailed by 18 in the first half of that game
• It was UK's first overtime game since beating Texas A&M in the 2016 SEC Tournament championship game
• It was Kentucky's first SEC regular-season game to go to overtime since Feb. 20, 2016, a 79-77 loss at Texas A&M
• It was the first time UK played an SEC regular-season OT game in Rupp Arena since Jan. 6, 2015, an 89-86 win over Ole Miss
• Monk has scored in double figures in all 22 games and now has three games of 35 or more points, more than any freshman in UK history
• Monk's 37 points are the second most by a freshman in school history. He set the record earlier this season with 47 vs. UNC
• Monk hit seven 3-pointers in the game. He's one of three players in program history — and the only freshman — to have three games with at least seven 3-pointers
• Monk is the first freshman and third player in a single season to have at least 34 points in a neutral-site game, an away game and a home game
• He scored 31 points in the second half or overtime after having just six in the opening half
• Briscoe registered his third double-double of the season and the second in three games. He was just two assists shy of his second triple-double of the year
• Briscoe set a new career high with 11 made free throws and also played in a career-high 45 minutes
• Briscoe is the first UK player to have at least 20 points, 10 rebounds and five assists in a game since James Young had 26 points, 10 rebounds and five assists on Jan. 8, 2014
• Isaac Humphries made his first start of the season and had four points and seven rebounds, two shy of a season high
• Kentucky has scored at least 80 points in nine consecutive SEC games. It's the most consecutive regular-season SEC games scoring at least 80 points since the 1990-91 team did so in 10 straight contests
Calipari Closing in on 23rd Consecutive 20-Win Season
With a home win vs. Georgia on Tuesday, UK secured its 18th win of the season, just two shy of an eighth straight 20-win season under John Calipari. Calipari as a collegiate head coach has posted 22 consecutive seasons of 20 or more on-court wins. He leads all active coaches with that streak, ahead of Mike Krzyzewski of Duke (20), Bill Self (18) and Jim Boeheim (17).
More impressive, Calipari has nine seasons with 30 or more on-court wins. Only Mike Krzyzewski (13) and Roy Williams (10) have more. Calipari is the first coach in NCAA Division I history to record five straight on-court 30-win seasons, notching 30 straight in consecutive seasons from 2005-06 to 2009-10.
Fox, Monk Named Finalists for Cousy and West Awards, Respectively
Kentucky floor general De'Aaron Fox and sharpshooter Malik Monk are among 10 finalists for the 2017 Bob Cousy and Jerry West awards, respectively. The Cousy award honors the nation's top point guard, while the West award honors the top shooting guard.
A national committee of top college basketball personnel determined the watch list of 20 candidates in October and the same committee trimmed the list to the midseason list of 10 finalists. The winners will be announced at the ESPN's College Basketball Awards show on April 7.