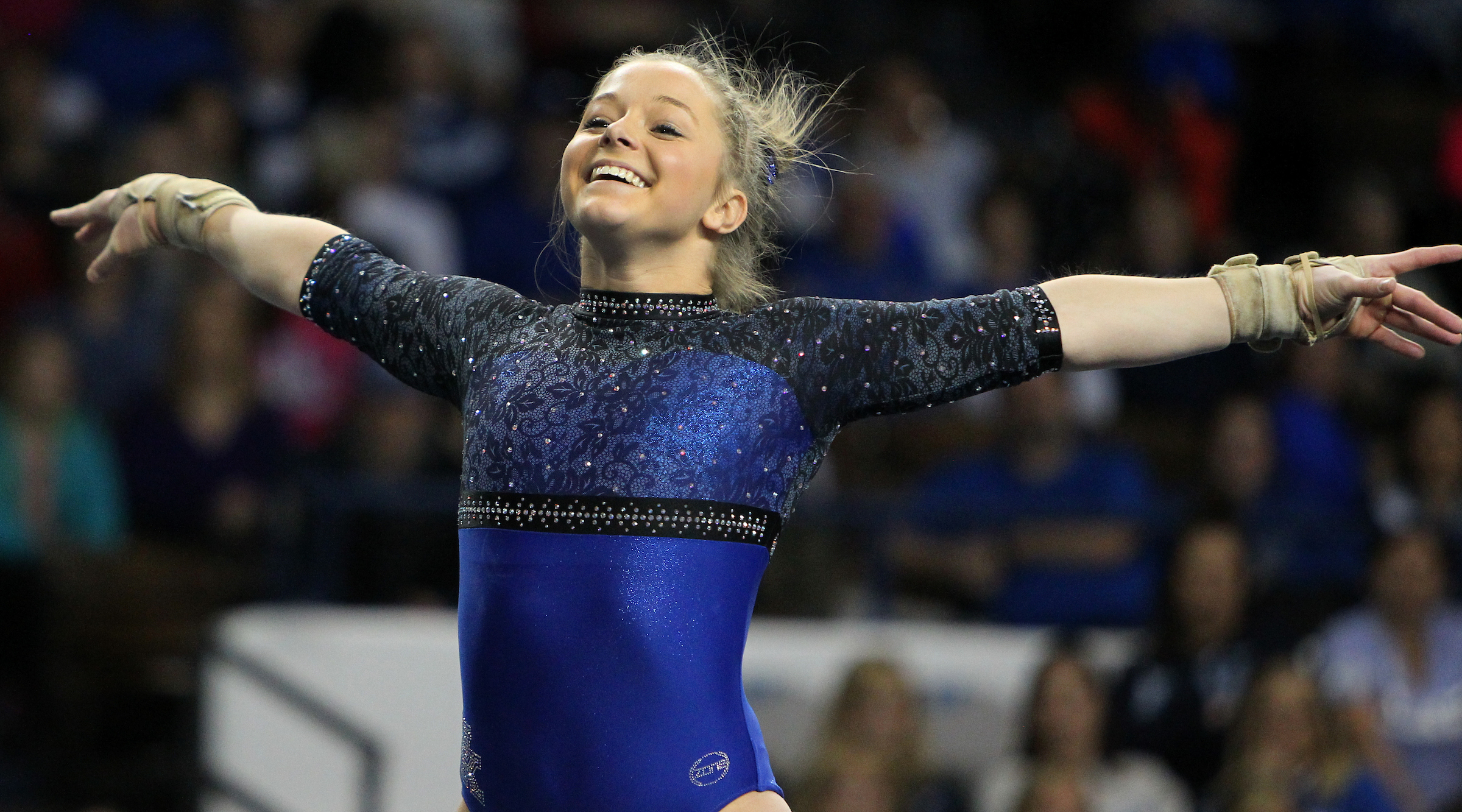 February 3, 2017 - 08:54 AM
Korth Making Immediate Impact for Kentucky Gymnastics
Mollie Korth should be enjoying the spring semester of her senior year of high school in Cambridge, Wisconsin. But instead of preparing for prom and graduation, Korth is quickly making a name for herself as a gymnast at Kentucky.
Korth elected to come to the Bluegrass to begin competing for the Wildcats immediately after completing her requirements for high school graduation. It was something she knew she was prepared to do.
"I thought it was a really good opportunity to have a year up on everyone else coming in," Korth said. "Plus, one more year in Junior Olympics wasn't really necessary for me. I had already accomplished all of the goals I had in that. So, going to college gymnastics was the next level and what I wanted to do, so it was a perfect opportunity for me to go."
Her performances, through five meets, show that Korth definitely made the right decision. In four out of her five meets as a Wildcat, Korth has claimed the all-around title. On two occasions, she has been named SEC Freshman of the Week. 
"We have had success in the past with freshmen coming in mid-year and making an immediate impact, but Mollie, being a strong all-arounder, has taken that to a new level," said UK head coach Tim Garrison. "She has made her presence known in our program and across the conference as a game changer. She is an exceptional athlete and a gritty competitor. She is quick to tell you that she doesn't like losing and backs up her words with performance."
The confident Korth is even somewhat surprised by how much success she's had so early.
"That was my goal coming into college, was to make a big impact," Korth said. "I've always wanted to be the one people talked about. I think I've done a really good job, but I never expected, especially as a freshman, to be this good. Especially in the SEC. My hard work has finally paid off. I tell myself that every night when I go to bed."
As far as adjusting to college life, Korth has made an easy transition there as well.
"It's been great. I've had a lot of people behind me supporting me, so that made it a lot easier," Korth said. "All of the girls on the team have been so supportive, they've helped me with a lot of things that are new to me."
Garrison credits his team for welcoming Korth into the program.
"I have to give a great deal of credit to her teammates as well," Garrison said. "She was greeted with open arms by a talented group of athletes that have made her feel welcome and have supported her in what can sometimes be a difficult transition."
During her recruitment, Korth had an idea of what she wanted. And Kentucky fit the bill.
"I've always wanted to be in the SEC, since I was a little girl," Korth said. "College gymnastics has always been my goal and to be in the SEC, the best conference in the nation for gymnastics. I've always wanted to go to an SEC school. I loved how (the Kentucky gymnastics coaches) treated the student-athletes, with all of the tutors we get and the special treatment, it's really nice."
With the amount of success that Korth, and the UK team, have had already this season, some personal and team goals have already been reached. But the Wildcats are not satisfied.
"The team and I have been talking about going undefeated for the rest of the season, and it's completely possible," Korth said. "If we believe in ourselves, I think we can do it. Going undefeated for the all-around is a huge goal I have (personally) right now."
Korth has already drawn comparisons to legendary Kentucky gymnast Jenny Hansen, who was a three-time NCAA all-around champion and a four-time All-American. Both had success early in their careers and, ironically, both hail from Wisconsin. Has Korth heard much about Hansen?
"I have," Korth said. "I just know she's an amazing gymnast. Her name is on the wall everywhere in the gym."
And that provides inspiration for what Korth wants to do in her UK career.
"Hopefully, I can make as big of an impact as (Hansen) has," Korth said. "I want my name in the gym."
While Korth has quite a way to go before matching Hansen, her career is off to a strong start.