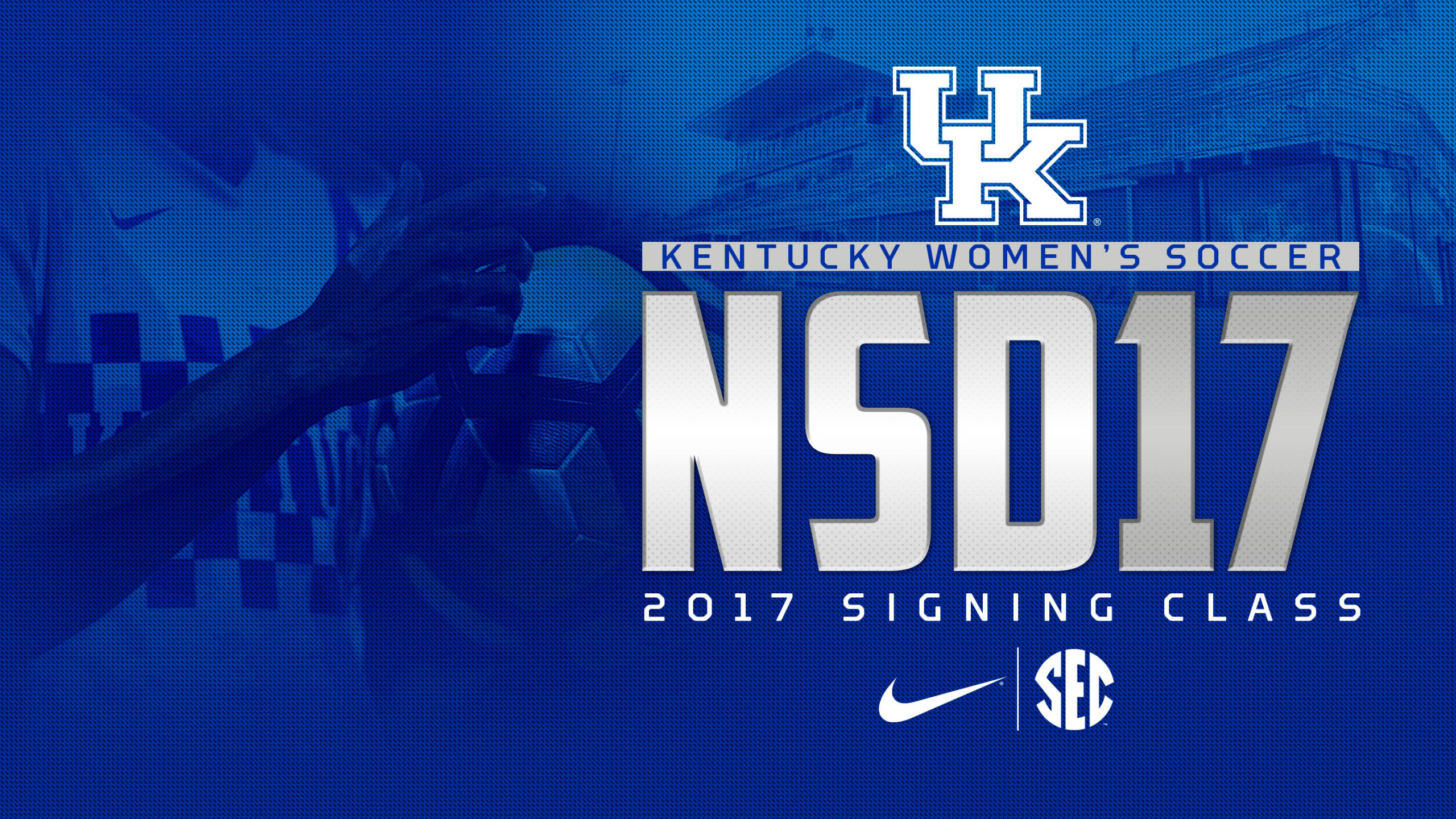 February 3, 2017 - 02:12 PM
Carry Inks Eight Players on First National Signing Day
LEXINGTON, Ky. – With the help of recruiting coordinator, Jason Goodson and new assistant coach Melissa Charloe, University of Kentucky head coach Ian Carry unveiled the eight newest members of the Kentucky women's soccer team, who all signed National Letters of Intent to play at UK on Wednesday.
"I'm ecstatic to announce our 2017 incoming class because I believe it makes a statement with regards to the culture we are creating and the direction we are going as a program here at Kentucky," Carry said. "The positive vibe and atmosphere within the current roster is infectious, and if you add this 2017 class to the mix, the program will excel in areas in which it has been lacking over the past number of years and ultimately will help it reach its underlying potential. We have worked diligently to bring in a class who our loyal fan base will not only be excited about watching live at The Bell, but will be proud to have them representing Big Blue Nation on a national stage."
The class is ranked as one of the best in the nation according to multiple outlets and stretches from California to England – and Florida to Kentucky. There are multiple players from some of the best soccer areas of the country and some of the most premier soccer clubs in the nation.
Two members of the signing class have elected to enter college early, in Abigail Zoeller and Eva Mitchell. Those two are already competing in spring practices and conditioning, whilst also taking a full semesters' worth of classes at UK.
More info on the eight signees can be found below.
Taya Edwards – Jacksonville, Florida
Played club soccer for the Jacksonville Armada FC under the direction of Eric Dade and Mike WalkerBack-to-back national champions, ECNL playoff appearances and two-time state champions in FloridaDefensive MVP with her high school team, "The Bolles School". She also helped lead her HS to the Class 2A state title in her sophomore season and was a two-time captainWhy Edwards chose Kentucky: "I chose Kentucky because of their championship atmosphere. The staff wants us to succeed and be our best, and will do anything to make that happen. It is such an amazing program, and I cannot wait to start in the fall." Carry on Edwards: "Taya is a hard-working, no-nonsense center
back who caught our attention due to her blue-collar attitude both on and off
the field. She is another Florida recruit who will lead our back line for years
to come. An out and out center back whose ability to read the game with an air
of composure, Taya will play a big role here at Kentucky."

                                                                               
Julia Grosso – Sunrise, Florida
Played her club soccer for Sunrise FC in Florida under the direction of Scott SheweyWith Sunrise, she was part of a State Cup championship team, in addition to being regional runners-up. With St. Thomas High School, she won the state championship her sophomore season and was a state quarterfinalist her junior year in addition to being named All-CountyWhy Grosso chose Kentucky: "I chose Kentucky for many reasons. I want high-level soccer and a school that is going to push me to get better every day. I want to get as far as I can. I love the family aspect of Kentucky and it's the perfect fit for me. I love the mindset and strive to be the be the best, and I feel honored to be a part of the growth of the school. The staff and the coaches are a big reason why I chose Kentucky, also."Carry on Grosso: "Julia is an athletic, technical player from
Sunrise Soccer Club, who joins us after spending numerous years under the
tutelage of former UK men's player, Scott Shewey. Julia is a player who can
open up defenses and has an eye for goal. I know she will become an instant fan
favorite." 

                                                                               
Miranda Jimenez – Tulare, California
Played her club soccer for Mustang FC in the Golden State under the direction of Pat Uriz and Cris Gilmore Was called into the U-14 United States Women's National TeamPlayed for Mission Oak High School, where she was part of a championship team or co-championship team in the EYL or CIF her freshman and sophomore seasonsWas two-time Visalia Times Player of the YearTwo-time EYL Player of the YearWhy Jimenez chose Kentucky: "I chose Kentucky because it is a very welcoming school along with the staff and players. I could see myself playing at UK and I wanted to be a part of the great program."Carry on Jimenez: "Miranda is one of our west coast recruits in this 2017 class. A player who is very comfortable on the ball due to her technical ability and reading the game, she will fit in immediately to the style of play this program will be known for."

                                                                               
Jessica Lazo – Long Beach, California
Played her club soccer under Matt Bradbury at Albion FC in CaliforniaWith Albion FC, she was part of the Surf Cup championship team in 2016 and three-time league championsPart of an undefeated season at Mater Dei her freshman year, then transferred to Palos Verdes, where they were two-time league champs along with the 2016 CIF title. Was also in the running for the 2017 league championship. Also ran track, where she was second in the nation for the medley relay Why Lazo chose Kentucky: "I wanted to compete at the highest level and loved the family-like environment that the soccer program has. I wanted something different in comparison to California and love how it brings an overall college experience through sports."Carry on Lazo: "Jessica is another one of our west coach recruits. She's a player who can play multiple positions due to her high soccer IQ and athleticism. She is comfortable on the ball and has a good range of passing."

                                                                                
Anna Lee – Nicholasville, Kentucky
Played her club soccer for Lexington FC under the direction of Brad Turpin Jr.Was named All-Region Southeast and State Cup runners-upMade the state Sweet 16 her freshman season and Elite Eight her sophomore season with West Jessamine High School.Her team won the KHSAA Championship in 2016, and she has been named two-time First Team All-State and All-Southeast RegionWhy Lee chose Kentucky: "I grew up around Kentucky, and it felt like home to me."Carry on Lee: "A Kentucky native, Lee has been on our radar for a long period of time. Being a local product of Lexington, bringing Anna to UK cements our committment to making sure the best players in the state stay at home. A player who had gone under the radar of most, we identified her special qualities early on and cannot wait to unleash her on the SEC and the rest of the nation!" 
Caroline Newland – Henderson, Kentucky
Played her club soccer for the Indiana Fire Junior's South under the direction of Angie LensingWith Reitz Memorial High School, she was part of the sectional championship team in her freshman, junior and senior seasons. Was named First Team All-State in 2015 and 2016 in addition to City Player of the Year in 2016Why Newland chose Kentucky: "My family has been Kentucky fans and I have loved UK my whole life. I felt like I was meant to be here."Carry on Newland: "Caroline's work rate and adaptability to play many positions caught our eye throughout the recruiting process. She is a blue-collared player who brings a level of physicality that will be evident from day one."

                                                                               
Hollie Olding – Chichester, England
Member of the Chelsea Football Club and also Brighton and Hove Albion Football Clubs, where she has played in England her entire footballing career. Was a starter on England's U-17 World Cup team that made the semifinalsHelped England to success at the European Championships in Belarus to clinch a spot at the World Cup FinalsWas a striker and a center-half before being converted to a midfielder at ChelseaWhy Olding chose Kentucky: "As soon as I visited UK, I knew it was the place for me. I was blown away by the people and the facilities. I cannot wait to become a Wildcat!" Carry on Olding" "Hollie, who hails from England, is a national team defensive midfielder who recently competed at the U-17 World Cup in Jordan. Her leadership, ability to read the game, composure on the ball – along with her international experience gives her a level of sophistication which will highlight the qualities of players around her – which in turn will contribute to her making an immediate impact on the team."
Mary Laci Motley – Asheville, North Carolina
Played her club soccer for HFC 98 Red under the direction of Joey SasvariWith HFC Red, she went to the state semifinals in cup, and also was the leading goal scorer for her teamAt T.C. Roberson High School, she was the MVP of her women's varsity soccer team her freshman season, and by her junior year – scored 24 goals in a season was the playoffs' leading scorer, and All-District and Region. Why Motley chose Kentucky: "My father played football here, and when I came for my visit, the coaches were so welcoming and I loved the environment." Carry on Motley: "Mary Laci is a central midfielder who has had a very successful high school career. She will add to our midfield options and provide us with strength and depth."

                                                                               
For the latest on the Kentucky women's soccer team, follow @UKWomensSoccer on Twitter, Instagram and Facebook, as well as on the web at UKathletics.com.