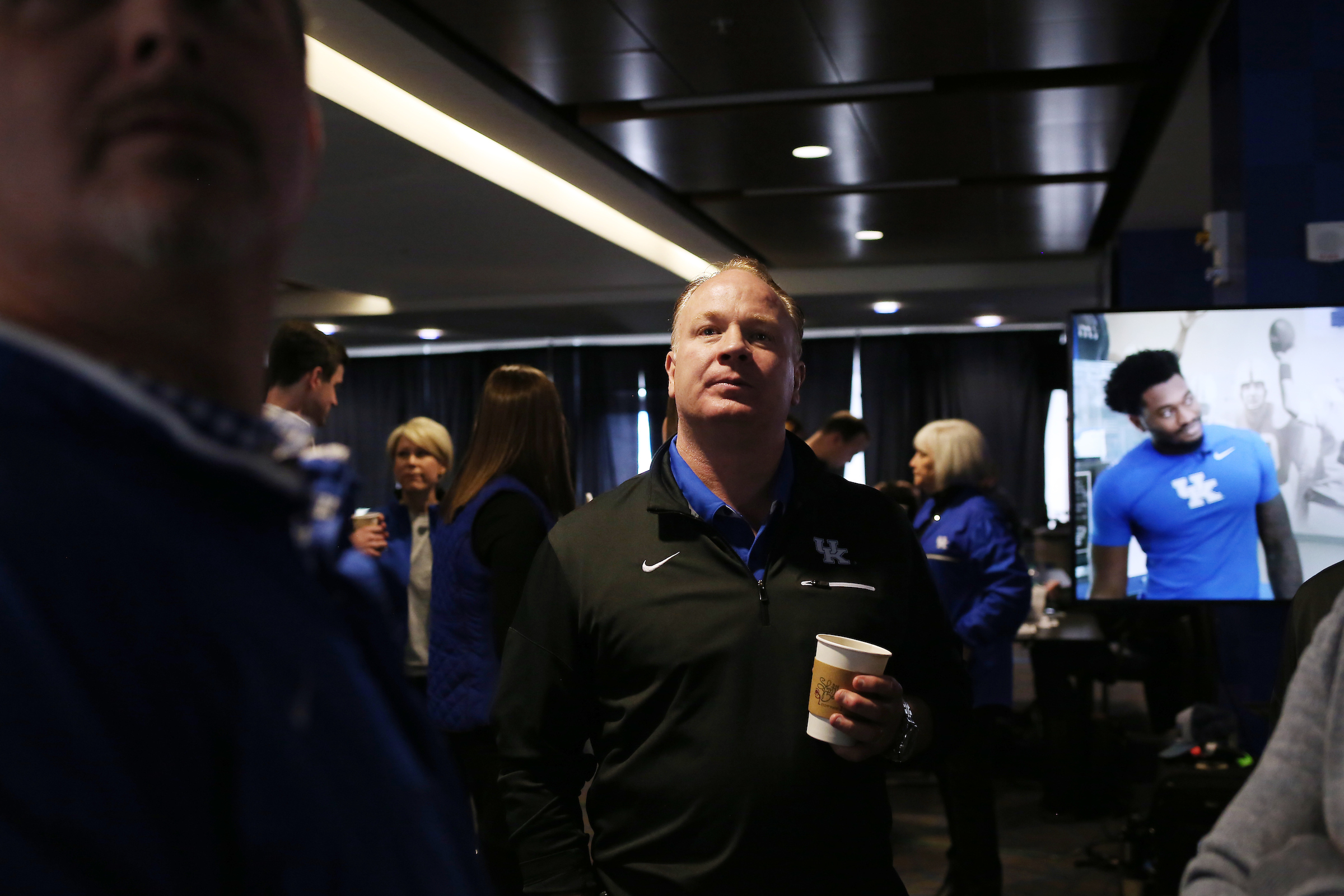 At the beginning of last season, Kentucky had 13 commitments for its 2016 signing class. The group – based on a tone set by Mark Stoops – was already a part of the UK football family at that time.
That meant those players suffered along with the Wildcats through a trying September, hearing all the outside noise about the direction of the program to which they had given their pledge.
Just like the Cats did in bouncing back from an 0-2 start, those commits took Stoops' "don't flinch" message to heart.
"We didn't lose one guy since the start of the season, not one player," Stoops said. "And that's a special group."
That "strong nucleus" – to borrow a phrase from Stoops – was joined by another commitment in October and 10 more in December and January. All 24 surely heard overtures from other programs, but none wavered.
"The prospects and their families and getting to know them, they've been so loyal to us," Stoops said. "And many of them have been committed to us for a long time. Many of them could go to plenty of our quality schools, and people coming at them left and right. A lot of it doesn't get publicized, but they just dismiss them quick, so it doesn't get a lot of traction. These guys could have gone a lot of places, and so they've been very solid with us."
The result of all that loyalty was much more than solid. The signing class that became official on Wednesday during a live broadcast from the recruiting room at Commonwealth Stadium is rated 26th nationally according to Rivals, with 17 signees joining seven early enrollees already on campus.
"I feel very, very good about this class, and like I said, I just feel like it's the best class top to bottom (of the five Stoops has recruited to Lexington)," Stoops said. "That's no disrespect to the other guys, because I love them and they're going to be great players, and we're going to win a bunch of games. But it just takes a lot of great classes, and we want to continue to build on that, and we hope next year's class is even better. And we anticipate that it will be."
By the looks of things, that's going to take some doing.
UK's 24-member class comes from eight different states. With Stoops and Vince Marrow leading the recruiting way, UK, per usual, thrived in Ohio with six commitments. But in a new development with head coach of the offense Eddie Gran making headway down south, eight new Cats hail from Florida.
"We really do this as a group, and I really feel very good," Stoops said. "You gotta give a shot out to Eddie Gran as well. I wanted to get back South Florida, Florida in general, but I wanted to get some players out of South Florida, and Eddie has such strong relationships down there and did a phenomenal job. But also touching on the six other states that we did, that's kind of what we've been doing, and it was nice to see us have a lot of variety there."
That variety has yielded some impressive top-level talent in the form of four four-star prospects according to Rivals, three of which come from Ohio. JaVonte Richardson, Tyrell Ajian, Joshua Paschal and Lynn Bowden have all given their new coaches reason for excitement, but Bowden is generating the most buzz.
The dynamic 6-foot, 185-pound athlete projects as a slot receiver in college who will also see reps at running back and in the Wildcat package. Marrow stated in no uncertain terms his belief that the Youngstown native is the best prospect in Ohio and Stoops was no less effusive in his praise.
"Lynn is exceptional with the ball in his hands," Stoops said. "He's explosive. As you know, I grew up in the same hometown, and I can't tell you how many people would call and tell me that he's the best football player they've seen come out of that area in a long time."
Just as importantly as the headlining talent to Stoops, however, is the depth of this class. The final commit to join the group was Abule Abadi-Fitzgerald. The 6-7, 240-pound defensive end is a perfect example of the importance of finishing strong that Stoops learned from Florida State head coach Jimbo Fisher.
"If you look at our guys through the years, we've had some great success with adding some players late and doing some proper evaluation," Stoops said. "Again, with our staff, they do a phenomenal job of identifying players very early, and that's been the key to our success is identifying the right guys early, staying on them and building that relationship. But it's also about finishing and closing."
This staff is nothing if not thorough when it comes to recruiting, identifying good fits both early and late in the process. And that's about a lot more than what happens on the field, as evidenced by the character and leadership of this class.
"You look at these guys and a bunch of these guys are captains on their football team, they're very, very good students," Stoops said. "They're competitors, they're winners. You just look at the two quarterbacks that we have in this class (Walker Wood and Danny Clark), and if I'm talking about one, I'm talking about both of them. They are unbelievable leaders. They're winners, they're competitors and you could say that about the whole group."
The coaches already know the 24 young men who comprise this class well, but most fans were only just introduced to them on Wednesday. Stoops is confident the Big Blue Nation will enjoy getting to know these signees as much as he has.
"It's been a long year, culminating with this class here today that's going to represent this university the right way," Stoops said. "The fans are going to be very proud of this group. It's a great foundation for a freshman class for next year. And it's definitely going to help us in the future."