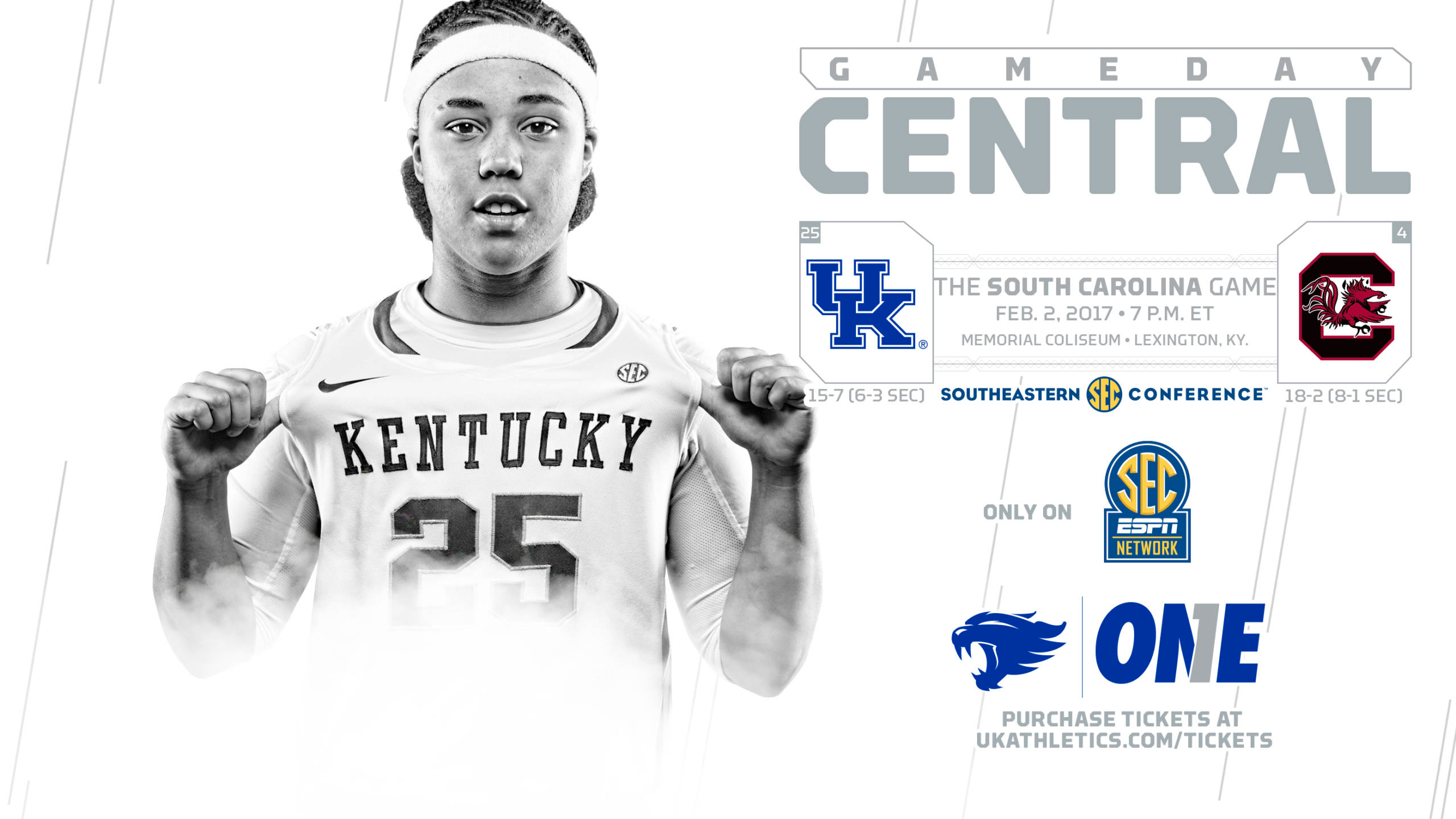 February 1, 2017 - 10:38 AM
No. 25 Kentucky Hosts No. 4 South Carolina Thursday at Memorial
LEXINGTON, Ky. – After seeing its five-game winning streak in Southeastern Conference play end Monday night at Missouri, the No. 25 University of Kentucky women's basketball team looks to get back in the win column Thursday when it plays host to No. 4 South Carolina at 7 p.m. ET inside Memorial Coliseum. 
Kentucky fans are encouraged to wear blue to the game and arrive early to Memorial Coliseum. UK students will receive free admission to the game with a valid UK student ID, while the first 100 students in the student section will receive a free t-shirt. One lucky student will be selected to take a halfcourt shot for a chance to win $25,000. Senior guard Makayla Epps will be signing autographs postgame. 
Single-game tickets for all Kentucky home games are available through the UK Ticket Office and through ticketmaster.com. Single-game tickets are $9 for reserved seating (all ages), $8 for adult general admission and $5 for youth (6-18/seniors 65+) general admission seating. General admission seating is free for ages five and under. Parking is available in most surface lots and parking garages around Memorial Coliseum and shuttles are available from most lots. More information on parking and shuttles is listed below. 
The game will be broadcast on the SEC Network with Paul Sunderland on play-by-play, Gail Goestenkors as the analysts and Steffi Sorensen as the sideline reporter. The game can be seen through WatchESPN on computers, smartphones and tablets. Now in his 12th season, Neil Price will have the call on the UK Sports Network. Fans in Lexington can hear Price's call of the game on WLAP 630 AM. Live stats and free audio will be available online at ukathletics.com.
Thursday's game against South Carolina starts a stretch for Kentucky where it will play four of the next six games inside Memorial Coliseum. After South Carolina, UK plays host to Vanderbilt Sunday at Noon ET before traveling to Georgia next Thursday. Following UK's lone bye weekend, the Wildcats play at Arkansas on Feb. 16 before back-to-back home games against Florida (Feb. 19) and Mississippi State (Feb. 23) to end UK's home schedule. 
Kentucky (15-7, 6-3 SEC) is coming off a setback Monday at Missouri, falling to the Tigers 73-67 to snap a five-game winning streak. Senior guard Makayla Epps scored a game-high 20 points with four rebounds, while sophomore guard Taylor Murray had her second double-double of the season with 18 points and 13 rebounds. The Wildcats shot 39.7 percent in the game, while Missouri shot 46.9 percent, including seven 3-pointers. 
Epps is Kentucky's leading scorer this season with 16.7 points per game, adding 4.3 rebounds and a team-best 83 assists. The native of Lebanon, Ky., has scored 20 or more points in back-to-back games to take her career point total to 1,574, which ranks her seventh all-time in program history. Fellow senior Evelyn Akhator is averaging a double-double this season with 15.1 points and 10.4 rebound per game. Akhator has 12 double-doubles this season and 25 for her career. 
Two other Wildcats are averaging double figures with Murray posting 12.8 points and 5.5 rebounds per game, while Maci Morris is averaging 11.9 points per game with a team-best 39 3-pointers made. As a team, UK is scoring 70.7 points per game, hitting 44.0 percent from the field and 31.8 percent from 3. 
Fourth-ranked South Carolina owns an 18-2 overall record, including an 8-1 mark in league play and a spotless 4-0 record in SEC games played on the road. USC is 7-1 overall this season away from home with the lone loss coming at Duke. 
The Gamecocks currently have four athletes averaging double-digit scoring, led by junior forward A'ja Wilson who is averaging 16.7 points per game. Junior guard Allisha Gray is second on the team with 13.7 points per game, followed closely by Alaina Coates (13.4) and Kaela Davis (12.5). Coates is also the Gamecocks' leading rebounder grabbing 11.0 boards per contest.
South Carolina is coming off its first loss in conference play, after being downed by Tennessee 76-74 on Monday night. The loss also snapped USC's 30-game home winning streak against SEC opponents.  Against Tennessee, junior guard Bianca Cuevas-Moore led the Gamecocks with 18 points. Wilson, Davis and Gray also posted double-digit scoring performances in the game. 
South Carolina is averaging 77.8 points per game this season and is out-scoring its opponents by an average of 22.4 points. The Gamecocks are also out-rebounding opponents by a 9.2 margin (42.3-33.2)
Thursday's meeting with South Carolina is the 59th all-time in program history with the Wildcats leading the all-time series 33-25. Kentucky leads the series 20-7 in games played in Lexington. South Carolina has won each of the last three games in the series, including all three meeting last season. UK's last win against South Carolina came March 1, 2015 in Memorial. Matthew Mitchell is 10-10 all-time as a head coach against South Carolina.
Kentucky and South Carolina met three times last season with the Gamecocks winning all three games. The first game was in Memorial Coliseum when the Wildcats led for nearly 29 minutes before South Carolina outscored UK 22-12 in the final period to earn a 73-62 victory. The teams also met in Colonial Life Arena last season with the Gamecocks earning a 78-68 victory. The final meeting came in the semifinals of the SEC Tournament when the Gamecocks shot 52.9 percent from the field, including 12 3-pointers to earn a 93-63 victory. Makayla Epps scored in double figures in all three games, combining for 49 total points.
For more information on the Kentucky women's basketball team, visit UKathletics.com or follow @KentuckyWBB on Twitter, Instagram and Snapchat, or Kentucky Women's Basketball on Facebook.
Parking
New spectator parking options include the High Street Lot, located at the corner of East High Street and South Martin Luther King Boulevard, and the Alumni Center Lot on Linden Walk, resulting in nearly 200 additional parking spaces.
Spectator parking is located in all of the E-lots surrounding Memorial Coliseum, all lots are off control 3 hours prior to tip. Additionally, the South Limestone Garage (PS#5) and the Rose Street Garage (PS#2) are available 2 hours prior to tip.  
Parking is prohibited in any R (Residential) lots. Vehicles parking in R lots without a proper permit, along yellow curbs, grass spaces, or other non-specified and unapproved areas may be subject to ticket and/or tow.
Disabled spectator parking is available with a valid, state issued disabled hangtag in the E-Lot (Employee Lot) north of the Joe Craft Center. These spaces are available on a first-come, first-served basis until full.
Transit Center Parking Garage
UK women's basketball fans can avoid traffic and congestion around Memorial Coliseum and park FREE at the Transit Center – available after 5 p.m. ET on weekdays and all day for weekend games.
The Transit Center Parking Garage is accessible from Vine Street of High Street.
Push the green flashing button upon entry, take the yellow token and store it in a safe place. Park in the garage and find the UK Athletics event staff member at the entrance of the garage near Lexington Avenue for a free parking token to use after the game when you exit the garage. Staff will remain on site until 20 minutes after tip.
Please do not lose your token. If you lose your token, you will be charged an $8 fee for a lost token fee. If you lose your token, visit the pay on foot station located in the seventh floor elevator lobby of the garage and choose "lost token." You will be charged $8.00 and given a new token that can be used to exit the garage. 
Shuttles
Shuttles are available beginning 2 hours prior to tip and pick up and drop off near the South Limestone Garage (Parking Structure # 5) (blue route) and inside the High Street Lot (green route).
Shuttles will start back up after halftime to return guests to their parking areas. The shuttle will discontinue service 1-hour postgame.
Game Day Information
Doors to Memorial Coliseum open one hour prior to tip.
UK Athletics encourages women's basketball fans to arrive early to ease traffic and parking congestion around the Coliseum.
Complete game day information can be found at our game day site by clicking here.
Kentucky Head Coach Matthew Mitchell
Opening Statement…
"Well before that, we're a day early because of Signing Day and I just want to take a second to congratulate Coach (Mark) Stoops on what a great job he's done here at Kentucky. I know they're going to sign a great class tomorrow and he's just done a fantastic job. He's a good friend and I'm really happy for him and his staff. So hope Signing Day turns out the way they want it to and I know it will. So we're happy for Coach Stoops and the football team. As far as South Carolina goes, extremely talented team. We're going to have to get into attack mode between now and Thursday night when the ball goes in the air. It will be a great challenge for our team and we're looking forward to preparing for victory."
On how different this South Carolina team is from previous years …
"Well, I think that (Alaina) Coates and (A'ja) Wilson just continue to get better. They are really two of the premier post players in the country and they pose a great challenge for any team with their play. They're extremely tough and talented and seem to be able to rise to the occasion when their team needs it. So they're very, very formidable. And then once again, they lost what I considered some really good guards with (Tiffany) Mitchell and those kids. I thought they played really hard and were really tough and their seniors that departed last year were so good for them, but they've replaced them with very talented backcourt players. And so they've just—they've got a fantastic team with great talent and so they'll be difficult to prepare for. But we've got to really get our players in the mindset of being on the attack. This is grown-up basketball here. You've got to be ready to go out and give a great effort and turn it loose and go at them."
On what he means by 'attack mode' …
"I thought last night it was not as if we didn't hustle. We just were outhustled. So you give Missouri the credit for that, but you've got to get that corrected between now and Thursday night. You've just got to play with a lot more energy and enthusiasm so you can really play with great effort. But that's really our formula for any SEC game. There's not a game that you can look at that we're going into that you're like, 'Wow, Kentucky can kind of just glide through this one.' You got to come out on the attack. You've really got to get down in a stance, move your feet and try to keep the ball out of the paint. You've got to close out on the shooters and all those little fundamental things that we really broke down on last night. Gave up a lot of drives last night, gave up just a ton of drives that had not been happening. So attacking on defense, being really tough and then trying to make sure that we're crisp on offense. Pushing the ball in transition, it's been good for us this year. Try to spread the floor, try to drive the ball to the basket. Those two bigs are really tough in there so you got to be smart about your drives. So I just think it's a posture that we have to take, an energetic, enthusiastic posture, great, great effort from our team and that will be important."
On whether some players will have to play more minutes vs. South Carolina …
"Well, sure. It kind of goes game to game. Our bench has certainly been helpful for us this year and is developing and getting better. Jaida's (Roper) really done a nice job in her freshman year coming and developing, getting better throughout the course of the season. I think in this game both teams probably want to play their top players a lot. They didn't play a ton of people in their rotation last night (in a loss against Tennessee), so I think you do whatever it takes to win. I know our players will be excited to play and this is a little different year for us than years past where you could kind of divide the minutes. So, yeah, it's possible, but I think that Maci (Morris) and Makayla (Epps) and really all the team are working really hard in practice. I thought we had great preparation going into Missouri and probably it's one of those nights where you got to give your opponent more credit than you taking blame. They just were fantastic and played hard and outhustled us. So we got to try to get that corrected on Thursday night. Got to outhustle South Carolina."
On if this Kentucky lineup has exceeded expectations…
"Well, you know, in our five-game win streak that ended last night we'd done a good job of really taking care of the ball. We'd done a good job on the boards and I think defensively we've really come a long way and they've learned how to play together. On the nights when we play together and play really tough and rebound the ball, we've won. Last night our Achilles heel got us. The second-chance points really, really hurt us. You know, a six-point game, they made three more 3s and three more free throws and a lot of those points that I thought we had more control over would've been the second-chance points. I think we are – I don't know if exceeding expectations is the right thing – we just were trying to bring this team together to play our very best and we felt like if we played our best we could be a very good team. And I think we're on the way to doing that."
On what kinds of challenges South Carolina's post players pose…
"Well, they present a big challenge. They are as talented and as big – you know, they're not just big, they're extremely talented. They are tremendous players. So, what you have to do is concentrate on what you do well. We need to try to run in transition. We need to try to make some 3s. When we make 3s we're pretty good. So, we've got to just play real tough. If you don't score at the rim because they're big you can still score paint points. You can still get in the paint and score, and Evelyn's been doing a good job with her quickness. So, you just have to put a good plan together and play to your strengths. If you sit around worrying about those two, all you're going to do is worry because they are not going to probably lose any height or athleticism between now and Thursday night, so you've got to go play. Do what you do to the best of your ability."
On how Kentucky fixes the second-chance points they were giving up against Missouri…
"Well, you know, we just missed some crucial box outs. I just thought that Missouri just really played more physical. We got pushed under the basket. You know, if you're under the basket you're not getting a missed basket. All you're going to do is the ball's going to drop through if it's made. We've just got to work hard between now and Thursday, box out a little bit stronger, go get the ball with two hands. There were some 50-50 balls we didn't come up with last night. Again, you're getting out-hustled for those. So, you just go back to work and work hard on your rebounding. We've come a long way in our rebounding. We've done a much better than some of the games we lost: the Louisville game, the Tennessee game, Duke game… We've really worked to improve. So, the boards last night we only lost by two but they converted more of their offensive rebounds into points and that hurt us. We weren't able to do that with our offensive rebounds. We need to find a way to get that done."
On if he had a timetable of where he wanted this team to be on Feb. 1 …
"No, it was really just a daily focus to try to see how can we put this team together and what can they be good at and how can this version of the Wildcats going to be good. When you start trying to count up wins and losses that just drives me crazy because I have never been really good at that. As you look at the month of December, you had a bunch of games that you had a chance but you also could have lost them. I don't know if it still is, but it is one of the most difficult schedules in the country and in the top five strength of schedule. I was just thinking about daily improvement and going out there and competing hard. You know, we had a winning month of November, a winning month of December and had a great January with five games on the road in this league that's over half your games on the road and went 6-3 in January. We just got to continue to work to improve and if you can win a few more games you are going to get into the tournament I have always thought that if you get into the tournament you give yourself to win a national championship. You have to get into the tournament to make that happen. We are going to try to win every single game the rest of the way and continue to improve. I didn't have a number or anything that we were trying to hit, but excited that the team has themselves in a position right now that we can be an NCAA Tournament team if we keep improving." 
On the tough December schedule helping the team …
"Absolutely, I think that had we not played really good teams that exposed our weaknesses – and listen, we are a flawed group of individuals that are trying to make sure the sum is greater than the parts and I think that is really becoming a great team. We are well on our way of doing that and being the very best we can be. If we hadn't had some of those weaknesses exposed, I can certainly tell you in past experiences that you don't know what you don't know. So you've got to challenge yourself and I thought it was very, very valuable to play that kind of schedule and that is what we have tried to do over the last so many years and it paid dividends being able to hang in there and win some big, important games and all the losses that we have absorbed in the non-conference definitely prepared us to be able to have the success we have had in January." 
On the intensity of the South Carolina game and if it is coming at the right time for this team …
"Yeah, that is always important in any game that you play, but I think our team will be ready to play Thursday night."