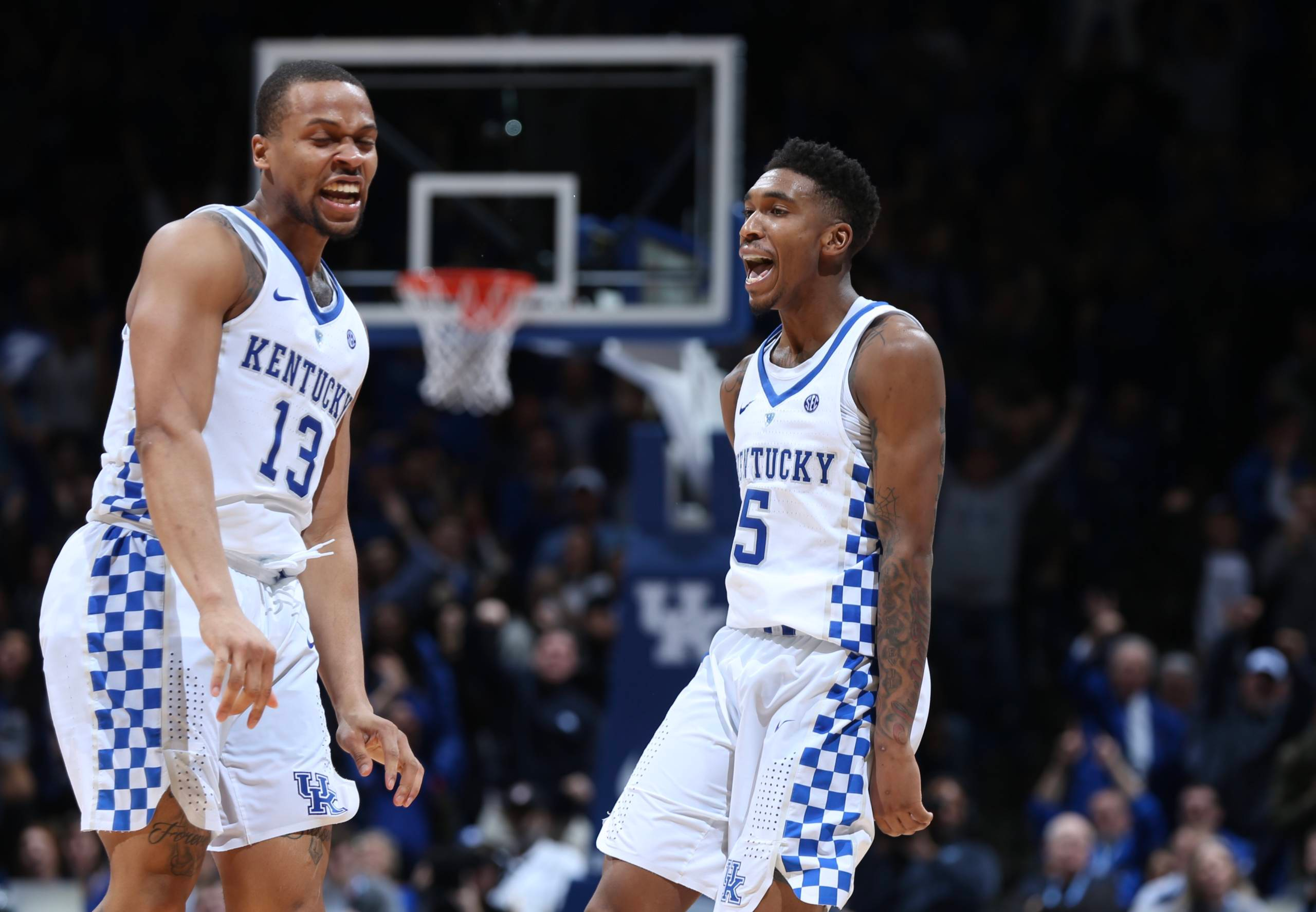 February 1, 2017 - 12:06 AM
No. 8 Kentucky Gets Past Georgia in Overtime
LEXINGTON, Ky. – There's no stopping Malik Monk when he's hitting from long range, and the freshman once again showed his hot hand in tense moments for No. 8 Kentucky.
Monk made two 3-pointers and scored eight of 37 points in overtime, and Bam Adebayo and Dominique Hawkins added baskets to help Kentucky outlast Georgia 90-81 on Tuesday night and end a two-game losing streak.
The Wildcats appeared headed to their third straight loss until Monk's jumper with 8 seconds remaining in regulation tied the game at 76 and brought the crowd to its feet. Hawkins' desperation heave from midcourt bounced off the rim as the horn sounded.
Hawkins' drive got the Wildcats started in OT before Monk made his first 3 for a five-point lead. His second made it 85-81 and Adebayo followed with a slam off Monk's lob for a six-point cushion. Isaiah Briscoe (23 points, 11 rebounds, 8 assists) made a free throw and Monk added two more with 43.3 seconds left to seal the win.
"Isaiah was just way more aggressive, and I was just feeding off his energy," said Monk, who made seven 3-pointers for 31 points after halftime to finish just 10 below his career best set in December against North Carolina.
Added Monk, "I just knocked down the shots he gave me."
Adebayo had 12 points as Kentucky (18-4, 8-1 Southeastern Conference), playing without point guard De'Aaron Fox because of illness, avoided its longest losing streak since dropping its final four regular season games in 2008-09.
J.J. Frazier had 23 points before fouling out and Yante Maten added 22 for the Bulldogs (13-9, 4-5), who lost for the fourth time in six games.
BIG PICTURE
Georgia: Recent shooting struggles didn't stop the Bulldogs from making their first six attempts to take a 12-0 lead before they cooled off to hit just 6 of 19 the rest of the half. They shot 49 percent and didn't wilt despite trailing most of the second half, but couldn't stop Kentucky in the extra session.
On Monk, coach Mark Fox said, "In the first half we did a good job of containing him. The second half, we just couldn't find an answer."
Kentucky: This was arguably its ugliest game of the season, but the Wildcats survived by keeping their poise despite trailing by double digits in the first half. A zone defense that it had to play out of necessity was also effective in helping them win the rebounding battle 45-32, including 17 offensive that resulted in them outscoring the Bulldogs 24-3 on second-chance points. They also forced 17 turnovers for a slight edge in points (20-18), which ultimately made a big difference.
POLL IMPLICATIONS
Kentucky gutted out the win it wanted and just needs to beat No. 24 Florida to remain in the Top 10.
SHORT BENCH
Besides starting without Fox, their second-leading scorer, Kentucky also missed forward Sacha Killeya-Jones because of illness. That further depleted a Wildcats rotation already missing Mychal Mulder with sickness. It resulted in a taller, retooled starting lineup with Adebayo, 7-footer Isaac Humphries and 6-9 Derek Willis up front with Monk and Briscoe in the backcourt. The early results weren't pretty as the Wildcats went 3 1/2 minutes before scoring their first basket and were out of sync on both ends.
BRENT'S FAREWELL
Kentucky and Georgia thanked Brent Musburger for calling the action and sent the ESPN broadcaster into retirement with a few parting gifts. The Bulldogs gave Musburger a framed copy of their 1989 spring game program while Wildcats coach John Calipari presented him with a framed white No. 50 jersey (for his years in the industry) to a standing ovation.
UP NEXT
Georgia: The Bulldogs' challenging stretch continues with the second of three straight ranked opponents at No. 19 South Carolina on Saturday before returning home to face No. 24 Florida next Tuesday.
Kentucky: Visits No. 24 Florida on Saturday night in search of its sixth straight win over the Gators.