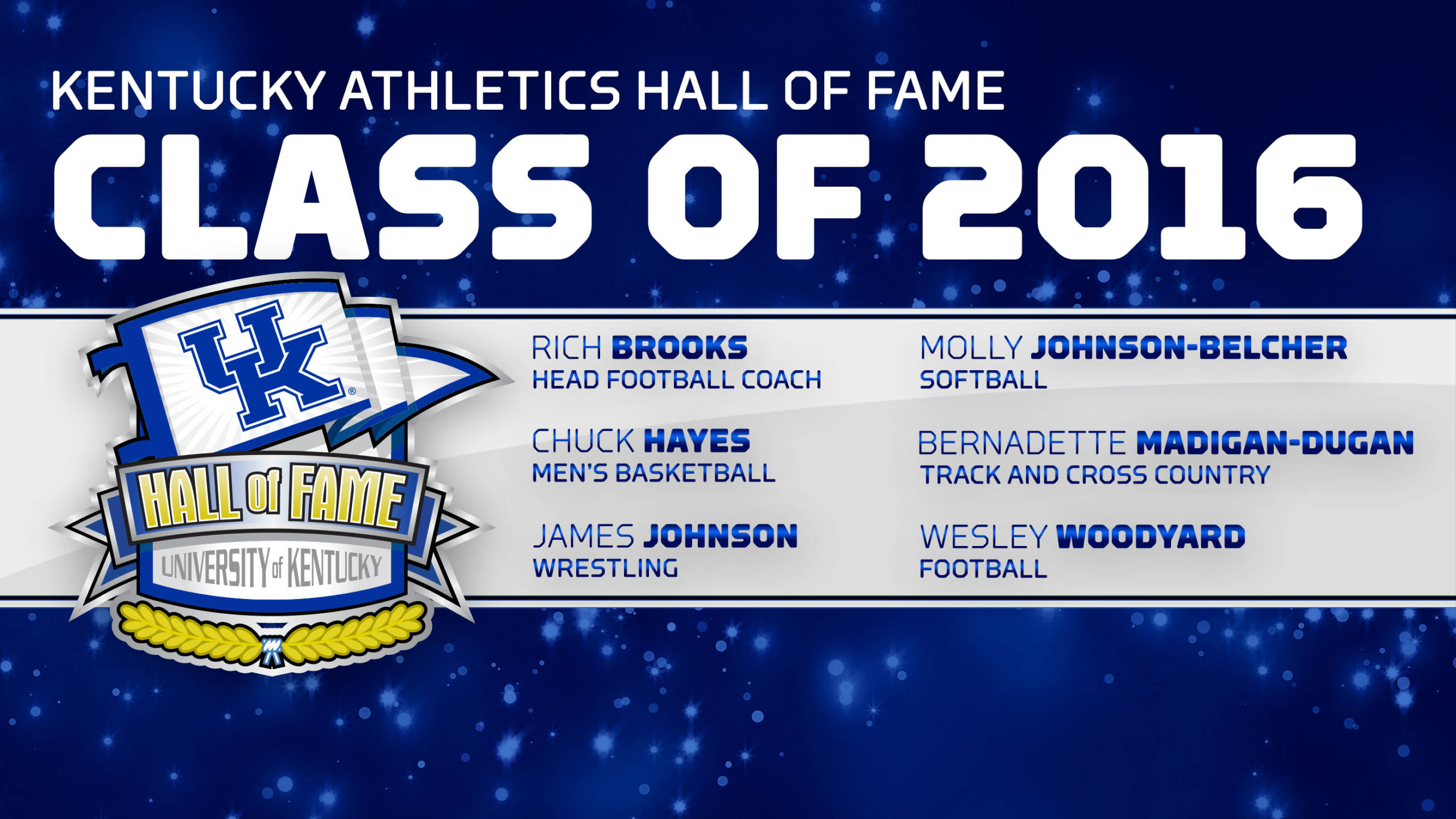 LEXINGTON, Ky. — The University of Kentucky Athletics Hall of Fame Class of 2016 has been announced, with Rich Brooks (football), Chuck Hayes (men's basketball), James Johnson (wrestling), Molly Johnson-Belcher (softball), Bernadette Madigan-Dugan (cross country/track and field) and Wesley Woodyard (football) set to be inducted during Hall of Fame Weekend, Sept. 23-24, in conjunction with the football home game vs. South Carolina.
| | |
| --- | --- |
| | Rich Brooks, Football (2003-09) Only coach in school history to guide UK to bowl games in four consecutive years and win three straight bowls … Took over a program mired in a severe NCAA probation and by 2006 led UK to a 28-20 upset win over Clemson in the Music City Bowl … Followed with a win over Florida State in the 2007 Music City Bowl, a season which included a Top-10 ranking and victory over No. 1 (and eventual national champion) LSU … Following 2008 season, defeated East Carolina in the Liberty Bowl and completed his career at the Music City Bowl in 2009 … Won at least seven games four years in a row, first time that had happened at UK since 1909-12 … 2009 SEC Coach of the Year by CollegeFootballNews.com … In last four seasons, led UK to 12 fourth-quarter comeback wins. |
| | Chuck Hayes, Men's Basketball (2002-05) Fan favorite for relentless defense and tenacious rebounding … Named the 2005 SEC Defensive Player of the Year … Ranks seventh in career rebounds with 910 boards … Led the team in rebounding for three straight seasons from 2003-05 … Led UK in blocks in 2004 … Ranks eighth in career steals with 170 … Led team to the 2005 SEC regular-season championship … Also a key member on the SEC Tournament championship teams in 2003, 2004 … Member of the 1,000-point club … Appeared in the NCAA Tournament in all four of his seasons, including Elite Eight finishes in 2003 and 2005 … Two-time All-SEC honoree, including first-team honors by the AP and Coaches in 2005 … Named to the SEC All-Freshman Team in 2002 … 11-year NBA veteran. |
| | James Johnson, Wrestling (1977-80) Four-year letterman who started from 1977-80 at UK as a 190-pounder … Finished with a record of 65-21 and won the Southern Open twice … Three-time Southeastern Conference medalist, including a second-place finish at the 1980 SEC Championships … Went on to remarkable success in his post-college career as a Greco-Roman competitor … Member of the USA National Wrestling Team for 12 years, winning three national championships wrestling at 100 kilograms (220 pounds) … Named USA Wrestling's Athlete of the Year in 1993 … Began coaching career as a graduate assistant at UK … Has coached in numerous national and international events, including the 2012 Olympics, and is on the training staff for the 2016 Olympics. |
| | Molly Johnson-Belcher, Softball (2007-10) Program's first All-American … UK's first four-time All-SEC honoree … NFCA Scholar-Athlete … Led UK to its first NCAA Tournament berth … Ended her career owning career records in batting average (.389), doubles (56), runs (161), home runs (35), slugging percentage (.656), total bases (445); was second in assists (510) and RBI (135); third in hits (264) and stolen bases (66); fourth in triples (10) … Also set single-season records in hits (81), doubles (20), runs scored (53), on-base percentage (.498), as well as single-game records for runs (4), doubles (3), home runs (2) … Member of US National team in 2009 and 2010 helping lead the Americans to gold at the 2012 ISF World Championship and the 2011 Pan Am Games … Current UK assistant coach. |
| | Bernadette Madigan-Dugan, Cross Country/Track and Field (1981-85) One of the greatest distance runners in Kentucky history … First UK female to win a national track championship when she won the NCAA two-mile run in 1982 … Won two Southeastern Conference titles, the 1982 3,000-meter run and the 1983 three-mile run … Earned All-America honors in five separate events – cross country, indoor two-mile, outdoor 3,000 meters, indoor 3,200-meter relay and the outdoor 10,000 meters … Competed for Great Britain in the 1985 World Student Games … Has coached collegiately at Marshall, Furman, UK and Transylvania … Currently coaching at Lexington Catholic High School … Also has been a mentor for numerous athletes in the running community. |
| | Wesley Woodyard, Football(2004-07) One of the best defensive players and team leaders in Kentucky history … First-team All-SEC as a junior and senior … Made 395 tackles in his career, seventh in school history … Led team in tackles three straight years, with at least 100 stops each of the three seasons … Led the SEC as a senior with 139 tackles … Unquestioned leader of the defense as the Wildcats posted eight-win seasons and won the 2006 and '07 Music City Bowls … Led UK in tackles in both bowl triumphs … Second-team Sophomore All-America … Also a key contributor in special teams kick coverage … First-team Freshman All-SEC … SEC Academic Honor Roll … UK Athletics Society of Character … Has played eight years in the NFL with Denver and Tennessee. |
The UK Athletics Hall of Fame was started in 2005 to recognize and honor persons whose participation and achievements enriched and strengthened the University's athletics program. The charter class included 88 individuals who had previously had their jersey retired by UK.
There is a five-year waiting period after leaving UK to be eligible for inclusion into the Hall of Fame. A committee consisting of Hall of Famers, media members, campus representatives and current coaches and administrators elects new inductees each year.