SEASON TICKETS
How To Purchase
Kentucky women's basketball season ticket packages will go on sale in late July. View 2017-18 pricing and benefits information below.
 
Pricing
Season tickets offer considerable savings over the cost of buying single-game tickets. Season ticket prices include admission to all games at Memorial Coliseum and Rupp Arena. Seating is divided into reserved and general admission seating. Reserved tickets offer the convenience of the same seat for every game, while general admission seating areas are filled on a first-come, first-serve basis on game day.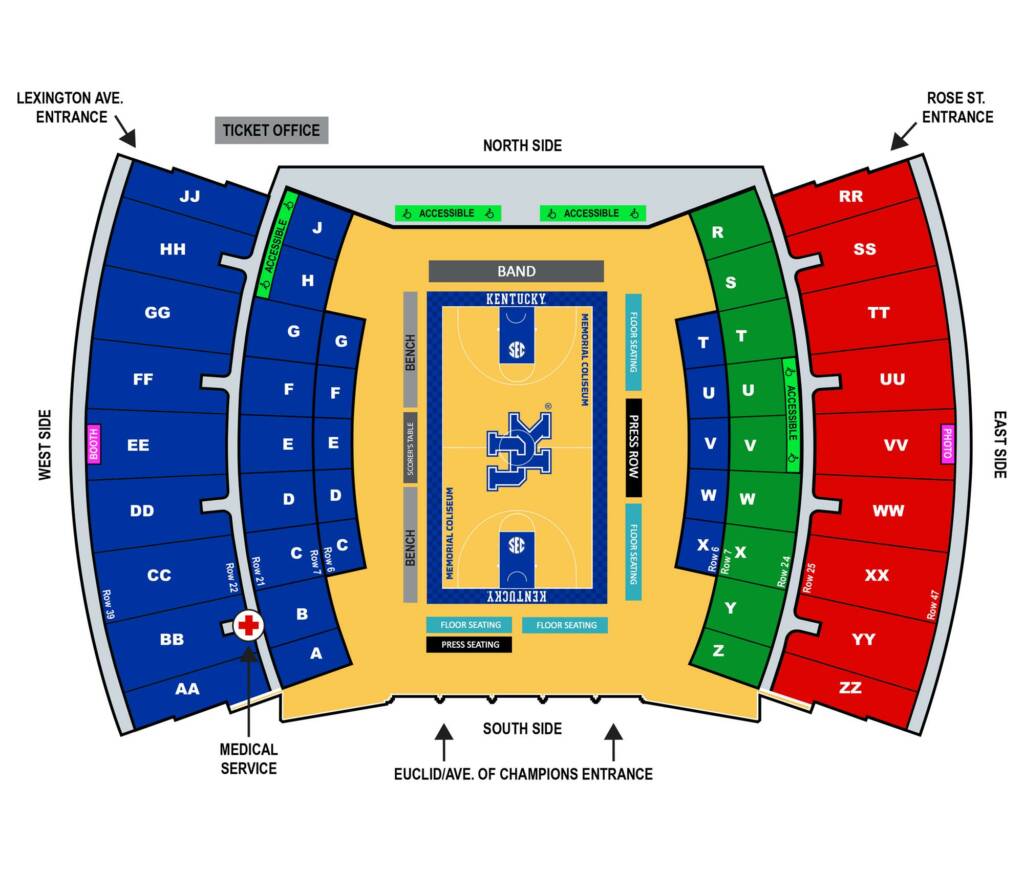 SEATING TYPE
PRICE
AVAILABILITY
   Reserved Seating: Lower Level Chairbacks (Sections A-J, T-X)
$80
—-
   Reserved Seating: Upper Level Chairbacks (Sections AA-JJ)
$65
—-
   Reserved Seating: Lower Level Bleachers
$65
—-
   General Admission Seating: Upper Level Bleachers
$65
—-
   Floor Seating: Victory Club Members
—
CONTACT
Season Ticket Holder Benefits
Being a Kentucky women's basketball season ticket holder has its benefits! Benefits include:
Priority access to postseason tickets
Five (5) K Fund priority points with purchase of two season tickets
Complimentary ticket offers to select UK Athletics events
Opportunity to renew and upgrade your seat location each season
Priority seating at Kentucky's game(s) at Rupp Arena
 
Victory Club
The Victory Club is the official booster program of Kentucky women's basketball. Victory Club members support the women's basketball program through game attendance, community visibility and financial contributions. Our student-athletes are continually encouraged and supported by Victory Club members. To learn more about the Victory Club or to join, visit UKathletics.com/VictoryClub.
 
UK Faculty & Staff Season Tickets
Regular, full-time University of Kentucky faculty and staff are eligible for a 20% discount on up to two season tickets. To purchase UK faculty/staff discounted season tickets, please call the UK Ticket Office at (800) 928-2287 to verify eligibility. Your employment status will also be verified before tickets are mailed. Additional monies may be due if you no longer qualify due to a change in employment status. To learn more about University of Kentucky faculty and staff ticket benefits, click here.
Season Ticket Renewals
Season ticket renewal invoices are made available each year in July through My UK Athletics Account. 
 
Rupp Arena Games
For the first time in over a decade, Kentucky women's basketball will play three regular-season games inside Rupp Arena (Tennessee, South Carolina & LSU). Season ticket packages will include a ticket for all three games. Season ticket holders that purchased additional ticket packages for the Rupp Arena games (priced at $9) will be assigned with your season tickets and will include each of the three games ($3 per game). These ticket packages will be mailed separately from your season tickets. Seating for the Rupp Arena games will be assigned based upon your K Fund priority point ranking, between sections 28 – 34 and 11 – 17 of Rupp Arena.
 
Season Ticket Upgrades
Each season, women's basketball season ticket holders are able to request a seat upgrade upon renewing their season tickets. Seat upgrades are based upon availability. To request an upgrade, fill out the upgrade request section through your online renewal invoice or write the request on your hard-copy season ticket renewal invoice. Lower-level chairback seating generally remains sold out from year to year, therefore, upgrades in these sections are generally not available. Upgrade requests will be reviewed after the season ticket renewal deadline.