Contrary to popular belief, there is no waiting list for season tickets, rather a lottery system is in place. The number of season tickets available through the lottery each year depends on the number of non-renewed season tickets from the previous year. Due to the extremely high renewal rate of men's basketball season tickets, only a limited number of 200-level seats are available each year through the lottery. To enter the men's basketball season ticket lottery, please complete the lottery form. 
Drawings are held regularly (beginning the last week of September) for two, 200-level "public season" tickets. View pricing information below. You will only be notified if your name is drawn. Limit one entry per person. You must be at least 18 years old to purchase season tickets. Those who are not drawn will need to re-send their request each year as names that are not drawn for the present year are discarded after the lottery is over.
UK Faculty & Staff Season Tickets
Regular, full-time University of Kentucky faculty and staff are eligible to be entered into a separate lottery before the public ticket lottery each year. To enter the men's basketball faculty & staff season ticket lottery, please complete our online lottery form. Eligible UK faculty & staff receive a 20% discount on up to two season tickets, if drawn in the lottery. Your employment status will also be verified before tickets are mailed. Additional monies may be due if you no longer qualify due to a change in employment status. To learn more about University of Kentucky faculty and staff ticket benefits, click here.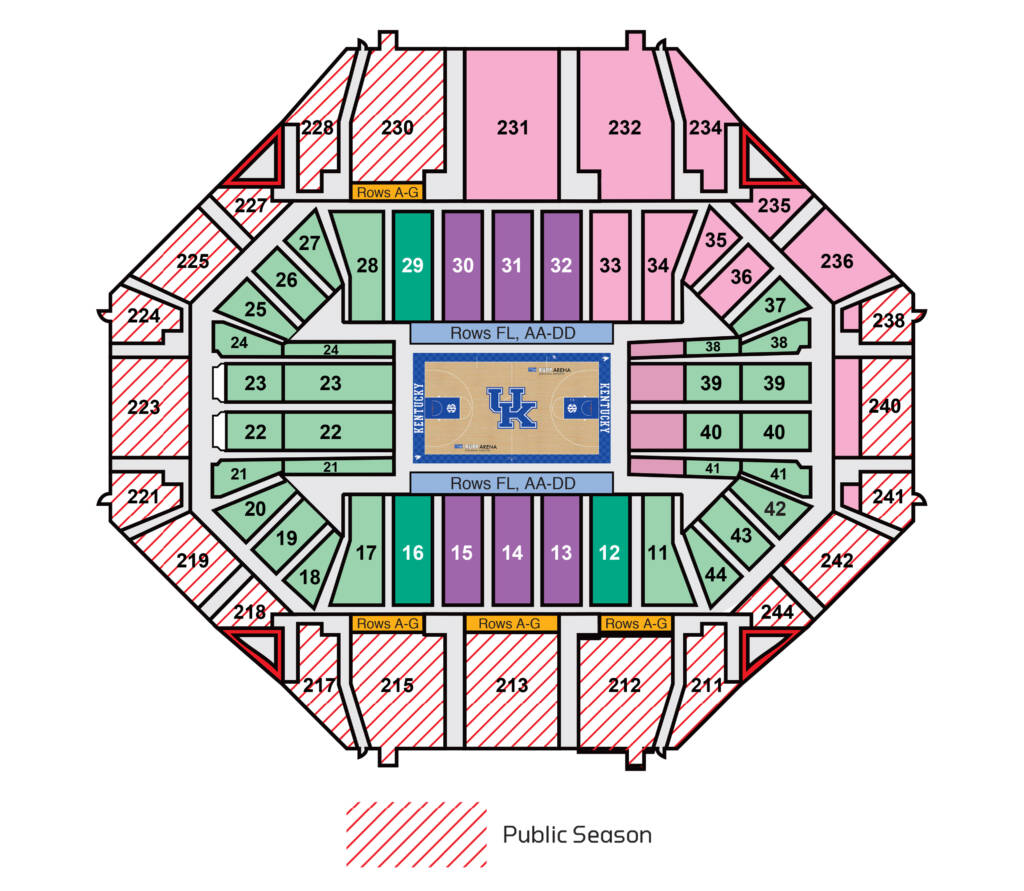 SEATING TYPE
PRICE
DONATION
TOTAL
AVAILABILITY
                    
   Blue Seating
$1,300
$5,000
$6,300
CONTACT
   Purple Seating
$1,300
$2,500
$3,800
CONTACT
   Teal Seating
$1,300
$1,500
$2,800
CONTACT
   Green Seating
$1,300
$1,000
$2,300
CONTACT
   Orange Seating
$1,100
$500
$1,600
CONTACT
   Public Seating: Red & White Striped Areas
$1,100
$0
$1,100
SEE ABOVE
   Student Seating
—
—
—
INFO
Season Ticket Holder Benefits
Being a Kentucky men's basketball season ticket holder has its benefits! Benefits include:
Two (2) K Fund priority points for every $100 of required annual priority seating donation
One (1) K Fund priority point for every year of season ticket purchase
Savings off single game ticket prices
Priority access to neutral site and postseason tickets, based on priority ranking
Opportunity to renew and upgrade your seat location each season
Opportunity to renew with flexible, no-interest payment plans
Complimentary ticket offers to select UK Athletics sporting events
Access to electronically manage your tickets online through My UK Account
Exclusive access to the "Game Day Insider" email subscription – everything you need to know for game day, delivered straight to your inbox!
Parking
To be eligible for a Rupp Arena season parking pass, you must be at the "Champions" member level or above within the K Fund. Please refer to the K Fund Levels of Giving page for more information. Those without parking permits can take advantage of more than 10,000 convenient parking located within a 10-minute walk of Rupp Arena. Visit the Rupp Arena parking page to learn about additional parking options.
Season Ticket Renewals
Season ticket renewal invoices are made available in late July each year via My UK Athletics Account. No-interest payment plans are exclusively available to fans who renew online. Your initial payment is due upon sign-up and remaining payments will be automatically charged to your credit/debit card based on predetermined dates.
 
Early Renewal Incentives
New for the 2017-18 season, the earlier you renew your season tickets, the more exclusive benefits you will receive through Kentucky's two benchmark commitment dates:
+ Benchmark 1: Renew by August 4, 2017
Receive two (2) complimentary tickets to a select 2017 football game.
Plus, receive the Benchmark 2 incentive.

+ Benchmark 2: Renew by August 18, 2017
Receive five (5) bonus K Fund priority points.

Season Ticket Upgrades
Each season, men's basketball season ticket holders are able to request a seat upgrade upon renewing their season tickets. Upgrades are fulfilled in K Fund priority point rank order. Due to the extremely high renewal rate of men's basketball season tickets, only a very small percentage of requests are able to be fulfilled. To place an upgrade request, fill out the upgrade questions associated with your online renewal or write your request on your hard-copy renewal. Upgrade requests will be reviewed after the season ticket renewal deadline in order of K Fund priority ranking.