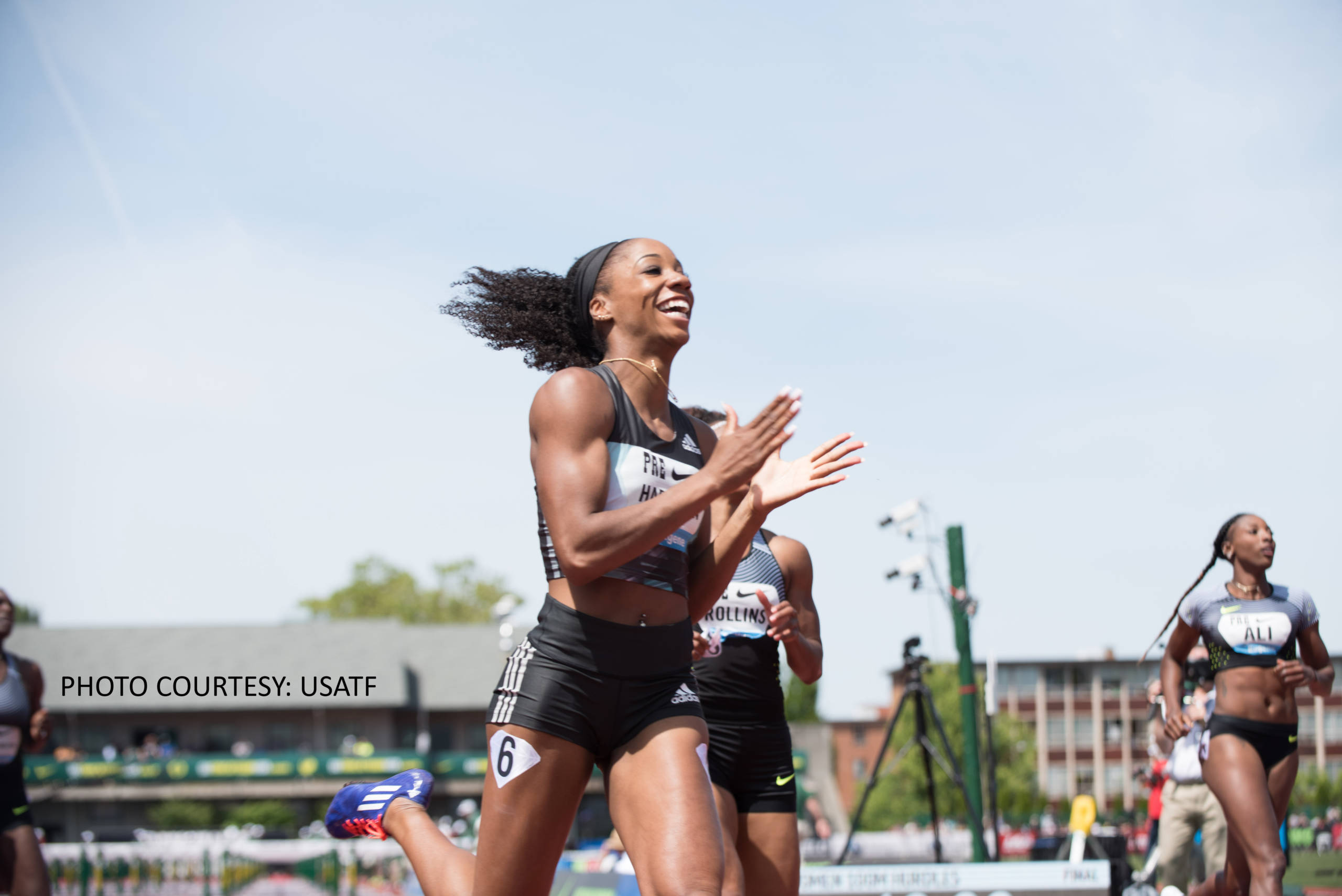 Kendra Harrison Breaks American 100H Record at Pre Classic
Result
| IAAF
Report | USATF
Report

EUGENE Ore. – Kentucky Track and Field great Kendra Harrison broke the American record running 12.24 (+0.7) in the 100m hurdles to win at the Diamond League Prefontaine Classic on Saturday.
The 2015 NCAA champion broke the American record of 12.26 held since 2013 by Brianna Rollins – who went on to win the IAAF World Championship that year. 
The time of 12.24 is the second-fastest performance in history and the fastest ever on American soil. 
Only Yordanka Donkova's world record of 12.21, set in 1988, is faster than Harrison's winning time.
The 2015 UK graduate had a quality start and began to really wow the sold-out Haward Field as she separated from the stacked field from hurdle five to the finish line .
Rollins finished second in 12.53, with Jasmin Stowers third in 12.55 to round out the top three. 
"I am still in a lot of shock right now," Harrison told NBC's Lewis Johnson track-side following the race. "I've just got to thank God I am healthy. That was just amazing."
Harrison's early season runs of 12.36 in Athens, Georgia, and 12.42 at the Drake Relays in April proved fitting prologue for Saturday's historic performance.
"I felt really smooth," Harrison told the assembled media behind the track following the race. "That's the only thing that keeps running through my mind. I'm not sure how I can top this, but I'm sure my coach has a few ideas for ways to improve."
Harrison will continue training in Lexington in preparations for the U.S. Olympic Trials back at Hayward Field in July.
The most up-to-date coverage of the UK track and field
program is available via @KentuckyTrack handles on Twitter, Instagram and Facebook.
Your new American 100m hurdles record holder @KeniUSATF #preclassic pic.twitter.com/j2l6GL1vJR

— Prefontaine Classic (@nikepreclassic) May 28, 2016