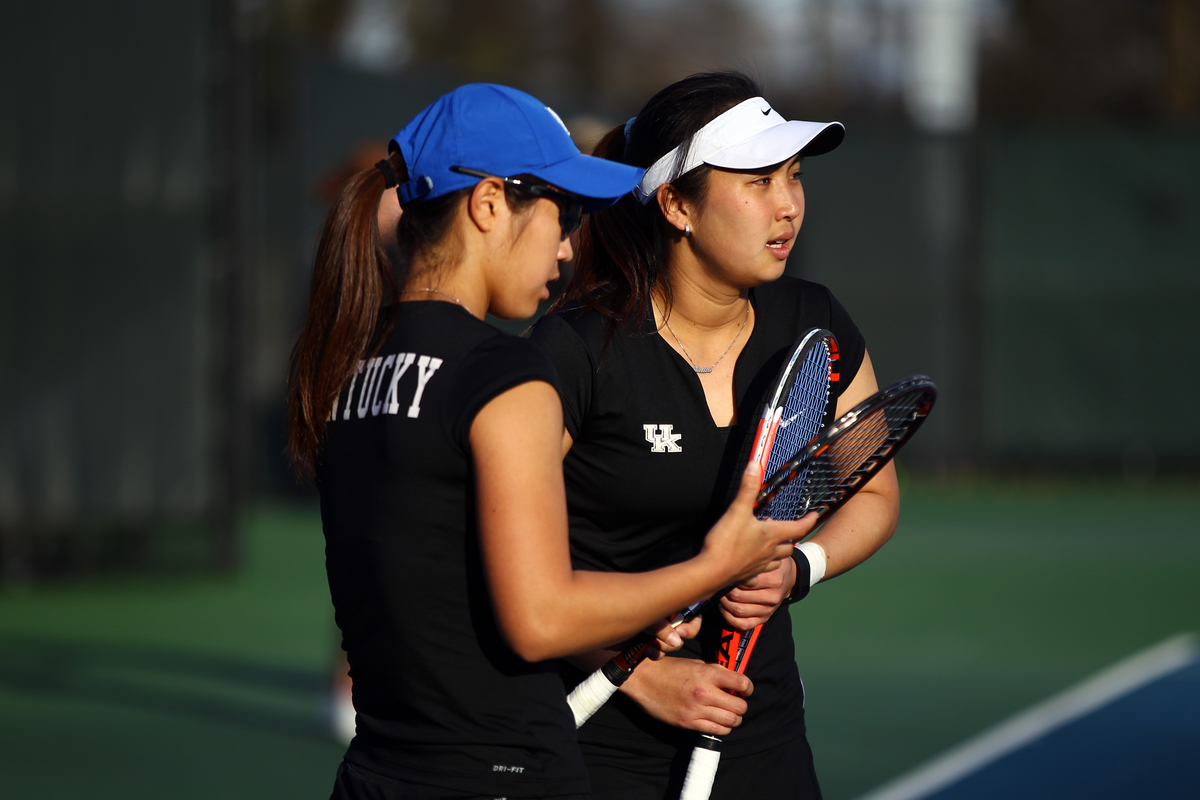 Bruins Bounce Wildcats from NCAA Doubles Championship
TULSA, Okla. – A historic doubles tournament run that had not been seen by a Kentucky tandem in more than a decade came to an end on Saturday afternoon, as Mami Adachi and Aldila Sutjiadi fell to No. 7 Catherine Harrison and Kyle McPhillips of UCLA in straight sets.
Adachi and Sutjiadi had become the first doubles pair from Kentucky to advance to the quarterfinals since 2003, the sixth time the feat had ever been accomplished in program history.  However, the Bruins duo that had been knocked out in a first-round upset after being tabbed a No. 3 seed in 2015 returned to the tournament field this season with a vengeance and powered its way to the semifinals with a 6-0, 6-2 performance over the Wildcats.
Despite the blanking in the first set, the games remained tight with two of them going 40-40 before UCLA would go on to put them away.  Adachi and Sutjiadi came out hot in the opening game and took an early 30-0 lead, but Harrison quickly got in a groove and attacked sidelines and open court with precision to give an early edge.  Ultimately, Harrison and McPhillips took the opening set with a dominating sixth game.
The Bruins were unable to break for the first time in the match in the opening game of the second set behind Adachi's serving.  UK got out to an early 40-0 lead in the game and an aggressive serve by Adachi was mishandled by McPhillips to give the Wildcats an early 1-0 lead in the second.  Unfortunately, UCLA won three straight games before Kentucky could muster another.  The Wildcats found themselves down 0-40 on match point in game eight and still fought to bring it within 30-40, but UCLA retained focus and was able to put the match away and move on to the final four.
Adachi and Sutjiadi still enjoyed one of the most dominant doubles campaigns put together by a Wildcat duo.  During the dual season, the two had a 17-set winning streak to help Kentucky secure all but three of the doubles points.  Additionally, they rolled through Southeastern Conference opponents with an 11-0 mark.  With their No. 2 overall seeding in the tournament, Adachi and Sutjiadi will be named ITA All-Americans and will be the first Wildcats to garner the honor since Kim Coventry and Joelle Schwenk in 2007.
NCAA Women's Doubles Championship – Quarterfinals
Case Tennis Center – Tulsa, Okla.
May 28, 2016
No. 7 (5-8) Catherine Harrison/Kyle McPhillips (UCLA) def. No. 1 (2) Mami Adachi/Aldila Sutjiadi (UK) 6-0, 6-2
Visit UKathletics.com for the most up-to-date information on the Kentucky women's tennis team and all 22 varsity sports. For additional info, notes, and behind-the-scenes updates, follow the team on Twitter at @UKWomensTennis and on Facebook.