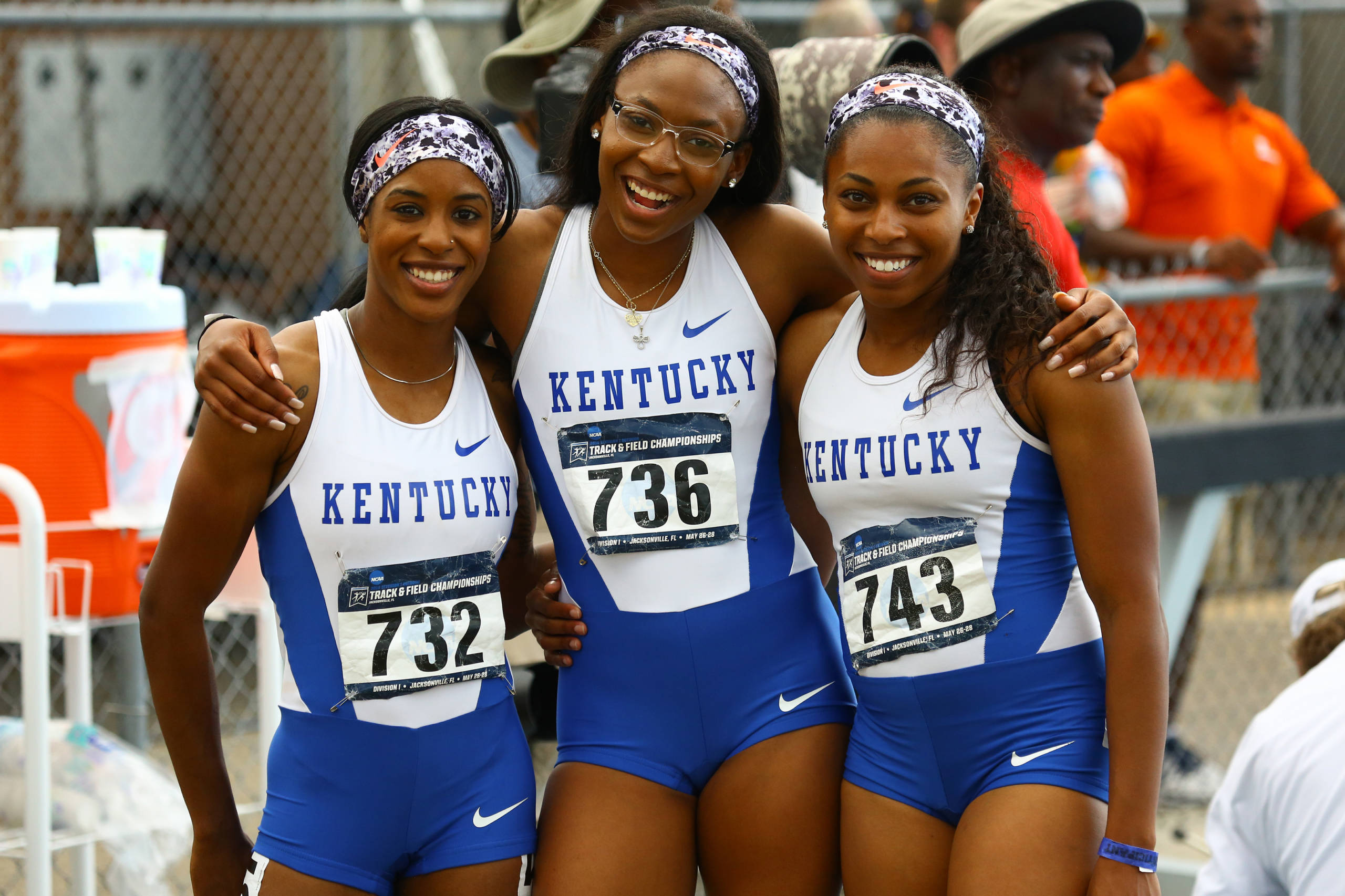 Six More Wildcats Move on to Eugene on NCAA East Prelims Day Two
JACKSONVILLE, Fla. – Six more Kentucky Wildcats advanced on to the NCAA National Championships by virtue of their top-12 finishes on the second day of the 2016 NCAA East Preliminary Track and Field Championship on Friday at the University of North Florida's Hodges Stadium. 
Kentucky has now advanced 10 Wildcats on to the NCAA Championships, which will be held June 8-11 in Eugene, Oregon. 
Eight members of the top-ranked Kentucky women's team have qualified for the National Championships. Two men have qualified for Eugene.
Seven Wildcats – six women, and one man — advanced from preliminary races into quarterfinals, which will go off on Saturday.
The Preliminary Championships will conclude on Saturday.
NCAA qualifiers so far
Three Wildcats – Javianne Oliver, Kianna Gray and Destiny Carter – moved on to Eugene in the 100 meters.
Kianna Gray and Destiny Carter went one-two in heat one of the quarterfinals to nab automatic qualifiers and move on to Eugene. They ran respective times of 11.34 and 11.35. Javianne Oliver then ran a wind-legal PR of 11.29 (+1.6) to take second in heat two and advance automatically.
Ariah Graham battled through a tough two laps around the track to advance to Eugene in the 800m. The Southeastern Conference Champion was pinned against the rail for much of her trip, and she was forced to navigate wide along the home stretch to take fourth place in her heat. She qualified on time, in eighth-place overall, in 2:04.07.
Kiah Seymour qualified for Eugene in the 400m hurdles. She won heat one from lane eight in 55.50.
Freshman Olivia Gruver advanced to Eugene in the pole vault. Her best clearance was 13'11.25"/4.25m as they stopped vaulting once 12 competitors remained.
On Friday Beckie Famurewa qualified for Eugene in the hammer throw, and Sarah Blake advanced in the javelin.
Fred Dorsey made it to Eugene in the long jump, and Jacob Thomson qualified in the 10k.
Friday advancers from prelims into quarterfinals
Jasmine Camacho-Quinn and Jacklyn Howell both won their heats in the 100m hurdles prelims. Camacho-Quinn ran 12.96 and Howell ran 13.03 as both advanced automatically into the Saturday quarterfinal.
Nick Anderson won heat one of the 110H in 13.65 to move on to the quarterfinal. 
Kentucky had a strong showing in the prelims of the 200m as four Wildcats advanced to the Saturday quarterfinals with PR times.
Gray had the third fastest qualifying time – 22.79 (+1.0). Camacho-Quinn was fourth-fastest in a PR 22.87 (+0.3). Carter was seventh in a wind-legal PR 22.97 (+0.2) as she flew off the curve after an impressive start and coasted home. Hitchcock had the 11th-fastest prelim time: 23.18 (+1.0). 
Gray, Carter and Hitchcock have run faster with wind assistance greater than 2.0 meters/second.
Thursday Notables
Adriana Brown and Famurewa placed 14th and 20th respectively in the discus. They did not advance.
Jasmine Mitchell placed 15th in the 400m quarterfinal. She ran 52.72, and did not advance.
Hitchcock ran 11.49 (+1.1) to place 15th in the 100m. She did not advance.
Elijah Marta threw 195'9"/59.68m in the javelin. He placed 37th and didn't advance.
Precious Hitchcock ran 11.49 to place 15th in the 100m, she did not advance. 
Daje Pugh ran 58.45 (17th place) in the 400m hurdles and did not advance.
Freshman Caleb Wilt ran 14.30 to place 32nd in the 110m hurdles. He did not advance.
The most up-to-date coverage of the UK track and field program is
available via @KentuckyTrack handles on Twitter, Instagram and Facebook.
Thursday Track

UK Results

Women 100 M Hurdles Prelims
6 Heats. Advance top 3 from each heat plus next 6 times to qtr.

4. Jasmine Camacho-Quinn: 12.96Q (+0.7)
6. Jacklyn Howell: 13.03Q (+0.8)

Men 110 M Hurdles Prelims
6 Heats. Advance top 3 from each heat plus next 6 times to qtr.

3. Nick Anderson: 13.65Q (+0.3)
32. Caleb Wilt: 14.30 (+0.3)

Women 400 M QF
Advance top 3 from each qtr. plus next best 3 times to Eugene

15. Jasmine Mitchell: 52.72

Women 100 M QF
Advance top 3 from each qtr. plus next best 3 times to Eugene

2. Javianne Oliver: 11.29Q (+1.6) – PR
4. Kianna Gray: 11.34Q (+1.1) – PR
5. Destiny Carter: 11.35Q (+1.1) – PR
(Oliver, Gray and Carter advance to Eugene)
15. Precious Hitchcock: 11.49 (+1.1)

Women 800 M QF
Advance top 3 from each
qtr. plus next best 3 times to Eugene

8. Ariah Graham: 2:04.07q – advances to Eugene

Women 400 M Hurdles QF
Advance top 3 from each qtr. plus next best 3 times to Eugene

4. Kiah Seymour: 55.55Q
17. Daje Pugh:   58.45

Women 200 M Prelims
6 Heats. Advance top 3 from each heat plus next 6 times to qtr.

3. Kianna Gray: 22.79Q (+1.0) – PR
4. Jasmine Camacho-Quinn: 22.87Q (+0.3) – PR
7. Destiny Carter: 22.97Q (+0.2) – PR
11. Precious Hitchcock: 23.18q (+1.0) – PR
32. Donatella Asemota: 23.86 (+1.6)

Men 200 M Prelims

45. Ini Oye: 21.81 (+1.2)

Women 3000 M Steeplechase
Prelims
One round. Advance top 3
from each ht. plus next best 3 times to Eugene

17. Katy Kunc: 10:15.32
21. Caroline McCaslin: 10:21.89

Men 3000 M Steeplechase
Prelims
One round. Advance top 3 from each ht. plus next best 3 times to Eugene

22. Spencer Hrycay:  8:56.08
Friday
Field Events

Results

Women Discus

14. Adriana Brown: 170'7"/52m
20. Beckie Famurewa: 166'/50.61m

Men Javelin

37. Elijah Marta: 195'9"/59.68m

Women Pole Vault

9. Olivia Gruver: 13'11.25"/ 4.25mq – advances to
Eugene