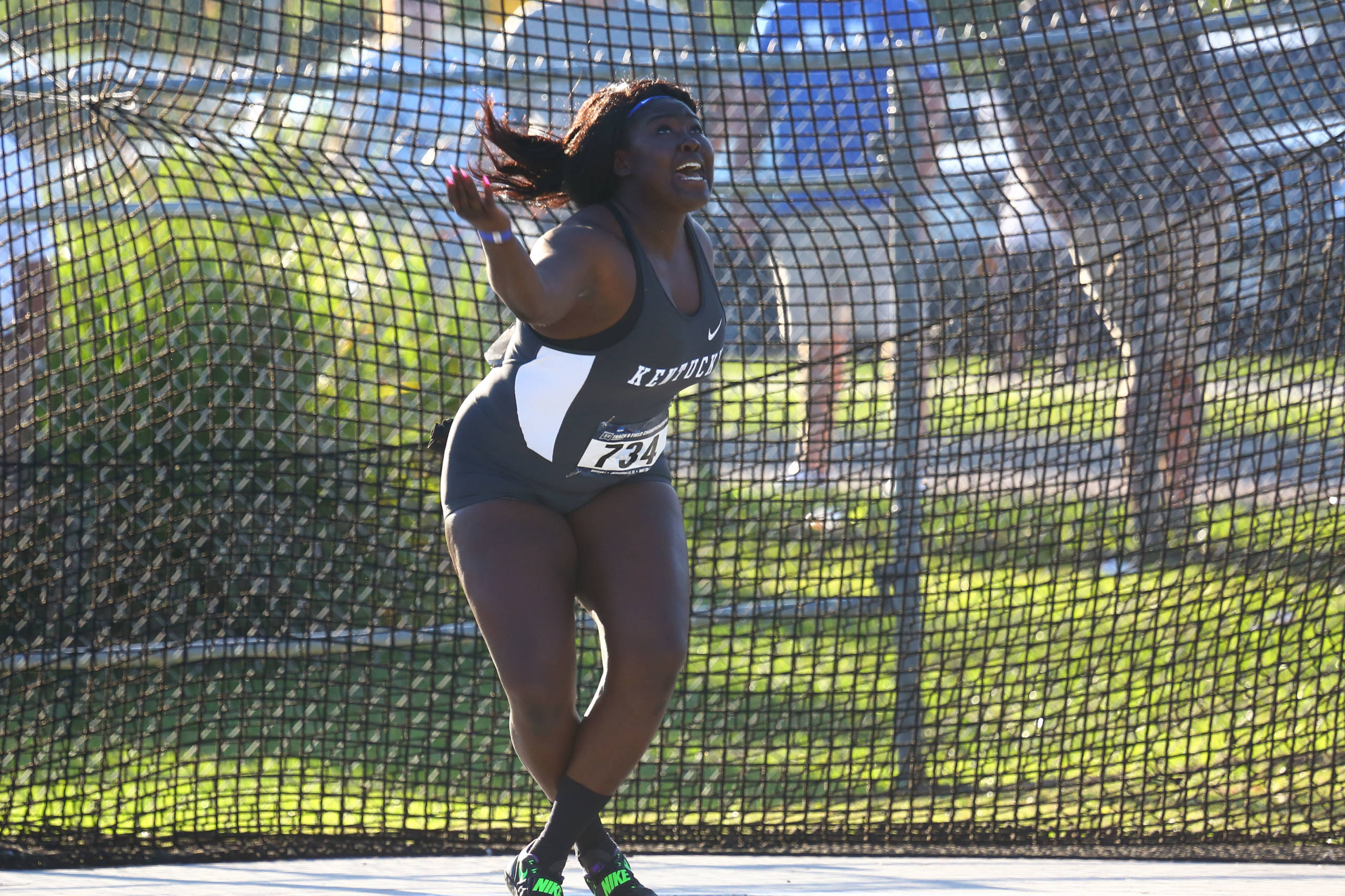 Four Wildcats Move on to Eugene on NCAA East Prelims Day One
Results
JACKSONVILLE, Fla. – Four Wildcats advanced on to the NCAA National Championships by virtue of the top-12 finishes at the NCAA East Preliminary Championship on Thursday at the University of North Florida's Hodges Stadium. 
Kentucky had 10 places (qualified the aforementioned four spots – two men, two women) in the NCAA Championships field available on Thursday. Eight Wildcats advanced from preliminary races into quarterfinals, which will go off on Saturday.
Beckie Famurewa was the top qualifier to move on to Eugene in the hammer throw from the East Prelims. She turned in an impressive field series improving on each of her three throws with a final mark at 207'2"/63.14m
Freshman Sarah Blake was the first Wildcat to clinch her spot in Eugene. She unleashed an eight-feet, two-inch PR of 163'8″/49.90m to place fourth in the javelin. The mark is a new school record and freshman record with the implement that's been in use since 1985.
Jacob Thomson cruised on to Eugene in a typically tactical 10k. The Southeastern Conference 5k and 10k Champion's time was 30:03.72 to place third.
Fred Dorsey placed seventh in the long jump. His mark of 24'10.5"/7.58m earned his spot on the plane to Oregon.
Thursday advancers from prelims into quarterfinals
Daje Pugh and Kiah Seymour both earned automatic qualifying places in the 400m hurdles quarterfinal. 
Pugh ran a PR time of 57.68Q to place third in heat one. Seymour ran 57.93 to place second in heat five. 
The top-three finishers in nine-lane heats advanced automatically, and the next six fastest times advanced.
Four Wildcats: Kianna Gray, Javianne Oliver, Precious Hitchcock and Destiny Carter,
 advanced to the 100m quarterfinals. 
Kianna Gray ran a wind-legal PR 11.21Q (+0.7) to finish with the top time of the preliminary heats. 
Javianne Oliver automatically advanced to the women's 100m quarterfinal by placing second in prelim heat three. She also ran a wind-legal PR time of 11.42Q (-0.2). 
Precious Hitchcock ran 11.43 (+0.7,  a wind-legal PR, to place fourth in heat one and advance on time.
Destiny Carter won heat six in 11.47Q (+0.5) to advance automatically.
Jasmine Mitchell ran a PR 52.52Q, becoming the No. 3 performer in school history, to place second in heat five of the 400m and advance to the quarterfinal.
Ariah Graham placed third in her 800m prelim to advance automatically to the quarterfinals with a time of 2:06.45Q.
Thursday Notables
Brandi Walker placed 13th in the hammer throw with a toss of 193'/58.84m. She finished one spot, and two inches shy of advancing.
Kentucky did not advance any women's long jumpers. Sha'Keela Saunders fouled on her first two attempts and reached 19'8.25"/6m (+1.4) on the third to place 22nd. 
Carter placed 29th with a mark of 19'2.75"/5.86m (-0.4). Marie-Josee Ebwea-Bile placed 27th.
Donatella Asemota placed seventh in heat three of the women's 100m with a time of 11.78 (-0.4). She didn't advance.
David Cline placed 26th and Logan Bryer placed 44th in the men's hammer throw.
Kentucky will continue the East Preliminary Championships on Friday.
The most up-to-date coverage of the UK track and field
program is available via @KentuckyTrack handles on 
Twitter
, 
Instagram 
and 
Facebook
.
Thursday Running Events

UK Results

Women 400 M Hurdles Prelims

11. Daje Pugh: 57.68Q (PR)
13. Kiah Seymour: 57.93Q            

Men 1500 M Prelims

DNF: Lou Styles

Women 100 M Prelims

1. Kianna Gray: 11.21Q (+0.7)
7. Javianne Oliver: 11.42Q (-0.4)
10. Precious Hitchcock: 11.43q (+0.7) — PR
12. Destiny Carter: 11.47Q (+0.5)
29. Donatella Asemota: 11.78 (-0.4)

Women 400 M Prelims

10. Jasmine Mitchell: 52.52Q

Women 800 M Prelims

18. Ariah Graham:  2:06.45Q

Men 10,000 M Prelims.

3. Jacob Thomson:  30:03.72Q – advances to Eugene
Thursday
Field Events

UK
Results

Men
Hammer

26.
David Cline: 203'7"/62.06m
44. Logan Bryer: 190'11"/58.19m

Women
Javelin

4. Sarah Blake: 163'8"/49.90m – PR,
Post-1985 school record – advances to Eugene

Men
Long Jump

7. Fred Dorsey: 24'10.5"/7.58m
– advances to Eugene

Women
Hammer

1. Beckie Famurewa: 207'2"/63.14m – advances
to Eugene
13. Brandi Walker: 193'/54.84m

Women
Long Jump

22. Sha'Keela Saunders: 19'8.25"/6m (+1.4)
29. Destiny Carter: 19'2.75"/5.86m (-0.4)
47. Marie-Josee Ebwea-Bile: 17'5.25"/5.31m (+0.2)
Start Time

Friday Running Events

Rnd

Start List

5:00 PM

Women 110 M Hurdles
6 Heats. Advance top 3 from each heat plus next 6 times to qtr.

Prelims

Ht. 3 – Lane 6: Jasmine
Camacho-Quinn
Ht. 5 – Lane 4: Jacklyn Howell

5:30 PM

Men 100 M
Hurdles
6 Heats. Advance top 3 from each heat plus next 6 times to qtr.

Prelims

Ht. 1 – Lane 2: Caleb Wilt,
Lane 4: Nick Anderson

6:00 PM

Women 400 M
Advance top 3 from each qtr. plus next best 3 times to Eugene

QF

Sec. 2, Lane 5: Jasmine
Mitchell

6:15 PM

Men 400 M

QF

6:30 PM

Women 100 M
Advance top 3 from each qtr. plus next best 3 times to Eugene

QF

Sec. 1 – Lane 5: Destiny
Carter, Lane 6: Kianna Gray, Lane 9: Precious Hitchcock
Sec. 2 – Lane 7: Javianne Oliver

6:45 PM

Men 100 M

QF

7:00 PM

Women 800 M
Advance top 3
from each qtr. plus next best 3 times to Eugene

QF

Sec. 2 – Lane 3: Ariah Graham

7:15 PM

Men 800 M

QF

7:30 PM

Women 400 M Hurdles
Advance top 3 from each qtr. plus next best 3 times to Eugene

QF

Sec. 1 – Lane 8: Kiah Seymour
Sec. 2 – Lane 4: Daje Pugh

7:45 PM

Men 400 M Hurdles

QF

8:00 PM

Women 200 M
6 Heats. Advance top 3 from each heat plus next 6 times to qtr.

Prelims

Ht. 1 – Lane 6: Dona Asemota
Ht. 2 – Lane 2: Precious Hitchcock, Lane 7: Kianna Gray
Ht. 3 – Lane 9: Jasmine Camacho-Quinn
Ht. 6 – Lane 2: Destiny Carter

8:25 PM

Men 200 M

Prelims

Ht. 4 – Lane 3: Ini Oye

8:50 PM

Women 3000 M Steeplechase
One round.
Advance top 3 from each ht. plus next best 3 times to Eugene

Prelims

Ht 1: Katy Kunc
Ht. 3: Caroline McCaslin

9:30 PM

Men 3000 M Steeplechase
One round. Advance top 3 from each ht. plus next best 3 times to Eugene

Prelims

Ht 3: Spencer Hrycay
Start Time

Friday Field Events

Rnd

Start List

12:00 PM

Women Discus

Prelims

Flight 3 of 3: 8.
Adriana Brown,
12. Beckie Famurewa

12:00 PM

Men Javelin

Prelims

Flight 1 of 3: 13. Elijah Marta

4:00 PM

Men Discus

Prelims

5:00 PM

Women Pole Vault

Prelims

Flight 1: Olivia Gruver

5:00 PM

Women High Jump

Prelims