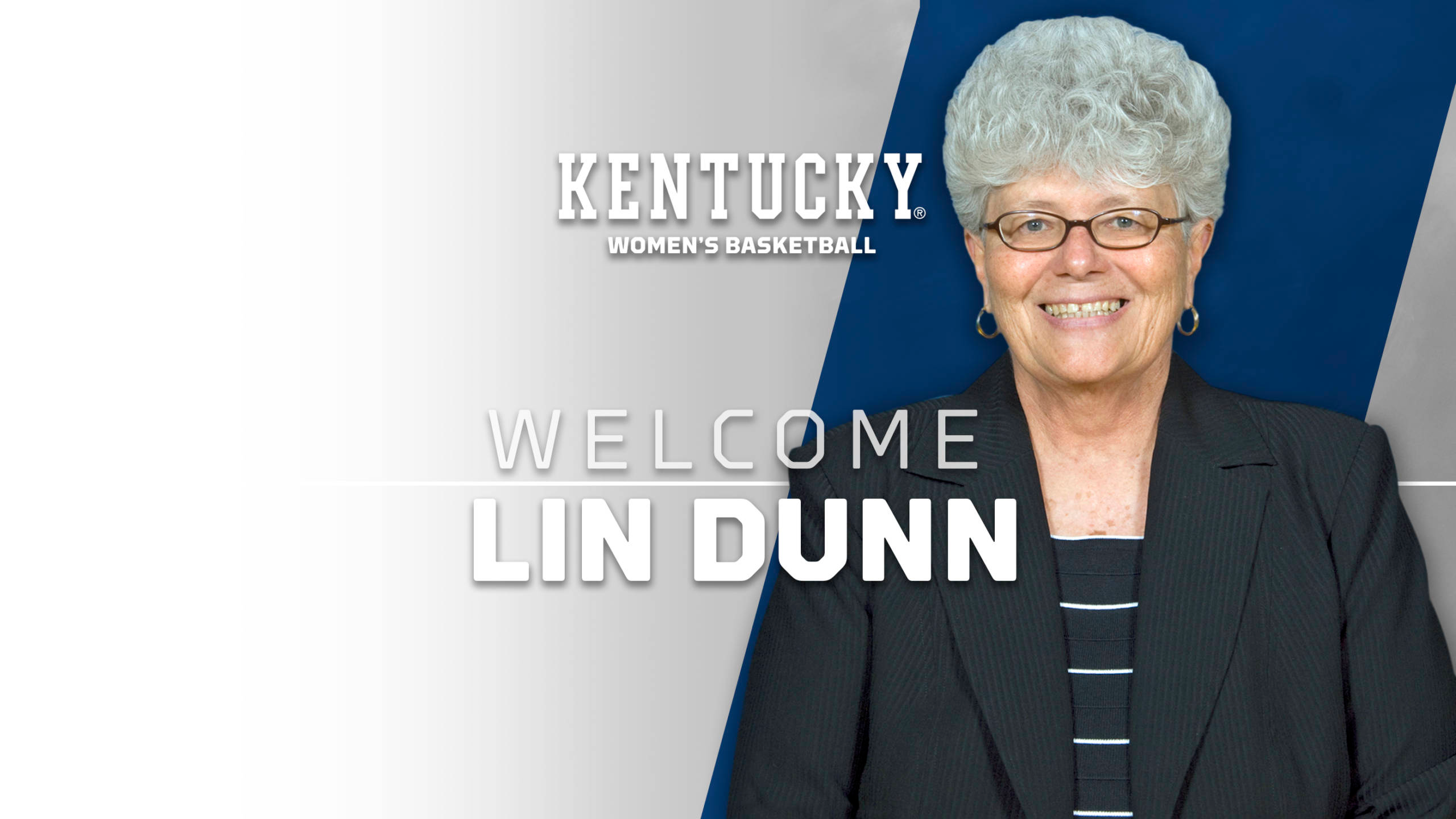 Women's Basketball Hall of Famer Lin Dunn Joins Mitchell's Staff
LEXINGTON, Ky. – With over 40 years of coaching experience, including nearly three decades in the collegiate ranks and a Women's National Basketball Association championship title to her name, Lin Dunn has been named an assistant coach with the Kentucky women's basketball team, Matthew Mitchell announced Tuesday.
"I could not be more excited to get the chance to work every day with one of my greatest mentors and dearest friends in Lin Dunn," Mitchell said. "When you think about those that helped paved the way for women's sports, Lin Dunn is one of those names that comes to your mind. She has helped me become the coach and person that I am today and I am forever grateful. With our staff now complete, it's time for us to turn the page and take this program to new heights." 
A member of the prestigious Women's Basketball Hall of Fame Class of 2014, Dunn is known worldwide as a pioneer for not only women's basketball but women's athletics. Before her retirement, Dunn coached 11 seasons in the WNBA and guided the Indiana Fever to the 2012 WNBA Championship. Dunn spent 25 years as a college head coach, winning 447 games and advancing to four Sweet 16s and one Final Four.
"I've known Matthew for 20 years. He's a great person, a good father and an excellent coach," Dunn said. "You don't accidentally win 25 games every season in the SEC without being a great basketball coach. I'm really excited about helping him maintain this level of success. He has put together such a great staff that I know working with Kyra, Niya and Amber will be a wonderful opportunity for me and one that I couldn't pass up. I am confident that Matthew and I share similar core values and I'm excited to get back on the court."
After a successful run in the college ranks, Dunn began coaching in professional basketball in 1997 with the Portland Power and was named the American Basketball League's Coach of the Year in 1998. Dunn then moved on to the WNBA in 2000 and was the first coach and general manager of the Seattle Storm, leading the young franchise to the playoffs in 2002. 
In 2004, Dunn joined the Indiana Fever staff as an assistant coach before being promoted to head coach in 2008. Dunn guided the Fever to seven straight playoff appearances during her time as head coach, including the 2012 WNBA title. In all, Dunn led the Fever to two WNBA Finals and was one win away from reaching the final series for the third time in her last season in 2014. When she retired, Dunn had 23 WNBA postseason wins, which was good for third all-time. 
Prior to her run in the WNBA, Dunn was the head coach at Purdue for nine seasons, leading the Boilermakers to one of the most successful runs in its program history. In nine years in West Lafayette, Dunn won 206 games, leading Purdue to seven NCAA Tournaments, including its first trip in program history in 1989. She took Purdue to its first Final Four in 1994, an Elite Eight in 1995 and the Sweet 16 in 1990 and 1992. She coached three Big Ten Championship squads, including an outright title and the first in Purdue history in 1991, and was named the Big Ten Coach of the Year in 1989 and 1991. Dunn mentored several Boilermaker standouts in her tenure, including a trio of first team all-Americans in Joy Holmes (1991), MaChelle Joseph (1992) and Stacey Lovelace (1995).
In 1978-79, Dunn was named head coach at Miami (Fla.), guiding the Hurricanes to their first-ever ranking in the Associated Press Top 20 in 1986 and its first Florida State Championship in 1981. The 1981 Florida Coach of the Year, Dunn's team went 24-15 that season and made its first postseason appearance in the AIAW Region III Championship. Her 1981-82 squad followed up on the previous seasons' success with a 19-10 record, and another berth into the AIAW postseason tournament. Dunn's seventh season resulted in her top win percentage at 21-7. 
Dunn began her coaching career at Austin Peay in 1970 – before Title IX – as the physical education instructor, supervisor of the football and men's basketball cheerleaders, and the volunteer coach of the women's volleyball, basketball and tennis teams. The women's basketball team at Austin Peay posted winning seasons four times under Dunn, who left in 1977 to become the volleyball, tennis and basketball coach at Ole Miss, where she posted a 25-15 record in basketball before leaving for Miami. 
Dunn has had a decorated coaching career worldwide as she was an assistant coach for the 1992 USA Olympic team that captured the bronze medal in Barcelona and spent eight years on the USA Basketball Team Selection Committee. Dunn was also the President of the Women's Basketball Coaches Association in 1984-85. 
She has left her impact wherever she has gone during her career as she is not only a member of the Women's Basketball Hall of Fame in Knoxville, Tenn., but also the Tennessee Sports Hall of Fame, Indiana Basketball Hall of Fame, Purdue Athletics Hall of Fame, UT-Martin Hall of Fame, Austin Peay Athletic Hall of Fame and University of Miami (Fla.) Athletic Hall of Fame. Dunn also earned the 2016 Jostens-Berenson Lifetime Achievement Award in recognition of her lifelong commitment of service to women's basketball. 
The native of Dresden, Tenn., earned her bachelor's degree in health and physical education from UT-Martin in 1969 before completing her master's degree in physical education from Tennessee the following year. 
What they are saying about Lin Dunn …
"Lin Dunn is an amazing choice. She is a wonderful person, coach and basketball mind. She is passionate about the game and I am thrilled young women will continue to learn from her. Most importantly, I am excited as a reporter to cover her again. She is a delight." – Holly Rowe, ESPN
"I've played against Lin's teams for years in the WNBA. They never gave it to you, you had to earn it. They were tough, physical and played fearless. As a competitor, those are the types of battles you enjoy the most." – Kara Lawson, ESPN
"Lin brings a wealth of coaching experience and interaction from her various positions she's held as a coach, speaker, consultant and mentor. Lin's influence reaches back decades from the expansion of women's basketball in the 80s to the pro WNBA of today. She understands the psych, demeanor and challenges of today's athletes and will be able to provide Coach Mitchell another set of very experienced hands in re-shaping the future of Kentucky women's basketball." – Mike Flynn, Director of Blue Star Basketball 
"Very few people have had the success Lin Dunn has had at every level of our game. Her impact on the game of basketball is not just limited to what she has done as a coach, but in the number of successful coaches she has mentored. Lin just has a unique way of connecting with people, using her love for the game and infectious personality. This is a great hire for Kentucky." – LaChina Robinson, ESPN/Fox Sports 
"Coach Dunn's experience and expertise of the game will help bring Kentucky's coaching staff to a top-notch level. I am excited about the staff that UK is putting together and know that with the addition of Coach Dunn continued success is ahead."  – Tamika Catchings, WNBA star 
"Lin has so much experience and really excels at player development. Helping players reach their potential has long been her passion as a coach. The time she's spent in the pro and college games have given her a vast perspective that should be a big asset for Coach Mitchell and the Wildcats." – Mechelle Voepel, espnW.com 
"When Lin Dunn left the WNBA, she was one of the best coaches in the league. She is a great basketball mind and will be a fantastic addition to Matthew Mitchell's staff." – Rebecca Lobo, ESPN 
For more information on the Kentucky women's basketball team, visit UKathletics.com or follow @UKHoopCats on Twitter and Instagram, or Kentucky Women's Basketball on Facebook.