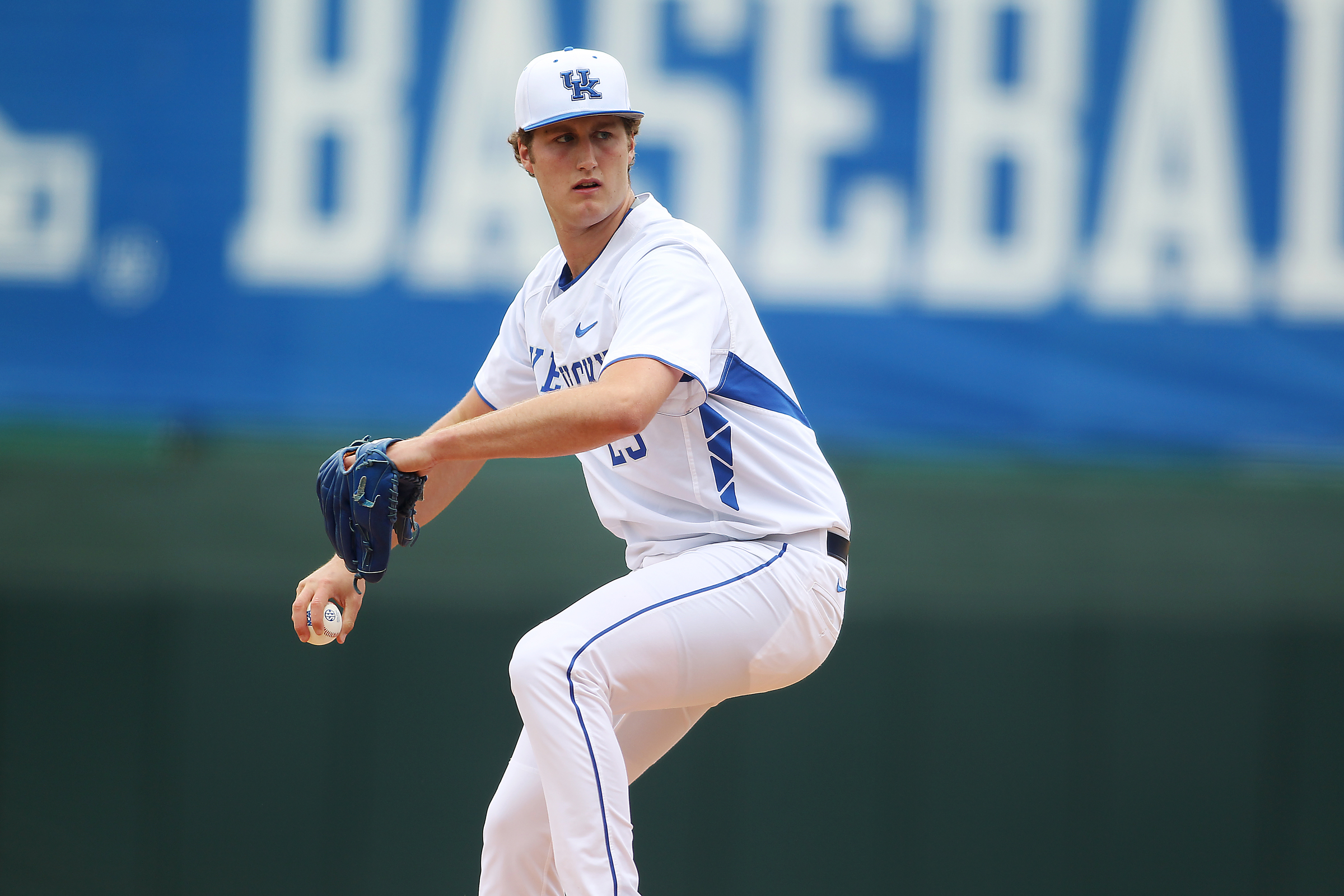 LEXINGTON, Ky. – Pitching in his final career game at Cliff Hagan Stadium, senior right-hander Kyle Cody threw a complete game, holding Missouri to just one earned run, as the Wildcats topped the Tigers 7-2 in the regular season finale for both teams.
Kentucky (32-24, 15-15 SEC) advances to next week's SEC Tournament, where the Wildcats will face Alabama on Tuesday at 5:30 p.m. ET.
Cody (6-2) threw set numerous career marks in Saturday's outing. It was the first career complete game for the senior from Chippewa Falls, Wis. Cody also tied his career high in strikeouts with nine, while allowing just eight hits and walking only one Missouri batter in the game.
Sophomore first baseman Evan White had three hits and three RBIs for Kentucky in the game. It was the ninth time this season that White has had at least three hits in a game. He also extended his hitting streak 15 in the game.
Missouri scored first with an unearned run in the top of the third inning, aided by two Wildcat errors. But Kentucky responded in a big way in the bottom of the frame.
The rally started when sophomore catcher Troy Squires and sophomore first baseman Evan White each reached on bunt singles. Junior Zach Reks then bunted the runners to second and third. Junior third baseman JaVon Shelby knocked Squires in on an infield single to tie the game 1-1.
Dorian Hairston then singled, scoring White to give the Cats a 2-1 lead. Senior designated hitter Zach Arnold hit a sacrifice fly to center to score Shelby and give Kentucky a 3-1 advantage.
Kentucky extended its advantage in the fourth inning when freshman outfielder Tristan Pompey doubled to lead off the frame, then was advanced to third on a sacrifice bunt by Squires. Pompey scored on a sacrifice fly by White, extending the Kentucky lead to 4-1.
In the sixth inning, Kentucky struck again. With one out in the inning, junior second baseman Connor Heady doubled to right-center, scoring Pompey to make it 5-1 Cats. After another Squires base hit, Heady scored when White grounded out to the pitcher, extending Kentucky's lead to 6-1.
Missouri scored its only earned run of the game in the seventh inning, but Kentucky got that run back in the eighth when White doubled to right-center, scoring Heady to give the Wildcats a 7-2 advantage.
For the latest on the Kentucky athletics, follow @UKathletics on Twitter and Facebook, as well as on the web at UKathletics.com.