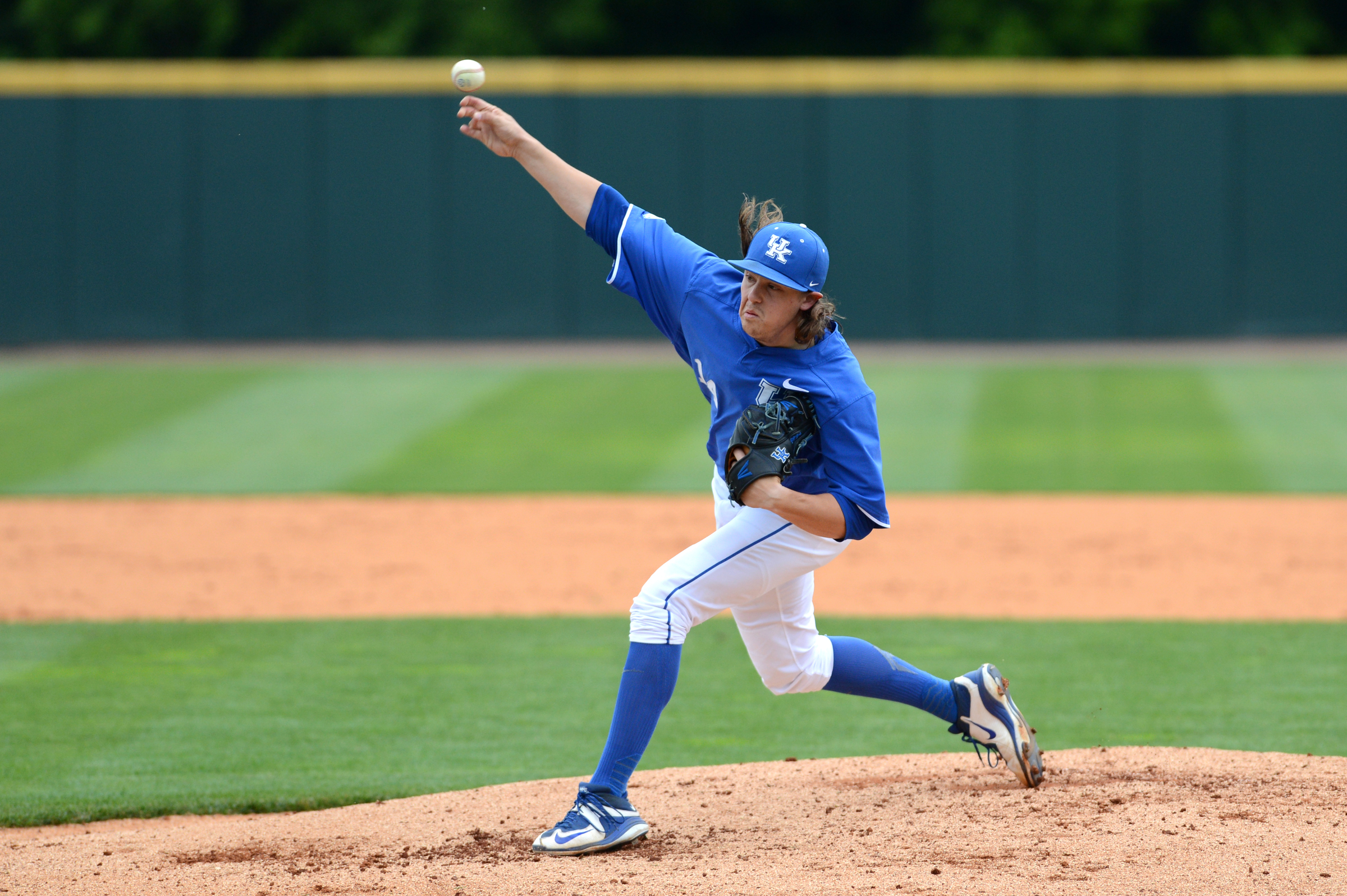 LEXINGTON, Ky. – Senior right-hander Dustin Beggs pitched eight shutout innings as the Kentucky baseball team beat Missouri 2-1 on Friday at Cliff Hagan Stadium.
Beggs (9-2) held Missouri to no runs, just six hits and two walks while striking out six. The nine wins this season allow Beggs to tie Corey Littrell (2012) for sixth-most in any season in Kentucky history.
Freshman right-hander Sean Hjelle pitched the ninth inning to earn his eighth save of the season. That ties Hjelle with Paul Morse (1993) and Alex Phillips (2012) for third-most in a season in school history.
Kentucky (31-24, 14-15 SEC) got two hits from Evan White, who extended his hitting streak to 14 games in the process. It also marked the 23rd time this season that White has had a multi-hit game.
The game was scoreless until the bottom of the sixth inning, when Kentucky mounted a two-out rally off of Missouri starter Reggie McClain (5-4). Junior outfielder Zach Reks singled up the middle to extend his hitting streak to 10 games and junior third baseman JaVon Shelby followed with an infield single. Sophomore shortstop Riley Mahan singled through the right side to score Reks, giving the Cats a 1-0 lead. The Wildcats then executed a double steal, with Mahan stealing second and Shelby swiping home to make it 2-0 Kentucky.
Missouri (26-28, 9-20) scored its only run in the top of the ninth inning when Ryan Howard doubled and scored on a ground out by Trey Harris. With two outs in the frame, Hjelle hit Missouri catcher Brett Bond with a pitch. Johnny Balsamo pinch ran for Bond and was promptly picked off by Hjelle to end the game. He became the third Missouri runner to be picked off by Kentucky pitching in the game.
The two teams will meet on Saturday in the series finale. Kentucky will start senior right-hander Kyle Cody against a Missouri starter to be determined. First pitch at Cliff Hagan Stadium is set for 1 p.m. ET.
For the latest on the Kentucky athletics, follow @UKathletics on Twitter and Facebook, as well as on the web at UKathletics.com.