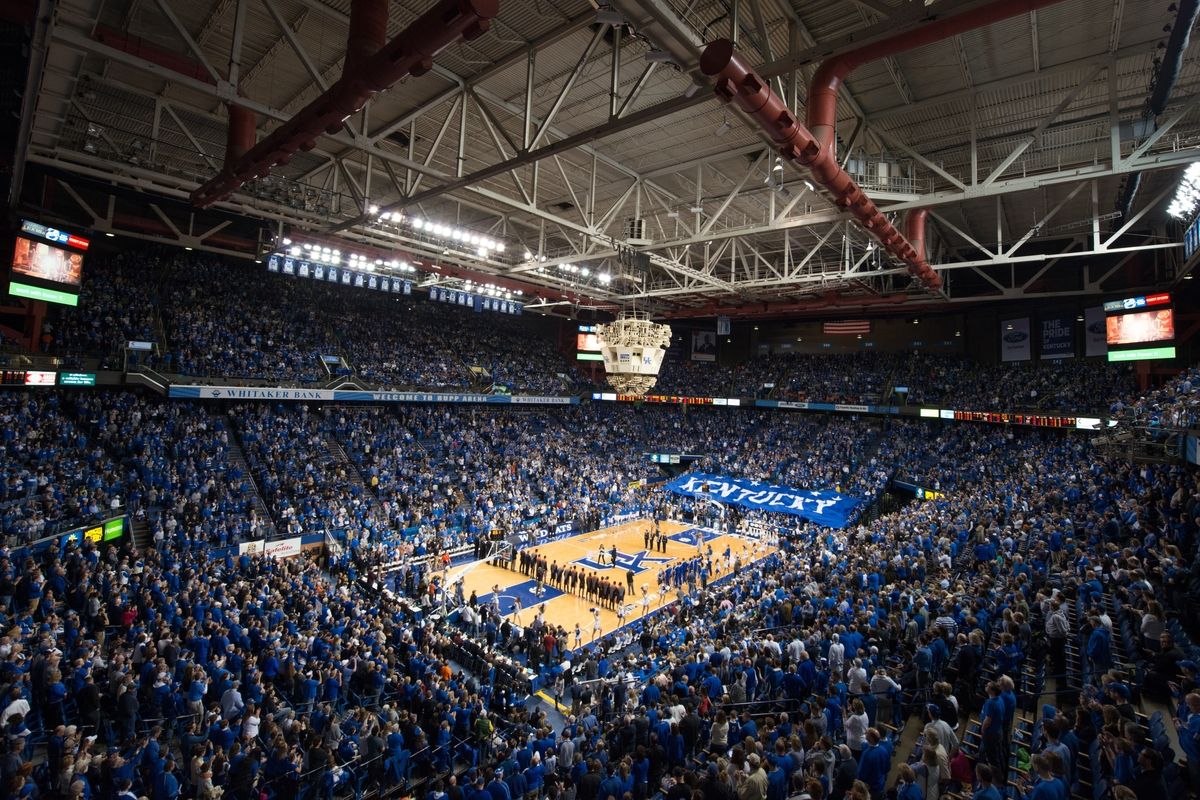 Bluegrass Boys Combining Eras of UK Basketball
Mark Krebs kept seeing Twitter chatter about #TBT2016. 
The hashtag is social-media shorthand for the 2016 edition of
The Basketball Tournament
, a winner-take-all 5-on-5 tournament open to all comers, and Krebs noticed alumni teams from various colleges popping up.
With one notable exception.
"I was wondering why all these other teams like Villanova and Kansas State were in and why not Kentucky?" Krebs said.
When he started asking around, he found the only reason a UK alumni team had not participated in the 2014 or 2015 tournaments – the first two ever – was nobody had taken the lead on organizing one. Krebs quickly decided he would rectify that and put together a team – aptly named the Bluegrass Boys – to play in the tournament, which begins on July 9 and will end on Aug. 2.
"I figured there were enough guys going to the NBA, enough guys in the NBA D-League, overseas, enough great basketball to go and win this thing," Krebs said. "And not only that, but just combine eras of Kentucky basketball. There are not a lot of times when you get to hang out with guys from former coaches to guys from 10 years prior."
UK fans will remember Krebs – a 6-foot-5 guard – for the three years he spent as a Wildcat from 2007-2010 after transferring from Thomas More College. He played for John Calipari in his final season, memorably draining a 3-pointer in a second-round NCAA Tournament romp over Wake Forest.
Krebs is now busy as a married man with a son born last August. He also works as a financial advisor at Morgan Stanley in Louisville, but knew he had to find time to form a team. Using relationships with former teammates and contact information for many other former Cats he got from the basketball office at UK Athletics, he got to work on cold-calling.
"They were interesting at first because first of all I'm introducing myself," said Krebs, who is serving as the team's general manager but will not play. "I don't expect Marquis Teague to know who I am. I'm explaining where I came from, that I'm not a crazy guy, that I'm basically just trying to organize a team. I wasn't trying to do anything other than that."
After some initial awkwardness, there was no shortage of interest.
Teague – who spent last season with the Oklahoma City Blue of the NBA D-League – has signed on to be the team's point guard. Ramel Bradley, now playing professionally in Israel, will serve as a combo guard just as he did when he starred at UK from 2004-08. Bradley also recruited former teammate Joe Crawford to be a wing scorer, while Kevin Galloway and Perry Stevenson have joined to play on the frontcourt.
"A lot of these guys are playing in France, Germany, you name it," Krebs said. "They're in the D-League and they're trying to make a name for themselves and I think something like this, a tournament like this, can propel them back in the spotlight for at least a month."
The current roster is only the start. Krebs is in conversation with a number of players familiar to Kentucky fans and expects to add a handful of household names.
He already has a coach.
Derek Anderson – the dynamic guard who played on UK's 1996 national title team and nearly led the 1996-97 team to another championship – will man the sidelines for the Bluegrass Boys. Anderson has retired after a 12-year NBA career and his latest project is the
Stamina Camp
, a three-day life academy designed to equip children with tools to succeed.
Anderson has dabbled in coaching and received multiple offers for head-coaching jobs in high school, so he's a perfect fit for the role. He's excited to coach and looking forward to having the Big Blue Nation behind him once again.
"You come back to a game and you get the jitters just from watching the other kids play," Anderson said. "You're always excited, you're always ready to play and you're always waiting to hear that crowd roar. That's the thing that I miss. I wake up wishing I could hear the crowd roar one more time. That's something you'll always want to happen. Coming back getting to coach, it'll be something I get to feel again."
Unsurprisingly, UK fans have already rallied behind the Bluegrass Boys.
In spite of having an in-progress roster, the team ranks second in fan voting behind only Kansas State's alumni team, which features the likes of Jacob Pullen, Thomas Gipson and Curtis Irving. With their vote total, the Bluegrass Boys are almost assured of qualifying for the 16-team Midwest Regional in Chicago on July 16-17. Four teams from that and three other regionals will advance to the Super 16 in Philadelphia, broadcast on ESPNU/ESPN2. The four-team championship round will take place in New York on July 30 and Aug. 2.
"The support we've gotten has been phenomenal up to this point, but for fans out there wondering how to be a part of it and what they can do, there's a lot of money that can be won," Krebs said. "Voters can absolutely be a part of it. And the more people we can get, the better for us and them."
The top 100 fans who support and recruit other fans for the eventual winning team will share $200,000, with the rest of the $2 million grand prize split among team members. Those are some big numbers, but money isn't the primary motivator for Krebs and the team he's putting together.
"There's a lot of money at stake if you win the thing, but we're not really thinking about that," Krebs said. "Obviously you want to win when the games start and everything like that, but I think it's more of a Kentucky connection."
Already, players who suited up for John Calipari, Rick Pitino, Tubby Smith and Billy Gillispie are involved, spanning three decades of Kentucky basketball.
"I will love that," Anderson said. "Just for us to be together in the same room would mean something, much less on the same court. I think it will be great."