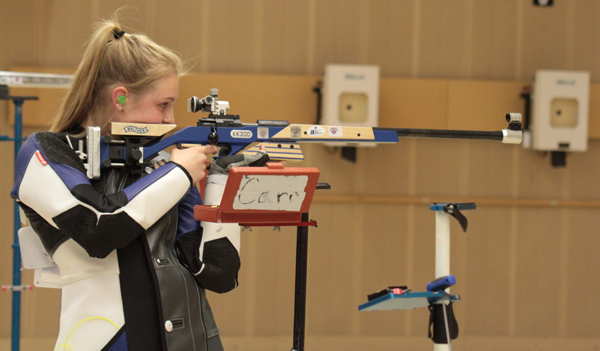 LEXINGTON, Ky. and MUNICH – Kentucky
rifle freshman Hanna Carr will compete for Team USA against the world's best shooters
in west-central Europe starting later this week.
Carr will first compete as part of USA
Shooting's mixed team of 16 youth and veteran shooters at the International
Shooting Sport Federation (ISSF) World
Cup in Munich, Germany.
Following the World Cup, Carr will join the rest of USA Shooting's junior
contingent and head to Pilsen, Czech Republic and be joined by top National
Junior Shooting Olympic Championships (NJOSC) pistol finishers for the Meeting of the Shooting Hopes match May
26-29.
The U.S rifle team at the World Cup will consist of the four rifle athletes
already nominated to the 2016 U.S. Olympic Team in Prone and Three-Position
Rifle and the top finishers – including Carr — from the NJOSC.
Carr, a Versailles, Kentucky, product,
won the Women's Three-Position Rifle title at NJOSC last month with two
world-class Qualification scores. She also shot a 418.4 in Qualification during
the Women's Air Rifle competition – a score that would have placed her in the
Finals at the most recent ISSF World Cup in Rio de Janeiro, Brazil.
Carr will shoot both events, along with TCU freshman Rachel Garner (Celina,
Texas), whom Carr edged out for the gold at NJOSC in Three-Position Rifle by
one point West Virginia freshman Virginia Thrasher (Springfield, Virginia).
"It is an exciting time for Hanna to get the opportunity to compete for the USA
in these events," UK head coach Harry Mullins said. "This will be her first
World Cup. I am very happy for her to see that the hard work that she has been
putting in pays off. 
"She has been training at a good level and now that she has the opportunity to
put that training to use on the international stage is special. We are looking
forward to an exciting summer for Hanna shooting. It is an exciting way to end
her first year of collegiate shooting. She's seeing the rewards. I can't wait
to see what the future brings for this young woman. She is a talented young
athlete."
More than 738 athletes from 88 countries will compete at the ISSF World Cup in
Munich when action kicks off Saturday. 
The complete schedule and scores from the ISSF World Cup are available at issf-sports.com. 
More information about the Meeting
of the Shooting Hopes, May 26-29 is available at http://hopes.hyperlink.cz/.
Carr won Great American Rifle Conference air rifle title and was a smallbore first team All-American in her freshman season. She was second-team All-America
selection in combined and air rifle. 
She was also a Scholastic All-American.
Note: Information from USA Shooting was
included in this report.