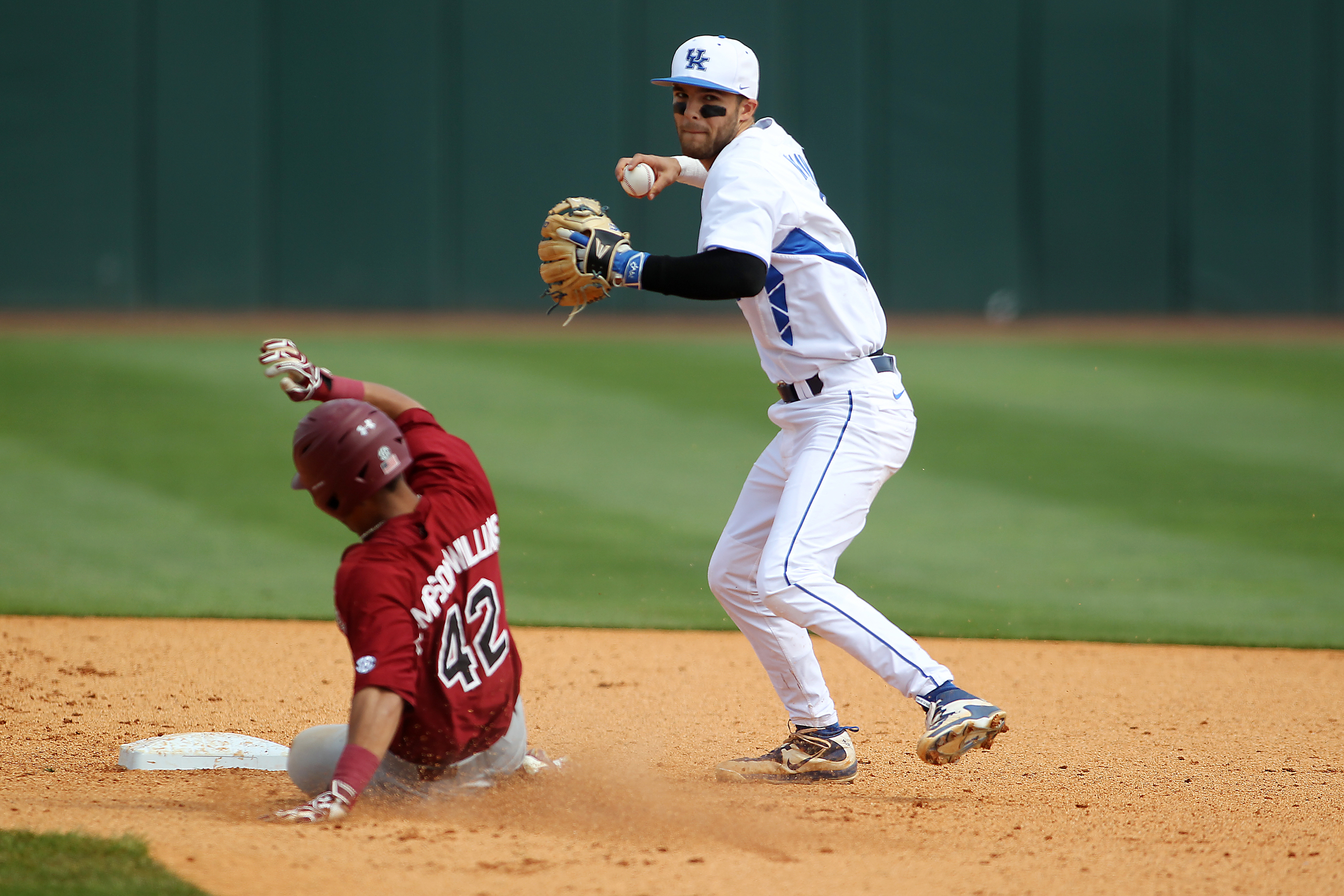 LEXINGTON, Ky. – Kentucky baseball will look to gain momentum heading into the Southeastern Conference tournament, rounding out its regular season schedule hosting a three-game series against the Missouri Tigers at Cliff Hagan Stadium. The first two games will begin at 6:30 p.m. ET Thursday and Friday, with the series conclusion being held at 1 p.m. Saturday.
The series will be broadcast on the UK Sports Radio Network. Fans in Central Kentucky can hear the games live on WLAP 630-AM, in Louisville on WKJK 1080-AM and online at UKathletics.com. Neil Price will be on the call.
Thursday's game against the Tigers will be broadcast via the SEC Network+, accessible through the WatchESPN app on tablets and mobile devices. Dick Gabriel will serve as the play-by-play announcer, while former UK standout Doug Flynn will cover the color commentary duties. 
Kentucky (30-23, 13-14 Southeastern Conference) clashes with Missouri (25-27, 8-19 SEC) for just the 11th time in program history on Thursday night.  The two sides enter the series deadlocked at 5-5 all-time against one another, with the series tied 2-2 when games take place in Lexington. 
UK enters Thursday coming fresh off a 4-1 victory over in-state opponent Murray State Tuesday evening in a rain-shortened, eight inning game. Back-to-back bombs in the third inning from leadoff batter Evan White and outfielder Zach Reks gave UK the necessary 2-0 lead before runs scored by shortstop Riley Mahan and outfielder Dorian Hairston added insurance for the Wildcats. Starter Zach Logue earned his third win of the season, pitching 5.2 shutout innings, allowing just five hits while striking out seven batters. 
The win over Murray State marked Kentucky's 30th win of the season. UK has now strung together a program-record five consecutive seasons with 30 or more wins. 
Kentucky's right-handed trio of junior Zack Brown and senior classmates Dustin Beggs and Kyle Cody will be Kentucky's expected starters for the weekend slate.
Brown is Thursday's tentative starter, entering the game with a 2-10 record and 5.70 ERA. Brown has worked through 77.1 innings, allowing 95 hits and 55 runs while striking out 58 batters. The last time the senior took the field he strung together a quality start, with just two earned runs on nine hits in six innings pitched against No. 6 Ole Miss. 
Beggs is slated to start Friday for the Cats, entering the game with a 3.28 ERA and an 8-2 record. Beggs leads the team in strikeouts (74), innings pitched (90.2) and opponent batting average among starters (.215) after allowing 34 runs in 13 starts this season.  Friday's game will be preceded with Senior Day ceremonies for seven Wildcats – Beggs, Cody, Hairston, catcher Zach Arnold, pitcher Dylan Dwyer, pitcher Zach Strecker and pitcher Bo Wilson.
Cody (5-2, 3.63 ERA) has worked 74.1 innings this season, giving up 70 hits and 39 earned runs with 66 strikeouts during 2016. The senior surrendered only one earned run on seven hits in his last appearance while striking out seven batters in six and two-thirds innings pitched. 
Missouri will look to sophomore RHP Tanner Houck (4-5, 2.99 ERA) on Thursday and have yet to name tentative Friday and Saturday starters. 
Kentucky's offense has been guided by the efficient hitting of White (.370 avg.) and Reks (.340 avg.). White leads the team in runs scored (41), hits (78), doubles (14), triples (3) and stolen bases (10). Reks boasts a team-best .430 on-base percentage. Junior designated hitter/first baseman Gunnar McNeill leads UK with 38 RBI, while classmate JaVon Shelby has a team and league-best 12 home runs on the season. 
The Wildcats are batting an average of .271 this season, with 481 hits and 291 runs scored. Kentucky has homered 50 times as a team and stolen 38 bases combined. 
Missouri will look to take some games in Lexington behind the bats of first baseman Zach Lavy (.338, 67 hits, 54 RBI) and outfielder Jake Ring (.326, 62 hits, 10 doubles, 25 steals). Shortstop Ryan Howard (.280, 56 hits, 25 RBI) join Lavy and Ring as the only players on the team to appear in every game this season.  
For more information on the Kentucky baseball team, follow @UKBaseball on Twitter and Facebook or visit UKathletics.com.
Records
Kentucky – 30-23, 13-14 SEC
Missouri – 25-27, 8-19 SEC
Schedule (times Eastern and subject to change)
Thursday, May 19 – Cliff Hagan Stadium– 6:30 p.m. [SEC Network +]
Friday, May 20 – Cliff Hagan Stadium– 6:30 p.m.
Saturday, May 21 – Cliff Hagan Stadium – 1 p.m. 
Internet Coverage
Live audio and stats on UKathletics.com
UK Radio Network 
WLAP 630-AM, WKJK 1080-AM [Neil Price]
Tentative Pitching Matchups
Thursday vs. Missouri
Jr., RHP Zack Brown (2-10, 5.70 ERA) vs. So. RHP Tanner Houck (4-5, 2.99 ERA)
Friday vs. Missouri 
Sr., RHP Dustin Beggs (8-2, 3.28 ERA) vs. TBD
Saturday vs. Missouri
Sr., RHP Kyle Cody (5-2, 3.63 ERA) vs. TBD
Gameday Promotions
Thursday:
Blue Out Game – first 250 fans receive a free JaVon Shelby T-Shirt
$2 tickets and $2 soft drinks
Friday:
Senior Day
Friday Night Fireworks
$1 hotdog night 
Saturday:
Fan Appreciation Day
Team Autographs