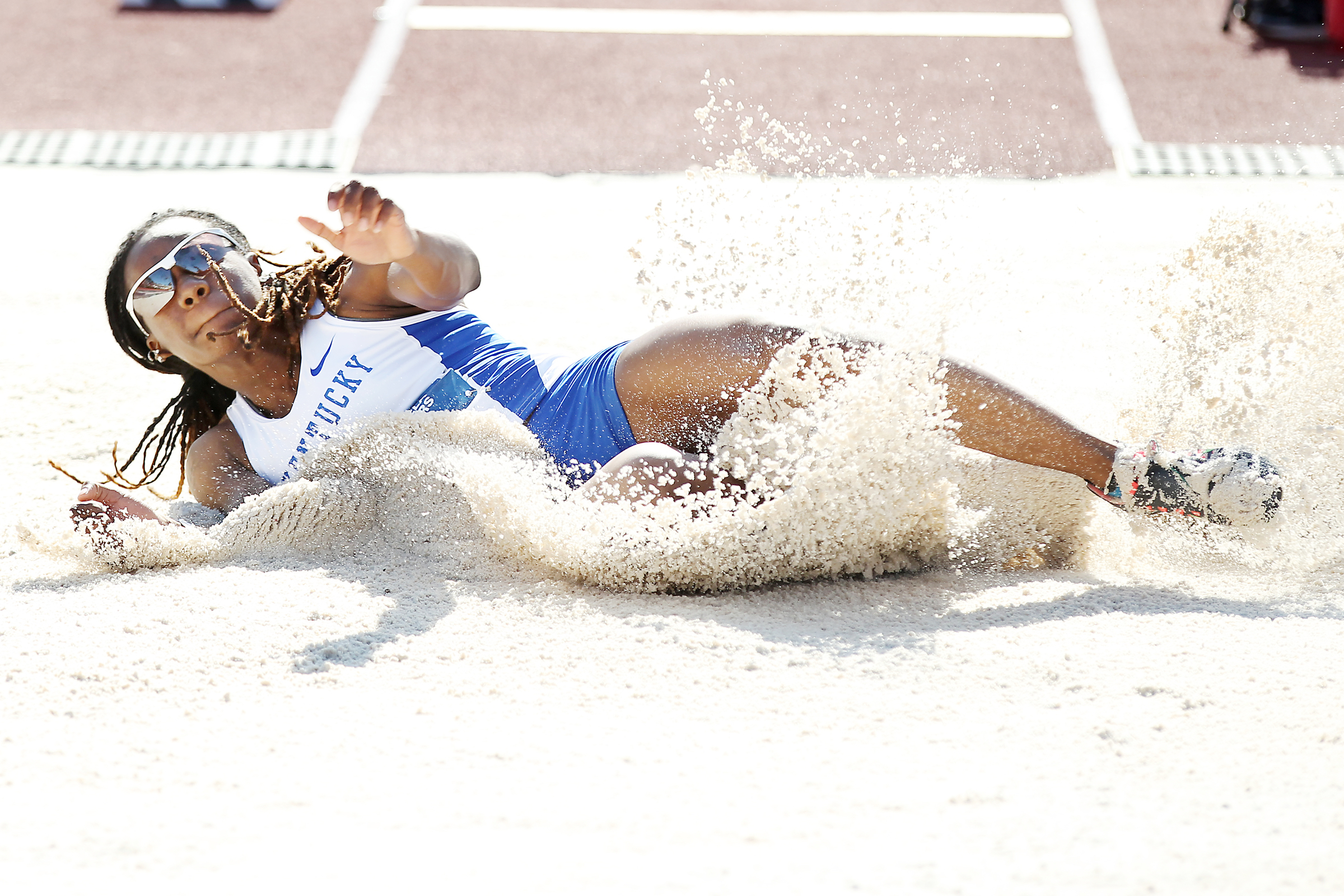 Saunders' Long Jump Silver Medal Highlights SEC Championships Day Two
Results | Saturday Heat Sheets | Live Results
Broadcast Links: Friday | Saturday | Sunday ESPN2 Post-Produced Show

TUSCALOOSA, Ala. – Sha'Keela Saunders claimed the long jump silver medal to pace the top-ranked Kentucky women's team on Friday the penultimate day of the Southeastern Conference Outdoor Track and Field Championships at Alabama's Sam Bailey Stadium.
Saunders struggled through the prelims, but squeaked into the final to earn three more attempts. There she moved into third place on her fifth attempt before leaping 21'8.25″/6.61m on her final attempt to earn silver. Alabama's Quanesha Burks repeated as SEC Champion, this time competing on her home runway, with a mark of 22'2.5"/6.77m.
The Arkansas women lead the team standings with 44.0 total team points, while Texas A&M is second with 28 and Alabama is third with 27. Tennessee (4th, 26) and Kentucky (5th, 24) round out the women's top-five through seven of 21 events scored.
Destiny Carter placed seventh with a mark of 20'6.5"/6.26m to earn two points to go along with the eight Saunders scored.
Katy Kunc and Caroline McCaslin placed seven-eighth in the steeplechase to combined to score three points. Kunc's personal-best time 10:14.66 broke McCaslin's school record.
Beckie Famurewa scored a point in the shot put with an eighth-place mark of 50'4.75″/15.36m. She scored 10 points by winning the hammer throw on Friday, and is entered as the No. 2 seed in the discus.
Men's Friday Scorers
The Georgia men lead the team standings with 46 total team points, while Arkansas is second with 45 and Texas A&M is third with 34. Alabama (4th, 30) and Kentucky (5th, 27) round out the men's top-five through seven of 21 events scored.
Tim Duckworth & Cameron Short combined for nine points in the decathlon. Duckworth placed fourth with a 124-point PR: 7709, while Short turned in a 128-point PR 7588
Duckworth tied Georgia's Maicel Uibo with the top pole vault clearances in the decathlon – 16'6.75″/5.05m to score 926 points. Duckworth also won the decathlon long jump and high jump on day one.
Nik Huffman placed sixth to score three points in the shot put. His threw his best mark 60'3.75″/18.38m on his final throw.
Fred Dorsey placed sixth in the long jump as his mark was 24'6.5″/7.48m on his opening jump. He scored three points.
Elijah Marta placed seventh in his first SEC javelin championship as he improved his mark to 211'7″/64.49m on final attempt. He earned two points.
How to watch Championship Saturday
Saturday action will be broadcast on SEC Network+ at will 3:55 p.m. ET.
ESPN2 will air a comprehensive broadcast of the meet on Sunday at 3 p.m. ET.
The championships continue with the final day on Saturday beginning at noon ET. Adult single day tickets are $10, while student single day tickets are $5. VIP adult tickets are $15 and VIP student single day tickets are $10.
Friday qualifiers
The Kentucky women's team sent eight Wildcats to preliminary heats on Friday. Three advanced. 
Freshman Jasmine Quinn was the top qualifier into the 100m hurdles final with a wind-legal PR 12.80. Jacklyn Howell was the No. 3 qualifier in 13.09.
Jasmine Mitchell qualified for the 400m final with a PR 52.90q.
In total the UK women's team qualified seven athletes into Saturday finals by virtue of performances in prelims over the past two days.
Of the 11 events to be contested on Saturday, the UK women's team will have at least one entry in all but three of the events.
Nick Anderson qualified for the 110m hurdles with a time of 13.82.
UKTF SEC Outdoor Precedent
The Kentucky women's team finished third behind Arkansas and Texas A&M at the SEC Outdoor Championships last year in Starkville, Mississippi.
Kentucky earned 99 points, its best finish since 1982 (third) when eight teams were in the league. UK's best SEC outdoor finish was second place in 1981, the first year the meet was held. 
The Kentucky men placed sixth with 58 points last season, equaling the team placement from the previous season, which was the best since 1996. 
How the SEC Championships work
Athletes earn points for their teams at the SEC Championships based on top-8 finishes on a 10-8-6-5-4-3-2-1 basis.
The meet features 21 events per gender, and the team with the most points at the end wins.
The most up-to-date coverage of the UK track and field
program is available via @KentuckyTrack handles on 
Twitter
, 
Instagram 
and 
Facebook
.
Friday,
May 13 – Watch Replay
Field
Events
EVENT

UK Result

Women's
Long Jump

2.
Sha'Keela Saunders: 21'8.25"/6.61m (+0.6) – 8 points
7. Destiny Carter: 20'6.5"/6.26m (+1.3) – 2 points
Foul – Marie-Josee Ebwea Bile

Women's
Javelin

11. Sarah
Blake: 156'1"/47.58m – PR –

Men's
Shot Put

6.
Nikolas Huffman: 60'3.75"/18.38m – 3 points

Men's
Long Jump

6. Fred
Dorsey: 24'6.5"/7.48m (+1.2) – 3 points

Women's
Shot Put

8.
Beckie Famurewa: 50'4.75"/15.36m – 1 point

Men's
Javelin

7. Elijah
Marta: 211'7"/64.49m – 2 points
Running
Events
EVENT

FIELD EVENT

UK ENtry

Women's
110M Hurdles

Prelim

1.
Jasmine Camacho-Quinn: 12.80Q (+0.4) – PR —
3. Jacklyn Howell: 13.09Q (+0.1)

Men's
110M Hurdles

Prelim

5. Nick
Anderson: 13.82Q (-0.6)
11. Caleb Wilt: 14.23 (+0.7) – PR –

Men's
1500M

Prelim

29.
Lou Styles: 3:57.80

Women's
400M

Prelim

7. Jasmine
Mitchell: 52.90q – PR –

Women's
100M

Prelim

9.
Destiny Carter: 11.44 (+0.4)
11. Kianna Gray: 11.51 (+0.8)
14. Precious Hitchcock: 11.62 (+0.4)
17. Javianne Oliver: 11.69 (-0.1)
29. Donatella Asemota: 11.91 (-0.1)

Men's
100M

Prelim

15. Fred
Dorsey: 10.59 (-0.2)

Women's
3000M Steeplechase

Final

7.
Katy Kunc: 10:14.66 (School Record) – 2 points
8. Caroline McCaslin: 10:22.60 – 1 point

Men's
3000M Steeplechase

Final

11. Spencer
Hrycay: 9:01.63
14. Gabe Harm: 9:12.90
Thursday, May 12
Decathlon
EVENT

FIELD EVENT

UK Entry

Men's Decathlon Score

Day One

4. Cameron Short: 4125
5. Tim Duckworth: 4036

Men's 100M

Decathlon

5. Duckworth: 10.85 (+0.6) – 894 points – PR –

8. Short: 11.12 (+0.9 – 834 points

Men's Long Jump

Decathlon

1. Duckworth: 24'5"/7.44m (+1.3)
– 920 points
6. Short: 23'6.75"/7.18mw (+2.1) – 857 points

Men's Shot Put

Decathlon

3. Short: 47'1.75"/14.37m – 751 points
13. Duckworth: 36'7.75"/11.17m – 556 points

Men's High Jump

Decathlon

1. Duckworth: 6'11"/2.11m – 906
points
3. Short: 6'11"/2.11m – 906 points

Men's 400M

Decathlon

9. Short: 50.83 – 777 points
12. Duckworth: 51.21 – 760 points

Field Events

Women's Hammer

Final

1. Beckie Famurewa: 210'1"/64.05m – 10 pts

Foul – Brandi Walker

Men's Hammer

Final

13. David Cline: 199'5"/60.79m
14. Logan Bryer: 198'7"/60.52m
Running Events
RUNNING EVENT

HEAT

UK Entry

Women's 800M

Prelim

2. Ariah Graham: 2:05.52Q

Women's 200M

Prelim

2. Destiny Carter: 22.41w q (+2.6)
8. Kianna Gray: 22.90q (+1.6)
11. Jasmine Camacho-Quinn: 22.93 (+1.9) – PR –
18. Precious Hitchcock: 23.35 (+1.5) –PR-
19. Donatella Asemota: 23.51 (+1.5) –PR—

Men's 200M

Prelim

27. Ini-Oluwa Oye: 21.22w (+3.4)

Women's 400M Hurdles

Prelim

2. Kiah Seymour: 56.35Q
11. Daje Pugh: 57.85 – PR –

Men's 10,000M

Final

1. Jacob Thomson: 29:47.89