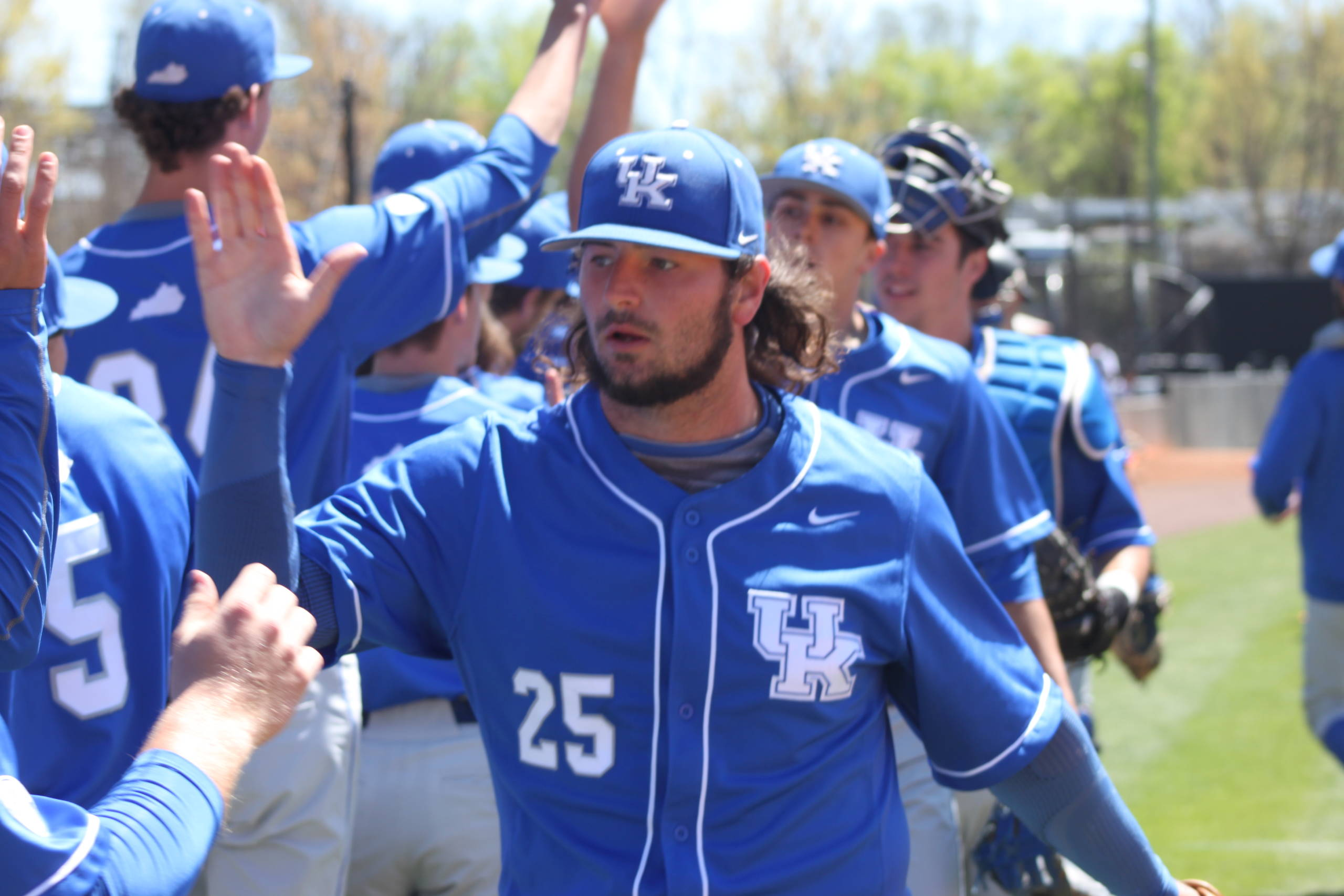 OXFORD, Miss. – Sophomore first baseman Evan White extended his hitting streak to 10 games, but the Kentucky baseball team found itself on the short end of a 14-2 score at No. 6 Ole Miss on Friday night at Swayze Field.
White singled to right field in the sixth inning to make it 10 straight games with at least one hit. This marks the second double-digit hitting streak of the season for White, who had a 21-game streak earlier this season.
Junior designated hitter Gunnar McNeill drove in both of Kentucky's runs, giving him a team-high 37 RBIs this season in 51 games.
Kentucky (29-22, 13-13 SEC) fell behind in the bottom of the first inning when the Rebels (38-13, 16-10) hit a pair of home runs off of Wildcat starter Dustin Beggs. After blanking No. 2 South Carolina just six days ago, Beggs did not have his best on this evening, as he fell to 8-2 on the season.
The Wildcats scored their first run in the fifth inning. Senior outfielder Dorian Hairston led off the frame with a single up the middle and advanced to third on a one-out double by freshman catcher Kole Cottam. Hairston scored when McNeill grounded out to second base.
Kentucky threatened in the sixth inning when White and Zach Reks singled with one out. Both runners advanced a base on a double steal, but were stranded when Hairston struck out to end the inning.
The Wildcats got their second run in the top of the ninth inning. With two outs, McNeill singled up the middle, scoring sophomore shortstop Riley Mahan, who had doubled to lead off the inning.
The two teams meet again on Saturday for the series finale. Kentucky will start senior right-hander Kyle Cody, while Ole Miss will go with freshman righty James McArthur. First pitch is set for 5 p.m. ET.
For the latest on the Kentucky athletics, follow @UKathletics on Twitter and Facebook, as well as on the web at UKathletics.com.