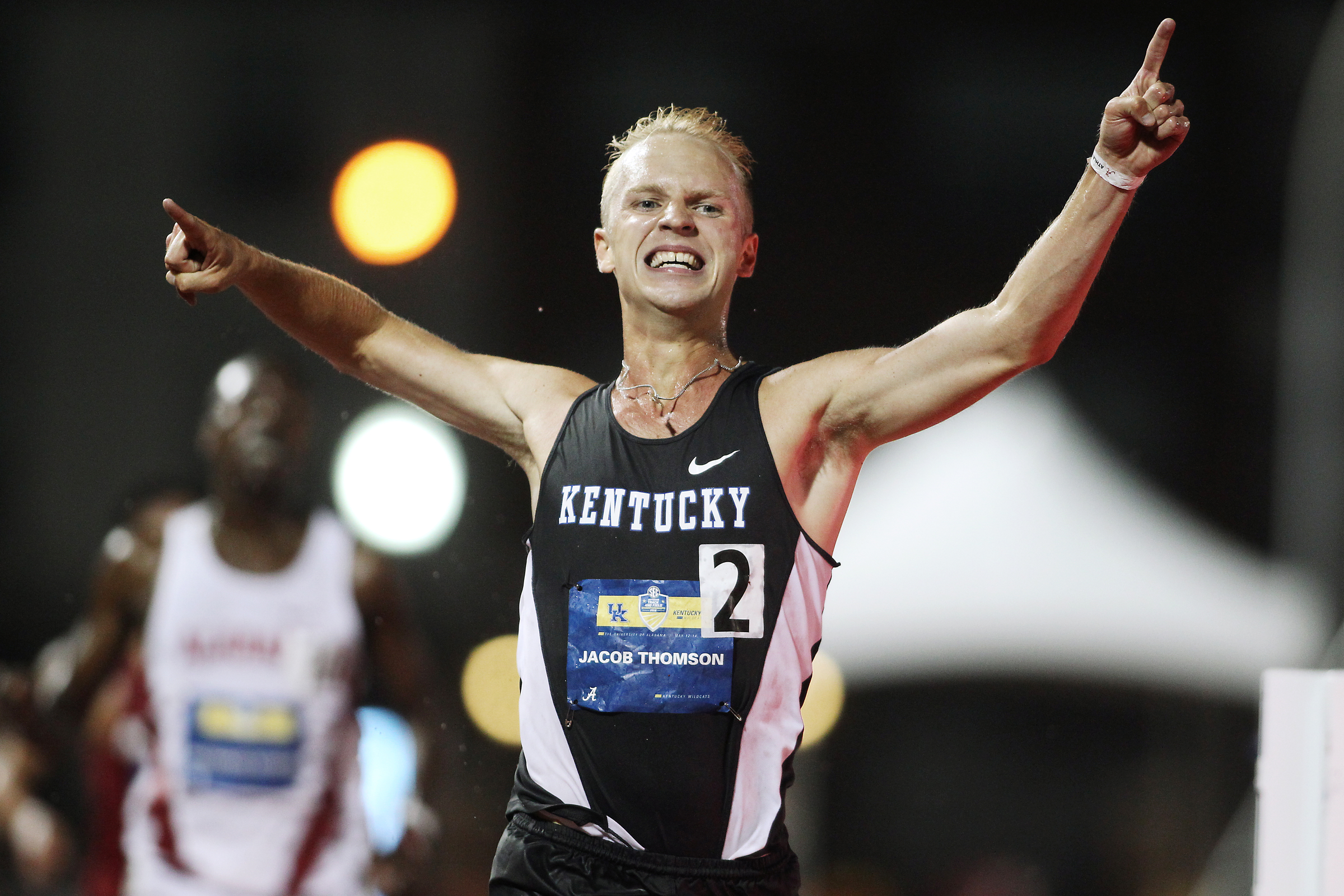 Famurewa & Thomson Win Individual Titles to Kick off SEC Championships
TUSCALOOSA, Ala. – Senior captain Beckie Famurewa started the Southeastern Conference Outdoor Track and Field Championships in ideal fashion for the top-ranked Kentucky women's team. On the men's side sophomore Jacob Thomson followed Famurewa's lead and won the men's 10k on Thursday at Alabama's Sam Bailey Stadium.
Famurewa won the hammer throw with a mark of 210-feet, 1 inch/64.05 meters. She scored 10 points.
"I knew I had really strong competition so my coach told me to let one fly on the first one and that's kind of what happened," Famurewa said. "I wasn't able to put one together for the other throws, but I'm glad I threw the first one that far. It feels good. I love to be able to contribute to the team in any way possible."
Famurewa took the lead with first throw of the second flight, did not improve in her next five attempts, but didn't need to. Georgia's Shelby Ashe placed a near second to score eight points with a final toss of 209'3"/ 63.79m. Alabama's Danielle McConnell claimed bronze and six points (196'3"/ 59.82m).
Famurewa won her second SEC Individual Championship, and first outdoors. She claimed the SEC weight throw title at the 2016 SEC Indoor Championships in February at Arkansas.
Famurewa became Kentucky's first SEC weight throw champion.
The Wildcats have won at least one women's individual SEC title at every SEC Championships since 2013 when head coach Edrick Floréal took the reins of the program.
Thomson 10k story
Thomson won a tactical 10k that saw five runners in the lead pack at the bell. He jostled for the lead along the back stretch, but had the most in the tank off the turn and sprinted home to a runaway win with a time of 29:47.89. Her ran his final 400 meters in 56 seconds. 
"It was really important to me to get the first SEC Championship win," Thomson said. "I was fourth in cross country, I ended up second in the 5k indoors and fifth in the 3k indoors. So I've been knocking at the door. 
"This is a big checkmark for me. Something I really wanted to do and I executed it perfectly."
The men's 10k was delayed by about 30 minutes after a power outage across the Alabama campus caused the race to stop three laps in after the original start. The race went off later than originally planned anyway due to recurring inclement weather. 
"I thought coming into this I'd been running track for a long time so you think you've seen everything, but then I can't say I've ever had a power outage and had to stop the race three laps in," Thomson said. 
"Like I said I've been doing this for a while so I was able to keep my cool.
"The race is going to go on at some point so 10k is a long way to go so we wanted to keep it as relaxed as possible and have a hard finish."
Alabama's Antibahs Kosgei was second in 29:49.16, while Arkanasas' Gabe Gonzalez was third in 29:50.01.
Thomson became UK's first SEC 10k Champion since Mark Nenow in 1981.
Early team standings
The Alabama men currently lead the way with 15 total team points while Ole Miss is second with 13 and Georgia is third with 12. Kentucky is on 10 points.
The Georgia women hold the lead with 12 team points, while Ole Miss is second with 11 and Tennessee and Kentucky are tied for third with 10.
Thursday Prelims Results
Kentucky qualified a healthy number of four runners from a possible eight into Saturday finals in preliminary races on Thursday.
Ariah Graham won her prelim of the women's 800m in 2:05.52Q. She automatically qualified to the Saturday final with the second fastest time of the prelmis.
Destiny Carter and Kianna Gray advanced on time to the stacked 200m final. Carter ran 22.41w, while Gray ran 22.90. Carter's all-conditions PR time was the second fastest of the prelims.
Kiah Seymour won heat two of the 400m hurdles prelims in 56.35 to auto advance to the Saturday final No. 2 overall.
Thursday's competition was not broadcast, however Friday and Saturday action will be broadcast on SEC Network+. The Friday broadcast is set to begin at 7:25 p.m. ET, and Saturday will start at 3:55 p.m. ET.
ESPN2 will air a comprehensive broadcast of the meet on Sunday at 3 p.m. ET.
Decathlon day one recap
Through five events Cameron Short is in fourth place (4125) and Tim Duckworth fifth (4036) in the decathlon.
Both had strong day one scores. 
Duckworth ran a PR 10.85 (+0.6) to score 894 points in the 100m. He then was the top decathlon long jumper with a mark of 24'5"/7.44m (+1.3) to notch 920 points.
Short had a strong shot put: 47'1.75"/14.37m to tally 751 points.
Short and Duckworth both scored 906 points in the high jump to tie Georgia's Maicel Uibo for top jump – 6'11″/2.11m. Short's clearance was a PR.
UKTF SEC Outdoor Precedent
The Kentucky women's team finished third behind Arkansas and Texas A&M at the SEC Outdoor Championships last year in Starkville, Mississippi.
Kentucky earned 99 points, its best finish since 1982 (third) when eight teams were in the league. UK's best SEC outdoor finish was second place in 1981, the first year the meet was held. UK placed fourth last season.
The Kentucky men placed sixth with 58 points last season, equaling the team placement from the previous season, which was the best since 1996.. She enters this week ranked No. 2 in the SEC in both the hammer throw and weight throw.
How the SEC Championships work
Athletes earn points for their teams at the SEC Championships based on top-8 finishes on a 10-8-6-5-4-3-2-1 basis.
The meet features 21 events per gender, and the team with the most points at the end wins.
Thursday, May 12
Multi-Events
EVENT

FIELD EVENT

UK Entry

Men's Decathlon Score

Day One

4. Cameron Short: 4125
5. Tim Duckworth: 4036

Men's 100M

Decathlon

5. Duckworth: 10.85 (+0.6) – 894 points – PR –

8. Short: 11.12 (+0.9 – 834 points

Men's Long Jump

Decathlon

1. Duckworth: 24'5"/7.44m (+1.3)
– 920 points
6. Short: 23'6.75"/7.18mw (+2.1) – 857 points

Men's Shot Put

Decathlon

3. Short: 47'1.75"/14.37m – 751 points
13. Duckworth: 36'7.75"/11.17m – 556 points

Men's High Jump

Decathlon

1. Duckworth: 6'11"/2.11m – 906
points
3. Short: 6'11"/2.11m – 906 points

Men's 400M

Decathlon

9. Short: 50.83 – 777 points
12. Duckworth: 51.21 – 760 points

Field Events

Women's Hammer

Final

1. Beckie Famurewa: 210'1"/64.05m – 10 pts

Foul – Brandi Walker

Men's Hammer

Final

13. David Cline: 199'5"/60.79m
14. Logan Bryer: 198'7"/60.52m
Running Events
RUNNING EVENT

HEAT

UK Entry

Women's 800M

Prelim

2. Ariah Graham: 2:05.52Q

Women's 200M

Prelim

2. Destiny Carter: 22.41w q (+2.6)
8. Kianna Gray: 22.90q (+1.6)
11. Jasmine Camacho-Quinn: 22.93 (+1.9) – PR –
18. Precious Hitchcock: 23.35 (+1.5) –PR-
19. Donatella Asemota: 23.51 (+1.5) –PR—

Men's 200M

Prelim

27. Ini-Oluwa Oye: 21.22w (+3.4)

Women's 400M Hurdles

Prelim

2. Kiah Seymour: 56.35Q
11. Daje Pugh: 57.85 – PR –

Men's 10,000M

Final

1. Jacob Thomson: 29:47.89
The most up-to-date coverage of the UK track and field
program is available via @KentuckyTrack handles on Twitter, Instagram and Facebook.
– GO CATS –