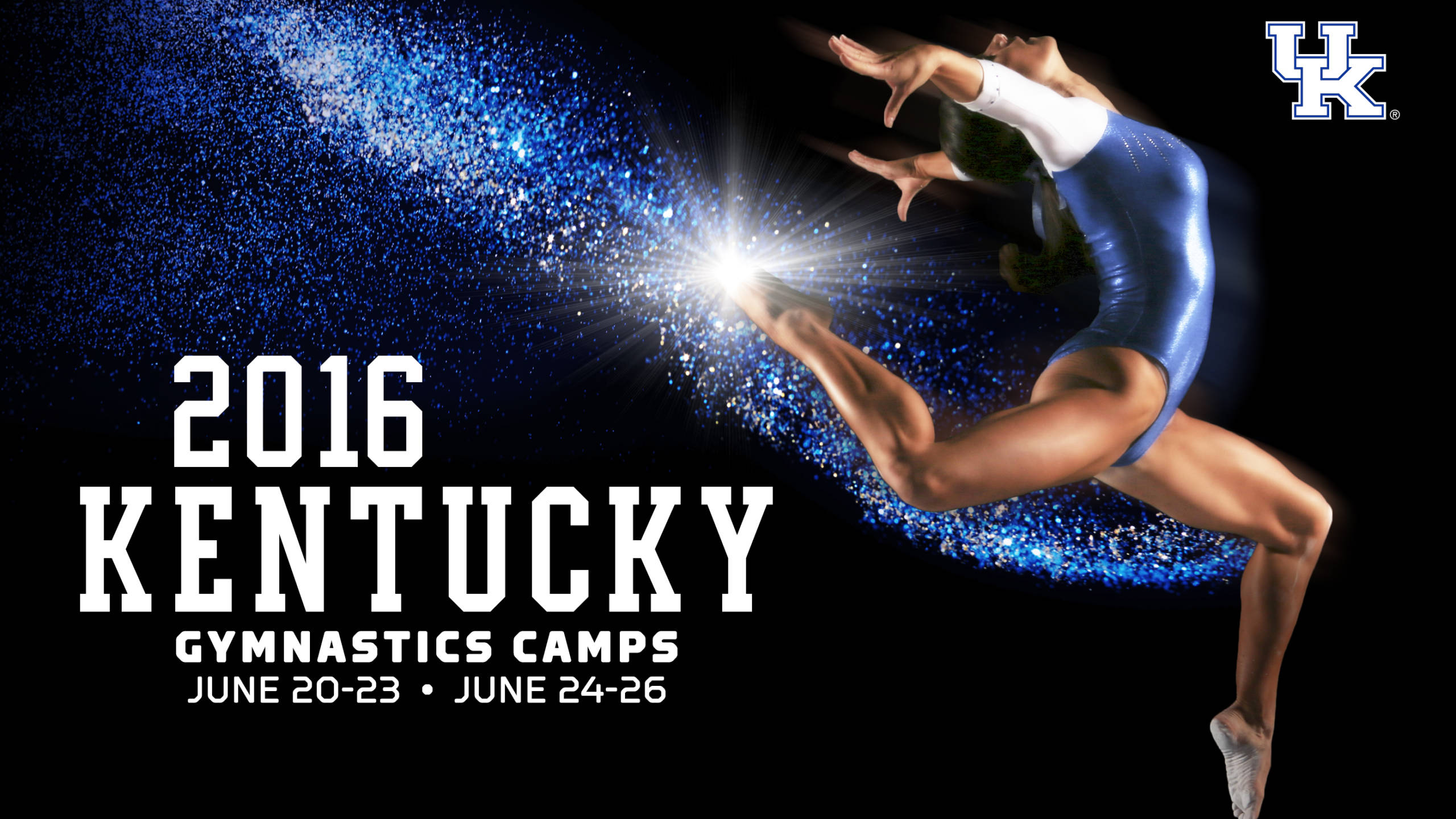 2016 UK Gymnastics Summer Camp
Mark your calendars — June 20-23, June 24-26 and July 2-3 — for summer camps at the University of Kentucky. The camps are offered to female gymnasts ages 6-18. Campers must be 12 years old at the start of camp to stay overnight.
At the UK gymnastics camps, we are committed to providing a learning environment that is fun and challenging to the campers. Our qualified staff has many years experience in competitive level coaching and will provide a safe and productive atmosphere.
Campers will spend the day receiving gymnastics instruction with the evenings filled with activities and entertainment. Each gymnast will have the opportunity to train with top collegiate and elite coaches in the state-of-the-art Nutter Field House Gymnasium.
Camp Staff
TIM GARRISON Head Coach • 5th Season
•Led team to best team score in UK history (196.775) in 2013.
•Helped produce UK's first two All-Freshman selections
•Led UK to an individual All-Around NCAA Championship appearance in 2015.
•Produced 10 NCAA All-Americans at Nebraska
•Helped lead Nebraska to the NCAA Tournament every season, including two Super Six appearances and two Big 12 Championships
•Personal coach at the 2000 Olympic trials in Boston, Mass., and 2011 World Championships in Ghent, Belgium
•Five-time USA Gymnastics Coach of the Year for Southern California (1999, 2001, 02, 03, 04) while at SCEGA Gymnastics where he produced 27 national champions, 10 Junior Olympic National Team members and four Elite National Team members
•USA Gymnastics Coach of the Year in 2009 for Nebraska (club)
•2013 Coach of the Year (UK Athletics)
CHUCK DICKERSON Asst. Coach • 9th Season
•2010 Gymnastics Assistant Coach of the Year for the central region by the National Association of Collegiate Gymnastics Coaches
•2002 Texas USA Gymnastics Coach of the Year
•During eight years at Rowland/Ballard Gymnastics in Kingwood, Texas, seven of his athletes received Division-I scholarships and 15 went on to claim national championships
•Spent 10 years working under famed coach Bela Karolyi, coaching three national champions
RACHEL GARRISON Asst. Coach • 1st Season
•Over 20 years of coaching experience spans where she developed gymnasts ranging from beginners to level 10 and elite status gymnasts.
•Served as a program director at the Nebraska School of Gymnastics in Lincoln, Neb., for five years.
•Guided gymnasts to qualify for Junior Olympic nationals in each of her five years
•Produced a regional beam champion during her tenure with the School of Gymnastics.
•Played a critical role in recruitment, successfully increasing the enrollment in the program from 40 participants to over 170 members.
Schedules
June 20-23 Schedule
MONDAY, JUNE 20 (NO LUNCH PROVIDED)
10:00 am – Noon Check-in (Only cash & checks accepted day of registration)
1:00 pm – 1:30 pm Introduction
1:30 pm – 6:30 pm Gymnastics Training
6:30 pm Dinner
7:30 pm Back to Dorms/Commuter Pick Up
TUESDAY & WEDNESDAY, JUNE 21-22
7:30 am Wake-up
8:00 am Breakfast
9:00 am – Noon Gymnastics Training
Noon Lunch
1:15 pm – 5:00 pm Gymnastics Training
5:15 pm Dinner
6:15 pm Evening Activities (Open Gym, Slip n Slide, etc.)
7:00 pm Back to Dorms/Commuter Pick Up
THURSDAY, JUNE 23
7:30 am Wake-up
8:00 am Breakfast
9:00 am – Noon Gymnastics Training
Noon Lunch
1:15 pm – 3:45 pm Gymnastics Training
(Parents can come in and watch at 2:50 pm)
4:00 pm Camp Ends
June 24-26 Schedule
FRIDAY, JUNE 24 (NO LUNCH PROVIDED)
10:00 am – Noon Check-in (Only cash & checks accepted day of registration)
1:00 pm – 1:30 pm Introduction
1:30 pm – 6:30 pm Gymnastics Training
6:30 pm Dinner
7:30 pm Back to Dorms/Commuter Pick Up
SATURDAY, JUNE 25
7:30 am Wake-up
8:00 am Breakfast
9:00 am – Noon Gymnastics Training
Noon Lunch
1:15 pm – 5:00 pm Gymnastics Training
5:15 pm Dinner
6:15 pm Evening Activities (Open Gym, Slip n Slide, etc.)
7:00 pm Back to Dorms/Commuter Pick Up
SUNDAY, JUNE 26
7:30 am Wake-up
8:00 am Breakfast
9:00 am – Noon Gymnastics Training
Noon Lunch
1:15 pm – 3:45 pm Gymnastics Training
(Parents can come in and watch at 2:50 pm)
4:00 pm Camp End
July 2-3 Schedule
SATURDAY, JULY 2
8:00 a.m. – 10:00 a.m. Check-in (Only cash & checks accepted day of registration)
11:00 a.m. – 1:30 p.m. Gymnastics Training
1:30 p.m. Late Lunch (provided)
2:30 p.m. – 7:30 p.m. Gymnastics Training
SUNDAY, JULY 3
7:30 am Wake-up
8:00 am Breakfast (Overnight only)my 
9:00 am – Noon Gymnastics Training
Noon Lunch
1:15 pm – 3:45 pm Gymnastics Training
(Parents can come in and watch at 2:50 pm)
4:00 pm Camp End
Camp Costs
JUNE 20-23: Overnight – $575 Commuter – $475 (lunch/dinner)
A $100.00 deposit per camper is due upon registration NON-REFUNDABLE
$25 group discount/$25 sibling discount (not both)
JUNE 24-26: Overnight – $425 Commuter – $325 (lunch/dinner)
A $100.00 deposit per camper is due upon registration NON-REFUNDABLE
$15 group discount/$15 sibling discount (not both)
For more information email chuck.dickerson@uky.edu
JULY 2-3: Overnight – $200 Commuter – $150
A $100.00 deposit per camper is due upon registration NON-REFUNDABLE
$15 group discount/$15 sibling discount (not both)
For more information email chuck.dickerson@uky.edu