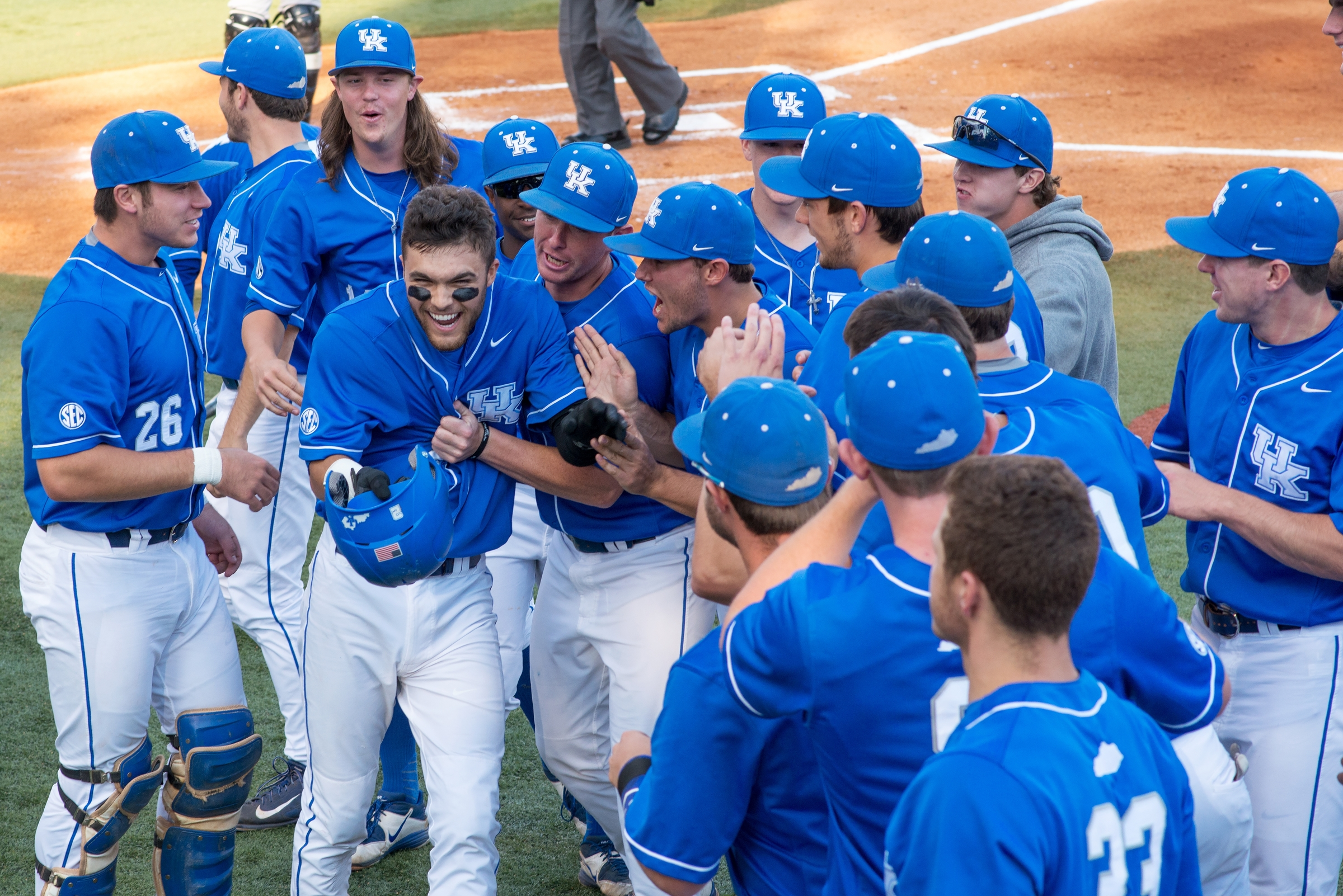 LEXINGTON, Ky. – The Kentucky Wildcats baseball team will look to extend its Southeastern Conference win streak with three upcoming games at Oxford-University Stadium this week against the No. 8-ranked Ole Miss Rebels in Oxford, Miss. UK will play at 7:30 p.m. ET Thursday and Friday and will conclude the series on Saturday at 5 p.m. 
The series will be broadcast on the UK Sports Radio Network. Fans in Central Kentucky can hear the games live on WLAP 630-AM, in Louisville on WKJK 1080-AM and online at UKathletics.com. Neil Price will be on the call.
Thursday's game is slated for national broadcast on ESPNU. Friday and Saturday's matchups with the Rebels will be broadcast via the SEC Network +, accessible through the WatchESPN app on tablets and mobile devices. 
Kentucky (29-20, 13-11 Southeastern Conference) meets up with Ole Miss (36-13, 14-10 SEC) for the 79th time in program history Thursday evening, trailing the Rebels, 31-47, in the series all-time. 
In the Wildcats' last SEC game, UK won a thriller in 12 innings, as senior outfielder Dorian Hairston crushed his fifth home run of the season to earn a 5-4 walkoff win and claim the series against the No. 2 South Carolina Gamecocks.
Freshman Sean Hjelle also added an incredible performance in relief, pitching four scoreless innings and striking out five batters for his fourth win of the season. The overtime performance also led the rookie to SEC Co-Freshman of the Week honors. 
Kentucky's right-handed trio of junior Zack Brown and senior classmates Dustin Beggs and Kyle Cody are expected to start for the Wildcats against Ole Miss this weekend.
Brown is Friday's tentative starter, entering the game with a 2-9 record and 5.93 ERA. Brown has worked through 71.1 innings, allowing 85 hits and 53 runs while striking out 54 batters. 
Beggs is slated to start Saturday with the best ERA (2.50) and record (8-1) of Kentucky's starting pitchers this season. The senior has pitched 86.1 innings this year, allowing 58 hits and 25 earned runs while adding a team-best 70 strikeouts. Beggs was incredible in his last appearance, allowing just three hits and striking out seven batters en route to a complete game shutout and his eighth win of the season. 
Cody (5-2, 3.86 ERA) has worked 67.2 innings this season, giving up 63 hits and 35 earned runs with 59 strikeouts during 2016. The senior played a critical role in clinching the series in last Sunday's game, pitching 5.2 innings and surrendering two runs on eight hits while sitting down four batters via strikeout. 
Kentucky's offense has been guided by the efficient hitting of sophomore first baseman Evan White (.362 avg.) and junior outfielder Zach Reks (.341 avg.). White leads the team in runs scored (39), hits (71), doubles (12), triples (3) and stolen bases (9). Reks boasts a team-best .430 on-base percentage. Junior designated hitter/first baseman Gunnar McNeill leads UK with 35 RBI, while classmate JaVon Shelby has a team and league-best 11 home runs on the season. 
As a team, the Wildcats are batting an average of .271 this season, with 444 hits and 279 runs scored. Kentucky has homered 45 times as a team and stolen 36 bases combined. UK's collective pitching staff has a 3.82 ERA and is holding the opposition to .244 hitting this season. 
Ole Miss enters the weekend after winning four of its last five games, including a series victory against Georgia. The Rebels are expected to start junior RHP Brady Bramlett (6-2, 3.02 ERA), sophomore LHP David Parkinson (3-2, 2.68 ERA) and freshman RHP James McArthur (5-1, 3.35 ERA) on Thursday, Friday and Saturday, respectively. Catcher Henri Lartigue's .344 batting average leads the team. Outfielder J.B. Woodman also provides a big bat for the Rebels, with team highs in homers (10), RBI (43), doubles (11) and slugging percentage (.544). 
Records
Kentucky – 29-20, 13-11 SEC
Ole Miss – 36-13, 14-10 SEC
Schedule (times Eastern and subject to change)
Thursday, May 12 – Oxford-University Stadium – 7:30 p.m. [ESPNU]
Friday, May 13 – Oxford-University Stadium – 7:30 p.m. [SEC Network +]
Saturday, May 14 – Oxford-University Stadium – 5 p.m. [SEC Network +]
Internet Coverage
Live audio and stats on UKathletics.com
UK Radio Network 
WLAP 630-AM, WKJK 1080-AM [Neil Price]
Tentative Pitching Matchups
Thursday at Ole Miss
Jr., RHP Zack Brown (2-9, 5.93 ERA) vs. R-Jr., RHP Brady Bramlett (6-2, 3.02 ERA)
Friday at Ole Miss
Sr., RHP Dustin Beggs (8-1, 2.50 ERA) vs. So., LHP David Parkinson (3-2, 2.68 ERA)
Saturday at Ole Miss
Sr., RHP Kyle Cody (5-2, 3.86 ERA) vs. Fr., RHP James McArthur (5-1, 3.35 ERA)