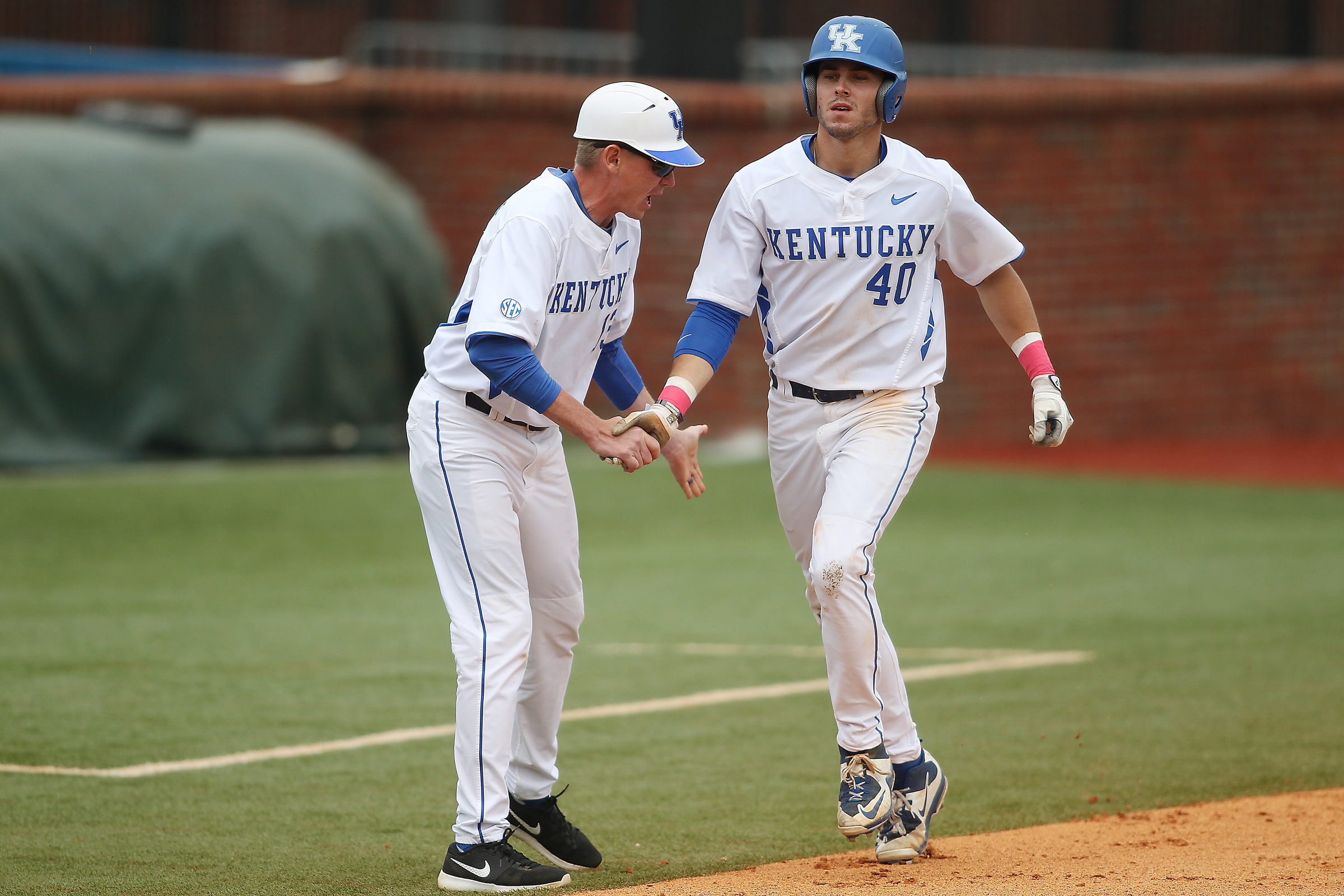 BLOOMINGTON, Ind. – Junior outfielder Zach Reks had three hits and drove in two runs, but the Kentucky baseball team lost at Indiana 3-2 on Tuesday night in non-conference action.
Kentucky (29-20) got on the board first, scoring a single run in the top of the third inning. Freshman outfielder Tristan Pompey drew a leadoff walk and advanced to second on a sacrifice bunt by catcher Troy Squires. Reks then singled to center field, scoring Pompey and giving the Cats a 1-0 lead.
Indiana (29-19) answered with a single run of its own in the bottom of the third when Hoosier catcher Ryan Fineman singled off of Kentucky starter Zach Logue to tie the game 1-1.
In the sixth inning, the two teams matched single runs with each other again. Kentucky got a solo homer from Reks in the top of the inning, his fifth long ball of the year, to take a 2-1 lead. But in the bottom of the frame, Kentucky's defense committed a pair of errors, allowing the Hoosiers to tie the game at 2-2.
In the ninth inning, Kentucky had runners on first and third with two outs and a chance to take the lead, but Squires was unable to bring Tyler Marshall home from third, as he grounded out to end the frame. In the bottom of the inning, Indiana scored when Austin Cangelosi doubled and scored on a single by Laren Eustace to end the game.
Sophomore shortstop Riley Mahan and senior outfielder Dorian Hairston each had two hits for Kentucky. Starting pitcher Zach Logue was solid, pitching five innings and allowing just one earned run and four hits, while walking one and striking out four.
The Wildcats return to action on Thursday when they hit the road for an SEC series against the Ole Miss Rebels in Oxford, Miss. Thursday's game begins at 7:30 p.m. ET and can be seen on ESPNU.
For the latest on the Kentucky athletics, follow @UKathletics on Twitter and Facebook, as well as on the web at UKathletics.com.