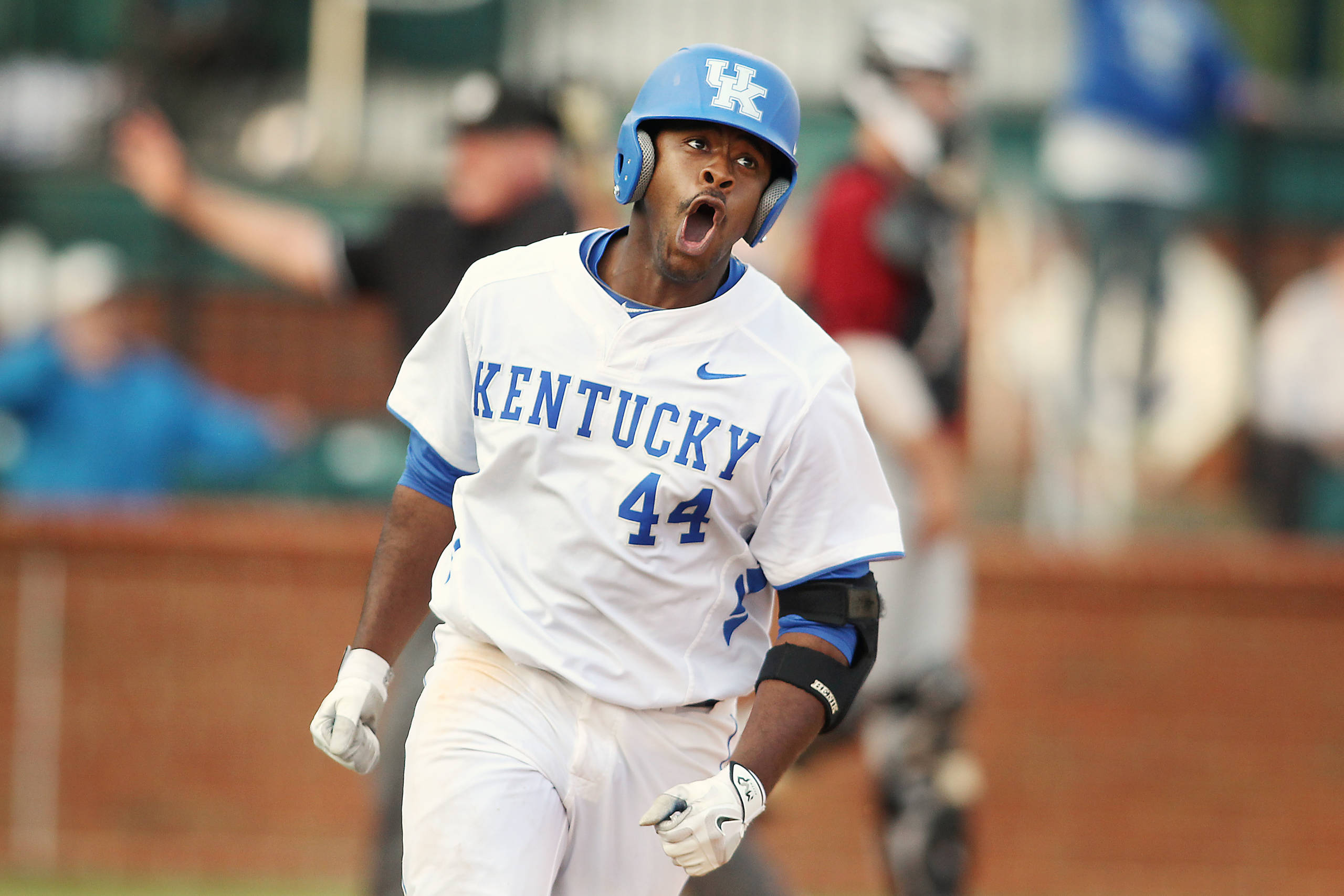 LEXINGTON, Ky. – Senior outfielder Dorian Hairston hit a solo home run to lead off the bottom of the 12th inning, lifting 28th-ranked Kentucky to a 5-4 win over second-ranked South Carolina on Sunday at Cliff Hagan Stadium.
With the win, Kentucky claimed the series over South Carolina after the two teams split games on Friday and Saturday.
Sean Hjelle (4-0) pitched the final four innings of the game in his longest outing of the season. The freshman right-hander limited South Carolina to two hits and three walks while striking out five to pick up the win.
Kentucky (29-19, 13-11 SEC) had only five hits in the game, but four of those knocks went for extra bases, including Hairston's game-winner.
The Wildcats scored first when junior third baseman JaVon Shelby hit a two-run homer to left-center field to give the Cats a 2-0 lead in the third inning. It was Shelby's 11th home run of the season, a total that currently leads the SEC.
South Carolina (36-11, 16-7) responded with a run in the top of the fourth inning off of Kentucky starter Kyle Cody. But the Wildcats had an answer in the bottom of the frame. Sophomore second baseman Luke Becker led off the inning with a double down the left field line. Hairston then advanced Becker to third base with a ground out to the right side. Becker came home on a wild pitch by South Carolina starter Adam Hill, giving Kentucky a 3-1 lead.
South Carolina got an unearned run off of Cody in the top of the sixth inning before Zach Logue came out of the bullpen to get the Cats out of the inning. However, South Carolina tied the game at 3-3 in the top of the seventh on a solo homer by Jonah Bride.
After South Carolina took a 4-3 lead in the top of the eighth inning, Kentucky tied it in the bottom of the frame as junior outfielder Zach Reks homered to right field to tie the game at 4-4. It was Reks' second homer in the series and his fourth of the season.
From that point, neither team scored until Hairston ended it in the 12th.
The Wildcats return to action on Tuesday when they hit the road, facing Indiana in Bloomington. First pitch is set for 6 p.m. ET.