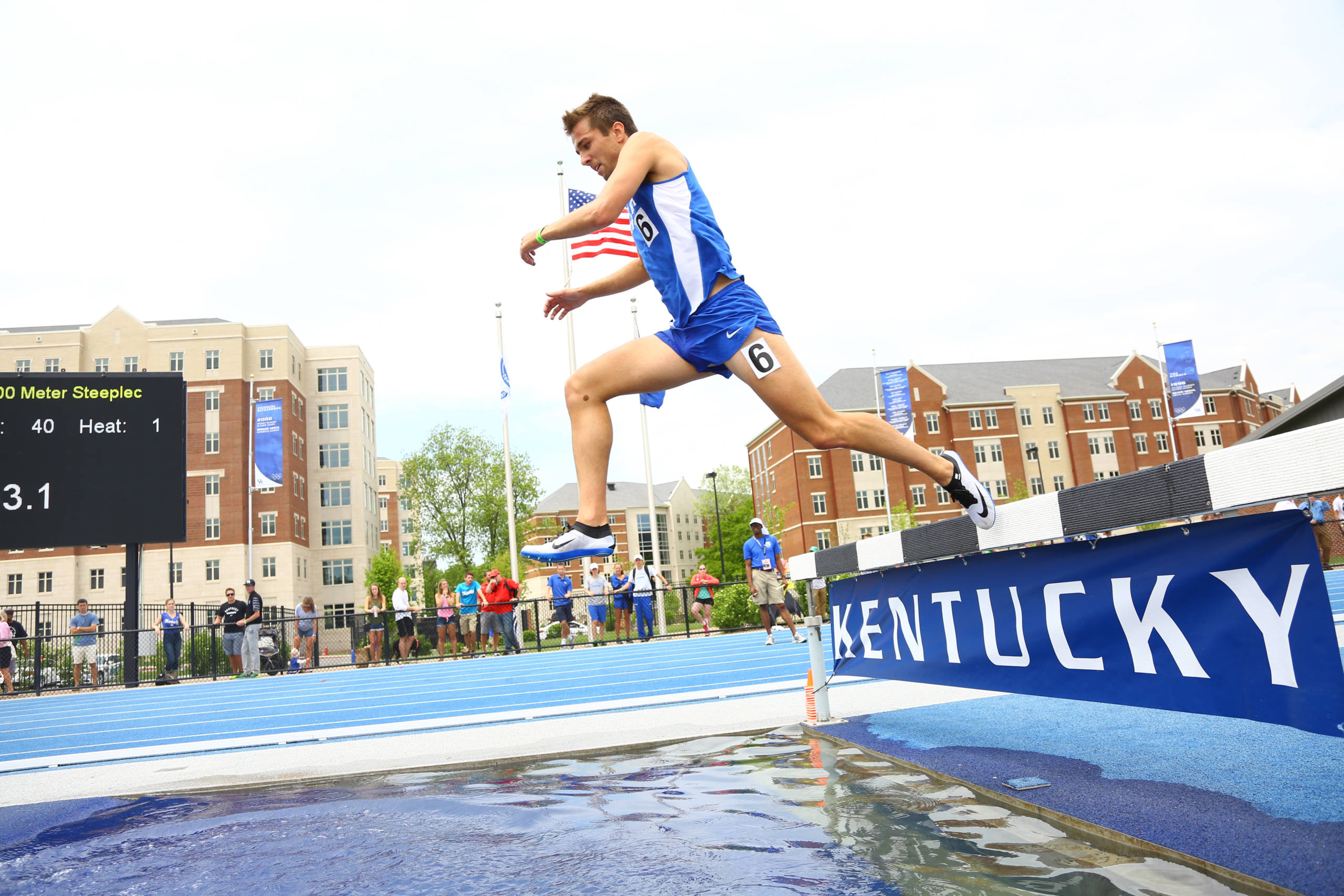 UK Track and Field Closes Regular-Season Strong at Kentucky Relays
Results
LEXINGTON, Ky. – Kentucky will enter the postseason with plenty of momentum after a strong Kentucky Relays across the board on Saturday at the UK outdoor track and field complex. 
Despite the meet's proximity to next weekend's Conference Championships, which meant some of the teams' top athletes rested this weekend to prepare for postseason, plenty of world class athletes treated to track fans in attendance to extraordinary performances.
Indeed many of the competitors in action in Lexington on Saturday showed that their aspirations to compete at the Olympic Games this summer have plenty of merit.
The top-ranked Kentucky women's team was led by senior captain Beckie Famurewa who had a career day in the discus to conclude her home-meet career. 
She broke Ashley Muffet's seven-year old UK discus record by 1-foot, 8 inches. The mark of 189'4″/57.71 ranks No. 9 in the NCAA right now. Famurewa now has the UK records in the discus, weight throw and hammer throw. She's broken the discus and hammer records this outdoor season.
In all on Saturday, Wildcats current and alumni won eight events and broke five meet records (three-year old records). 
Hackworth won with a new personal best 22'4.25"/6.81m (+1.2), which is the best jump by an American in the world this year, and ranks No. 3 on the world list. Hackworth, who trains in Lexington under UK head coach Edrick Floréal, has jumped better than 22 feet in two of three meets this season, her worst performance was 21'8" in her debut in Georgia, last month. 
Fellow Class of 2015er Kendra Harrison – the world leader in the 100-meter hurdles fresh off a lucrative Drake Relays win – showed off strong foot speed with pair of dash PRs to win both the 100m and 200m. She ran 11.35 (+0.7) in the 100m and 23.00 (+1.4) in the 200m. Freshman Donatella Asemota was top collegian in the 200m, second overall to Harrison, with a wind-legal PR 23.49.
Alum Andy Fryman won the hammer throw with a season-best 231'0"/70.42m. Sophomore David Cline was top collegian, second to Fryman, with a mark of 200'11"/61.23m. Logan Bryer placed third at 193'6"/58.98m.
Two-time Olympian and 2009 NCAA 200m Champion for UK Rondel Sorrillo won the 100m and 200m with times of 10.39 (+0.6) and 20.43 respectively.
2014 SEC Javelin Champion and Class of 2015 graduate Raymond Dysktra won the javelin with a mark of 223'0"/67.98m.
Brandi Walker placed third in the hammer throw with a mark of 182'8"/55.69m.
Nik Huffman was top collegian in the shot put, second overall, with a heave of 57'11.75"/17.67m.
Xaivier McAllister was top collegian in the high jump with a clearance at 7"0.25"/2.14m to place second overall. Justin Kretchmer cleared 6'10.75"/2.10m to place third. Cameron Short placed fourth, clearing 6'8.75"/2.05m.
Tim Duckworth placed third in the long jump with a best leap of 24'1"/7.34m (-0.5).
Kendall Muhammad and Raine Wireman ran PRs in the mile. Muhammad, a freshman, ran 4:08.38 to place third and Wireman ran 4:15.45 for fifth.
Caleb Wilt ran 14.41 (+1.2), a wind-legal PR, to place fourth in the 110m hurdles.
James Brown was runner-up in the men's 3k steeplechase in 9:41.21. Amy Hansen placed second in the women's 3k steeplechase in 11:41.27.
Kentucky will travel to Tuscaloosa, Alabama, for the SEC Championships May 12-14.
Running
Events

Women's
5,000m

9. Aundrea Busse: 18:35.30

 

Men's
5,000m

9. Zack Beavin: 15:24.47
11. Daniel Southard: 15:33.22
17. Ryan Polman: 16:11.43

 

Men
110m Hurdles

4. Caleb Wilt: 14.41 (+1.3)

 

Women
Mile Run

12. Whitney O'Bryan: 5:23.35

 

Men
Mile Run

3. Kendall Muhammad: 4:08.38 (PR)
5. Raine Wireman: 4:15.45 (PR)

 

Women 3K Steeple

2. Amy Hansen: 11:41.27

 

Men
3K Steeple

2. James Brown: 9:41.21

 

Women
100m dash

1. Kendra Harrison (alum): 11.35 (+0.7) (PR) (Meet Record)

 

Men
100m dash

1. Rondel Sorrillo (Alum, Nike):
10.39 (+0.6) (Meet Record)
13. Maurice Simpson: 11.03 (+0.6)

 

Men
400m dash

3. Xavier Jones: 48.93
7. William Walker: 50.23

 

Men
400m Hurdles

3. Naija Omari: 53.72
9. William Walker: 56.46

 

Women
200m dash

1. Kendra Harrison: 23.00 (+1.4) (PR)
2. Donatella Asemota: 23.49 (+1.4) (wind legal PR)
6. Daje Pugh: 24.36w (+2.3)

 

Men
200m dash

1. Rondel Sorrillo: 20.43 (+0.6) (meet
record)
6. Nick Anderson: 21.89 (+0.8)
10. Maurice Simpson: 22.18 (+0.8)

 

Women
800m run

4. Jill Weston: 2:13.07

 

Men
800m run

4. Ian Jones: 1:52.29

 

FIELD
EVENTS

 

 

Men
Hammer

1. Andy Fryman (Alum): 231'0"/70.42m
2. David Cline: 200'11"/61.23m
3. Logan Bryer: 193'6"/58.98m

 

Women
Long Jump

1. Kenyattia Hackworth: 22'4.25"/6.81m (+1.2) (PR)(U.S. Leader, No. 3 in
world)(Facility and meet record)
4. Kaitlyn Taylor: 18'10"/5.74m (+1.2)
5. Donatella Asemota: 18'7"/5.66m (+0.8)
9. Fendi Asemota: 17'5.25"/5.31m (+1.5)

 

Men
Long Jump

3. Tim Duckworth: 24'1"/7.34m (-0.5)

 

Men
Javelin

1. Ray Dykstra (Alum): 223'0"/67.98m

 

Men
High Jump

2. Xaivier McAllister: 7'0.25"/2.14m
(top collegian)
3. Justin Kretchmer: 6'10.75"/2.10m
5. Cameron Short: 6'8.75"/2.05m

 

Women
Hammer 

2. Brandi Walker: 182'8"/55.69m

 

Men
Shot Put (outside)

2. Nik Huffman: 57'11.75"/17.67m
4. Brad Szypka (alum): 52'10"/16.10m

 

Women
Triple Jump

5. Fendi Asemota: 37'8.5"/11.49m (+0.0)
8. Kaitlyn Taylor:  36'4.75"/11.09mw
(+3.5)

 

Men
Discus (inside)

4. Noah Castle: 166'4"/50.70m.
5. Logan Bryer: 162'10"/49.63m
11. Tim Duckworth: 134'10"/41.09m
12. Cameron Short: 134'2"/40.90m

 

Women
Discus (outside)

1. Beckie
Famurewa:189'4"/57.71m (SR, MR, No. 9 NCAA this season)