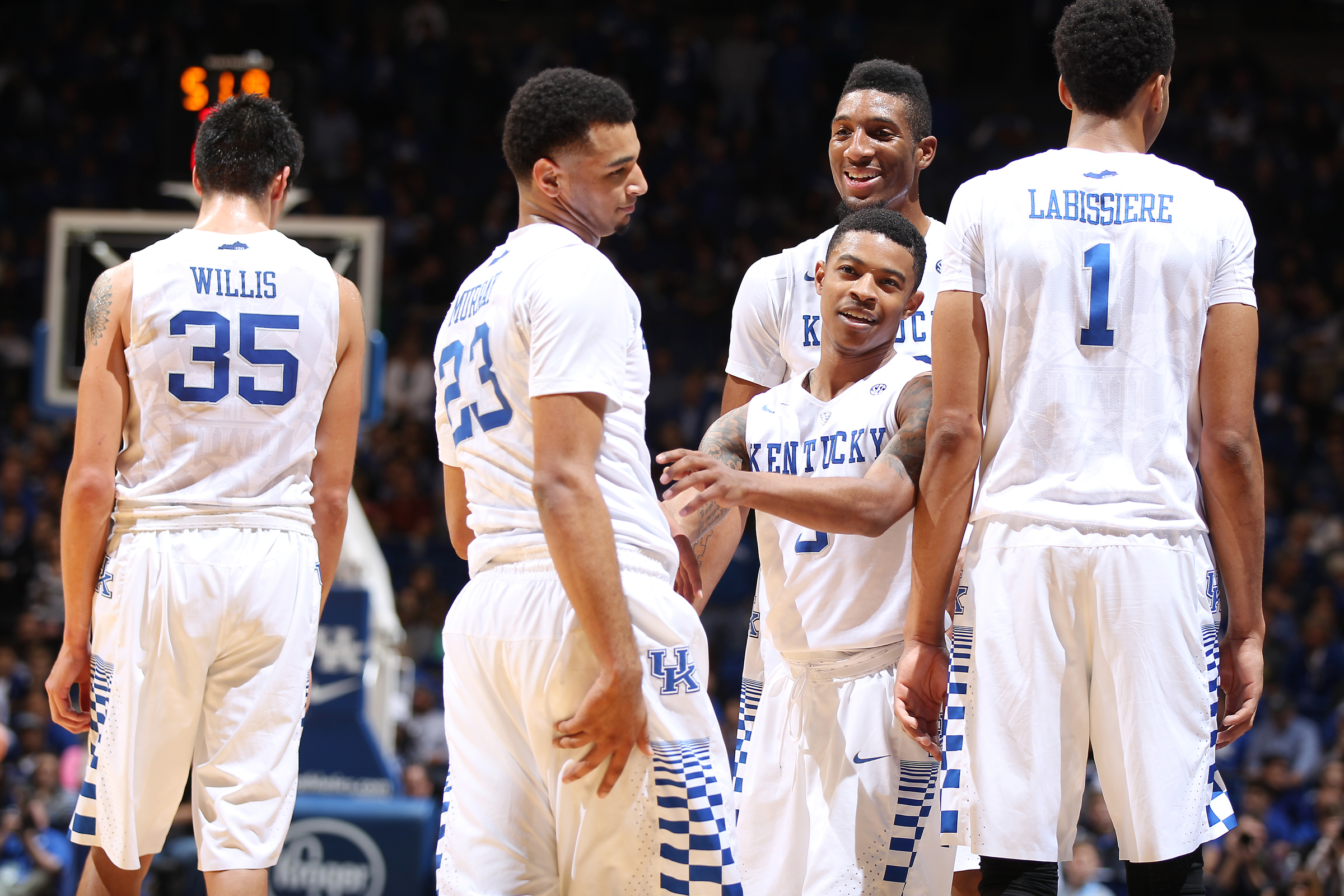 Four Wildcats Set to Participate in NBA Draft Combine
CHICAGO – Leading up to what looks to be another Wildcat-heavy NBA Draft, four Kentucky men's basketball players – Skal Labissiere, Marcus Lee, Jamal Murray and Tyler Ulis – are set to participate in the annual NBA Draft Combine in Chicago next week. All four players were on the official 63-man attendee list that the NBA released Thursday.
Only one other school (Maryland) has as many as four players who are scheduled to participate in the combine. 
The NBA Combine, which will take place May 11-15, is a multi-day showcase where some of the world's best draft-eligible players will participate in physical measurements, interviews, drills, medical and athletic testing, and scrimmages in front of NBA personnel. NBA coaches, general managers and scouts will be on hand to assess individual players in preparation for the annual NBA Draft, to be held June 23 this year at the Barclays Center in Brooklyn, N.Y.
Athletes attend by invitation only from the NBA based on the feedback and requests from the 30 NBA teams. Some of Kentucky's most recent departures have participated in the NBA Combine and gone on to successful NBA Draft nights and promising professional careers.
Of the four Wildcats who are expected to participate in next week's combine, three – Labissiere, Murray and Ulis – have either signed with an agent or announced their intentions to sign with an agent, which would effectively end their careers at Kentucky.
Under new NCAA rules, underclassmen can now "test the waters" by declaring for the NBA Draft, participating in the NBA Combine and working out for individual teams. Players have until 10 days after the conclusion of the NBA Combine to retain their college eligibility so long as they don't hire an agent. Lee, who has not hired an agent, is the only Wildcat who is participating in the NBA Combine who falls under that criteria. 
ESPN2 will televise parts of the NBA Combine on Thursday and Friday from 3 to 7 p.m.
Labissiere is coming off a year in which he flashed signs of elite potential. The native of Port-au-Prince, Haiti, appeared in all 36 games with 18 starts, averaging 6.6 points, 3.1 rebounds and 1.6 blocks in his lone season at Kentucky. His 1.6 blocks per game ranked seventh in the SEC, and he blocked three or more shots nine times during the year. Labissiere shot 51.6 percent from the field. 
The 6-foot-11, 225-pound forward had several standout performances during his freshman campaign. He scored in double figures in four of his first six career games and posted a career-high 26 points in his second career game.
Lee enjoyed the best season of his Kentucky career during his junior campaign where he boasted career highs in points, rebounds, blocks and assists. He shot a team-best 68.0 percent from the floor, the best single-season field-goal percentage in school history with a minimum of 150 attempts. His 6.0 rebounds per game average ranked tops on the team and he led the team in blocked shots a team-high 18 times. 
A two-time Southeastern Conference Community Service Team member, Lee recently concluded participation in the 2016 NCAA Leadership Forum where he was the SEC's male representative at the weekend-long conference. 
Murray was one of the nation's best scorers all season long and led the Wildcats in scoring at 20.0 points per game, which is the highest individual scoring average at Kentucky in the John Calipari era. He earned a plethora of postseason accolades, including Associated Press Third Team All-America honors as well as All-Southeastern Conference First Team recognition by both the AP and the league's coaches. 
The Kitchener, Ontario, native was tabbed a freshman All-American by Sporting News and the U.S. Basketball Writers Association. With 720 points this season, Murray owns the school's freshman single-season scoring record, surpassing Brandon Knight (657 points in 2010-11). He posted three 30-point games this season, the most by a freshman in school history
Ulis set the UK-single-season mark for assists in a season with 246, second all-time in the SEC. Ulis was both an elite distributor and proficient scorer in his sophomore campaign, becoming the only player in league history with at least 606 points and at least 246 assists. He was one of only four players in the country this season to average at least 17.3 points and at least 7.0 assists per game. He ranked sixth nationally in assist-to-turnover ratio (3.6) and seventh in assists per game (7.0). Among his most noteworthy achievements this season, Ulis had a stretch of 28 straight games with four or more assists, easily a school record. 
The Chicago native has the single-season school record for most 20-point, five-assist games with 14, and according to the SEC Network, his three 20-point, 10-assist games this season are the most of any SEC player in the last 20 seasons. For his efforts, Ulis was tabbed a consensus first-team All-American, the shortest consensus first-team All-American since Pittsburgh's Don Hennon (5-9) in 1958. Among his many honors, he won SEC Player of the Year and the Bob Cousy Point Guard of the Year Award.