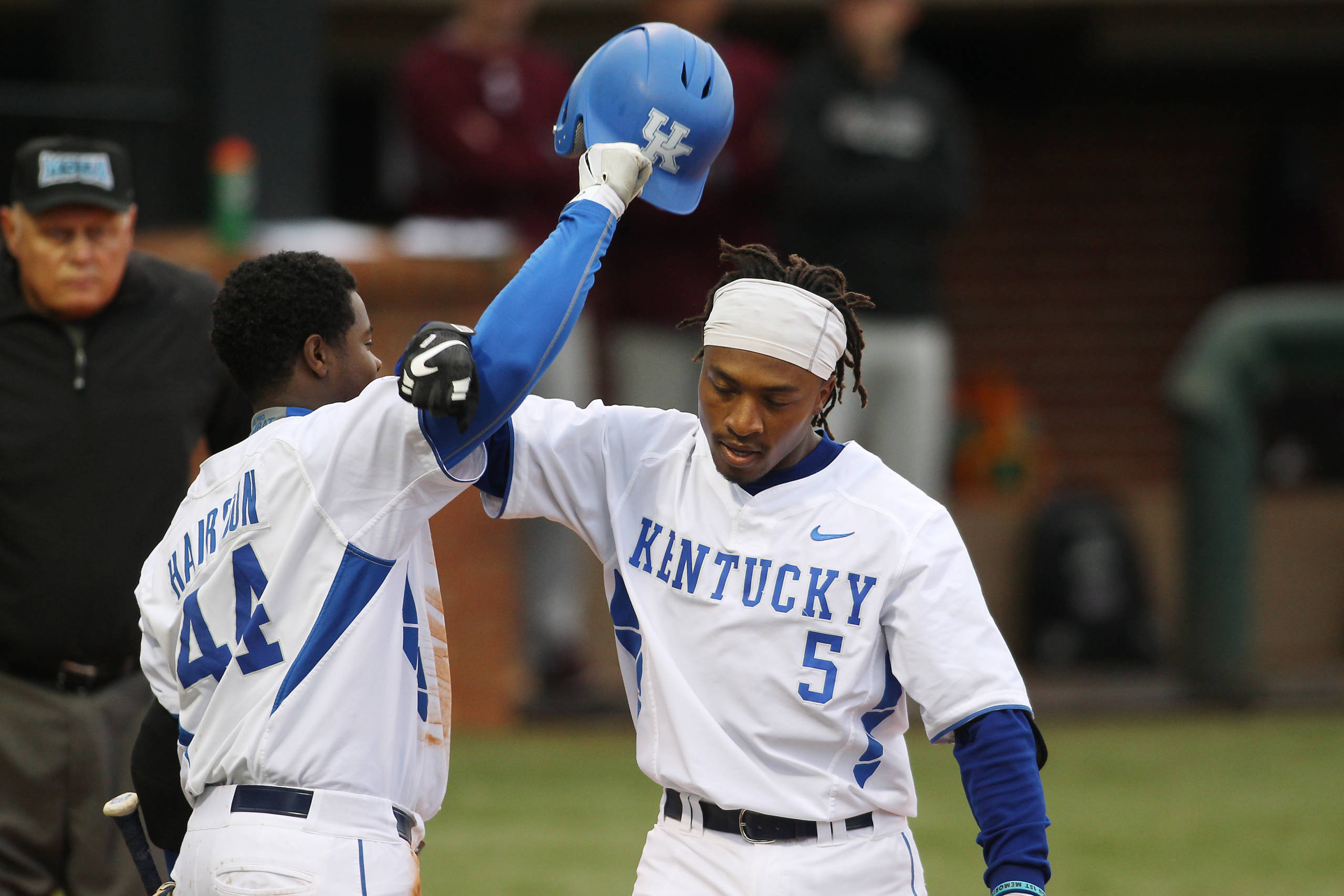 LEXINGTON, Ky. – The University of Kentucky baseball team is set to host its penultimate home series of the season this weekend, as the Wildcats play host to top-10 South Carolina for a three-game set. First pitch is set for 6:30 p.m. on Friday and Saturday. Sunday's game will begin at 3 p.m. All three games will be played at Cliff Hagan Stadium.   
The series will be broadcast on the UK Sports Radio Network. Fans in Central Kentucky can hear the games live on WLAP 630-AM, in Louisville on WKJK 1080-AM and online at UKathletics.com. Neil Price will be on the call.
Friday and Saturday's matchups with Gamecocks will be broadcast via the SEC Network +, accessible through the Watch ESPN app on tablets and mobile devices. Sunday's showdown is set for national broadcast on ESPNU. The SEC Network+ games will be covered by Dick Gabriel and Keith Madison. Clay Matvick and Mike Rooney will provide Sunday afternoon's coverage. 
Kentucky (27-18, 11-10 Southeastern Conference) and South Carolina (35-9, 15-5 SEC) have met 76 times. South Carolina holds a 14-game edge in the all-time series, with UK holding a 31-45 record against the Gamecocks. 
Last time UK took the field, junior third baseman JaVon Shelby hit his 10th home run of the season, tying him for the SEC lead, but the Kentucky baseball team lost to Eastern Kentucky 5-4 on Tuesday night. The Wildcats led 4-0 following Shelby's homer. It was the Lexington, Ky., product's third in the last two games and fourth in the last six games.
Kentucky's right-handed trio of junior Zach Brown and senior classmates Dustin Beggs and Kyle Cody will take the mound for the Wildcats against USC.
Brown, Friday's probable starter, enters the game with a 2-8 record and a 5.45 ERA. He has pitched 66 innings this season, allowing 75 hits and 44 runs while striking out 49 batters. Last time Brown took the mound, he gave up 12 hits and five runs while striking out three batters in six innings against Auburn. 
Beggs is slated to start Saturday, boasting a 2.79 ERA – the best among UK starting pitchers – and a 7-1 record entering the game. The senior has pitched 77.1 innings this season, allowing 55 hits and 24 earned runs while adding a team-best 63 strikeouts. Beggs let up seven hits and six runs while striking out four batters last weekend in seven innings against Auburn. 
Cody (5-2, 4.06 ERA) has worked 62 innings this season, giving up 55 hits and 28 earned runs with 55 strikeouts during 2016. The senior earned his fifth win of the season last Sunday, surrendering seven hits and three runs while striking out six batters over the course of 7.1 innings.
Kentucky's offense is paced by 2015 SEC All-Freshman selection first baseman Evan White. The sophomore from Gahanna, Ohio leads the team with a .358 batting average and 38 runs scored. Closely behind is junior outfielder Zach Reks who is batting .330. Junior designated hitter Gunnar McNeill leads the team with 35 RBI, while Shelby's 10 home runs pace the team and the SEC.
White and Shelby have been red-hot as of late offensively, both hitting .400-plus over the past five games. White has earned 11 hits in the last 23 at bats including a triple and a homer with four RBI. Shelby has earned eight hits in his last 19 trips to the plate, with three doubles and three homers for a team-best nine RBI during the span.  
South Carolina (35-9, 15-5 SEC) enters the weekend fresh off of a 4-1 win earlier in the week over in-state opponent USC Upstate. The Gamecocks are expected to start a trio of right-handed underclassmen in sophomore Clarke Schmidt (8-1, 1.99 ERA), freshman Braden Webb (9-2, 3.05 ERA) and first-year classmate Adam Hill (6-0, 2.57 ERA). Outfielder Gene Cone has a team-best .379 batting average for the Gamecocks, while first baseman Alex Destino and catcher John Jones add offensive firepower with 40 and 39 RBI this season, respectively.   
Records
Kentucky – 27-18, 11-10 SEC
South Carolina – 35-9, 15-5 SEC
Schedule (times Eastern and subject to change)
Friday, May 6 – Cliff Hagan Stadium – 6:30 p.m. [SEC Network +]
Saturday, May 7 – Cliff Hagan Stadium – 6:30 p.m. [SEC Network +]
Sunday, May 8 – Cliff Hagan Stadium – 3 p.m. [ESPNU]
Internet Coverage
Live audio and stats on UKathletics.com
UK Radio Network 
WLAP 630-AM [Neil Price]
Tentative Pitching Matchups
Friday at South Carolina
Jr., RHP Zack Brown (2-8, 5.45 ERA) vs. So., RHP Clarke Schmidt (8-1, 1.99 ERA)
Saturday at South Carolina
Sr., RHP Dustin Beggs (7-1, 2.79 ERA) vs. Fr., RHP Braden Webb (9-2, 3.05 ERA)
Sunday at South Carolina
Sr., RHP Kyle Cody (5-2, 4.06 ERA) vs. Fr., RHP Adam Hill (6-0, 2.57 ERA)
Stadium
Cliff Hagan Stadium (3,000)
Parking
Free game day parking is available in the C-8 lot beyond right field and behind home plate, or in the E lot adjacent to Cliff Hagan Stadium. The C-8 lot will be filled on a first-come, first-served basis. Once C-8 is filled, vehicles will be directed to park in the E lot next to Cliff Hagan Stadium. After the E lot is full, a limited amount of parking will be available in Parking Structure No. 7 on the ground floor. If you're parking in PS#7, please exchange your ticket for a pink payment voucher at the ticket booth, prior to the end of the fourth inning. Additionally, overflow parking will be available in the smaller E lots close to Cooper Dr., as well as the C-6 lot at Commonwealth Stadium. All fans are asked to please follow the signage provided to the nearest parking location.
Tickets
SINGLE-GAME TICKET PRICES
$5 – General Admission Seating – Adults
$2 – General Admission Seating – Youths/Seniors