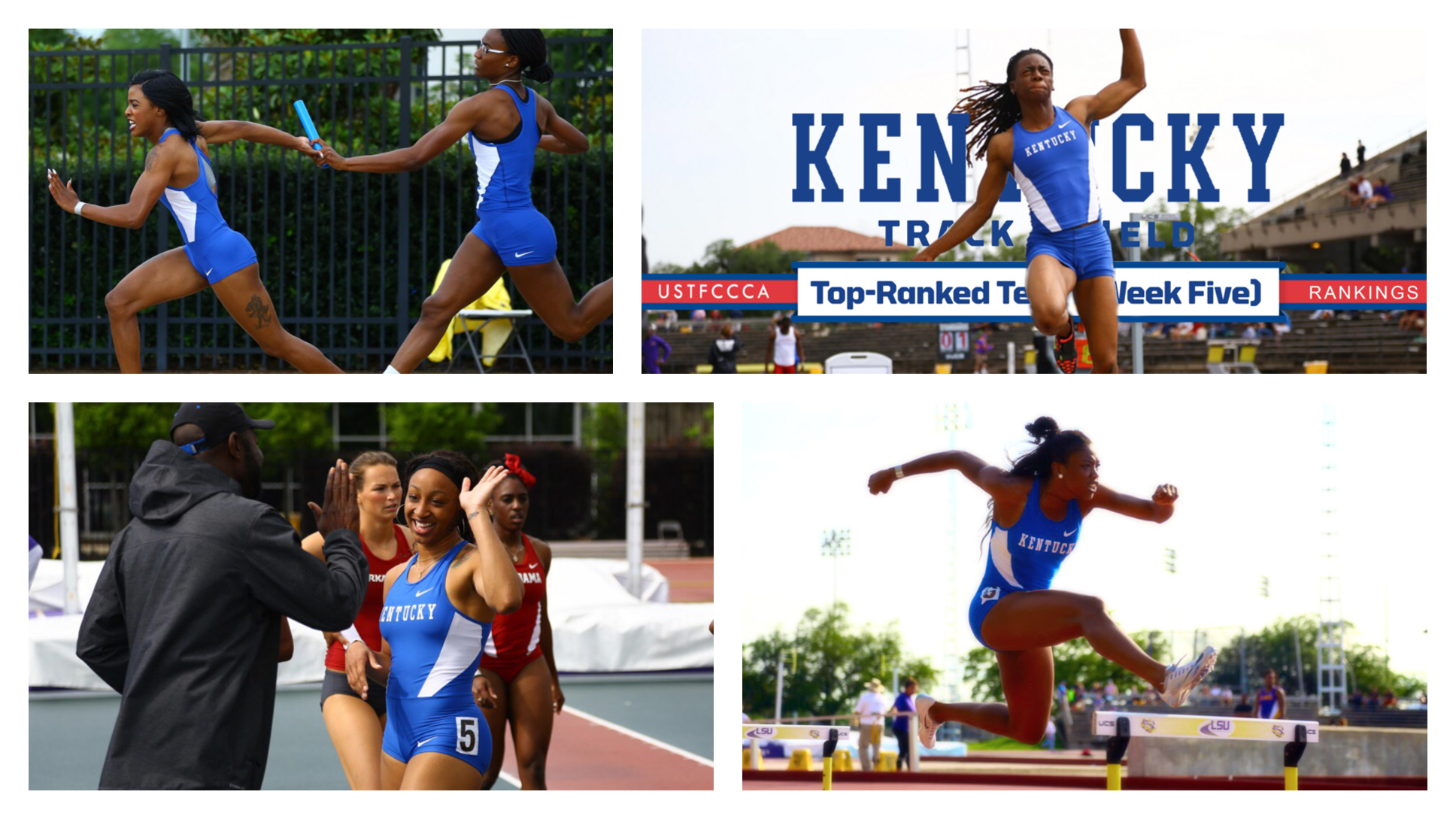 UKTF Women's Team Ranked No. 1
The Wildcats are ranked No. 1 for the first time in school history. Kentucky moved up a spot this week to take over the No. 1 ranking. 
The Wildcats used a strong weekend, where they won the LSU Invitational, to influence the computer algorithm enough to move up a spot. The LSU Invitational pitted six of the top-15 teams in last week's rankings – including the then-No. 1 and No. 5 teams – against one another.
Trophies are not given based on your ranking but earned on meet day! Ranked #1 but not done! #FLOKNOWS! pic.twitter.com/D0zAcmHmfQ

— Edrick Floreal (@TrackKentucky) May 2, 2016
The Wildcats turned in six performances that are now ranked in the top-5 in individual events nationally, at LSU.
Jasmine Camacho-Quinn (100m hurdles) and Sha'Keela Saunders (long jump) both moved up to second in their respective events. 
Destiny Carter (100m) and Kiah Seymour (400m hurdles) are both respectively ranked third, while Kianna Gray (100m) and Jacklyn Howell (100m hurdles) took ownership of fourth nationally.
Kentucky's relays are also ranked inside the national top-five. The women's 4x100m relay of Javianne Oliver, Precious Hitchcock, Carter and Gray ran 43.14 two weeks ago, which is ranked No. 3 nationally. 
UK's 4x400m relay of  Gray, Jasmine Mitchell, Carter and Seymour has a season-best time of 3:28.45, which is ranked No. 4 in the NCAA.
Oliver is ranked No. 7 in the 100m.
Ariah Graham's 2:03.24 800m time recorded at Florida Relays about a month ago continues to rank No. 8 nationally, rounding out the list of Wildcats currently ranked in the top-eight of the 2016 NCAA descending order qualifying list.
Per USTFCCCA's data Kentucky gained 61.17 points over the past week compared to 23.13 for Arkansas. That gives the Wildcats 345.20 points and the Razorbacks 318.98. Both are the only teams with more than 300 points.
The USTFCCCA Computer Rankings are intended as a projection of NCAA Championships finishes based on performances so far this year. The NCAA Championships will take place June 8-11 at Oregon's Hayward Field.
Kentucky is ranked No. 8 in this week's
FloTrack rankings
, where Arkansas ranks No. 1.