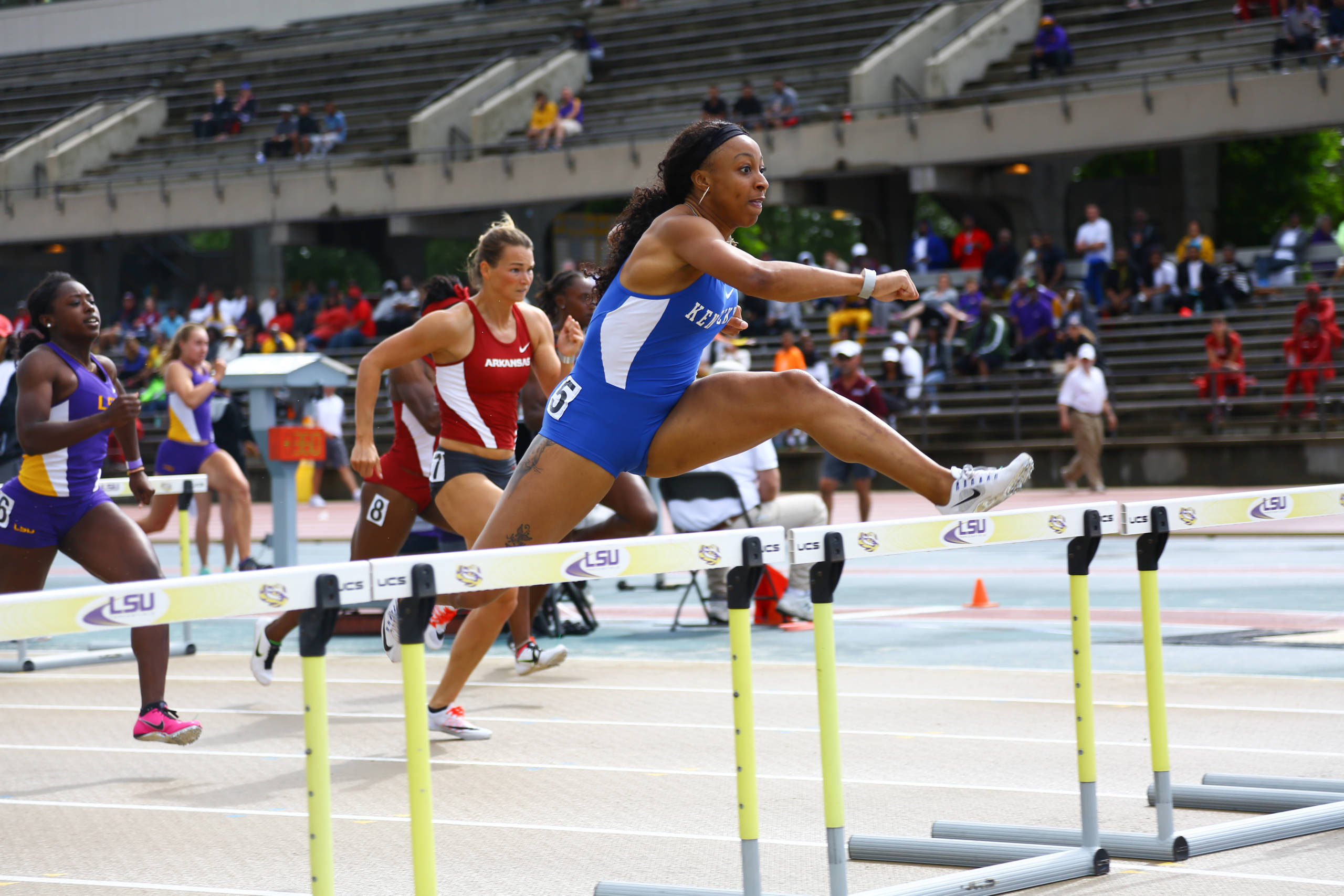 UKTF Women's Team Wins LSU Invitational
RESULTS
BATON ROUGE, La. – The second-ranked Kentucky women's track and field team won arguably the nation's most stacked regular-season meet, the LSU Invitational – which featured six top-15 teams – on Saturday.
Kentucky scored 125 points. 
"I couldn't be prouder of the way our women's team performed this weekend," UK head coach Edrick Floreal said. "Winning the meet although sweet is not the end all to be all, but another step toward our ultimate goal. We learned how to win this weekend, but more importantly we conducted ourselves as winners."
No. 6 LSU scored 119, Alabama scored 118.5, No. 12 Texas A&M placed fourth on 115.5, No. 5 Florida scored 100, top-ranked Arkansas placed sixth with 89 and No. 15 Miami (Florida) scored 59.
Kentucky's men's team placed seventh.
Some Saturday women's team highlights included
• Jasmine Quinn and Destiny Carter won the 100-meter hurdles and 100m dash with windy personal best times that rank No. 2 on the current NCAA performers' list.
• Beckie Famurewa was top collegian in the hammer throw.
• Kiah Seymour ran the No. 3 400m hurdles time in the NCAA this year and became the No. 2 performer in UK history.
• Sha'Keela Saunders placed second in the long jump with a season-best (wind aided).
Jasmine Camacho-Quinn and Destiny Carter gave UK a sweep of the races that cover 100m, with Carter winning the dash and Quinn claiming the hurdles. Both ran windy personally best times that also rank near the top of this season's NCAA Championships qualifying list as the winds were slower than 4.0 meters/second.
Cats go 1-2 in the 100H with windy PRs. Jasmine Camacho-Quinn won in 12.73w, Jackie Howell second in 12.87 (+2.1) pic.twitter.com/Xt0wMgBkHu

— UK Track & Field (@KentuckyTrack) April 30, 2016
Quinn ran 12.73w aided by a +2.1 m/s wind, while teammate Jacklyn Howell placed second in the same heat – also with a PR – 11.87w. Quinn's time is the second fastest qualifying time recorded by a collegian this season, while Howell's ranks No. 4. Because the aiding winds were greater than 2.0 m/s they can't be considered for records.
Quinn and Howell combined to score 18 points in that event.
Carter's 100m-winning time of 11.11w (+3.8) is the No. 3 qualifying performance of the collegiate season. Kianna Gray placed second in that race with a time of 11.12w, which ranks No. 4 on the NCAA qualifiers' list. Javianne Oliver ran 11.16w – No. 7 on the NCAA performers' list – to give UK 23 points in the 100m.
Beckie Famuerwa placed as top collegian in the hammer throw with a mark of 199'8"/60.86m. Brandi Walker placed as No. 7 collegian in that event to give UK 12 points in the hammer. Adriana Brown and Famurewa placed as the Nos. 2 and 3 collegians in the discus, combining to score 14 points.
Kiah Seymour places second in the 400H in a PR 55.20. Makes her No. 2 performer in #UKTF history. Little (TAMU) won pic.twitter.com/sIW0kQEmOJ

— UK Track & Field (@KentuckyTrack) April 30, 2016
Kiah Seymour placed second in the 400m hurdles with a personal-best 55.20 to score eight points. Two-time defending NCAA Champion and reigning World Silver Medalist Shamier Little (Texas A&M) won in 55.14. Those times rank Nos. 2 and 3 in the NCAA this season. 
Seymour became the No. 2 performer in UK history. She passed 2015 NCAA 400H Bronze Medalist Leah Nugent on the list, and trails only Kendra Harrison.
Seymour later anchored the 4x400m relay (Gray, Jasmine Mitchell, Carter, Seymour) to a third-place showing of 3:30.59, which clinched the team win by scoring six points.
Sha'Keela Saunders placed second in the long jump with a windy season-best 21'10.25"/6.66m (+3.4). That mark ranks second on the 2016 NCAA performers' list. Marie-Josée Ebwea-Bile placed as the No. 6 collegian, giving UK 11 points in the long jump.
Saunders placed fourth and Ebwea-Bile fifth in the triple jump to give UK a further 11 points there.
Olivia Gruver cleared 13'9.75"/4.21m in the pole vault, which took place indoors as the meet was delayed by a three-hour, 30-minute weather delay, to earn six points. The pole vault and high jump took place inside Carl Maddox Field House, while the rest of the meet occurred outdoors.
Kentucky's 4x100m relay of Oliver, Precious Hitchcock, Carter and Gray placed third in 43.33 to earn six points. 
Gray ran 23.19 (+0.2) to place fourth and earn five points in the 200m. Hitchcock placed 10th with a PR 23.48.
Sarah Blake was the No. 6 collegian in the javelin with a best toss of 147'0.25"/44.80m to score three points.
Brown placed seventh in the shot put with a best mark of 46'8.75"/14.24m to score two points.
The scoring was done using the standard NCAA Championship scoring format with points allocated with 10-8-6-5-4-3-2-1 in each of the 20 individual and relay events on both sides.
Cats go 1-2-4 in the women's 100m. Windy PRs for Carter, Gray and Oliver to score a combined 23 points. pic.twitter.com/hJA0RyvAHA

— UK Track & Field (@KentuckyTrack) April 30, 2016
Men's team highlights included …
Elijah Marta placed second in the javelin to earn eight points from a toss of 209'8"/63.92m.
Justin Kretchmer and Tim Duckworth earned seven points each with a tied-second place finish in the high jump. They cleared 6'9.5"/2.07m inside the Maddox Field House as the vertical jumps were moved indoors due to weather.
Xaivier McAllister's best clearance was at the same height but he placed tied-sixth on the more misses tie breaker.
David Cline earned two points in the hammer throw with a PR 206'/62.80m.
Fred Dorsey placed fifth in the men's long jump to score four points. 
UK's men's 4x400m relay of Dorsey, Jones, Dillon and Omari ran a season-best 3:11.27 to place fifth.
Freshman Caleb Wilt placed sixth in the 110m hurdles with a windy PR of 14.20 (+3.8). He'll look to run that time wind legal as he chases the standard to be able to qualify for the IAAF World Junior Championships.
Kentucky will host the Kentucky Relays next Saturday before the SEC Championships May 12-14.
The most up-to-date
coverage of the UK track and field program is available via @KentuckyTrack
handles on 
Twitter
, 
Instagram 
and 
Facebook
.
Field Events

Time

Event

Entries

Discus (West Cage) Women

3. Adriana Brown: 180'4.75"/ 54.98m  — 8 pts

4. Beckie Famurewa: 173'8.75"/ 52.94m – 6 pts

Discus (West Cage) Men

12. Logan
Bryer: 163'11"/49.96m
14. Noah Castle: 162'10.5"/49.64m

Hammer (West Cage) Women

2. Beckie Famurewa:
199'8"/60.86m – 10 pts (top collegian)
8. Brandi Walker: 184'9"/56.32m – 2 pts

Shot Put Men

11. Nik
Huffman: 54'3.25"/16.54m
12. Noah Castle: 50'2.5"/15.30m

Long Jump Women

2. Sha'Keela Saunders:
21'10.25"/6.66m (+3.4) – 8 pts
7. Marie-Josée Ebwea-Bile: 19'5.25"/5.92m (+4.5) – 2 pts

Long Jump Men

5. Fred
Dorsey: 23'8.75″/7.23m – 4 pts

Pole Vault Women

3. Olivia Gruver: 13'9.75″/4.21m
– 6 pts

Hammer (West Cage) Men

8. David
Cline: 206'/62.80m – 2 pts (PR)
10. Logan Bryer: 199'3"/60.74m

Shot Put Women

7. Adriana Brown: 46'8.75"/ 14.24m – 2 pts

High Jump Men

T-2. Justin
Ketchmer, Tim Duckworth: 6'9.5"/2.07m – 7 pts each
T-6. Xaivier McAllister: 6'9.5"/2.07m (More misses) – 2.5 pts

9. Cameron
Short: 6'7.5"/2.02m

Triple Jump Women

4, Sha'Keela Saunders:
41'9.75"/12.74m (+2.9) – 6 pts
5. Marie-Josée Ebwea-Bile: 41'5.75"/12.64m (+3.6) – 5 pts

Javelin (East Runway) Women

8. Sarah
Blake: 147'0.25"/ 44.80m – 3 pts (No. 6
collegian)

Javelin (West Runway) Men

2. Elijah Marta: 209'8"/63.92m
– 8 pts
Running Events

Event

Entries

4 x 100 Relay Women

3. Kentucky (Oliver,
Hitchcock, Carter, Gray): 43.33 – 6 pts.

4 x 100 Relay Men

5. Kentucky
(McAllister, Dorsey, Jones, Anderson): 41.24 – 4 pts

100 Hurdles Women

1. Jasmine Camacho-Quinn:
12.73w (+2.1) – 10 pts
2. Jacklyn Howell: 12.87w (+2.1) – 8 pts

110 Hurdles Men

6. Caleb
Wilt: 14.20w (+3.8) – 4 pts
11. Cameron Short 14.56w (+3.8)
12. Tim Duckworth: 14.65w (+3.8)

100 Meters Women

1. Destiny Carter: 11.11w
(+3.8) – 10 pts
2. Kianna Gray: 11.12w (+3.8) – 8 pts
4. Javianne Oliver: 11.16w (+3.8) – 5 pts
14. Donatella Asemota: 11.58 (+4.9)

800 Meters Men

19. Shane
Dillon: 1:52.06

400 Hurdles Women

2. Kiah Seymour: 55.20 (PR) –
8 pts
11. Daje Pugh: 59.02

400 Hurdles Men

12: Naija Omari:
53.48

200 Meters Women

4. Kianna Gray: 23.19 (+0.2)
– 5 pts

10. Precious Hitchcock: 23.48
(+0.2)
11. Javianne Oliver: 23.52 (+2.4)
12. Jasmine Camacho-Quinn: 23.54 (+2.0)
20. Donatella Asemota: 24.04 (+1.8)
27. Jacklyn Howell: 24.37 (+2.9)
31. Jasmine Mitchell: 24.61 (+2.9)

200 Meters Men

13. Fred Dorsey:
21.38 (+2.1)
23. Xavier Jones: 21.84 (+1.1)

4 x 400 Relay Women

3. Kentucky (Gray, Mitchell, Carter,
Seymour): 3:30.59 – 6 pts

4 x 400 Relay Men

5. Kentucky (Dorsey,
Jones, Dillon, Omari): 3:11.27 – 5 pts (Fourth-place pts bc duplicate teams)