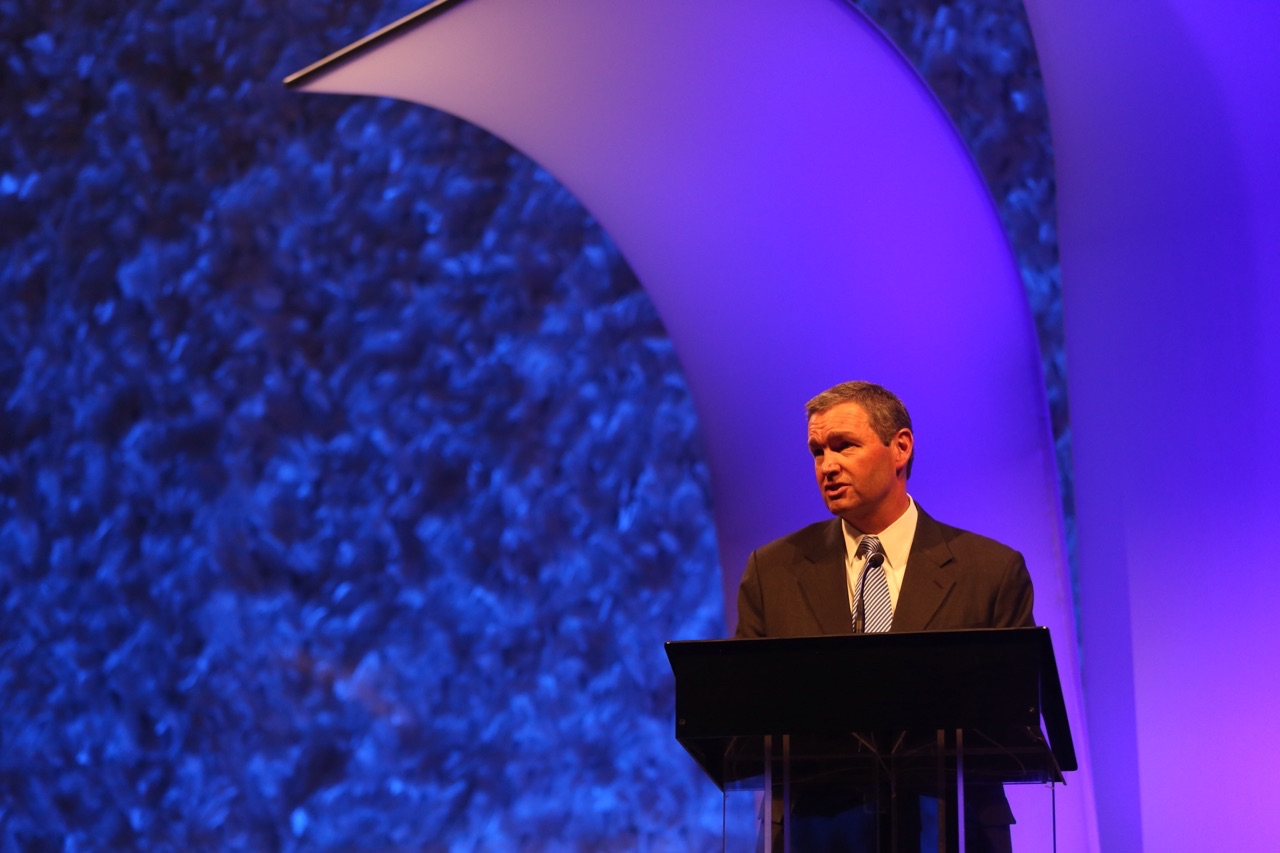 Mitch Barnhart spent much of his early years at Kentucky talking about transforming the athletics program.
His goal was for UK Athletics to move on from being a stepping stone, a place where coaches especially stopped over before heading on to bigger and better things.
Barnhart has succeeded in the endeavor, as no UK head coach has left the school for another head-coaching position since 2009.
The best overall years in the department's history have followed, with record finishes in the Directors' Cup, two national championships and seven straight semesters with cumulative grade-point averages of 3.0 or better.
But Barnhart isn't satisfied. That's why he's changed his thought process about that whole destination thing.
"Now that I really think about it, Kentucky is not a destination," Barnhart said. "It's where you come to reach your destination."
Barnhart's remarks were delivered at the 2016 CATSPY Awards, the annual banquet and ceremony honoring the best in UK Athletics. He spoke directly to the student-athletes, coaches and staff he is asking to join him in making his vision of establishing UK among the elite departments in America.
"You see, Kentucky is not a destination," Barnhart said. "When you get that scholarship offer and put on that blue and white jersey, you have not arrived. When you come to Kentucky, you're challenging yourself by surrounding yourself with the best of the best. When you come to Kentucky, it's because you want to do something special and you want to do it here."
Barnhart also challenged those gathered and dressed to the nines in Memorial Coliseum to think about what they want their destination to be. 
"So, what is your destination?" Barnhart said. "What are your dreams? Do you want to win a national championship like Danielle Galyer, Kendra Harrison or Dez Bryant? Do you want to be the best in the country at what you do like Callum Irving or Tyler Ulis? Do you want to win a title like our men's soccer or men's basketball team? Only you can decide."
Barnhart referenced some of the evening's biggest winners, as Galyer, Harrison and Irving took home Miss and Mr. Wildcat honors and Ulis joined them in receiving Athlete of the Year. Those four set lofty goals and didn't relent on their journey to achieving them. Barnhart was sure to point out the lesson in that.
"Knowing you, I know you've got some exceptional stuff on your mind," Barnhart said. "I also know it won't be an easy journey. Competing at this level is hard. Succeeding here is even more difficult.
"This is not a hobby. As much fun as it is – and should be – there's nothing casual about what we do. You came here because you wanted to be challenged. You came here because you wanted to push yourself. You came here because you wanted to push others. You came here because you wanted to achieve incredible things."
Barnhart also cited the example of Bruno Agostinelli, the former men's tennis star and Mr. Wildcat winner who passed away tragically this spring in a motorcycle accident at age 28.
"He came to Kentucky probably not the greatest recruit we've ever had," Barnhart said. "Not preordained to be a superstar, but absolutely one of the toughest, most determined, most fit winners we've ever had in this program. He absolutely worked harder than anyone else."
Agostinelli's family was in attendance at the CATSPYs and received a rousing ovation when Barnhart recognized them during his remarks. His void in the Wildcat family won't be filled, but those remaining can still honor his legacy.
"It's not how he died," Barnhart said, quoting Brian's Song, one of his favorite movies, "but it was how he lived. I think that is absolutely appropriate for the way Bruno lived his live. Full passion, unwavering commitment to compete and a love for the people around him. So I appreciate what he brought to this program and I appreciate the legacy he leaves behind."
Recognizing that legacy, the Mr. and Miss Wildcat awards will be given in Agostinelli's memory from this point forward.