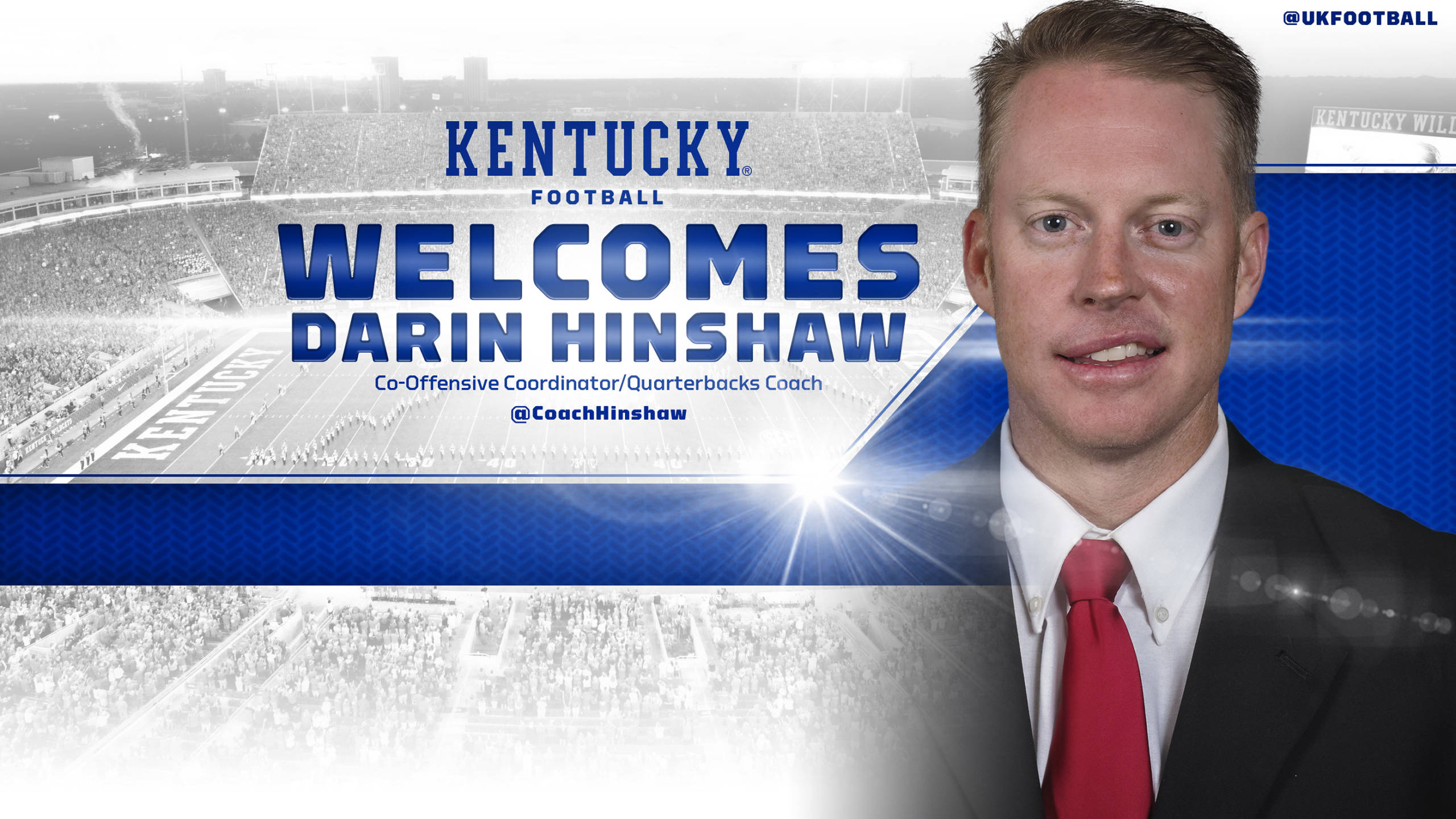 LEXINGTON, Ky. – Darin Hinshaw, who helped guide some of the best offenses in University of Cincinnati history, has been named Kentucky's co-offensive coordinator and quarterbacks coach, head coach Mark Stoops has announced.
"Darin has a great offensive mind and his experience includes time in the Southeastern Conference," Stoops said. "I've been impressed with how well they've produced at Cincinnati and how prolific they have been in throwing the football."
Hinshaw, a former record-setting quarterback at UCF, joins the Kentucky staff after serving on the Cincinnati coaching staff since 2013. Before his time with the Bearcats, Hinshaw coached three seasons with Tennessee, including functioning as the recruiting coordinator in 2012, with Rivals.com ranking him as one of the top 10 recruiters in college football in 2011.
"This is a great opportunity to be back in the SEC and I'm really looking forward to it," Hinshaw said. "I've always looked at Kentucky as a program that has the potential to be very, very good and we can put up the points and yards that will equal wins and help get us to bowl games. That's why I'm taking this opportunity.  I'm very excited to be back in the SEC and be a part of Kentucky and the Big Blue Nation."
In each year, Hinshaw has helped guide the Bearcats to a bowl game, with UC collecting 25 wins. In 2013, UC led the American Athletic Conference in total offense (472.1) and rushing offense (168.3) with the offense totaling a school-record 6,137 yards. Those marks were erased in 2015. Cincinnati amassed 6,992 offensive yards, 537.8 yards per game, including 359.9 passing yards per contest and 177.9 rushing yards per game.  Through bowl games of Dec. 26, Cincinnati rates sixth in the nation in passing offense and seventh in total offense.
Hinshaw is no stranger to record-setting offenses, helping direct Tennessee to 5,711 yards in 2012, the second-most in school history. His star wide receiver, Cordarrelle Patterson, a First-Team All-SEC selection, set UT's single-season record with 1,858 all-purpose yards. Included in that total were 46 receptions for 778 yards and five TDs. Justin Hunter, who earned Second-Team All-SEC honors, grabbed 73 balls for 1,083 yards and nine TDs, the second-best single-season mark for receptions.
Hinshaw guided QB Tyler Bray to a record-setting start to the 2011 season as the signal caller set a school record for completion percentage in a game. He also started the year with the most passing yards in a three-game span in UT's storied history.
In 2010, Hinshaw's impact was immediate as Tennessee's quarterbacks coach. The former signalcaller helped a pair of UT quarterbacks debut in leading the Vols' offense to a bowl game and a third-place finish in the SEC's Eastern Division.
Hinshaw's quarterback duo of Matt Simms and Bray combined for 3,309 yards passing and 26 touchdowns in 2010. Bray assumed the starter's role in November and guided the team to a 4-0 finish to claim bowl eligibility.
Hinshaw, a Punta Gorda, Fla., native, was at Memphis from 2007-09 as the wide receivers coach. He joined the Tigers' staff after serving one season as offensive coordinator and quarterbacks coach at Georgia Southern. In 2006, Georgia Southern ranked 27th nationally in total offense, averaging 359.9 yards per game.
Prior to that, Hinshaw worked at Middle Tennessee for five seasons. He was the running backs coach his first two seasons before being elevated to co-offensive coordinator in February 2003.
Under Hinshaw's guidance, the MTSU offense consistently led the Sun Belt Conference and was among the nation's statistical leaders. A highlight was in 2003, when the Blue Raiders' offense was the highest scoring unit in the league at 27.7 points a contest. Hinshaw made his way to Middle Tennessee from Central Florida, his alma mater. Hinshaw spent 1999 as a graduate assistant before taking over the quarterback coaching duties in 2000.
As a player, Hinshaw set numerous school records for the Knights, finishing as the career leader in every major passing category, including yards (9,000) and TDs (82). During his time under center, UCF had a combined 28-16 record, including a 9-3 mark in 1993 that resulted in a berth in the Division I-AA playoffs. Hinshaw was named to UCF's 25th Anniversary Team in 2004.
Following his playing days at UCF, Hinshaw began a career in pro football. After a brief stint with the Cleveland Browns, he spent two years with the Orlando Predators of the Arena Football League.
Hinshaw earned his bachelor's degree in finance in 1993 and a master's in business administration from UCF in 1996.
Hinshaw and his wife, Pam, have four children: daughters Sydney, Hayley and Carley; and son Darin Jr.
HINSHAW FILE
Personal
Wife: Pam
Children: Sydney, Hayley, Carley, Darin Jr.
Academic/Playing Career
Central Florida, 1993 B.S. (QB); 1996 MBA – 1991-93 Orlando Predators [AFL] (QB) – 1994-95
Coaching
Kentucky – Co-offensive coordinator, quarterbacks coach – 2016
Cincinnati – Passing game coordinator, quarterbacks coach – 2013-15
Tennessee – Wide receivers coach – 2012
Tennessee – Quarterbacks coach – 2010-11
Memphis – Wide receivers coach – 2007-09
Georgia Southern – Offensive coordinator, quarterbacks coach – 2006
Middle Tennessee State – Co-offensive coordinator – 2003-05
Middle Tennessee State – Running backs coach – 2001-02
Central Florida – Quarterbacks coach – 2000
Central Florida – Graduate assistant – 1999
Bowl Experience
Year School – Bowl
2007 Memphis – New Orleans
2008 Memphis – St. Petersburg
2010 Tennessee – Music City
2013 Cincinnati – Belk
2014 Cincinnati – Military
2015 Cincinnati – Hawai'i