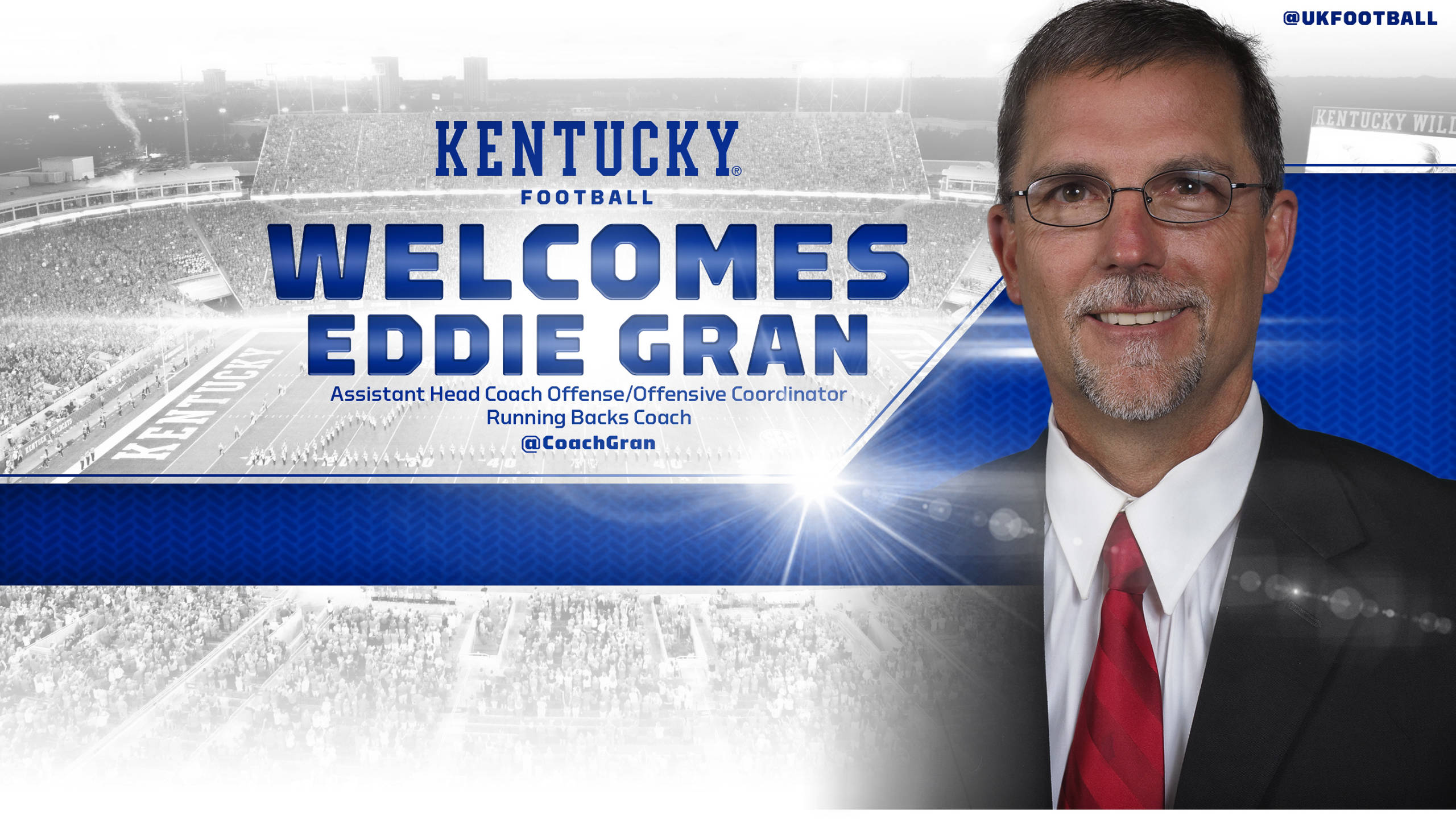 LEXINGTON, Ky. — A 28-year collegiate coaching veteran, Eddie Gran has been named assistant head coach of the offense/offensive coordinator as well as running backs coach, Kentucky head coach Mark Stoops has announced.
Gran joins the Kentucky staff after a three-year run as the offensive coordinator at Cincinnati and is reunited with Stoops after serving as the associate head coach, running backs coach and special teams coordinator at Florida State from 2010-12.
"Having worked with Eddie at Florida State, he is an outstanding coach with great experience, including a lot of years in the SEC," Stoops said. "He is a great leader with tremendous passion for the game."
A veteran offensive mind with coaching stops including Miami (Fla.), Ole Miss, Auburn, Tennessee and Florida State, Gran boasts a reputation for mentoring running backs. He has helped develop dynamic running backs at nearly every coaching stop during his decorated career, including former Auburn stars Carnell Williams, Ronnie Brown, Rudi Johnson, Ben Tate, Brandon Jacobs, Heath Evans and Kenny Irons, and Ole Miss greats Deuce McAllister and John Avery. While at Tennessee, he guided Montario Hardesty to a 1,000 yard season.
"I'm very excited to be at Kentucky," Gran said. "I had the opportunity at Florida State to work three years with Coach Stoops, and No. 1, it's his passion for football and what he stands for – family. I really got know Chantel and the kids as my kids were able to be with them for three years. All of that matters in this profession and being around great people is important.
"I'm excited about the challenges. It's a great conference. It's the best conference in America and if you're a college football coach this is the level you want to be coaching. I spent 15 years in the SEC and being in those stadiums and the defenses you will be facing, it's what you want if you're a competitor and if you want to play against the best."
Gran also boasts an impressive record on the recruiting trail, succeeding throughout his career in Florida. He helped Florida State obtain the nation's top ranked class in 2011 and was named by ESPN.com as one of the top 25 recruiters of the year in 2011, helping secure a bevy of talent that helped the Seminoles to the national championship in the 2013 season.
While teaming with Stoops on the Florida State coaching staff, Gran served as associate head coach, running backs coach and special teams coordinator, helping lead the Seminoles to their first Atlantic Coast Conference Championship since 2005, first 11-win season since 2000 and ninth Orange Bowl appearance in 2012.
He had an immediate impact at Cincinnati, guiding a record-setting offense in 2013, as the Bearcats led the American Athletic Conference in total offense (472.1) and rushing offense (168.3) with the offense totaling a school-record 6,137 yards.  In 2015, those marks were eclipsed. Through games of Dec. 26, Cincinnati ranks seventh in the nation in total offense at 537.8 yards per game, having accumulated a staggering 6,992 total yards. UC is sixth in the nation in passing offense with 359.9 yards per game and also rushed for 177.9 yards per game this season.
Gran's coaching career began at his alma mater Cal Lutheran, where he played four seasons as a wide receiver. He spent 14 seasons as a running backs coach and special team coordinator in the Southeastern Conference, including 10 years at Auburn, followed by a stop at Tennessee.
While guiding the special teams unit for FSU in 2012, kicker Dustin Hopkins set the NCAA career record for scoring by a kicker and was a finalist for the Lou Groza Award for the second-straight year in addition to All-America honors and First Team All-ACC accolades. Hopkins set the NCAA career scoring record for kickers (466 points), as well as establishing NCAA, ACC and FSU records with 88 career field goals.
The Seminoles' punt return and kickoff return units were arguably the most dynamic in the country, as each ranked second in the ACC and No. 7 and No. 17 in nation, respectively. Rashad Greene scored two touchdowns on punt returns and ranked second in the country with a 15.35 punt return average, while Tyler Hunter also had a punt return score. On kickoff returns, Lamarcus Joyner and Karlos Williams combined to average 24.6 yards per return.
Under Gran's direction, FSU's stable of running backs also had one of the most prolific seasons in the country and in school history, averaging 203 rushing yards per game and tallying 2,639 yards and an FSU-record 37 touchdowns on the ground in 2012.
The Seminoles rushed for over 200 yards seven times, including a 385-yard performance versus Wake Forest, and had three different running backs rush for over 500 yards in Chris Thompson (687 yards, five touchdowns), Devonta Freeman (630 yards, eight touchdowns) and James Wilder, Jr. (583 yards, 13 touchdowns). Thompson, who played in eight games before suffering a season-ending knee injury, was named Second Team All-ACC and captured the ACC's Brian Piccolo Award given to the conference's "most courageous" player.
Florida State boasted the nation's second-best special teams unit in 2011 based on the Football Outsiders Efficiency Ratings. Shawn Powell became FSU's first consensus All-America punter and the school's all-time leader in multiple punting categories as a three-year starter. Powell led the Football Bowl Subdivision with a 47-yard overall average and the Seminoles ranked second nationally in net punting (41.3). Hopkins was named one of three finalists for the Lou Groza Award and Gran's return game featured some of the most electrifying players in Greg Reid, Joyner and Williams. Reid was one of the nation's most dangerous punt return specialists in the ACC, averaging 10.7 yards per return and scoring two touchdowns during the 2010 and 2011 seasons.
In 2011 for FSU, Gran's running back corps played behind a banged-up offensive line, bringing down the group's production from the 2010 season. However, Gran still produced one of the top freshman running backs in FSU history as Freeman ran for 579 yards – the fifth-best single season total by an FSU freshman. Freeman also led the team with eight rushing touchdowns.
Gran helped develop Florida State's running game into one of the strongest in the ACC in his first season in Tallahassee in 2010. The Seminoles averaged nearly 5.0 yards per carry and ranked third in the league in rushing touchdowns with 27. The Seminoles ranked fourth in the league in scoring as compared to sixth the year before Gran's arrival. In 2010, three Seminole running backs gained more than 400 yards rushing on the ground led by FSU's leading rusher Thompson, who gained 845 yards. It was only the sixth time in FSU history that a trio gained more than 400 yards in a season. FSU ran for more than 200 yards five times as a team including a 298-yard performance against in-state rival Miami, which capped off a string of four consecutive 200-yard rushing games – BYU (278), Wake Forest (201), Virginia (256) and Miami (298). FSU ran for 218 yards in the Chick-fil-A bowl win over SEC East Champion South Carolina. Gran has a strong record for developing backfield talent.
Tennessee's Hardesty (1,345 yards) added his name to the lengthy list of 1,000-yard rushers Gran has worked with over the course of his career in '09. Hardesty, who did not fumble on 282 carries from scrimmage in 2009, was a second-round draft pick of the Cleveland Browns in 2010. He was selected one slot after Auburn's Tate (Houston Texans), whom Gran coached in 2008.
Gran's tenure as a special teams coach included oversight of Auburn kicker John Vaughn, who was the SEC Special Teams Player of the Year in 2006.
Gran has four daughters, Bently, Dillan, Sydney and Lucy Grace.
He is deeply involved in the community for a cause that has changed his life and continues to impact others. The Sydney Gran Foundation is a charity designed to support children's hospitals and other families whose children are facing serious illness. Sydney, the third of the Gran's four daughters, was born with the rare disease called Holoprosnecephaly. She passed away just shy of her sixth birthday in 2005. Additional information is available at www.sydneygranfoundation.org.
EDDIE GRAN FILE
Personal
Daughters: Bently, Dillan, Sydney and Lucy Grace
Academic
1987, B.S. Cal Lutheran (WR) – 1984-87
Coaching
Kentucky – Head coach of the offense/offensive coordinator, running backs coach – 2016
Cincinnati – Offensive coordinator, running backs coach – 2013-15
Florida State – Associate head coach, offensive coordinator, running backs coach – 2010-12
Tennessee – Special teams coordinator, running backs coach – 2009
Auburn – Special teams coordinator, running backs coach – 1999-2008
Ole Miss – Special teams coordinator, running backs coach – 1995-98
Idaho State – Wide receivers coach – 1994
Cincinnati – Wide receivers coach – 1992-93
Miami (Fla.) – Graduate assistant  coach – 1990-91
East Carolina – Graduate assistant coach – 1989
SE Missouri State – Running backs coach – 1989
Cal Lutheran – Wide receivers coach – 1987-88
GRAN'S BOWL HISTORY
Year School – Bowl
1990 Miami (Fla.) – Cotton
1997 Ole Miss – Motor City
1998 Ole Miss – Independence
2000 Auburn – Citrus
2001 Auburn – Peach
2002 Auburn – Capital One
2003 Auburn – Music City
2004 Auburn – Sugar
2005 Auburn – Capital One
2006 Auburn – Cotton
2007 Auburn – Chick-fil-A
2009 Tennessee – Chick-fil-A
2010 Florida State – Chick-fil-A
2011 Florida State – Champs Sports
2012 Florida State – Orange
2013 Cincinnati – Belk
2014 Cincinnati – Military
2015 Cincinnati -Hawai'i