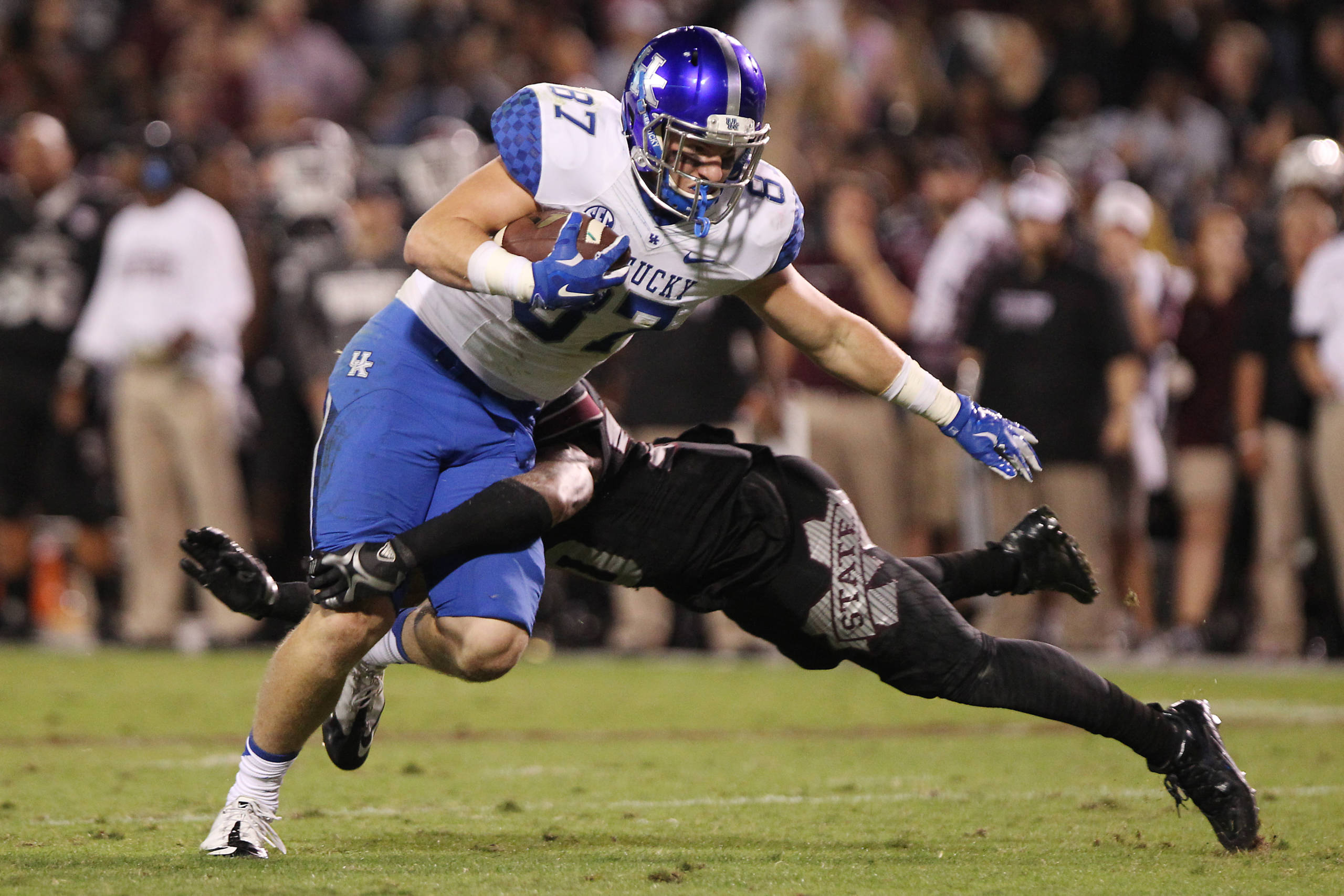 LEXINGTON, Ky. — Kentucky tight end C.J. Conrad and cornerback Chris Westry have earned Third-Team Athlon Sports All-Freshman recognition, the publication announced on Wednesday afternoon.
Kentucky has now had 25 players earn freshman All-America honors, dating back to 1986. It marks the second consecutive year UK has had a freshman honored, including kicker Austin MacGinnis and tailback Boom Williams in 2014. Conrad and Westry were also named 2015 Southeastern Conference All-Freshman in a voting of the league coaches.
A native of LaGrange, Ohio, Conrad led all SEC freshman tight ends with 15 catches, collecting 149 yards and a touchdown. A fierce run blocker early in the season, Conrad broke out as a receiving option in a win over No. 23 Missouri, totaling three catches for 55 yards and a 28-yard touchdown.
Westry, a native of Orange Park, Fla., started all 12 games for the Wildcats, ranking second among SEC freshmen with 10 passes defended. The 6-foot-4 corner had a team-high eight pass break-ups, adding 36 tackles, one QB hurry and two interceptions. He was named SEC Freshman of the Week after a game-winning interception at South Carolina to open conference play. He also picked off a pass at Mississippi State, the first interception of the year thrown by MSU standout QB Dak Prescott.
Kentucky Freshman All-America Selections (since 1986)
1986 – Ron Robinson, DB
The Sporting News (1st Team)
1988 – Jerry Bell, DG
Football News (1st Team)
1988 – Greg Lahr, OT
Football News (1st Team)
1989 – Chuck Bradley, OT
Football News (1st Team)
1993 – Moe Williams, TB
Football News (2nd Team)
1997 – Willie Gary, FS
The Sporting News (1st Team)
1998 – Matt Brown, OT
The Sporting News (3rd Team)
1998 – David Johnson, SS
The Sporting News (1st Team)
1998 – Dennis Johnson, DE
The Sporting News (2nd Team)
1999 – Kip Sixbery, OG
The Sporting News (1st Team)
Football News (2nd Team)
2000 – Antonio Hall, OT
Rivals.com (1st Team)
The Sporting News (3rd Team)
2000 – Chad Scott, RB
The Sporting News (3rd Team)
2003 – Lamar Mills, NT
The Sporting News (1st Team)
2003 – Durrell White, LB
The Sporting News (3rd Team)
2004 – Ricky Abren, NT
Rivals.com (2nd Team)
CollegeSportsReport.com (3rd team)
2005 – Braxton Kelley, LB
Rivals.com (2nd Team)
The Sporting News (3rd Team)
2006 – Trevard Lindley, CB
Rivals.com , TSN, FWAA (1st Team)
2009 – Taylor Wyndham, DE
Phil Steele's College Football (2nd Team)
CollegeFootballNews.com (3rd Team)
2010 – Jordan Aumiller, TE
Phil Steele's College Football (4th Team)
2010 – Qua Huzzie, LB
Phil Steele's College Football (5th Team)
2012 – Landon Foster, P
Rivals.com (1st Team)
CollegeFootballNews.com (2nd team)
2014 – Austin MacGinnis, K
Scout.com (1st team)
2014 – Stanley "Boom" Williams, KOR
Phil Steele's College Football (1st Team)
The Sporting News (1st team)
2015 – C.J. Conrad, TE
Athlon Sports (3rd Team)
2015 – Chris Westry, CB
Athlon Sports (3rd Team)