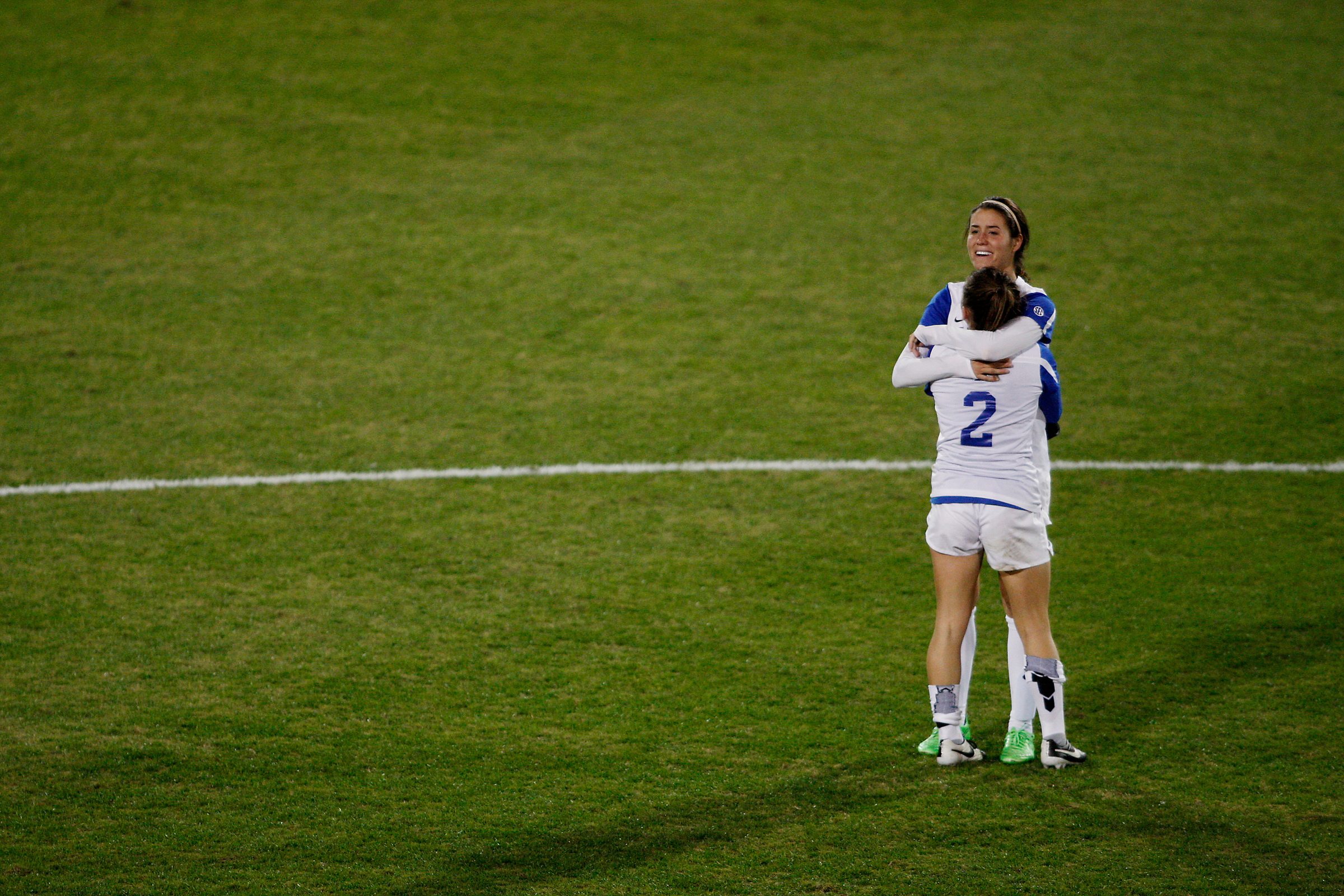 October 29, 2015 - 11:39 PM
Kentucky Pushes Through to Orange Beach Despite 3-2 Loss
BOX SCORE | SEC TOURNAMENT BRACKET
LEXINGTON, Ky. – The Kentucky women's soccer team celebrated a bittersweet night on all occasions Thursday night at the Wendell & Vickie Bell Soccer Complex, as it bid farewell to the graduating class of 2015 with a pre-match ceremony before a 3-2 loss to the LSU Tigers.
However, with the other results around the Southeastern Conference on Thursday night, Kentucky clinched the final spot in the2015 SEC Tournament to be held in Orange Beach, Ala., next week. The Wildcats will face LSU on Monday afternoon at 4:30 p.m. ET and it will be shown live on the SEC Network. 
Kentucky had the better of the run of play on Thursday night at The Bell, outshooting the Tigers 19-10 overall and put seven of those shots on frame. LSU capitalized on its only chance in the first half, as Natalia Gomez-Junco scored off a free kick from 24 yards away past the UK wall and keeper Katelyn Jensen for the 1-0 lead five minutes into the match.
The match would go 1-0 into the locker room at the half, as the Wildcats outshot the Tigers 9-2 in the first 45 minutes and had four corner kicks to none for the Tigers, but UK wasn't quite clinical enough in the final third to score. 
In the second half, LSU again scored against the run of play as Jorian Baucom scored her team-high 14th goal of the season off a double-assisted goal from Lexi Gibbs and Alex Thomas to put LSU up 2-0 in the 64th minute.
UK responded six minutes later as Jade Klump headed in her fourth goal of the season in the 70th minute off a beautiful cross-field service from Cara Ledman. LSU would re-claim the lead just 30 seconds later, as Baucom scored her second goal of the match to put LSU up two goals again late in the match.
Kentucky would score again in the 71st minute as Tanya Samarzich scored her second goal of the season to cut it to 3-2 off a bouncing ball in the box off Kaitlin Miller service, but the clock ran out on UK's chance to win the match. 
This is the sixth-straight year that Kentucky has qualified for the SEC Tournament under head coach Jon Lipsitz, who is in his seventh season as the head coach at UK. Kentucky made it to the SEC Tournament Championship match a season ago, and will be looking for that same mojo this season. 
For the latest on the Kentucky women's soccer team, follow @UKWomensSoccer on Twitter, Instagram and Facebook, as well as on the web at UKathletics.com.