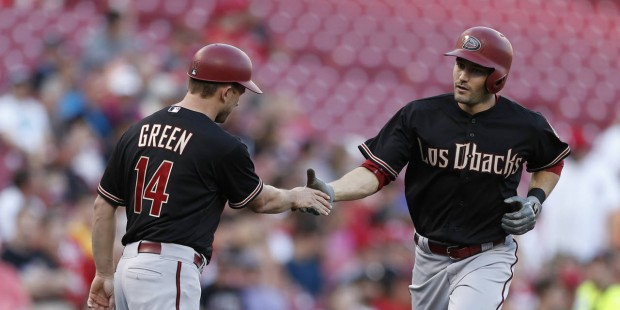 As Andy Green was growing up off Euclid Avenue as a youth in Lexington, there was one thing he wanted to be when he grew up.
A Kentucky basketball player.
A baseball and basketball star at Lexington Christian Academy, Green felt like every young athlete growing up within earshot of the Kentucky campus. He wanted to play basketball for the most decorated program in NCAA hoops.
But as he developed into a 5-foot-9 high-school star for the Eagles, it became clear he had a future playing his other sport.
Kentucky baseball coach Keith Madison developed a strong relationship with Green, before ever serving as his coach. Madison's wife, Sharon, was a teacher at LCA, where their son, Austin, was Green's teammate. 
While Austin and Andy played together at LCA, Madison quickly realized he wanted Andy to play for the Wildcats.
"Every game that I wasn't coaching or recruiting somewhere, I would show up," Madison remembered. "Then I started thinking that I really did need to show up."
Madison recruited Green to his Kentucky roster. While some on his staff were skeptical about the addition of an undersized right-handed hitter, Madison was confident in Green's spot on the roster and it didn't have anything to do with his baseball abilities.
"He had this crude, ugly swing as a freshman," Madison said. "He worked at it. And as you know, he became the all-time hits guy. This term is probably overused in baseball right now but he was a grinder. He just would not give in."
A lifelong Kentucky fan, Green was made to wear the Kentucky jersey.
"I can still remember the first day I showed up on campus," Green said. "I remember going into the clubhouse, the first day I got to UK and just pulling on the practice gear and feeling this overwhelming sense of pride that I was now a University of Kentucky athlete. It is a pride that has been unmatched in me the rest of my life. To play baseball there for coach Madison, for a man who impacted my life in such a positive way, I have never experienced a moment where I felt more pride than putting 'Kentucky' across my chest."
A WILDCAT
It didn't take long for Green to entrench himself in Madison's lineup.
As a freshman, he started 54 of UK's 55 games as the Wildcats struggled to 20 wins after a 35 win season the year before. He hit .288 with seven doubles, three triples, six homers, 29 RBI and 11 steals.
"He was raw as a player because he didn't play a lot of the big-time travel ball but he was such a quick learner and had such a high baseball IQ," Madison said. "He started as a freshman and you couldn't get him out of the lineup."
Green's sophomore campaign saw the Wildcats continue to improve, claiming 12 SEC wins as he hit .291 with four homers and 32 RBI. The Wildcats climbed to 13 league wins during Green's junior season, which turned out to be his worst statistical season.
"The greatest thing I learned through my four years there, and I was not always anywhere near the best player on the team, was dealing with disappointment," Green said. "I wanted to quit at times. Almost every college athlete hits a moment where it is so much work, so much pressure, if you let it be, and so much sacrifice. And in baseball, so much failure at times, that it demoralizes you if you let it.
"To have Coach Madison there to walk me through those moments was critical. Doug Flynn was a volunteer assistant at the time and did wonders for me. And Jan Weisberg was our hitting coach. To lift my spirits in those moments when I felt defeated on a baseball field. You have to get past those moments and get back to fighting and winning. I remember learning so much there. So much that shaped me as a professional athlete and now a major league coach. I am so thankful for my time at UK."
In 2000, Kentucky was loaded. With Green anchoring the top of the order the Wildcats opened the season with 16 consecutive wins, rolling to 38 wins and a 19-1 record vs. non-conference foes.
"We went out there to win every day," Green said. "I remember that senior season, where we reeled off 16 wins to start the season and we were competing with the best in the nation. How much pride I had in how good we had gotten over the years that I had been there. Every day was a fight to win.
Green led UK in hitting with a .368 average, adding 18 doubles, three triples, 11 homers and 45 RBI, stealing 27 bases.
"That was a great team because the guys just played hard," Madison said. "We had such positive leadership on that team with Andy, John Wilson, Brandon Webb and Joe Blanton."
UK's lineup was deadly behind the power trio of John Wilson, Aaron McGlone and Vince Harrison, who combined to hit 33 homers, including 18 from Wilson.
"I loved that year," Green said. "I loved how hard we fought all year and the comradery we had. John Wilson was one of the best baseball players I have ever played with. Brandon Webb turns into a Cy Young winner. Joe Blanton was on that team, who has turned in a decade in the major leagues. Aaron McGlone, who was our second all-time hitter at UK, just a tremendous group of guys. We had a great comradery, a great time."
PRO CAREER OR NOT?
When his career concluded vs. No. 1 South Carolina – a team UK had beaten two days earlier – in the SEC Tournament in Hoover, Ala., Green didn't know what was next.
A few days later the Arizona Diamondbacks selected Green in the 24th round of the 2000 MLB Draft, not exactly a high-value pick.
He now had to decide whether to put his degree earned in an Academic All-America career to use or keep the dream of playing baseball alive.
"When he got drafted after his senior year, it was a late draft, and he talked to me about it and said, 'Look, I've done a pretty good job academically here, is this worth me even trying? Is it worth it?'" Madison recalled. "I told him that while I didn't get to the big leagues, without playing professional baseball I wouldn't be the head coach at Kentucky. That started me in a baseball career and opened up a lot of doors early in my career. I thought it was going to be a tremendous experience for him, even if he didn't make it to the big leagues, he was going to meet people and make contacts. You was going to learn a lot about yourself and it was just going to be a great resume builder. The next day he came back and said he was going to give it a shot. I am so thankful that I didn't discourage him, because quite frankly for someone 5-foot-9, 170 pounds, it would have been easy to say tell him, 'you are a 3.9 (GPA) student, move on with your life,'. I believed it would be good for him and am thankful that I encouraged him instead of taking a more realistic approach that would have been easy to take."
Green signed with the Diamondbacks and went to work, playing 11 professional seasons. He spent four years toiling in minor league baseball before making his MLB debut with 17 games for the Dbacks in 2004.
"I was a 24th-round draft pick," Green said. "I wasn't high on anybody's list of future major league prospects. I never appeared on any prospect list. I am a worker and grinder by nature. I just put my head down and went to work and was able to play for a lot of good managers along the way."
He played 2004-06 in the Diamondbacks organization, shuffling from triple-A to the big-league roster. In 2007, Green traveled to Japan to play for the Nippon Ham Fighters, a team that included future MLB ace Yu Darvish.
"I never worried about where I would end up, I never thought about things like that," Green said. "I just thought about the game that was there that day. There is no real stress in the present. If you are living out in the future and worried about where your career is going to go, it is a very stressful game. If you are worried about the mistakes you made in the past it is a very stressful game. By and large I was wired in such a way that I could just get absorbed in the moment and the game. That is the game's greatest gift to me, just the release and the rest of the world just fades away and in the moment that you are on a baseball field you are just locked into winning a baseball game."
When he thinks back to the relationship developed with his head coach, Green is grateful to have had such a mentor.
"He became a father figure to me, especially in that time of my life," Green said. "I think that is common for college athletes but to get a role model as great as him was a tremendous blessing for me."
CAREER IN BASEBALL
Green's playing career concluded in 2010, after the infielder/outfielder returned to affiliated minor league baseball for three more seasons.
He reached the big leagues with the Mets in 2009, before playing 78 games for the Buffalo Bisons in 2010 in triple-A.
It didn't take long for the Diamondbacks to swipe him up into their coaching ranks. He was named the manager of the rookie-level Missoula Osprey in 2012, leading the club to the Pioneer League Championship.
That earned him a promotion to the double-A Mobile BayBears, where he became the first two-time Manager of the Year in Southern League history in 2013-14.
During the 2014 offseason, Green got his first chance to interview for a big-league managerial job. He impressed enough in his interview with the Diamondbacks brass that he was hired as the third-base coach under Chip Hale, who ultimately got the job. Hale was a former manager of Green's during his minor league career and the two formed a strong team.
Known around the Dbacks clubhouse as "Greeny", Green helped Arizona to 79 wins and a third-place finish in the National League Western Division in 2015, despite a largely unproven roster at the big-league level. He helped Paul Goldschmidt, the Dbacks offensive anchor, to a 1.005 OPS season with 33 homers and 110 RBI and saw centerfielder A.J. Pollock turn into a regular with a .315 average and 20 homers.
After the San Diego Padres replaced managers Bud Black and Pat Murphy in 2015, Green was named the new manager on Oct. 29 in a press conference at Petco Park.
He is the first former UK player to be named a MLB manager and sees the impact of Madison as instrumental in his career.
"The greatest compliment you could ever pay somebody in life is to ultimately end up doing what they do with your life. To be impacted in such a positive way that you want to have the same type of impact on people," Green said. "It is not necessarily about winning championships but it is about making men and having a hand in building people, because that is greater than building programs. Coach Madison helped build me. To turn around now with my life, and invest in players at the major league level and the minor league level, it is about having that type of impact. He pushed me in that direction, never with words, or telling me to go coach, but when you impact someone in such a positive way you feel that internally, you want to do that for someone else. That is the way I look at him. He has been a tremendous influencer of my life, someone I still call for counsel, whenever I get backwards, which we all do at times, he is a man I respect and admire." 
UK HALL OF FAMER
On Oct. 3, Kentucky inducted Green into its Hall of Fame, fulfilling a life-long dream for the former LCA two-sport star.
"When you grow up two minutes from UK's campus all you ever dream of is being a Wildcat – you don't even dream about being a big-league baseball player – you just dream about being a Wildcat," Green said. "To receive a call from Mitch (Barnhart) letting me know I am going to be a Hall of Famer, I can't recall an honor in my life that meant more to me in that moment. To be a UK Hall of Fame athlete, as a boy that grew up in Lexington, there is nothing sweeter."