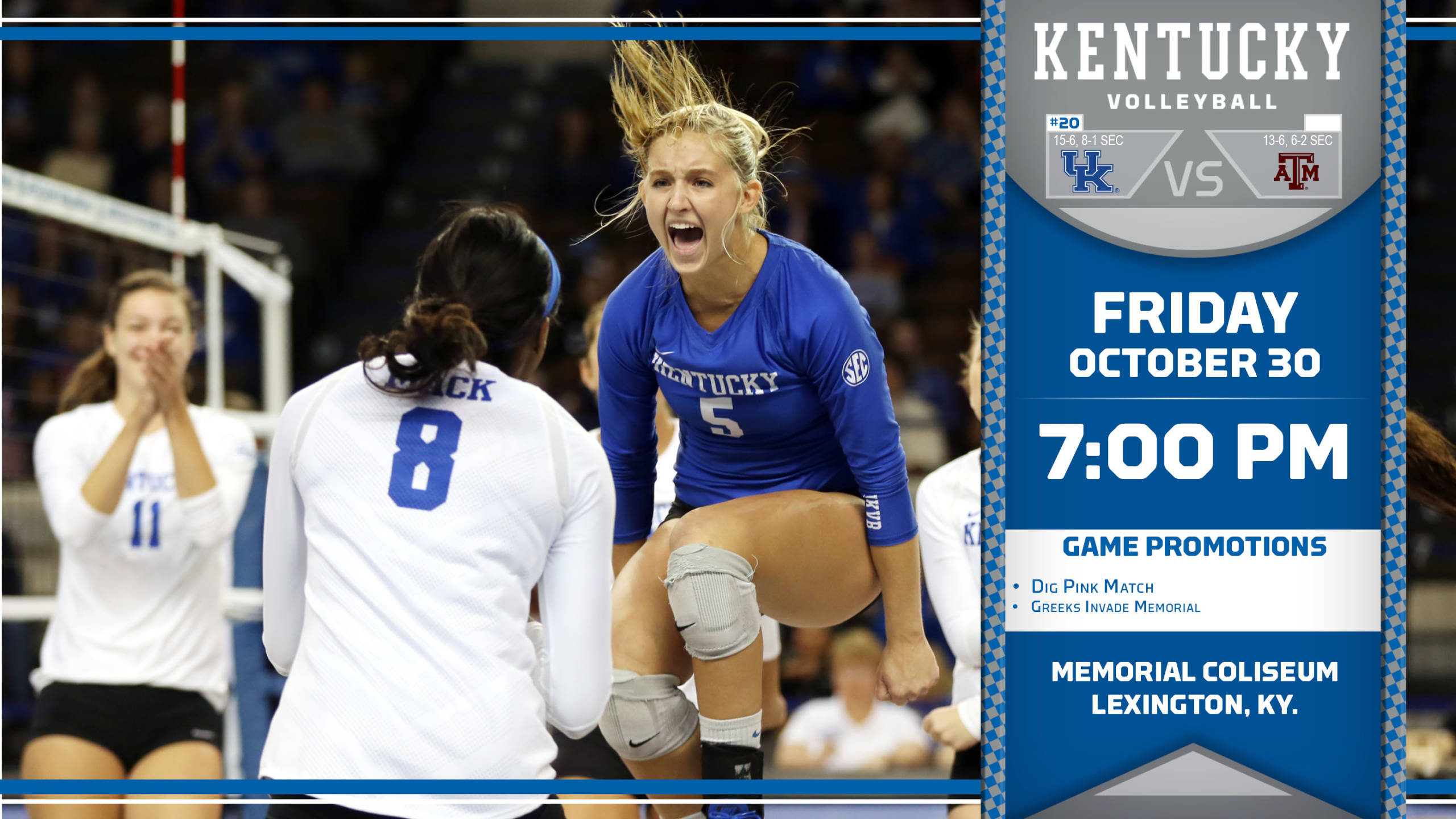 October 29, 2015 - 11:55 AM
No. 20 Wildcats to Play Host to Texas A&M Friday
LEXINGTON, Ky. –  Following consecutive sweeps on the road, the 20th-ranked Kentucky Wildcats return to the friendly confines of Memorial Coliseum for a Friday night showdown with the Aggies of Texas A&M, beginning at 7 p.m.
The matchup features the two top teams in the Southeastern Conference, with UK leading the league at 8-1 and Texas A&M on the Wildcats' heels at 6-2 in SEC matches. 
Friday's contest is set for national broadcast on the SEC Network. Paul Sunderland and Nell Fortner will be on the call. 
<="" td="">
="">
#20 Kentucky vs. Texas A&M
Fri., Oct. 30 – 7 p.m.
Memorial Coliseum
Lexington, Ky. 
Match Notes: UK

 | TAMU 
Coverage
TV: SEC Network 
Commentators: Paul Sunderland and Nell Fortner
Radio: UKAthletics.com
Live Video via Watch ESPN
Live Audio
Live Stats
Text Updates
Live Updates @KentuckyVB on Twitter
The Wildcats bounced back last weekend, following their first SEC loss with back-to-back road sweeps. UK began with a 3-0 (25-15, 25-22, 25-18) victory against the Crimson Tide before toppling Ole Miss, 3-0 (25-20, 25-18, 25-23) in Oxford, Miss.
A dominant defensive presence told the tale of both matches. The Wildcats' stifling defense led to a weekend in which opponents were held to .126 hitting as Kentucky out-blocked opponents 27-10, averaging 4.50 rejections per frame during the six sets. Sophomore Kaz Brown was involved in 18 of the 27 team blocks, garnering her first career Player of the Week honor. 
Texas A&M enters its match with the Wildcats on a four-match winning streak including three sweeps the last three matches. Texas A&M will play UK coming off a nine-day hiatus, last playing LSU on Oct. 21. Preseason All-SEC selection Jazzmin Babers leads the Aggies' offense, averaging 3.56 kills per set in conference play. 
For more information on Friday's bout, continue below:
Dig Pink at Memorial Coliseum:
Make sure to wear pink to Friday night's match for Kentucky Volleyball's "Dig Pink" match in support of breast cancer awareness. Fans wearing pink will gain free admission, and the first 1,500 fans in attendance will receive a free set of pink pom poms. All students will receive free pizza as well. 
Greeks Invade Memorial:
As a part of the "Greeks Invade Memorial" promotion, all Greek organizations are encouraged to attend Friday night's match. The fraternity or sorority with the highest attendance at the match will win a VIP tour of Rupp Arena. Additionally, the first 100 Greeks to check in on the BBN rewards app will receive a free long-sleeve "Greeks Invade Memorial" t-shirt. 
Gameday Parking:
We are pleased to offer new parking opportunities this season. In addition to the E lots around the Craft Center and Coal Lodge, fans have the option of parking in the Linden Walk E lots which are across Rose Street from the Singletary Center for the Arts, the E/CS-7 lots near the College of Education off of S. Upper Street, and the Rose Street Garage (PS-2) located on Rose Street, south of the Coliseum with an entrance on Hilltop Avenue near W.T. Young Library. These lots are available for all matches starting three hours before first serve. For our marquee match-ups, including contests with Michigan State, Louisville, Mississippi State, Florida, and Texas A&M, the Limestone Street Garage (PS-5) will also be available. Fans are reminded to never park in lots or spaces designated R for residential and that the Student Center lot is no longer an option due to construction. Parking is limited and fans are encouraged to arrive early,
Brown, Morgan Secure SEC Weekly Accolades
For the third consecutive week, the Kentucky Wildcats claimed Southeastern Conference honors on Oct. 26, as the league office named sophomore Kaz Brown the Player of the Week and Defensive Player of the Week, while freshman right side Brooke Morgan was named the top freshman. 
Brown, en route to her first SEC Player of the Week honor, had a dominant presence at the net logging 18 blocks in six sets of play. With 10 blocks at Ole Miss, Brown tied for the most in an SEC match and most in a three-set SEC match in 2015. Her effort at the net was a large part of helping UK out-block opponents 27-10 in the two outings. Brown also added 14 kills on .345 hitting during the sweeps.
Morgan claimed her third Freshman of the Week honor following a weekend where she hit .520 for 15 kills with nine blocks in six sets. Morgan played a critical role on both sides of the ball and set a new career-best hitting percentage at Alabama, going 7-for-10 with no errors against the Crimson Tide.
Cats Lead SEC Play in Blocks Per Set
Defense at the net has played a large role in UK's success in conference play, as the Kentucky Wildcats rank first in blocks per set in SEC play. The team averages 3.11 blocks per frame in conference play, with Brown, sophomore classmate Emily Franklin and senior Morgan Bergren all ranking among the top 10 blockers in league play. Brown leads SEC play with 1.78 blocks per set, Franklin ranks seventh with 1.12 and Bergren placed 10th with 1.06.
Bergren Closing In On Milestone
Bergren looks to further cement her place in Kentucky volleyball history, as she continues to close in on the 3,500 career assists mark. The Muncie, Ind., native currently sits at 3,443 career assists, needing just 57 more to achieve the benchmark. Only four other Wildcats in Leigh Marcum (2002-05), Jane Belanger (1990-93), Laura Linder (1987-90) and Sarah Rumley (2006-09) have eclipsed the 3,500 assist mark. Additionally, only 20 active players in NCAA Division I have logged 3,500 or more assists in their career. 
Brown, Dusek in National Top 25
Brown and sophomore classmate Ashley Dusek find themselves among the top 25 in the nation in respective statistical categories. Brown ranks in the top 25 in blocks and blocks per set, placing eighth in both categories, with 119 blocks and averaging 1.57 per set in the 2015 campaign. Dusek currently ranks 24th in the country in digs per set, averaging 5.03.
Dusek's Digs, Brown's Blocks Lead Conference
Sophomore libero Ashley Dusek now leads the Southeastern Conference in digs per set, both in all matches (5.03 digs/set) and conference-only statistics (5.38 digs/set). Dusek's 382 total digs are a team best, with the East Bernard, Texas native logging including 166 in SEC action. Sophomore middle Kaz Brown leads the SEC in total blocks (52) and blocks per set (1.78) in league play.
Kentucky's Memorial Coliseum will play host to the NCAA Regionals Dec. 11-12. UK is one of four sites selected for the Sweet 16 and Elite Eight matchups with one team advancing to the Final Four in Omaha, Neb., from the Lexington Region. This marks the third time in five seasons Memorial Coliseum will host this premier volleyball event.