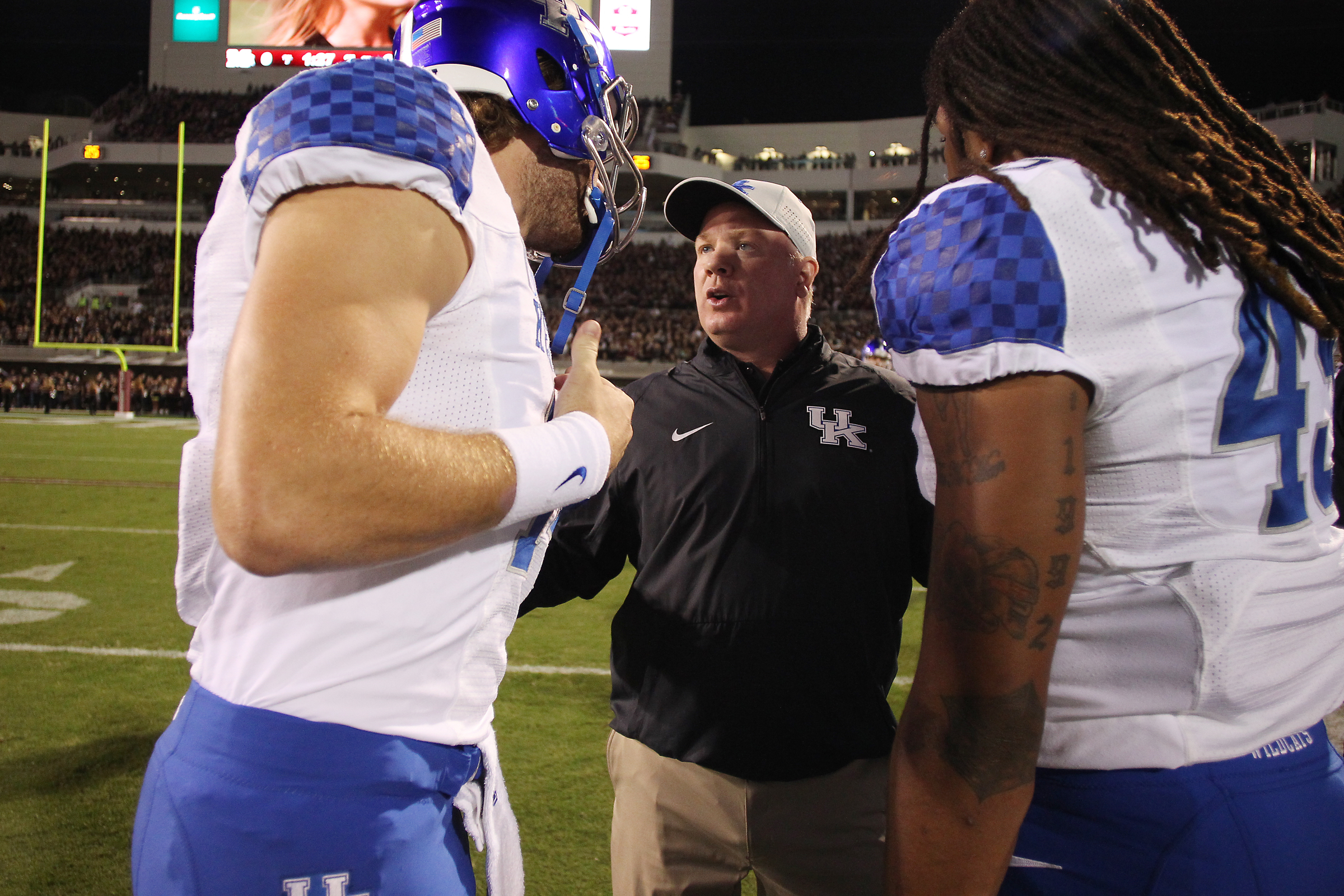 Kentucky's family meeting on Monday started with a message from its patriarch, Mark Stoops.
The head coach spoke for 15-20 minutes to review what happened over the weekend at Mississippi State and discuss how to avoid letting it happen again.
When he finished, he asked if his players had anything to add. A handful of veterans did.
"We had some players come up and say something," Patrick Towles said. "We gotta start doing stuff extra. A lot of people talk about, 'Hey, just keep doing what we're doing.' And we've lost our last two. We gotta start doing extra stuff. If we keep doing what we're doing, we're going to keep losing."
Mired in a two-game losing streak, the Wildcats (4-3, 2-3 Southeastern Conference) aren't about to stand pat in the face of adversity.  Instead, they'll redouble their efforts.
"We're a very, very tight-knit group," Towles said. "We're definitely a family. Families have their problems and we're no different from that. The important thing is how you handle it and how you respond to that. I think we did that well."
The results of the work and that family meeting, however, won't be clear until UK takes on Tennessee (3-4, 1-3 SEC) at 7:30 p.m. on Saturday in Commonwealth Stadium.  The game is an unmistakably big one, as both teams are chasing bowl eligibility.
"It will be good to come back off of such a disappointing loss and play a rival," Stoops said. "It will give us some extra juice this week to get out there and play a lot better than we did last week."
Towles doesn't deny the existence of that extra juice.
"Being a Kentucky fan, I love playing Tennessee," Towles said. "It's super awesome for me and I have a lot of fun doing it. I take a lot of pride playing against them. We're excited. Our guys are ready. It's going to be a lot of fun here Saturday."
The redshirt junior saw the field for the first time in his career against the Volunteers last season on the road, but not successfully. Tennessee was dominant in that matchup, handcuffing Towles and winning 50-16, making them all the more eager for another chance.
"I think just kind of missed some throws," Towles said. "I think I wasn't necessarily accurate. That was kind of a stretch last year where I wasn't super accurate with the football. I know for a fact that I'm better with the football now, throwing way better than I was last year right now."
In spite of a solid start, Towles and the UK offense sputtered against a big Mississippi State defense. A similar test awaits against a Tennessee team that lost to national-title contender Alabama 19-14 over the weekend and whose most lopsided loss came in double-overtime against top-20 Oklahoma.
"Tennessee, again, a lot like last week in I think they are a physical team with good size and good length and good strength across the board and it's skilled," Stoops said. "A lot like last week, they put a lot of pressure on you in a lot of ways. I really respect the way they play defensively and how hard they play. I think they play with great effort and are very well coached."
The same is true on the other side of the ball, where Tennessee relies on another mobile quarterback to spearhead its attack. Josh Dobbs threw for 297 yards and three touchdowns and added a rushing touchdown a season ago against Kentucky in a performance similar to the one Mississippi State's Dak Prescott turned in last Saturday.
"We have to do better than what we did on Saturday against a similar type of offense," defensive coordinator D.J. Eliot said. "It's got to improve. We're more focused on us than concerning ourselves about the opponent. We're really focusing on us getting better and improving from our mistakes."
Considering the challenge at hand for UK's Halloween showdown with the Volunteers, improvement will be essential.
"We have to do a better job of staying with the plan and just counting on our players to step up," Stoops said. "You try to do some things to protect, but you can't do that. There is not a lot of magical things you can do all the time. You have to win some one-on-one plays, especially when teams put you in the run-pass conflict all the time and can hurt you in the pass game. We will have our hands full and have a good plan, but we have to win some one-on-one battles and cover some people."