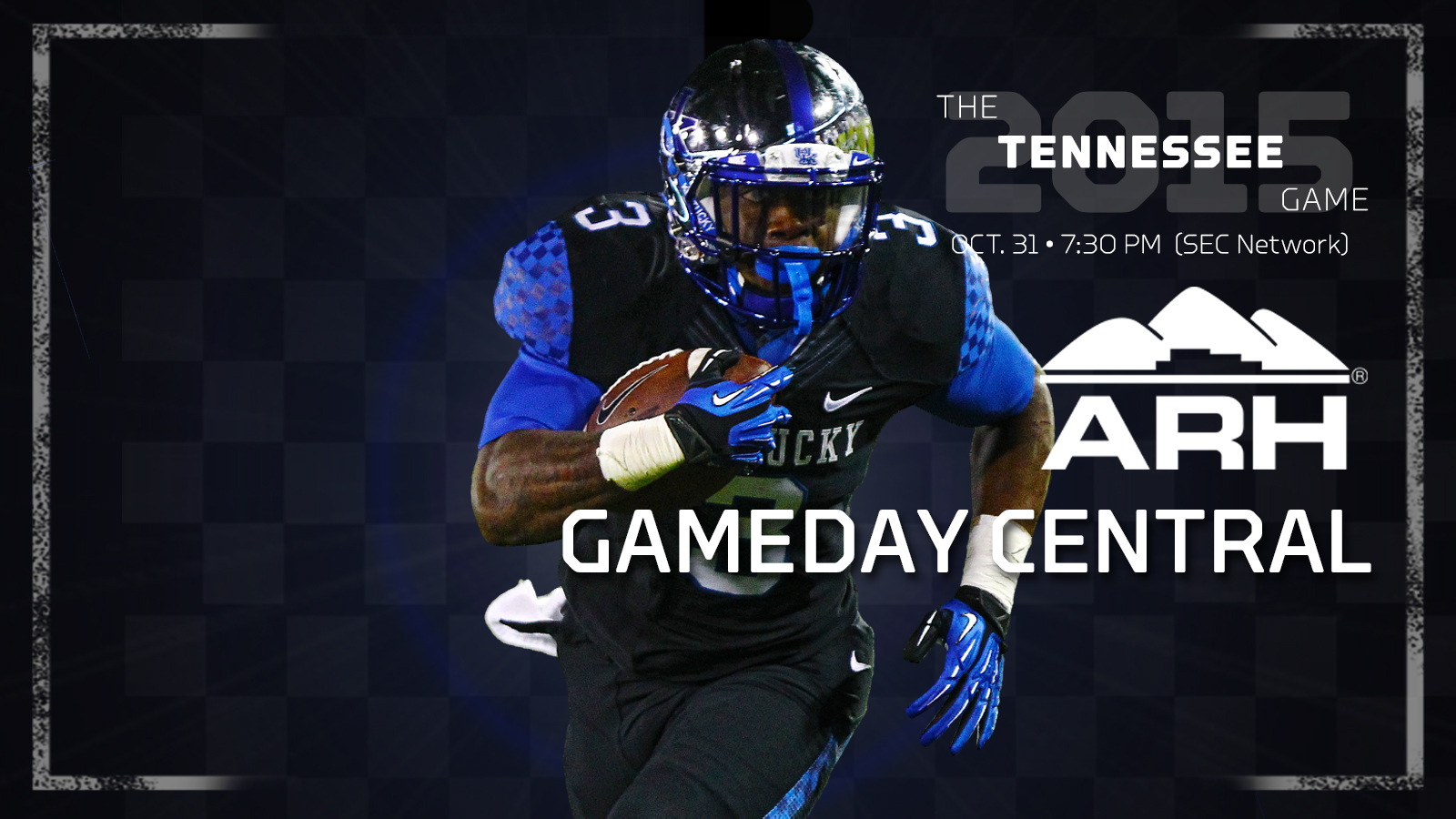 With three road tests in a four-week span, Kentucky will break from travel and play host to border rival Tennessee, with kickoff on Saturday slated for 7:30 p.m. ET at The New Commonwealth Stadium. Traditionally an end-of-season game, this will be the first time the teams have met in October since 1909.
Tennessee at Kentucky
Sat., Oct. 31 – 7:30 p.m. ET
The New Commonwealth Stadium
Lexington, Ky.
Game Notes: UK

| UT


Digital Gameday Program
Gameday App
Coverage

TV: SEC Network
Radio: UK Sports Network
Watch ESPN
Live Audio

Live Stats

Text Updates

UK
2015 Team Stats
UT
4-3
Record
3-4
2-3
Conference Record
1-3
24.7
Scoring/game
33.9
392.6
Total offense/game
415.9
139.4
Rushing yards/game
209.1
253.1
Passing yards/game
206.7
23.0
Kickoff returns (avg)
236.9
10.6
Punt returns (avg)
15.5
39.7
Punting (avg)
46.9
29:26
Time of possession/game
29:53
42%
Third down conversion
44%
80%
Fourth down conversion
71%
25.9
Points allowed/game
24.7
405.0
Total yards allowed/game
411.1
172.7
Rush yards allowed/game
162.9
232.3
Pass yards allowed/game
248.3
Kentucky will be seeking to snap a two-game losing streak overall and improve to level in Southeastern Conference play. UK will travel to Georgia and Vanderbilt following its UT tilt to conclude league action.
The Wildcats are coming off a 42-16 loss at Mississippi State last week. UK got 95 rushing yards from sophomore RB Boom Williams, with QB Patrick Towles tossing 218 yards and WR Dorian Baker leading the club with seven catches for 56 yards. Freshman TE C.J. Conrad had a career game with six catches for 56 yards.
Freshman QB Drew Barker also made his NCAA debut in the fourth quarter, completing 7-of-9 passes for 42 yards and scrambling three times for 20 yards. Defensively, Cory Johnson had a team-high eight tackles, and freshman S Mike Edwards had a career-high seven stops. Senior LB Josh Forrest notched a sack.
Tennessee is coming off a 19-14 loss at No. 8/8 Alabama, with the Vols sustaining close losses at Florida, vs. No. 19/17 Oklahoma and Arkansas, but own a win over No. 19/16 Georgia on Oct. 10.
Cat Scratches: UK 'Family' Closing Ranks before UT Game
Kentucky's family meeting on Monday started with a message from its patriarch, Mark Stoops.
The head coach spoke for 15-20 minutes to review what happened over the weekend at Mississippi State and discuss how to avoid letting it happen again.
When he finished, he asked if his players had anything to add. A handful of veterans did.
"We had some players come up and say something," Patrick Towles said. "We gotta start doing stuff extra. A lot of people talk about, 'Hey, just keep doing what we're doing.' And we've lost our last two. We gotta start doing extra stuff. If we keep doing what we're doing, we're going to keep losing."
Mired in a two-game losing streak, the Wildcats (4-3, 2-3 Southeastern Conference) aren't about to stand pat in the face of adversity.  Instead, they'll redouble their efforts.
 … Read the full story,
here
. 
Series Record vs. Tennessee
In a series that dates back to 1893, Tennessee has a 77-24-9 advantage. The two teams have met annually since 1919, except for 1943, when Kentucky did not field a team. The 110 all-time meetings are the most for UK vs. any one opponent. Kentucky won the first meeting in 1893, 56-0 in Knoxville. In games played in Lexington, Tennessee holds a 36-14-3 lead in the series, including an 18-3 advantage in Commonwealth Stadium. Tennessee had a 26-game winning streak in the series, before UK posted a 10-7 win in 2011 in Lexington, behind the strength of a stout defense and UK senior wide receiver, turned quarterback, Matt Roark. UT has won the last three meetings since the 2011 UK win, including the last two under Coach Butch Jones. Biggest UK win: 56 (56-0) in 1893 in Knoxville (first-ever meeting). Biggest UT win: 52 (52-0) in 1994 in Knoxville. Games decided by 7 points or less: Tennessee leads 24-11-9.
Last time vs. Tennessee
In the 2014 meeting between Kentucky and Tennessee, the Vols posted a 50-16 win in Knoxville. UK got an Austin MacGinnis field goal to open the scoring in the first quarter, before UT tallied 30 unanswered points to stretch its lead to 30-3 with four minutes remaining in the first half. UT collected 511 total yards of offense, including 297 yards through the air. Patrick Towles completed 13-of-25 passes for 168 yards, with senior WR Javess Blue collecting six passes for 131 yards. UK LB Josh Forrest had a 20 tackle effort, with Bud Dupree collecting one sack and 14 tackles and LB Ryan Flannigan charting a career-high 12 tackle game. UT QB Joshua Dobbs was 19-for-27 through the air with three TDs and 297 yards, also rushing for 48 yards and a score. Jalen Hurd carried it 24 times for 118 yards and a touchdown.
Scouting Tennessee
Tennessee (3-4, 1-3 SEC) is led by third-year head coach Butch Jones, who took over in 2013 after successful coaching tenures at Central Michigan and Cincinnati. The Vols are paced by an explosive offensive attack that has generated 415.9 yards per game, including 206.7 yards in the air and 209.1 yards on the ground. UT has averaged 33.9 points per game. Defensively, UT has held opponents to 411.1 yards of total offense, including 162.9 yards per game on the ground. LB Jalen Reeves-Maybin leads the defense with 67 tackles, including 10.5 tackles for a loss and four sacks. LaDarrell McNeil and Todd Kelly Jr. each have two interceptions. QB Joshua Dobbs has charted a strong season, completing 111-of-191 passes for 1,272 yards, throwing just two interceptions and nine TDs. On the ground, Dobbs has five TDs and 387 yards. RB Jalen Hurd leads the club with 664 yards rushing on 144 carries, with Alvin Kamara rushing 50 times for 276 yards and three TDs. Kamara and Josh Malone lead the team with 19 catches, with Kamara catching two TDs and Josh Malone totaling 212 yards and one TD. Ethan Wolf, Josh Smith and Preston Williams have each caught two TDs. Aaron Medley handles field goals for the Vols and is 9-for-17 on the year, with a long of 45. Trevor Daniel has punted 37 times for a 47.1 average, with a long of 61, and 13 dropped inside the 20 and 50 longer than 50 yards.
Texas Roadhouse Countdown to Kickoff
Tune in to the UK Sports Network for the "Texas Roadhouse Countdown to Kickoff" two hours before every football game. From Cat Walk to Cat Talk, host Christi Thomas and former UK Quarterback Freddie Maggard will focus on the X's and O's of the game and bring a little fun to pregame in the first 30 minutes of the show. Afterward, Host Neil Price is joined by Oscar Combs, Dick Gabriel, Tom Leach and Jeff Piecoro to continue the official pregame broadcast until kickoff. The show is broadcast in Lexington on 98.1 WBUL & 630 WLAP, UK Radio Network affiliates, online at ukathletics.com, and in the UK Gameday App. For the first time, the two-hour pregame show will be live streamed every home game for fans to watch on ukathletics.com.
Pregame Activities: SEC Nation, Trick-or-Treating, Concert
Between the Tennessee football game, the Breeders Cup and Halloween,
Oct. 31 will be one of the biggest and busiest Saturdays ever for the
Lexington community. Fans coming to The New Commonwealth Stadium will be
able to celebrate all three. More information.