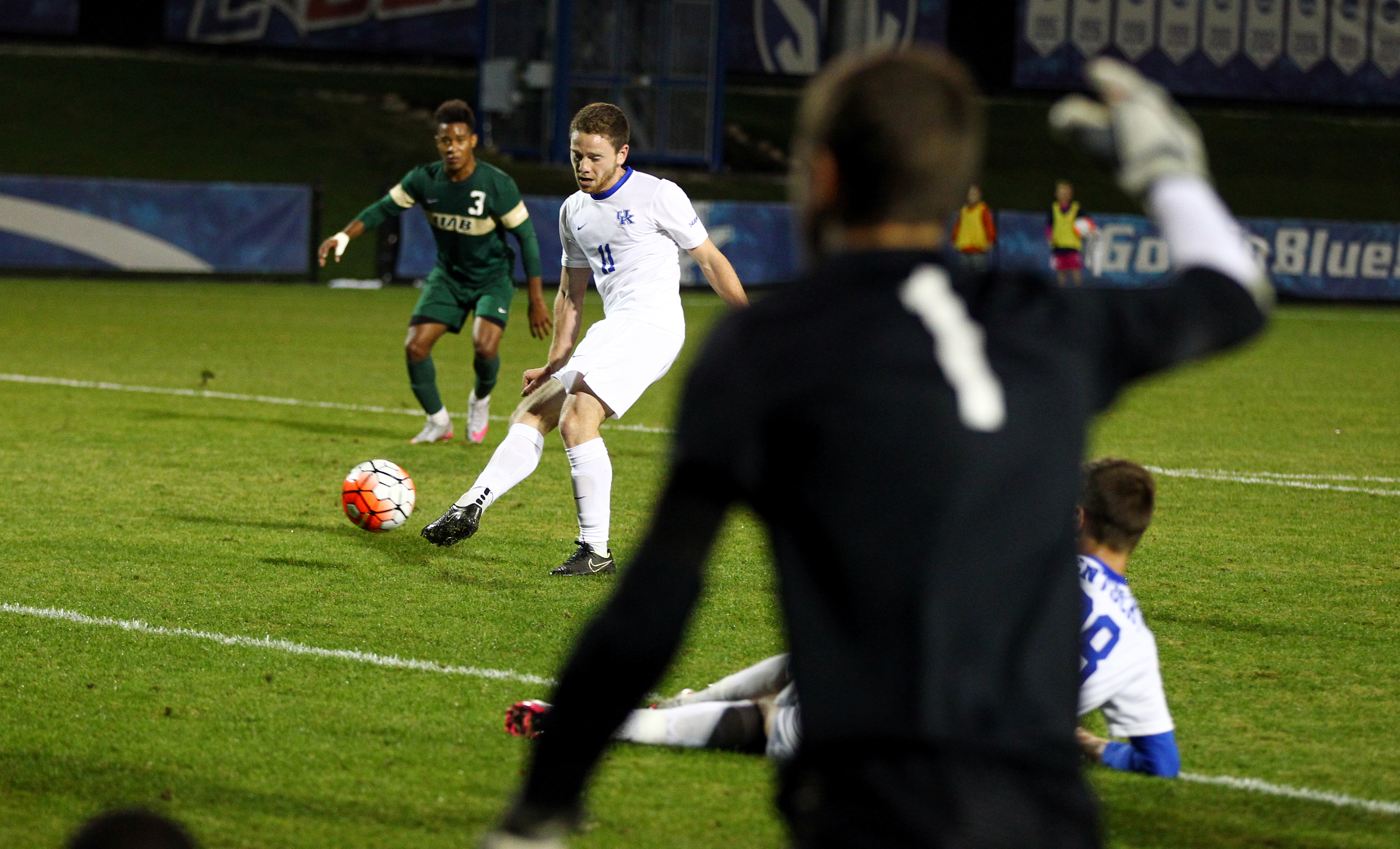 October 28, 2015 - 10:46 PM
Miller's Winner, Irving's Clean Sheet Give UK 1-0 win over UAB
LEXINGTON, Ky. – Callum Irving was spectacular again and Sam Miller smashed home a brilliant Napo Matsoso cross to give the No. 16 Kentucky men's soccer team a 1-0 win over the University of Alabama-Birmingham on Wednesday at The Bell.
The win brought Kentucky to 16 points from six Conference USA matches, tied with Charlotte atop the league table with two matches to play on the conference schedule. 
Those two teams, which faced off head-to-head on the last day of last regular-season with the 49ers edging UK 2-1 at The Bell, will play at Charlotte on Saturday at 8 p.m.
The Wildcats improved to 9-3-2 (W-L-D) overall and 5-0-1 in C-USA action. 
Irving made four saves to keep his seventh shutout of the season, and sixth in the league. Kentucky has scored seven goals and conceded none in league play this season.
Irving, the reigning C-USA Defensive Player of the Week, turned in arguably his best performance of the season as three of his saves were of the spectacular variety. Including two at full stretch from close range in the closing minutes to preserve yet another shutout.
The goal
But Matsoso took matters into his own hands on 83 minutes. The junior midfield virtuoso wove through traffic in the box toward goal, found a way to go past UAB goalkeeper Joe Kuzminsky to the bi-line before cutting a cross back through the six-yard line to a waiting Miller who smashed his second goal of the year from nine yards.
The notes
Kentucky improved to 7-5 against UAB all-time.
The clean sheet took Irving's school-record career total to 25.
Matsoso notched his team-leading sixth assist of the season.
Irving leads C-USA in goals-against average (0.62) and shutouts, and has yet to surrender a goal in conference action (six games, 578.34 minutes). 
As a team Kentucky has eight shutouts this season. Irving does not get full credit for the blanking of Eastern Illinois as he came off for the final 11 minutes of that match.
UAB dropped to 5-9-0 (2-4-0 C-USA) this year.
The quote
"The result was great for the team," junior left back Charlie Reymann said. "We knew we had to get a win tonight. Everyone worked hard. It wasn't the best playing-wise, but we battled and did what we needed to do defensively and took care of business. Having Sam putting that goal away for us was big-time."