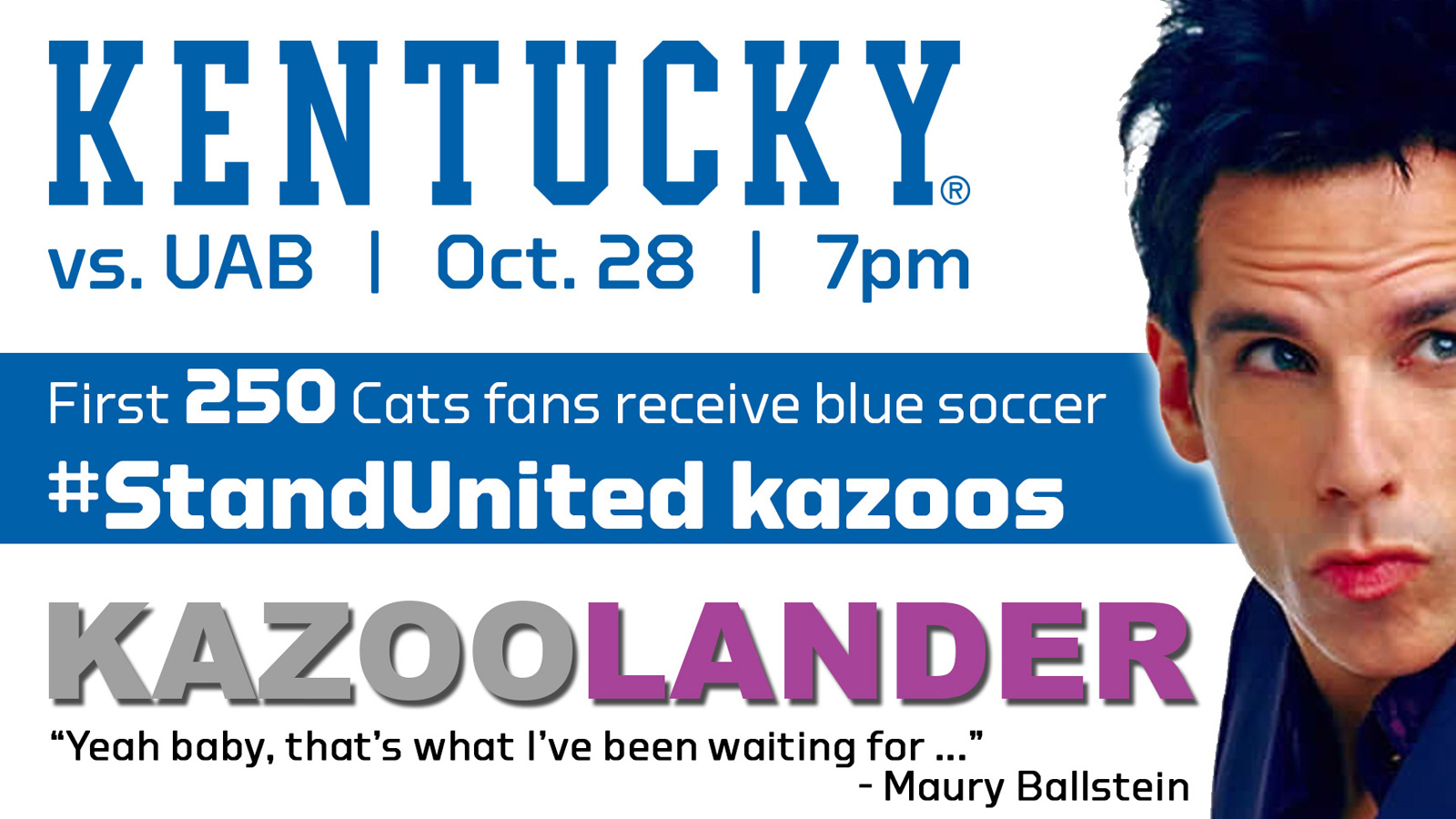 October 27, 2015 - 01:45 PM
No. 16 UK Set for Midweek Clash with UAB
LEXINGTON, Ky. – Sixteenth-ranked Kentucky will look to improve on its unbeaten start to the Conference USA portion of the schedule when it welcomes the University of Alabama-Birmingham to The Bell on Wednesday.
Kickoff is slated for 7:05 p.m. with the match to be televised on SEC Network+.
The match has been designated Kentucky's "Kazoolander" match. The first 250 Wildcats fans in attendance will be eligible to collect a stand united kazoo to help create another raucus, albeit unorthodox, atmosphere at The Bell.
The setup
The Wildcats remained atop of the Conference USA table after earning a point in a 0-0 double-overtime draw at No. 14 Old Dominion on Saturday.
Kentucky moved to 8-3-2 (W-L-D) overall and 4-0-1 in conference play.
The Wildcats are tied at the top of the Conference USA table with Charlotte on 13 points from five matches.
UK has scored six and conceded no goals in five C-USA matches this year.
Callum Irving, UK's All-American goalkeeper, was named C-USA Defensive Player of the Week on Monday after a weekend which saw him tie his season high with seven saves to stop ODU, which is the nation's No. 6 scoring offense (2.30 goals per game). 
The performance marked his second consecutive shutout against a top-25 opponent following a blanking of then-No. 17 South Carolina Oct. 18. 
Irving leads C-USA in goals-against average (0.67) and shutouts (6), and has yet to surrender a goal in conference action (5 games, 4:88.34 minutes). 
The opponent
UAB is coming off a 3-0 win over Florida Atlantic at the weekend, to take the Blazers to 5-8 overall and 2-3 in C-USA play.
Kentucky is 6-5 against UAB all-time, including a 1-0 win in Birmingham last season. UAB won the last meeting in Lexington, 2-1, in 2013.
The logistics
Gates will open at 6 p.m.
Tickets are $5 for the general public and $2 for youth and seniors. Fans can call (800) 928-2287 for tickets, or purchase at the ticket window at The Bell. 
Kentucky's 600-plus season ticket holders can wear their 2015 Kentucky Soccer scarves to gain admission.
Kentucky has welcomed a record 13,577 fans to men's soccer games at The Bell this season, an average of 1,697 per game, which has given the Wildcats one of the best gameday atmospheres in the country.
Parking for the match is first come first served located outside the stadium's main entrance. Overflow parking will be available above the soccer practice field as directed by UK event staff.
The first 250 Wildcats fans in attendance on Wednesday can pick up a collectable stand united kazoo to help create another raucous, albeit unorthodox, atmosphere at The Bell. The kazoos will be handed out at the marketing gazebo, near the entrance.
Fans will also be asked to show their best blue steel, ferrari, le tigre or even a magnum look in addition to demonstrating that they can turn left to be eligible to receive a kazoo.
As part of the Kazoolander theme at certain moments in the match, similar to the way they have all season, UK's promotions team could throw t-shirts into the stands. On Wednesday those shirts could potentially be inspired by the fabled Derelicte fashion line.